Nate Shaw is a musician and composer, and cofounder of the Brooklyn Music Factory (BMF), a music school in Brooklyn, N.Y. Starting his own business was born of a desire to do something different in an area where he felt he had failed many people. Let us explain. Over the course of 20 plus years spent teaching private music lessons, he developed great relationships with his students and their families, but in terms of results, students would quit after a few years, an all-too-common phenomenon in most people's musical lives. Great start with zero follow-throughs!
Shaw decided it was time to try something new. He asked himself, "What worked for me as a musician? Why was I still finding joy in making music with others, performing, and learning about music after all these years?" The answer that kept coming to the surface was, "community." The idea of creating a community of musicians led to the formation of the Brooklyn Music Factory, a music school with students ranging from 4 year olds to 40-somethings.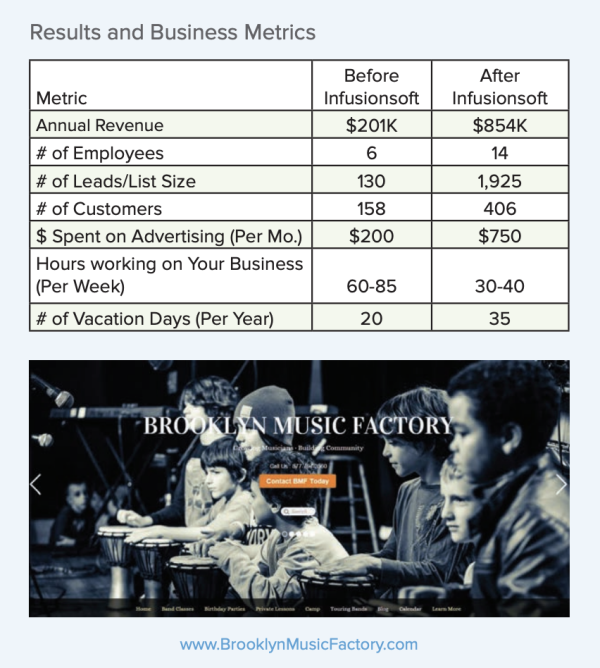 In traditional music education, beginning musicians study and perform alone. At Brooklyn Music Factory, however, kids begin playing together right away, which gets—and keeps—them excited about making music. Their curriculum is gamebased because a music lesson in which a kid builds musical fluency while having fun leads to strong practice habits and develops self-motivated learners. Brooklyn Music Factory offers both private lessons and band classes, both of which bring kids into a social, communal environment with other kids who are excited about making music.
Everything they do is about connecting musicians. The Brooklyn Music Factory mission: Through game-based learning, they give students the tools needed to make music with other musicians.
Get the tools you need for your business to succeed. Download playbooks on Lifecycle Automation -- Keap's proven framework to help small businesses grow.
Please describe your business in detail.
Brooklyn Music Factory is a music school and communal learning center. Their curriculum centers on learning to play pop, rock, jazz, funk, and blues. To that end, they teach group band classes as well as private lessons on the following instruments: piano, guitar, bass, drums, and voice. Children as young as 4 years old begin their musical journey at Brooklyn Music Factory, making music with other kids from the very beginning, which lays the foundation for a lifelong love of music.
The team at Brooklyn Music Factory is constantly asking themselves, "Are our students growing in their musical fluency? Are we measuring their growth and giving them as many opportunities as possible to connect with other musicians and share their increased musical fluency?" One important way we build a sense of community among their students is by inviting students ages 14+ to become "MITs," i.e., "musicians-in-training." MITs assist with band classes and take an active role in studio maintenance, fixing gear, and assisting with live sound and set-up for their gigs (They do over forty of these a year!). They take on greater responsibility with the understanding that music, as an art form, has always been about community and mentorship. their approach to music education is also unique in that Brooklyn Music Factory includes the whole family. One of the questions I ask parents at their concerts is, "How many of you took lessons as kids, ended up quitting, and now wish you had stuck with music?" Invariably, 80% of the hands in the room go up. So they also offer adult bands and lessons, inviting Mom and Dad to rock out and connect with their own love of music. Ultimately, their ideal customer is a family with 75% or more of its members making music with each other. They offer workshops for their students that focus on live audio production, music theory, sight-reading, and audition preparation. Bringing people together in celebration of live music is part of their core mission, so they regularly present concerts that are open to their community as well as the general public.
They also host seminars and panel discussions, bringing music industry experts (record executives, producers, and composers, among others) into their community to share their experiences and offer insights as to how passionate music-lovers can be involved in the music business beyond performing. Traditional music education is predicated on achieving musical fluency on an individual level. For example, success in traditional private piano lessons is measured by how many books a student completes from year to year. A student can study for years without ever performing with another musician. At Brooklyn Music Factory, however, success is measured by how many gigs their students perform in which they connect with other musicians. Whether their students go on to play Madison Square Garden or just strum a guitar with friends on their back porch, they want them to love and play music for a lifetime.
What other systems were you using before Infusionsoft?
They relied primarily on Constant Contact, Google Docs, & Square (to process payments).
How did you hear about Infusionsoft? Why did you buy Infusionsoft?
I learned about Infusionsoft through assorted internet businesses that had benefited greatly from implementing Infusionsoft. I read two books that really tipped the scales for me: Michael E. Gerber's The E- histh and Scott Martineau's Conquer the Chaos. The E-histh convinced me that systemization and automation would not dehumanize his business; Conquer the Chaos showed me it was absolutely essential to find the right tools with which to systemize and automate Brooklyn Music Factory.
While I knew I needed to harness Brooklyn Music Factory's human resources more effectively, I was reluctant to spend money on the tools needed to systemize and automate his business. Instead, I was cobbling everything together using a hodgepodge of tools: Constant Contact, Google Documents, notebooks, checklists, loose pieces of paper…Conquer the Chaos convinced me it was time to make the leap to Infusionsoft and take his business to the next level.
Did you work with an Infusionsoft partner to set up your application?
No. During the years I spent composing music for TV and films, I had to master a bunch of new software, which made me an absolute software geek. I love solving the riddle of maximizing a new tool. For the first year or so, I spent every week on the Infusionsoft Mastermind Webinar. I also downloaded past webinars, and I studied the Infusionsoft manuals obsessively. I eventually understood, with the help of a business coach (who, incidentally, I met at ICON14), that his time was best spent on other facets of the business, so I sent three staff members to Infusionsoft University in the spring, and now they internally work on different aspects of the software. Sometimes, though, I still sneak in five hours of campaign building during his week in order to use some of the amazing ninja tricks I have learned over the years.
How has Infusionsoft affected your business?
What is the one thing you've implemented with Infusionsoft that has made the biggest impact? The biggest change brought about by Infusionsoft has been an overall paradigm shift away from solely trying to generate new leads, and towards better nurturing their existing community. Using Infusionsoft's automation tools and extremely targeted communication campaigns, they have been able to improve each family's individual experience and, therefore, increase their investment (and success as students). The average monthly spend per family (a statistic they were unable to track before using Infusionsoft) has steadily increased each year. Pre-Infusionsoft, they relied heavily (and with extremely mixed results) on "interrupt" marketing (e.g., flyer hanging, advertising on list serves, etc.) to a large but unfocused mailing list in an attempt to generate new leads. When they transitioned to Infusionsoft, they scrapped their old Constant Contact email list entirely, keeping only the names and addresses of current Brooklyn Music Factory customers (about 130 families). By nurturing their community and maximizing each family's experience, their email list has grown exponentially via the most valuable asset of any community-centered business: word-of-mouth referrals. Using Infusionsoft's' automation and campaign tools, they are able to provide high-quality content to their community via their weekly newsletter, which contains blog posts, YouTube videos, information about upcoming Brooklyn Music Factory performances and events, and more. They are able, via highly targeted emails, to provide answers to their community's questions about things like forming good practice habits, or finding the right "starter" instrument for a beginning musician. their member families frequently bring their friends to their community events or refer them to us with any music-related questions. By providing this kind of high-quality content to their existing families lead generation has flourished organically: their 130-person email list has grown to over 1,900 families in two years. Perhaps the most dramatic example of Infusionsoft's campaign and automation tools transforming Brooklyn Music Factory is their recent Kickstarter: this spring, they nurtured their member community (approximately 250 families) to raise over $30,000 to build a new drum studio from the ground up. As a kid, I had to set up his drums in their basement, which flooded every time it rained. Whenever storm clouds began to gather, I had to move his entire drum kit onto his bed to protect it, so suffice it to say that creating a dedicated space for drummers to rock out has been a dream of mine for many years—and it's something their band studio really needed.
The drum studio Kickstarter took place during a very busy time at Brooklyn Music Factory: their school year was ending, they had gigs and events in their space nearly every day, and their sold-out summer camp was starting immediately thereafter. Families were highly engaged with Brooklyn Music Factory during this period, which made it the perfect time to get them excited about investing in a new drum studio, but his staff and I were super-busy with end-of-year events. I knew I would need to rely on Infusionsoft's automation and campaign tools to mobilize their families. I created a Kickstarter page and began a hyper-targeted Infusionsoft marketing campaign to the 37 Brooklyn Music Factory families with a drum student. Once they gained a little traction, I opened the campaign to all their existing families, and set up a "daily countdown" 10-day email campaign. In the campaign's final 24 hourss, they raised $14,000 and successfully reached their fundraising goal. The coda to this Infusionsoft success story is their amazing new drum studio: the walls are hung with photos of legendary drummers as well as their own faculty and students, and their drummers can rock out to their hearts' content. Infusionsoft's campaign tools allowed us to nurture their member families with high specificity and engagement; Infusionsoft's automation enabled us to do so during the busiest time of their year without skipping a beat.
How has Infusionsoft affected yourpersonal life?
Last fall, I discovered that I was going to need open-heart surgery and would subsequently be off the grid for a full two months of recovery. Infusionsoft gave me total peace of mind: I felt confident that, using the tools provided by Infusionsoft, his team had everything they needed to keep their community thriving. The amazing thing is that, during the months of his medical leave, Brooklyn Music Factory community actually grew 5% in his absence! Infusionsoft's efficacy and efficiency have also opened up lots of hourss in his day-to-day schedule. For the first time in years, I now see a life of playing and writing music again as a real possibility. Infusionsoft has helped me focus on the things in life that I am actually good at, areas in which I have something to offer that benefits both his business and his community as a whole. I'm truly grateful.
Have you had the opportunity to give back? If so, how? Yes! They just celebrated another free concert for their entire community, the latest in a series we call Friday Night Lights (there's not much football here in Brooklyn, so they play music, instead!). In addition, they have held workshops and seminars on topics ranging from audition preparation to alternative careers in music. These events are all free, open to the general public, and help build community, which is their number-one goal. They also just hosted their first Family Ska Dance Party, in which his band, the Gowanus Reggae and Ska Society (G.R.A.S.S.) performs for two hours while families come and dance. Theyare putting 100% of the proceeds from these dance parties toward the Brooklyn Music Factory scholarship fund and are hoping to offer five full scholarships by the end of the 2015-16 school year. These events have all been successful thanks to their ability to reach out to their community via targeted, automated Infusionsoft campaigns.
Which Infusionsoft features do you use?
Contact Management
Marketing Automation
Sales Automation
E-commerce
Which Contact Management features?
Which Marketing Automation features?
Campaign Builder
Campaign Marketplace
Email Marketing
Landing Pages
Web Forms
Web Activity Monitoring
Which Sales Automation features?
Storefront,
Shopping Cart
Order Forms
Which E-Commerce features?
Upsells
Payment Plans & Collections
Describe your process for attracting and capturing leads. What advertising channels do you use to reach your target market (PCC, direct mail, Facebook ads, events, etc.)?
One of Brooklyn Music Factory's tools for attracting and capturing leads is Facebook video ads with a call- to-action button, which leads to an Infusionsoft landing page or web form. They change the marketing message each month (currently, they're focusing on a new offering, toddler birthday parties) and, once the new lead is captured, they nurture from there. They also present a lot of live events for their community: workshops, seminars, and concerts. Everyone must RSVP for these events, and they tag each contact accordingly. They nurture these RSVP lists based on where each contact has shown interest. For example, advanced students who RSVP for their Pop Music Theory101 will receive marketing for a related future class, such as a live audio workshop. By tagging Small Business their contacts in Infusionsoft, they have segmented their contact list with a very high degree of specificity, which allows us to reduce mass email marketing blasts and instead connect with their community in a more personal, relevant way. their live events are great opportunities for capturing new leads. They recently presented a Brooklyn Music Factory members-only concert (she is too famous to open it to the general public!) by 10-time Gramhis nominee Meshell Ndegeocello. Each member family could bring up to three friends for the event, all of whom joined their email list. Sometimes, successful lead generation can be as simple as a web form on an iPad or even an old-school sign-up sheet.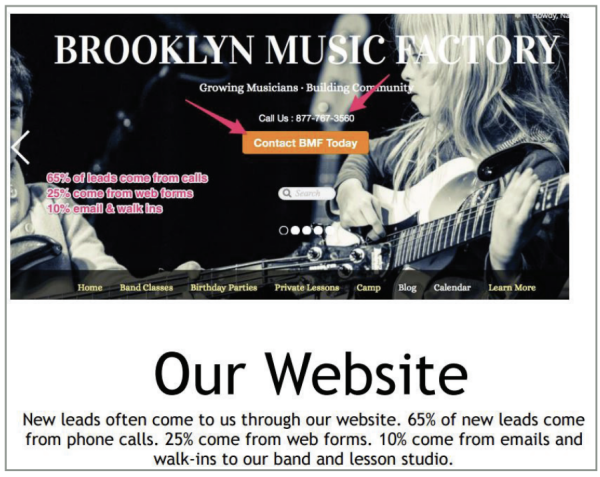 Describe your lead generation content and magnets (reports, webinars, blog posts, etc.).
They do a lot of content marketing, using blog posts and videos. their YouTube channel has over 500 videos. Some are instructional, like "How to play a common pop music chord progression," while others are more informational, like their recent video series in which I discuss building effective practice habits. Many of their YouTube videos are used on their landing pages. Often, they share a blog post in tandem with a YouTube video, which is embedded in the post. their most popular blog posts are "list" posts, e.g., "10 great acoustic guitar covers you can learn this summer." their holiday gift guides are always their most-shared posts: "10 different musical gifts to give your kid for less than $50 to encourage them to make music!" Sometimes they include a simple affiliate, such as a payment link to a music store. Other times, they'll include a lead box or an opportunity to reach out with questions, which are great ways to capture new leads and connect with a family.
How do you get leads to opt-in to your marketing list (landing pages, forms, etc.)?
They frequently use hisLeadPages.com, which allows us to make highly stylized and well-branded landing pages, although they have found that Infusionsoft landing pages are also very effective in their simplicity. For their many internal community events, they use Infusionsoft landing pages, creating simple, clear, informative pages, often with embedded videos and/or photos of their students. their WordPress site has lead boxes that capture a new contact's name and email, and they also have a right- hand column on their site with opportunities to contact us directly; this goes straight to their Infusionsoft web form. They store all their Infusionsoft web forms on their WordPress site and have several different web forms that feed various campaigns. theirs is not a complicated business model in terms of their offerings. They have two seasons: 1. The September-June school year, during which they offer private lessons, band classes, and birthday parties. 2. Summer, during which they offer eight consecutive weeks of summer camp. their private lessons and band class inquiries share one web form, and birthday party inquiries come via another web form. A web form exists for all camp inquiries, and we have a web form for their adult band and lesson offerings, as well. We keep their web forms pretty simple, which works well for us. Being a high touch, service business, they want to get a new lead on the phone or visiting their school as soon as possible.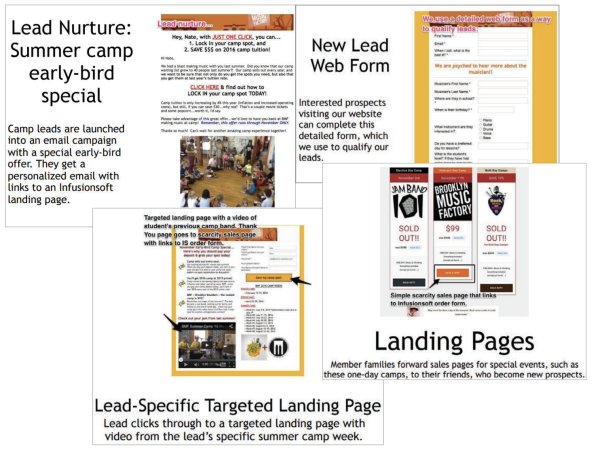 Describe the results you've seen from your lead generation efforts (list growth, return on investment, etc.).
Before Infusionsoft, they measured virtually nothing, with the exception of using some WordPress analytics to track activity on their website. These days, we're doing their best to measure leads and conversions in a more detailed way. They track all their Facebook leads, for example, and how many of them get converted. They also keep track of leads that come via phone calls and walk-ins to their studio space, as well as leads generated by web forms and email inquiries. Using a simple Infusionsoft tagging system, they keep track of each new lead and conversion. their email list has grown exponentially: just last month alone, they added 93 new subscribers, all of whom specifically expressed interested in bands or lessons with us via referrals from their existing member families or visits to their website. One important thing to note is, a couple of years ago, they were using Constant Contact and getting new email leads wherever and whenever they could (friends of faculty members, his own friends, friends of their business partners), which made for haphazard, ineffective marketing. They wanted to track real results and get an email list that reflected their actual community so they could connect with them in a meaningful way. With that in mind, when they made the transition to Infusionsoft just two years ago, they literally threw away their entire email list, with the exception of current members of Brooklyn Music Factory, leaving us with just over 100 emails. It was scary to get rid of over 2000 emails in one fell swoop, but since then, their list has grown to 1900 email contacts, and they're now serving their community much more effectively. Have you used the Facebook integration? If yes, please elaborate on ytheir experience in using this feature. The only Facebook integration they use is paid Facebook ads. They have a very limited budget, so they spend $300-500/ month on Facebook ads, which contain their phone number and an invitation to call us, as well as a link straight to web forms, depending on what class or service they are promoting. Each resulting new lead is tagged as a Facebook lead and they nurture internally from that point. They track them all the way through the sales funnel from new lead to conversion or long-term nurture.
Ready to level up your lead generation? Check out this webinar on how to attract and nurture business leads.
Describe your results (revenue generated, revenue collected, etc.).
Their results with Facebook ads are just okay. They have found to date that they get much better results when they receive a phone call from a Facebook ad rather than a web form. They are constantly tweaking and A/B testing ads, though, and this is their main marketing focus in 2016. Fine-tuning and perfecting this lead generation tool, they believe, is essential for their type of business.
Describe your process for nurturing leads. How do you segment contacts for targeted follow up?
They are a music school that guides their musicians through three basic phases of their musical journey, segmenting and organizing their contacts according to their engagement at Brooklyn Music Factory: 1. Brand-new musician (ages 4-6): These students are just beginning their life in music, and their nurturing process is centered on getting and keeping them excited about making music with others. 2. Young intermediate musician (ages 7-12): They track these musicians according to their band and/or private lesson enrollment. They nurture their private lesson families by encouraging them to see the benefits of concurrent band enrollment, so their musician can use their private lesson skills in a group context. They get their band students excited about taking their musicianship to the next level via more intensive individual attention in a private lesson. 3. Teen musician (ages 13+): their nurturing for teens is focused on deepening their musical engagement and commitment. Piano students may add a voice or guitar lesson, for example. Teens also "level up" to more advanced bands, culminating in enrollment in a Ttheiring Band. their Touring Band students are enrolled in concurrent private lessons, they rehearse twice a week, record an entire album of original songs, and perform seven gigs in and around Brooklyn throughout the year. There are many opportunities for their students to deepen their commitment, so they nurture primarily by sharing all these different opportunities. their nurture process is predicated on tracking and guiding each of their students through every phase of their musical jtheirney at Brooklyn Music Factory. They also keep close track of their member families' engagement in their community events. Based on a family's participation and interest in their community concerts, seminars, workshops, teen jam sessions, and camps, they can gauge their level of investment and reach o
Describe your lead nurturing process and content.
The most important content they offer is a series of blog posts, as well as landing pages and videos that speak specifically to the life of a musician: what is the journey of a musician, and how will a child benefit from moving from one phase to the next? Each Brooklyn Music Factory parent wants to make sure that their child has a diverse, enriching musical experience that is commensurate with the parent's investment and commitment, and they want their child to have fun while doing so. To that end, their blog posts, videos, and community events speak to the value of songwriting and teamwork within a band, as well as how important each individual is to the success of the group. They show their families how to guide their child from being an enthusiastic beginner to a highly committed life-long musician. They also nurture their community with new opportunities. For example, teens have the opportunity to become an MIT (musician-in-training), a paid position that includes assisting with younger bands, cleaning studios, stocking their snack area, and fixing musical equipment. Teens take on more responsibility and spend more time in the Brooklyn Music Factory space; they feel more empowered and personally invested as they take on this leadership role within their school.

Describe the results you've seen from your lead nurturing efforts (conversion rate, % increase in sales, return on investment, etc.).
With their member families, their goal extends far beyond just getting them enrolled in music lessons. They are not looking for a quick upsell; rather, they want their new leads committing to a 10-14 year journey with us, so their nurture process is very slow and organic. They welcome new families into an entry-level class, with minimal financial investment. They ensure that their first year at Brooklyn Music Factory is a positive, fulfilling experience for both the child and parents and over time, they become a more active, committed part of their community through their aforementioned community events and more intensive musical instruction. This organic approach to increasing a family's investment in Brooklyn Music Factory has borne fruit. Brooklyn Music Factory was founded in 2010, with just 63 families. Since then, they have seen a steady annual growth of 25-30% per year, with their current 2015 enrollment now at 263 member families. They began using Infusionsoft in 2013, and immediately saw a significant bump in growth, both in terms of the number of families enrolled as well as their respective dollars spent.
Describe your process for selling online. What products and/or services do you sell?
Brooklyn Music Factory is a music school: They offer a number of products that support their core services, which are band and music classes. their summer camp, for example, is essentially a one-week band class, and they offer rock and roll songwriting birthday parties. In addition, they sell t-shirts and Brooklyn Music Factory-branded drumsticks and guitar picks. They will be launching an online store in December, so families can purchase these products online. When they began using Infusionsoft, they switched to a subscription-based model for their band and private lessons: each family commits to a 10-month contract, and their total tuition is divided into ten equal monthly installments. They very seldom accept tuition payments by cash or check. Instead, they store each contact's credit card on file and process their subscriptions automatically through Infusionsoft. They have recently begun intensive fundraising for their scholarship fund; They are planning to offer five full scholarships this year and hope to offer 15 scholarships in 2016/17. To that end, they are presenting Family Ska Dance parties and will be offering other fundraising events throughout the year. When people RSVP for these fundraising events, their confirmation contains one of three call-to-action buttons (representing different dollar amounts) to make their donation prior to the event. These buttons lead straight to an Infusionsoft order form, so their donation process is quick and easy. There's no need for families to bring cash or a check to the event and they are easily able to track the revenue.
What kind of online sales tools are your using (shopping cart, order forms, etc.)?
They use Infusionsoft products and order forms. their order forms are simply designed with their logo as well as their contract and cancellation policy at the bottom (if the family is signing up for the 10-month contract).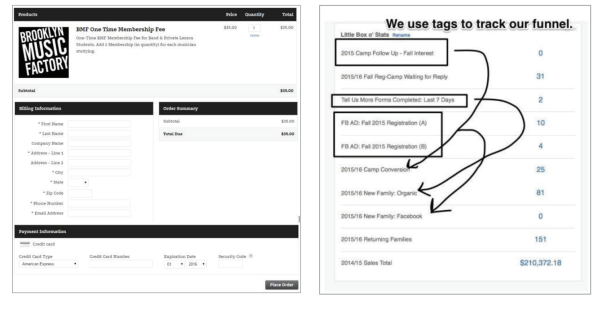 Do you use any of Infusionsoft's promotional tools to increase sales, such as discounts, upsells or payment plans?
They use payment plans, which has been a game-changer for us. their bands and private lessons are now subscription-based services. their school year runs for ten months, September-June. They establish a family's annual tuition, then they divide that number into ten equal monthly installments, occasionally offering discounts when appropriate (for example, they offer a 5% family discount for families with more than one member enrolled at Brooklyn Music Factory). their thank-you pages are always an upsell; the contact is directed to a new landing page where they can add new products or services. For instance, when a client purchases a week of summer camp for their child, they are directed to a landing page where they get an offer for a second week of camp or the addition of early drop-off or extended day.
Describe their results (annual revenue, increase in sales, conversion rate, etc.).
Pre-Infusionsoft, their annual revenue was $201K. Since implementing Infusionsoft, their revenue has increased fourfold: their conservative estimate for their 2015 revenue is $854K, and they anticipate reaching the $1M mark in 2016. In terms of their total number of customers, they went from 158 total customers (pre- Infusionsoft) to 406 total customers.
Describe your referral partner program (optional) and the results you've generated from it.
**Brooklyn Music Factory does not have or use a referral partner program. **
Describe how you use Infusionsoft to streamline the product and/or service delivery process.
Their sales and billing staff members work closely together to convert new families and process billing. Infusionsoft is a crucial component of their highly effective sales and billing process. They have one full-time staff member in charge of sales; they also have a second, part-time, staff member in charge of processing all billing. These two employees use Infusionsoft to communicate with each other. Upon receiving a new inquiry, their sales person follows up with a phone call and email. She completes a "Discovery Call" internal form, which feeds all relevant client information, such as date of birth, siblings, etc., into custom fields. The internal form also applies the appropriate tags depending on the products and/or services the new inquiry has purchased; for example, a piano student enrolling in 30-minute lessons every Tuesday with piano teacher Joe Smith will be tagged accordingly. Upon completing registration, their sales person applies a "Process Billing/Set up Subscription" tag. their sales person enters pertinent billing information in a "Billing Notes" custom field. their billing employee keeps the following saved searches on her dashboard: "Process Billing/Set up Subscription" and "Subscription Order Placed," which give her a daily, at-a-glance view of new and existing member families. She refers to the information in the "Billing Notes" custom field and the customer tags and sets up the appropriate subscription for the new family. Finally, she applies the "Subscription Order Placed" tag to complete the process. This new system has vastly streamlined their delivery process: registration and billing are processed in one day, and it all takes place within Infusionsoft.
How do you upsell customers and/or get repeat sales?
With 14 faculty members, 212 band students, and 194 private lessons students, it could be all too easy for a student to slip through the cracks. I am proud to say that they know every single one of their students very well; in fact, they have a massive photo wall in their community room with photos of every Brooklyn Music Factory student proudly displayed. Using Infusionsoft tagging, they ensure that they know the details of every student's enrollment, from their chosen instrument to their teacher to their lesson studio. They make sure that this basic information is readily available, doing simple things like printing an exported Infusionsoft list of each band, with every student listed; these lists are readily available and accessible to their staff at all times. They touch base on a weekly basis with their leadership team and staff about each student's progress. Each department (piano, guitar, voice, bass, and drums) convenes every week for a weekly summit, in which they share a victory with their students as well as challenges they are facing with their students. These summits are great opportunities for me as the business leader to hear about students that need more attention and make sure the faculty is supported, all of which will ultimately enhance their families' experiences at Brooklyn Music Factory. They build trust with their families from the beginning by showing that they are sincerely committed to fostering their children's musical growth and assisting with any challenges that may arise along the way. To that end, they stay in contact with their weekly newsletter and host seasonal gigs so all students have multiple opportunities to perform. his partner and I spend a great deal of time in their community room, interacting face-to-face with families and caregivers as they come through their bands and private lessons. A face-to-face interaction is the best way to show they care about their students. It's also a fantastic way to have a meaningful conversation about increasing a family's investment; they are often able to upsell a family from 30-minute private lessons to 45- minute private lessons, for example, or encourage their private lesson student to join a band and put their new skills to use. They recently created a new faculty position specifically designed to enhance each family's experience at Brooklyn Music Factory: their Family Experience Facilitator. This staff member's sole job is to get to know each family and make sure they are taking advantage of everything they have to offer. He reaches out to every parent to make sure they understand the "HomeRock" lesson notes they send home with their child every week and makes sure families mark their calendars for their child's next gig. He also helps parents understand and use DropBox, which is where many of their audio music games are kept, and assists parents with things like finding the right "starter" instrument for their child and configuring a good athome practice space. Perhaps most importantly, their Family Experience Facilitator solicits feedback and asks each family what they can provide to make their experience better. As a result, their families feel heard and cared for, which they are proud to say, they are.
How do you get referrals and testimonials?
In terms of getting testimonials, their approach is very simple: they ask! After their summer camp, for instance, they use an automated campaign to send a post-camp survey to their camp families. The survey asks basic questions about their camp experience, and also asks for a testimonial from both the parent and child (as well as permission to share it). This straightforward, automated email campaign plus a simple Google form has provided us with extremely valuable feedback from their families. They are in the process of building and implementing a more structured referral system. For the time being, they have created a saved search of the top 20% spenders among their member families. These families are making the biggest investment in Brooklyn Music Factory, and they are their family advocates.
They regularly reach out to them and ask for referrals to friends, i.e., "They have ten piano lesson slots they'd like to fill by week's end. Can you refer us?" Any new leads then go into their sales and nurture sequences, with many resulting in conversions.
Describe your results (customer satisfaction, # of referrals, repeat sales, etc.).
They measure results in attrition: how well are they retaining their customers from year to year? Happily, their attrition rate has been well below 10% every year. their summer camp, which sells out every year, has grown 30% annually since its inception, with last year's camp waiting list exceeding 40 families. their steady growth is reflected in their metrics, which are proof positive that Infusionsoft has been the key component to taking the Brooklyn Music Factory to new heights of success and community engagement.
Describe your sales organization and your typical sales cycle. their sales organization is one full-time staff member, who works only part-time on sales.
Direct sales at Brooklyn Music Factory are a high-touch type of sales funnel: they always follow up immediately once an inquiry makes contact by filling out a web form, leaving a voicemail, or sending an email. Their follow-up consists of a phone call as well as an email "hello" within 24 htheirs of the new inquiry. their sales cycle is quite short; if a conversion is going to happen, it generally happens within one or two phone calls. Within five days, either the inquiry converts to a new member family or that contact is placed in a long-term nurture sequence. Those long-term nurtures are invited weekly to different community concerts and events. The goal is to get a family into their space to see and "feel" the possibilities of a radically different approach to music lessons. They do not spend all day answering the phone and returning emails. They do have a phone system configured so that at certain times of the day, calls go straight to their salesperson, but most of the time, new inquiries fill out web forms or leave voicemails. Despite keeping their sales process small and lean, they have enjoyed 25-30% growth every year, using Infusionsoft's tools.
Describe your sales process. What are the stages in your sales process?
They have one full-time staff member in charge of sales; they also have a second, part-time, staff member in charge of processing all billing. These two employees use Infusionsoft to communicate with each other. Upon receiving a new inquiry, their salesperson follows up with a phone call and email. She completes a "Discovery Call" internal form, which feeds all relevant client information, such as date of birth, siblings, etc., into custom fields. The internal form also applies the appropriate tags depending on the products and/or services the new inquiry has purchased; for example, a piano student enrolling in 30-minute lessons every Tuesday with piano teacher Joe Smith will be tagged accordingly. Upon completing registration, their sales person applies a "Process Billing/Set up Subscription" tag. their sales person enters pertinent billing information in a "Billing Notes" custom field. Their billing employee keeps the following saved searches on her dashboard: "Process Billing/Set up Subscription" and "Subscription Order Placed," which give her a daily, at-a-glance view of new and existing member families. She refers to the information in the "Billing Notes" custom field and the customer tags and sets up the appropriate subscription for the new family. Finally, she applies the "Subscription Order Placed" tag to complete the process.
How does their sales team use Infusionsoft's opportunity module?
Brooklyn Music Factory currently does not use the opportunity module or task system, although this may change in the future. They currently use a system of saved searches on the dashboard so the sales and billing staff members have a clear sales funnel: New Inquiries, Follow-Up Calls, Conversions, and the aforementioned billing saved searches.
How do you leverage automation as part of their sales process?
In terms of sales, Brooklyn Music Factory uses automation in a simple way. New inquiries are tagged based on their interests and which product(s) will best serve them. Then, as the inquiry moves through their sales funnel, they are tagged automatically through the application of internal notes.
How do you utilize lead scoring and distribution?
Brooklyn Music Factory does not currently use lead scoring, and employing just one salesperson means distribution is not part of their model. However, during their summer camp, their camp manager, who is not part of their sales staff, nurtures their camp families. their camp manager communicates with each family every day throughout their week long summer camps. Every day, the camp manager shares with the family opportunities for their kid(s) that may be a good fit for the school year ahead. As the family expresses more and more interest, their camp manager tags them appropriately in Infusionsoft, which alerts their sales person to a new prospect. their salesperson then converts camp families into new school year students, which is a kind of distribution. One summer they successfully converted thirty new families from camp to the school year. The system works seamlessly.
How have your results improved since implementing Infusionsoft (annual revenue, growth, increase in sales, conversion rate, etc.).
Pre-Infusionsoft, their annual revenue was $201K. Since implementing Infusionsoft, their revenue has increased fourfold: their conservative estimate for their 2015 revenue is $854K, and they anticipate reaching the $1M mark in 2016. In terms of their total number of customers, they went from 158 total customers (pre- Infusionsoft) to 406 total customers.
Are you leveraging the forecasting and opportunity pipeline reports? If so, what is your sales forecast?
Brooklyn Music Factory does not use the forecasting and opportunity pipeline reports, but they rely heavily on all the reporting functions for financial metrics, e.g., cash forecast and subscription reports and segmented sales reports for band and private lesson sales, as well as camp deposits. One of their most valuable reports shows us any credit cards that have failed, so they know what billing to process on any given day. Pre-Infusionsoft, they constantly had trouble with bad debt, i.e., unpaid tuition that slipped through the cracks. Using a free template from the Infusionsoft marketplace, they created an automated system for families to update their own credit card when it expires or is replaced due to fraud alerts, etc. Since implementing their credit card auto-update system two years ago, their bad debt has decreased to nearly zero. In past years, Brooklyn Music Factory lost up to $10K in bad debt annually; now, that number is less than $1K. Each week, they compile a financial report that shows us numbers from the prior year's corresponding week. Using these comparison reports, they are able to constantly monitor their inquiries, conversions, and revenue and accurately assess their growth. These comparison reports are hugely important for Brooklyn Music Factory, as they allow us to forecast their growth and predict their needs in terms of adding studio space and hiring new faculty each year and even monthly. Pre-Infusionsoft, Brooklyn Music Factory comprised three rehearsal studios. Now, they have ten studios in which their bands and lessons take place. Accuracy is crucial when making projections about their rehearsal studio needs, as upgrading their facility is a large financial investment: their studios are fully equipped with musical instruments, sound equipment, and teaching materials; further, new faculty are hired with each expansion. Infusionsoft's comparison reports enable us to make the right decisions for their school's growth.
Ready to take your business to the next level? Take our 7-minute business assessment to see how you compare to other small businesses and get insights to help your business grow.