In this day and age, businesses can't afford to not be on social media.
But here's the thing: social media is pretty tricky to nail, and it goes far beyond just setting up a Facebook or Instagram account for your business, and posting content every week or so.
In this blog, we'll share six tips that businesses can use to build a tangible brand on social media.
1. Provide timely support
When you set up a social media profile for your business, chances are that your customers will treat it as another customer support channel, and start messaging you with the details of whatever problems they're facing.
Bearing this in mind, it's important to get someone to monitor your incoming messages, and help answer queries or resolve complaints.
If you find that you're getting more questions than you or your team can handle, consider using chatbots on your social media channels (the most common bots being Facebook messenger bots). You can program your chatbot to answer the standard, straightforward questions that you get, eg: What are your pricing plans? Do you offer monthly pricing?
Pro-tip: The best chatbots don't just help with customer support—they even allow you to use qualifying questions to determine whether a customer is a good fit for your business. Keep this in mind if you want to use your social media to generate more leads.
2. Use visual content
When was the last time you were scrolling through your social media feed, and you paused to read a lengthy chunk of text?
For most folks, the answer is "never"—that's why the oldest content marketing tactic in the book is to rely on visual content that is aesthetically pleasing, and appeals to your audience.
That said, you can't just post any image on your social media channel and expect your customers to flock to your post and engage with it. Here are some additional tips to keep in mind when posting images on social media:
Optimize your images
There are several things you can do to optimize your images, including:
Using square or portrait images instead of landscape images (because square and portrait images take up more space in social media feed)
Making sure your image is clear and non-pixelated
Using a photo-editing tool to add your company name/logo to your image (to drive brand awareness)
Experiment with different types of images
There are many types of images that you can play around with, including pictures, illustrations, and infographics.
In particular, infographics are a great way of sharing information with your audience in an easy-to-consume manner. If you're not sure what your infographic should be about, read about how to come up with and choose a great infographic idea.
Level up with interactive content
They say a picture is worth a thousand words. Well, an interactive image is definitely worth much more than that.
At the basic level, interactive content helps to drive user engagement, which increases the reach of your brand. On top of that, you can also use interactive content to achieve a wide variety of objectives—for instance, you could use an interactive "scratchcard" to promote a specific product or service, or you can post an animated GIF on your feed to humanize your brand and build rapport with your audience.
Here are some examples of brands using interactive content on their social media.
A brand style guide is a document shared in-house with the rest of your organization that describes what perpetuates the brand's identity. See how brands like Netflix put together their brand style guides in simple ways for clarity & consistency. https://t.co/TytANdwiPU pic.twitter.com/o8mRXDUtaK

— Keap (@KeapGrowing) February 24, 2020
3. Use user generated content
According to statistics, 86% of people say authenticity matters when deciding what brands they like and support.
How do you appear more authentic on social media? It's simple—put the limelight on your customers, and showcase user generated content (UGC) on your feed.
If this is the first time you're hearing about UGC, this refers to any sort of content that's created by your users or customers. Examples of UGC include unboxing videos, haul videos, product reviews, and pictures taken by your customers.
For example, Google regularly features UGC on its @googlepixel Instagram account: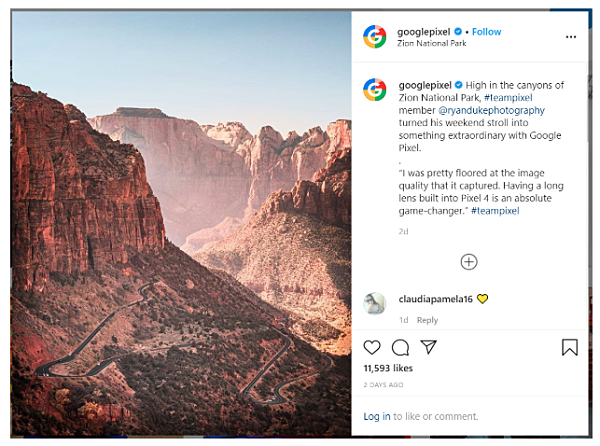 Before you do this, though, make sure to reach out to the person who created the content and get their OK to repost said content.
4. Activate your employees
Regardless of whether you have 10 people or 1,000 people on your team, it's a good idea to engage your employees and get them to share your social media content.
Why? Consider these statistics:
In a nutshell, a company's employees often have more clout than the company itself, and you can maximize the returns from your social media strategy by getting your employees to share your content.
5. Build a review strategy
If you're on a social media platform that allows your users to leave reviews for you (think Facebook, Google My Business, Yelp, and more), you'll want to come up with a review strategy to build up an arsenal of reviews. This provides social proof, and nudges a lead or potential customer who's browsing your page that much closer to taking action.
Now, there are several ways you can encourage your existing customers to review your business, one of which is to add a one-liner into an ongoing email campaign to request for a review.
For instance, say you currently have a congratulatory email in your email campaign that's automatically triggered to customers to have just passed their 1-year anniversary with you. It's easy enough to tweak this email to add a link to your Facebook page, and ask your customers to review your business.
You may even incentivize your customers (say, with 5% off their next bill or a free month's membership to your software/tool) to generate more reviews.
6. Ensure consistency
Each post, message or comment on social media can affect how customers perceive your brand. With this in mind, it's important to strive for consistency with your social media strategy.
To unpack this a bit: if you want to brand your company as family-friendly, it's important to stick with the narrative, and be consistent. If you suddenly decide that you want your company to adopt a humorous persona, and you start roasting your customers and/or competitors on social media like how Wendy's does, this will confuse your customers, and affect your branding.
Now, here's the question: how do you manage your team to ensure that the different team members are handling your social media post with the same tone and voice?
Consider putting everyone on your social media team through training, making sure that you're using proper team communication tools, and walking them through your company's motto, principles, and values. On top of that, you can also come up with a brand guide or social media playbook to help your team understand the do's and don'ts of posting on social media.
Conclusion
Social media is a double-edged sword—if done right, it can benefit your brand immensely, but if you get it wrong, you could affect your company's reputation and hurt your bottom line. If you haven't already done so, make sure you refine your social media strategy for 2020, prioritize your tactics, and decide how you want to use social media to drive more engagement, leads or purchases for your company.
About the author
Will Cannon is the founder and CEO of B2B prospecting tool, UpLead. With UpLead, you can easily find and reach out to targeted sales prospects, and generate more leads for your company.