Mwale and Chantel Henry are the founders of the Legacy Project, LLC. With a collective experience of 15 years in publishing, management and public relations between them, they've helped dozens of professionals become international bestselling authors.
The Legacy Project is based out of Atlanta and has been in business for six years. When Mwale and Chantel ventured into the world of publishing, they knew it was important to not only be able to deliver an awesome product, but also to get the right, qualified people into their system so they could make them a valuable offer.
Chantel said when they attended conferences, they would leave with tons of business cards, but it would take them hours, days, sometimes weeks to finally put all of those cards together and the scrap pieces of paper into their free CRM.
Many times, some of those cards got left behind, and they realized that they weren't seeing the results that they expected based on their enormous efforts of showing up that they thought they should receive."We were absolutely stretched when it comes to managing the administrative tasks as well as client fulfillment," said Chantel. "On top of that, we have two children under four years of age."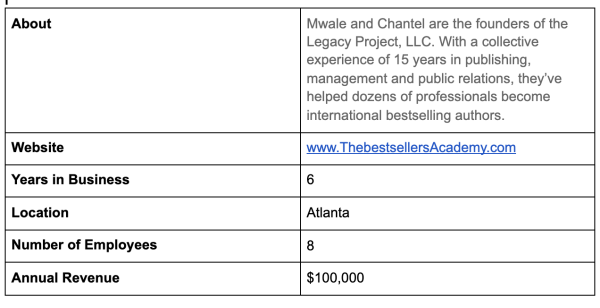 Attempting work/life balance
To balance her schedule, Chantel would have to wake up anywhere from 3 a.m. to 5 a.m. to create sales pages from scratch, input client data from note cards, and scrap papers because her appointment calendar didn't sync with her free CRM.
They started getting used to working in chaos, and it seemed easy to continue on that route until one day, Mwale saw that using five different products and services was preventing their growth.
At a marketing conference they discovered Keap and the powerful role it could play in helping them attract ideal clients through its funnels in addition to housing all of the other essential business tasks in one place.
After Chantel approached him, he said, "Chantel, this tool is powerful, but it's only as powerful as your willingness to actually implement. But I can tell you that once you do implement, then you will see your business grow." And from that small conversation, Chantel decided they were going to get Keap. Her husband had also been telling her about it for at least two years, but she never believed that Keap could work for them.
"We were scared to take the leap, honestly because we had worked in chaos for so long," said Chantel, who said she felt alone in her business. "We had four different tools to do things like invoicing, sales funnels, email marketing, CRM and landing pages. It was stressful trying to do everything in harmony."
Check out one of our webinars: 20 low-cost ways to market your business
Legacy sees exponential growth
Last year, Mwale and Chantel barely had a list of qualified leads. They were struggling to convert an outdated list of contacts and they didn't get very far. Their net income was just under $30,000.
Now that they have Keap, they are on track to earn six figures this year. Keap took them from an annual revenue of $30,000 and $40,000 to between $80,000 and $100,000. They also went from three employees to eight and grew their leads list size from 200 to 10,000.
Chantel noted they have a better way to keep track of leads and to follow up after their initial sales calls. They are also able to efficiently track online leads and referrals, and profitably nurture those leads."I've heard fortune is in the follow up and we're seeing evidence of that already thanks to the software," said Chantel. "Also, we've been able to add high-ticket products to our offer, which would have never been possible had we not had the ecommerce and payment plan feature that Keap offers."
Before using Keap, they were using invoicing software and it was a very unattractive look because they would have to send multiple invoices instead of leveraging a payment plan, which makes it easier for their customers to pay for their higher-end products.
In an effort to collect leads, Chantel and Mwale target their audience with past client referrals and online advertising. They attract them with a 15-minute clarity call and provide a video training.
They capture by scheduling the clarity call and referring them to their landing page. They also leverage their clarity call to engage and make the offer for their services, then they close the deal by providing an invoice and an e-signing document agreement.
Finally, the Legacy Project creates fans by delivering a coaching schedule and automated production, they impress by fulfilling endorsement requests, sending a framed book cover and co-branded swag, and they multiply by upselling their "Do it with you" and "Do it for you" services, leveraging their Authors on the Move sales sequence and requesting testimonials and feedback.
Take Keap's Lifecycle Automation Assessment to identify growth opportunities for your business.
Keap's customer service keeps it real
Chantel was so relieved when she experienced the wonderful customer service that Keap provides.
"The customer support is amazing, and that's been one of the biggest burden relievers for me and my husband as solopreneurs because we really feel like we're not alone," said Chantel. "We're just one phone call away from talking to a customer support person who is able to put clarity in our confusion, and we appreciate that. They kept the same enthusiasm from the time we started to the time we finished the call. That is the best part of being a part of this community. I know someone is always there to help me navigate when I'm in need."
The ecommerce software has also enabled them to create 10 different products.
"I just love it, and I'm so happy that we are part of the Keap community because when we are in business, one thing that we do know is that we're not in business alone," said Chantel.