Converting engaged prospects is no easy task.
Depending on the industry, the sales cycle can be a long, arduous process. By the time they reach the end, sales representatives may have emailed, called, qualified, demoed, and met the prospect. Now, it's all on the line.
They need to close the sale, but the prospect still isn't sure. What more can they do?
This is a problem that has plagued sales representatives across all industries. Sometimes prospects just need another nudge to get them closer to purchasing.
For many, that answer is video.
Video content has become a silver bullet that is used in different ways throughout the B2B sales funnel. With video content, you can reengage, educate, and show prospects how your product will benefit their business.
Before examining the different tactics sales teams can use, let's take a look at why video is so effective at closing the sale.
Why video is an effective tool to convert prospects
Marketing and sales professionals are turning to video to help at all parts of the funnel.
Approximately one in three marketers think video is one of the most valuable content marketing assets for moving prospects through a sales funnel.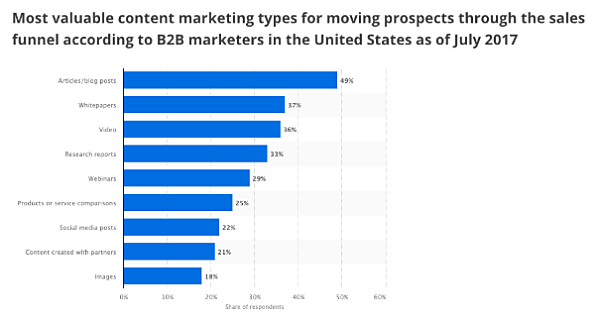 Source
But why? Unlike other static forms of content, video can delight and attract customers while conveying essential product use cases in a fun and engaging way.
Humans have limited attention spans, so quick, straightforward videos will make it easier for viewers to learn about products and recall information more effectively.
Videos also cut through the clutter. Would you rather read another blog post or watch a 90-second video demo to see how a product works?
Taking all of this into consideration, it should be no surprise that videos have a quantifiable impact on the B2B sales funnel.
Approximately 83% of marketers say their video marketing efforts have increased lead generation.
But it isn't enough to just produce a product video and be done with it. You need to know effective ways to integrate video into your sales funnel.
Let's take a look at three of them:
1. Add video to your product pages to leverage in sales emails
Your product pages are some of the most important pages on your website.
A successful product page includes:
An accurate and concise product description
High-quality product images and video
A clear path to the purchase button
Customer reviews for social proof
Without compelling product visuals, you won't convince shoppers to buy your product. That's why companies can no longer rely on static images alone.
Marketers need to produce high-quality product videos that demonstrate the functionality, features, and use cases of the product.
Seeing what the product looks like is important, but viewing the product in action in a video is essential to convert more customers.
Look at what GILI Sports added to its inflatable stand up paddle board product page.
In addition to nine product images that showcase the different color offerings and the entire product package, GILI Sports also embedded a YouTube video on the product page.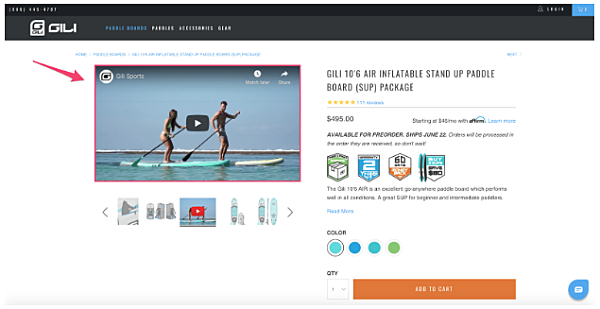 Source
The video shows the different ways to use the paddle board, and functions as a product demo and a highlight reel for the company.
The video is only one minute and 46 seconds, but it's impactful. It artfully conveys the experience that the GILI Sports inflatable stand up paddle board provides, and it nudges the prospect towards the "Add to Cart" in a way that images alone wouldn't.
But, what if you don't sell physical products? What if you are a SaaS business selling B2B? Videos can still be dramatically impactful for product/service pages.
One of my favorite tactics is using product animation videos, like this: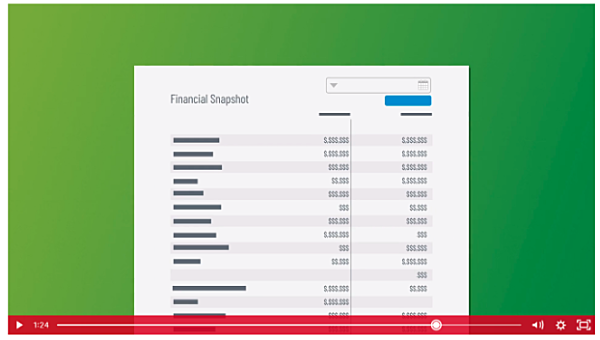 Source
Product animation videos help you showcase your digital services and products in action.
Plus, they double as "explainer" videos that summarize key benefits and features.
2. Launch a branded video podcast
Businesses need to focus on long-form content to drive traffic and convert leads. One popular way to do this is to launch a branded video podcast.
Podcasts are soaring in popularity, and companies that don't have their own are missing out.
Branded video podcasts are a valuable way for companies to grow their following, engage prospects, and deliver enriching content to current customers and consumers alike.
In addition, podcasts are an effective marketing tool. Customers who discovered the company through the podcast come at a much lower customer acquisition cost than other tactics.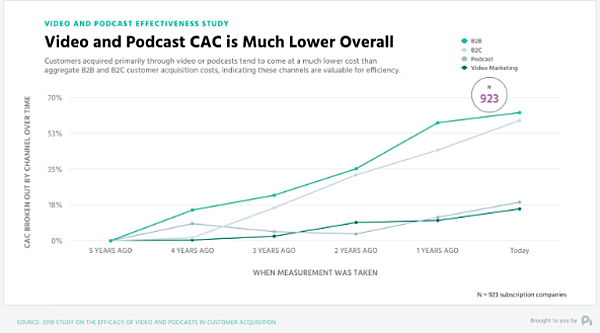 Source
It's important, though, to make your podcast unique and ensure that it stands out from the thousands of others in the crowded market.
The secret sauce for successful podcasts? Consistency and topic niche.
To ensure consistency, make sure you have a plan and schedule in place before you publish your first one. If you don't know where to begin with your podcast, take a moment to think about what your customers would find interesting. Cross-compare it with your expertise.
Take a unique spin on something boring. For instance, take the topic of sleep. How can you make it more interesting? Covert aspects like how CEOs sleep, and if it impacts their decision making.
Spin your angle into something that grabs attention. Once you finalize your angle, start booking guests. Most podcasts look for experts within their company or on their client roster and bring them on the show.
Draft your questions, rehearse, and get ready to shoot. Don't be camera shy, though. There are so many techniques you can learn to become an experienced podcaster in no time.
By publishing a podcast, you'll provide your sales team with reliable, recurring content that they can send to prospects to nudge them closer to the sale.
Keep track of every important detail with Keap Pro. Get a tool that houses all your client activity and communications in one place. Try us for free for 14 days at the link 👉 https://t.co/b9iufh98rl pic.twitter.com/XmCMR8rmkn

— Keap (@KeapGrowing) July 5, 2020
3. Leverage customer video testimonials
It's time to bring your customer reviews to life.
There's no denying the power of customer reviews and testimonials as an important marketing asset for businesses in 2020. However, it's no longer enough to passively correct and host reviews on your site. You need to leverage video testimonials that feature customers using your product.
This is essential because video testimonials show your product being used by real customers in a real-life environment.
In addition, customers featured in the testimonial will often share the benefits from using the product and the effect it has had on their business. This is a valuable form of social proof.
Making a video testimonial isn't difficult. You can easily reach out to customers, and there are multiple video software options available for marketers at every skill level.
But if you don't feel comfortable executing the shoot or don't have the time, outsource production to professionals that specialize in testimonial video production.
By investing in a polished video testimonial, you can convince even the most hesitant prospects to convert.
Conclusion
Successful B2B sales funnels include tactics to guide prospects at every step of the evaluation and purchasing process. Once they get to the bottom of the funnel, sometimes prospects need one final push. That's where video content can come into play.
Video content is an essential asset for hesitant prospects that need to be reengaged with the company or simply need a nudge to finally commit to purchase. However, companies need to know how to best use video in order for it to be truly effective.
Add video to product pages to make up for what images lack.

Launch a branded video podcast to provide long-form complementary product content.

Bring your reviews to life with customer video testimonials.
Once you do these three things, you'll improve your sales funnel, convert more prospects, and drive revenue in more ways than before.