Thanks to the wonders of ecommerce, businesses have expanded their reach across global borders. From retail giants to artists creating custom-made collectibles to exciting start-up ventures, ecommerce has become an indispensable component of sales and revenue.
In the digital world, it's your website that functions as a storefront. And the more appealing it is, the more successful your sales will be. The virtual store needs to create the best customer experience online.
Since we'd pull out all the stops to enhance a traditional storefront, there's no reason why we shouldn't do the same for our websites. And it's usually harder work since there's no direct interface with the customer.
Fortunately, there are several established ways to make sure your website stands out. Whether your business has just taken off or you're attempting a complete overhaul, here are the best strategies on website design 101 that will deliver sales:
1. Home (page) is where the heart is
Imagine yourself walking down the streets of a city. You pass a bookstore, and suddenly, a stack of rare vintage books in a beautifully-decorated window catches your eye.
Your curiosity is piqued. You walk in and leave moments later with a collection of books.
Consider the home page on your website as the virtual window to your business. It needs to be beautiful, its contents irresistible, with a story that speaks to your customers instantly.
Decide what you would like your customers to see first. It's a crucial decision that sets the tone for your site. Is it a new product? The story behind how you started? A sales promotion? Choose what you know will bring customers in and feature this prominently.
HAPPY NEW YEAR! Check out Keap's 2020 Small Business Marketing Trends Report
And this is where your branding would come in. Some of the more successful companies in the world have fantastic recall because of their logos, brand aesthetics, and slogans.
A positive brand experience on the home page will ensure customers know who you are, the kind of products you sell, and your overall USP. A unique online brand will make new businesses stand out and do wonders for sales.
Feature stunning photographs and narratives that best represent your brand's values and aesthetics. There's nothing like compelling storytelling to draw people in.
We love the visually stunning home page of Ella Bing Haberdashery, where beautifully-written copy meets impeccable photography. It also features exclusive events that are attention grabbers and target the right audience.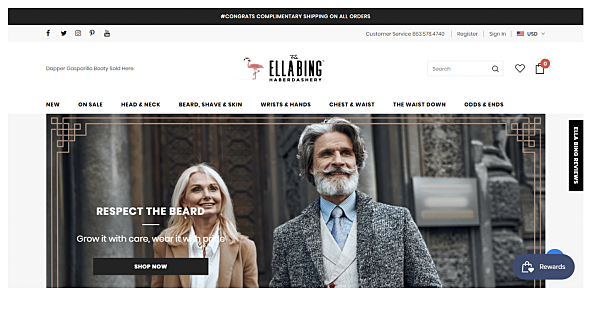 2. An intuitive user experience
Is it easy to find your company's website? Does the page load quickly? Is there a number I can call for help? What's your shipping policy? If you were able to answer these questions positively, you're on your way!
Businesses should focus on making their websites easy to navigate. If a customer needs to click endlessly to find what he/she needs, likely, they will not buy from you or revisit the site.
A great way to enhance your website is with prominent menus or links to product categories. Besides, it's always excellent when each page takes you back to the home page effortlessly or allows you to select another product within the same category.
Since most people use their phones to browse, mobile optimization is where it's at! Test your website on all manner of devices to check whether everyone's enjoying a great browsing experience.
Several websites have fantastic user experience and navigation. We especially love how easy it is to book services, find trustworthy reviews, and updates on Rover.
3. Add to cart, please
It's all in the details when you're in the world of ecommerce. So, you have a great home page and the quality of your products speaks for itself. The shopping cart design— the last mile of the experience—is that critical closer. It needs to be as stellar and seamless.
The shopping cart layout should be simple and display clear information to the customers. We all despise those checkout buttons hidden in an unexpected corner of a web page; make sure the button is displayed prominently.
A shopping cart should also allow customers to select shipping options, edit quantities, continue shopping, select payment options, or copy promo codes.
Automate personalized email sequences based on lists so your clients experience a personal touch, all while you save time to focus on business growth. See what Infusionsoft by Keap can do for your business. https://t.co/Y3Ul2JKpnV pic.twitter.com/Mqo8Pa7bhz

— Keap (@KeapGrowing) January 14, 2020
4. One for the gram
Social media links are a great way to engage with customers and provide prompt customer service. The company's social profiles should feature prominently on the top or bottom, and be accessible from every page on the website.
Find the perfect social media platform for your business. Instagram and Pinterest are better for content high on photographs. If you use videos to engage your audience, consider a YouTube channel for your business. Facebook can help integrate all these forms of content and media under one roof.
While there are several companies today acing their social game, we can't get enough of the compelling stories and pictures on Ella Bing's Instagram page.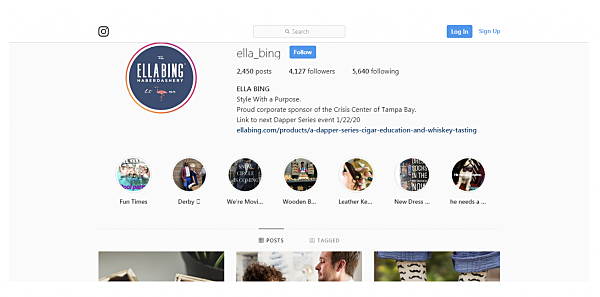 5. Hassle-free payment and check out
Design the user experience of your payment portal with care. If the design is confusing or takes time to load, customers will definitely get frustrated and leave—leading to lost opportunity and sales.
The customer should be able to pay quickly, securely, and effortlessly. Your website should also offer several payment options apart from credit cards.
What also helps is the option to set up a profile on your website. Ensure this process is simple and don't ask customers to fill in unnecessary data. Creating a profile on your website reassures customers of a secure log-in, saves time, and encourages repeat purchases.
Simplicity is beauty during check out on Amazon!
Whether they're first-time visitors or loyal patrons, customers deserve quality service. A great website anticipates all of their needs and goes the distance.
⚡ IT'S ALIVE!⚡

Keap's podcast is back, with a new name and new hosts but the same great content that you love! Check out our newest episode and don't forget to subscribe: https://t.co/4432sIAidt pic.twitter.com/O4LB1AzFsw

— Keap (@KeapGrowing) January 22, 2020