Do you want to learn how to make your website more interactive? Business owners and marketers realize that having a website is vital for their success, but it's only one piece of the puzzle. If you want your brand to thrive, you have to make sure that you're encouraging your audience to interact with your website.
The more opportunities consumers have to interact with your site, the better chance you have of them subscribing to your email list, or better yet, becoming lifelong customers.
There are plenty of benefits that come with building more interactive experiences for your visitors. We're going to explore these benefits while showing you five things you can do to encourage more engagement on your site.
Let's dive in!
1. Make asking questions easy
Customer questions are vital to the strategic growth of your business. If you understand the sentiment of your audience, you can improve your site and products based on their questions and experiences.
You'll want to include an option for visitors that want to email you. Start by creating a simple contact form to the sidebar of your website. This option gives users the ability to interact with you the moment they have a question.
Imagine going to a website, loving their idea, and wanting to send them an email to ask them a couple of questions. The only problem is you can't find their contact form anywhere. They don't even have an about page with their information! You would likely feel discouraged and move on to a company that has an open line of communication.
You can avoid this situation with your business and encourage more interactions by making your brand accessible. When you're creating online forms, include a call-to-action that lets users know they can get quick answers to their questions and that you think their feedback is essential.
But wait, want to make your online forms even more interactive? Try conversational forms.
Instead of asking users a bunch of questions at once, with conversational forms, you can ask questions one at a time. This makes it more like a real conversation between two people.
Here's an example of a conversational form: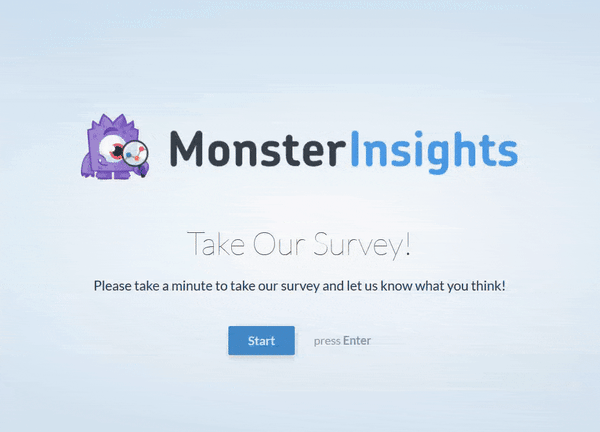 WPForms offers a conversational forms addon that makes it super simple to create interactive online forms for your website visitors. Because an interactive online form like this is more engaging for users, you can easily boost your online form conversions.
2. Allow customer reviews
There's a good chance that you've left a review after purchasing a product or service. Positive and negative feedback can have a massive impact on a business. When people have good things to say, that's an opportunity to build social proof and build a reputation as an authoritative figure in your industry.
If you want a great example of how showcasing customer reviews can make a site more interactive, look no further than Amazon. If you've ever made a purchase on Amazon—and let's be honest, who hasn't—you're probably familiar with their review system on each product page.
Here's the first part of the feedback process for Starbucks ground coffee on Amazon: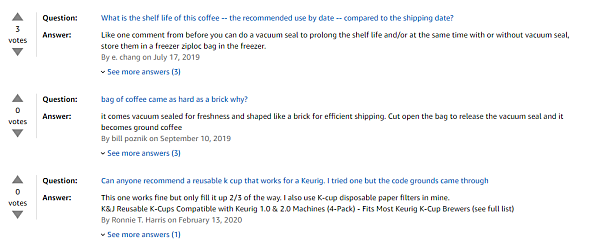 Source
They allow their users to ask other users and the sellers about the product for sale. Now when someone lands on the product page, they can see a list of questions about the listing. The availability of questions allows users to browse what other people are asking and saying, which can lead to more engagement and sales.
But this is only the beginning of Amazon's brilliant customer feedback process. Here's the next part:

Source
The ability to see what thousands of people are saying about a product can surely affect your buying decisions, right? Amazon allows users to rate their purchase between one and five stars, and then users can leave a detailed response on their experience. As a result, buyers feel like they're making an informed choice every time they add an item to their cart.
Adding a review to your website will help people better understand your product, and may encourage them to interact with your site after they buy something from your online store.
3. Add chatbots to your website
A strong customer support team is more important now than ever before. Consumers expect business owners and marketers to understand their needs and actively work to solve their problems. It's especially important to tackle this issue because 51% of customers said they would not shop with a brand again after a poor support experience.
One of the bigger issues companies run into is they do not optimize their customer service strategy. Chatbots are one of the newest and greatest customer service tools available today. Make no mistake, AI will never be able to replace customer support as we know it, but it has proven to be extremely useful in specific circumstances.
For instance, chatbots can handle specific common questions, if programmed correctly. You can teach your chatbot to help customers reset their password, personalize the content they receive from you in their email, and much more. The quick responses that these bots offer to consumers with a simple question can drastically improve your conversion rate and on-site engagement.
When people land on your website, a chatbot prompt, which you can see in the next image, could entice a customer to start a conversation.

Source
If you want to add this technology to your website, there are plenty of customer service plug-ins that can help you add AI to your existing live support team. Your live team will have a much easier time helping customers with urgent issues, while your chatbot handles simple interactions with customers in the background.
Do you know someone who runs a small business? Let us know who and you can earn cash💲 for every successful referral. 💯 https://t.co/H4BOwXLpPu

— Keap (@KeapGrowing) March 15, 2020
4. Host an online giveaway
Online giveaways are a great way to harness the power of social media while building more meaningful interactions on your website. You can use these events to build your email list, spread brand awareness, or increase your website traffic. The key is understanding what kind of strategy you should use when creating your content.
We suggest using RafflePress to create all of your giveaways. This plug-in allows you to quickly and easily create your own custom contests with flexible rulesets. Once you have your giveaway tool, it's time to start thinking about your goals.
Since we want to see more interactions, all of the giveaway benefits mentioned above apply to our goal. Starting out, you should focus on spreading brand awareness to build more interactions. There are 3.5 billion active social media users, and your goal should be to make as many of those people as possible aware of your product or service.
When it comes time to pick a prize, you can choose something from your storefront, offer store credit, or pick something everyone can use, like an Amazon gift card. Here's a sample contest so you can see what your finished product might look like: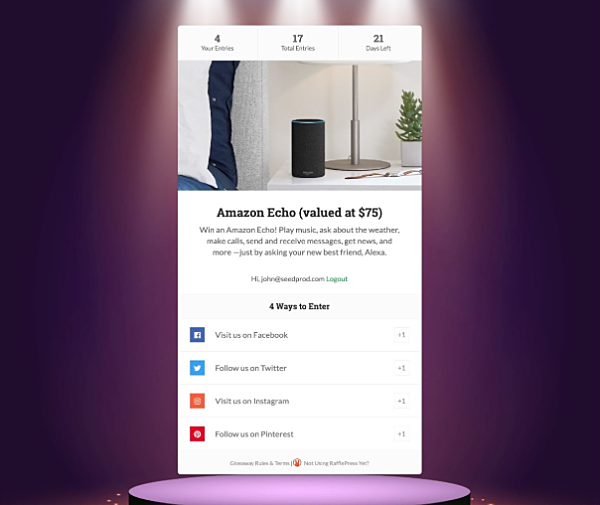 Source
The method we chose for this contest all involve users following or visiting social channels. But you can create specific rules that encourage interaction on your website. For example, if you have an online forum, you could encourage users to sign up and post in your forum for a chance to enter. Similarly, you could ask them to tag friends that would like a chance to enter.
Once their friends see the tag, they're likely to visit and interact with your website. Imagine if they decided to enter and tagged a couple of their friends. It's easy to see how an online giveaway can improve the number of people that interact with your brand.
5. Encourage social sharing
While we are on the topic of social media, it's important to point out the value of adding social share buttons to all of your blog content and product pages. These icons don't have to take up a huge chunk of the page. They just have to be visible.
If someone comes to your site and loves your blog content, they might want to share the post with their friends, thus, interacting with your brand. A lack of social share buttons means that a person will have to copy and paste your link on their social media, which can be time-consuming.
One-click social share buttons allow users to quickly share your content and voice their opinion without opening multiple tabs on their browsers. Better yet, posts full of valuable content are more likely to go viral if you allow social sharing.
Back to you
As more websites pop up online, customer interactions are becoming increasingly valuable to business owners. We expect to see a surge in businesses trying new techniques to get consumers to interact with their content.
Now that you know some of the best ways to make your website more interactive, you can start implementing these tactics as a part of your strategy. You'll go through some trial and error as you split test your contact forms, hammer out details with your chatbot, and build online contests.
Like most things, with practice, you'll get better at encouraging customers to stay on your site and engage with your brand. The most critical step in the process is understanding your target audience and getting started by adding interactive content to your website.