Ecommerce is an active industry that's been growing at rocket speed over the past decade.
If predictions are to be believed, global ecommerce revenue will surpass $4.8 trillion by the end of 2021, more than doubling the $2.3 trillion total in 2017.
A decline in ecommerce revenue isn't likely in the near future. That's mainly because ecommerce connects and eases the life of end users. And that's just one of more than a dozen reasons behind the growth of ecommerce; check out some statistics of the e-commerce industry to learn the latest trends.
When we talk about growth, we should also focus on the competition. When it all began, the market for some of the first ecommerce or online shopping companies was wide open. There was a huge scope for the first generation of ecommerce companies. But today, there are thousands of ecommerce businesses across the globe, and they're all competing to sell their products to their customers (and prospects which could be someone else's customers). There's tough competition out there, and an ecommerce business needs a unique and modernistic approach to sweep through the cutthroat market battle.
If you're an ecommerce business, or specifically, if you have a drop-shipping ecommerce process, here are some marketing trends to follow to better promote your products, and to convince your audience to buy. The trends mentioned are still emerging and not many drop-shipping ecommerce stores are on this path. So, following these strategies will help your business stay ahead of the competition.
1. Embed customer reviews and testimonials on your site
One-third of Americans say they'll consider switching companies after just one instance of poor service. And every unsatisfied American customer tells at least 15 people about their poor experience.
The trust factor between the seller and the buyer is crucial. If your customers don't trust you, they won't buy from you. It's that simple.
If your products and services do not meet the expectation level of a first-time buyer, they likely will not buy from you again. To earn trust, you don't need money and power. All you have to do is show that you care.
Do not use your money and power to make people give you positive reviews. Do not buy positive customer reviews and testimonials.
Instead, heighten the quality standards of your products and services to such a level that your customers feel encouraged to share their happy experience.
Focus on the quality and keep delighting your customers. This will encourage your customers to take action and tell others what they feel about you.
You can send them marketing communications to ask them to post their feedback and testimonials on your social network. Reward them with a discount on their next purchase. Embed their reviews on your website/online store.
It should be a part of your business strategy to get positive reviews. Even for discontented customers, there should be a plan in place to listen to their concerns, resolve their issues, delight them, and earn trust and eventually build loyalty.
Help grow the community by referring friends and family that could benefit from the product and get rewarded with $100. https://t.co/k3S9ptO0VQ pic.twitter.com/9IQ6WeTiEO

— Keap (@KeapGrowing) December 24, 2019
2. Open up your drop-shipping store to users with disabilities
If your drop-shipping store isn't accessible for shoppers with disabilities, you're alientaing yourself from a significant sector of the buying public; 26% of the U.S. population has some kind of disability.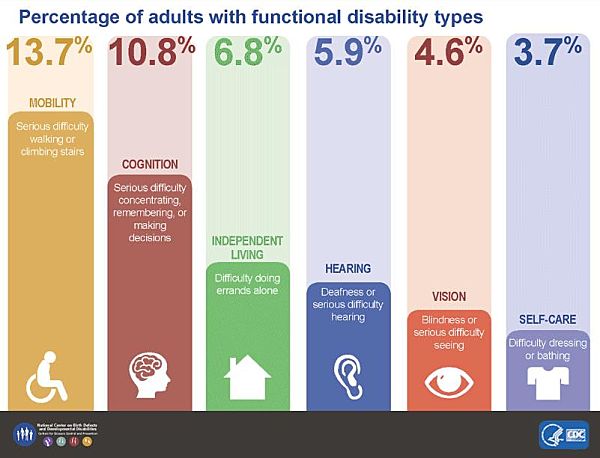 Source: Centers for Disease Control and Prevention
That's 61 million customers who won't be buying from your store, unless you make it accessible.
Disabilities that prevent people from shopping from your ecommerce store include cognitive disabilities, which make it hard to understand product descriptions and/or navigate the purchase process. Others have vision impairments which make it difficult to read texts in small print, or weak or shaky hands that struggle to click a mouse or tap a smartphone screen on the tiny "Buy Now" button.
Nearly 5% of users with disabilities are functionally blind and need a screen reader to surf the Internet, but screen readers need the right tags and attributes embedded in the code in order to manage websites. Most drop-shipping stores don't have them.
As a result, disabled buyers can't use most drop-shipping stores because they're not accessible. This gives you an opportunity to capture the market by offering an accessible drop-shipping store.
You can easily do this with a tool called accessiBe—all you need to do is install one line of Javascript in your content management system and your store will be accessible in 48 hours. Below you can see an example of accessiBe in action on GlassesUSA.com.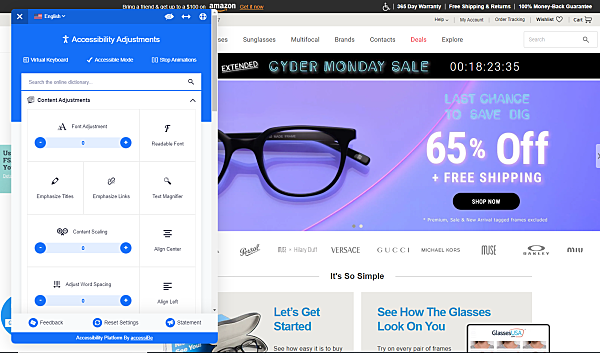 Source: GlassesUSA
What's more, when you make your drop-shipping store accessible for disabled users, you also make it possible for non-disabled users to make a purchase even when they're in conditions that make it hard for them to see the screen clearly, use a mouse, or accurately click on a small button, or when they're too busy to figure out how to use a complicated site.
There's one more advantage to making your drop-shipping store fully accessible—you won't risk joining the 2,258 businesses that were sued in 2018 under the Americans with Disabilities Act (ADA) for having a non-accessible site.
3. Get into IGTV marketing
IGTV or Instagram TV is an independent app and a part of Instagram. Be it whichever version, IGTV has emerged as a popular, new-age marketing channel to gain visibility and generate engagement and sales.
According to Instagram, it has more than one billion monthly active users, trailing only Facebook and YouTube, which have two billion and 1.9 billion monthly active users, respectively.
IGTV has a big audience that, for marketers, is like a herd of prospects to lure in. You can use it to show your promotions (videos) to your exact and look-alike audiences.
Videos get 38% more engagement as compared to images on Instagram. That's the main reason why you're seeing more videos on your Instagram feed. Some brands are experiencing a 300% increase in IGTV video views.
IGTV offers a unique way to connect with your audience. People spend most of their time scrolling through their Instagram feed and that promises and yields increased viewership for your videos.Develop a separate video content strategy for IGTV. The strategy should involve sticking to the right video format, the length of the video that works best for your product marketing, and how to keep the viewers engaged throughout the video.
Also, create strong calls to action that encourage viewers to take action such as to fill out the form or visit the link to buy your product.
4. Jump on the TikTok train
TikTok has become a worldwide buzz due to its very clear and specific audience type. With more than 1.1 billion installs in a couple of years, TikTok is a video sharing platform that allows its users to lip-sync to music and movie dialogs. That's what makes it a hit among teenagers and those in their early 20s.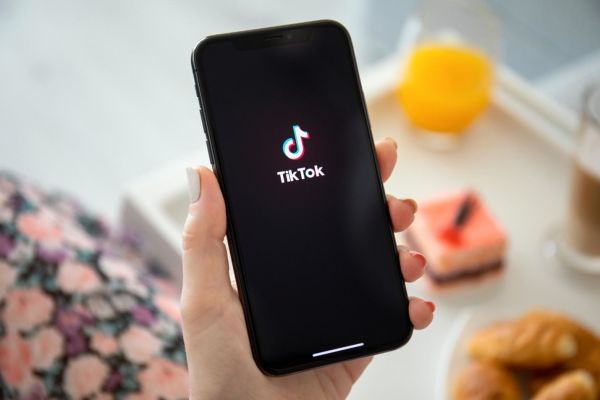 Source: DepositPhotos
Technically, videos on TikTok are 15 seconds long. However, you can move to the stories section and create videos that run up to 60 seconds. The typical users of TikTok are in the 13-24 age group. While the idea of the platform is to offer entertainment, it has given artists and brands great visibility.
If your ecommerce business's exact audiences are teens and tweens, consider TikTok marketing. Set up your ad profile on TikTok and create short, meaningful, user-centric videos to generate engagement and promote your brand.
To get started, you'll need a channel for your brand. Complete your channel profile and you're ready to upload your video. Alternatively, you could also connect with TikTok influencers to market your brand.
5. Enable mobile wallets and social payments
With $327 billion being spent online via mobile devices, allowing your customers to make payments via mobile wallets and social networks could enable sales and acceptability of your ecommerce business. A large number of customers choose to pay via mobile wallets and social payments for reasons of convenience.

Source: Pixlee
To review, the term social payment designates making payments via social networking sites. Facebook is bringing a payments feature to its popular messaging app WhatsApp. We can soon expect an improvement and spread for the payment features of Facebook and Messenger as well.
These payment options are the next big thing, and many leading ecommerce names believe that. Social ecommerce is already a thing, and by using it ecommerce vendors can set up their store on social networks like Facebook, mobile. And social payments can be a great boost for them.
Easy to set up, mobile and social payments do not require loads of payment in advance from the vendor. For customers, making payments for users via mobile requires only a few taps or clicks. These easy payment options could attract a user to buy from your ecommerce store.
Bottom line
You should always be ready to offer values via your ecommerce offerings. Consider a deal or discount offer that has been customized for a customer.
To increase sales, try sending promotions that recommend products. There are many AI-based ecommerce CRMs that can do that for you. Such applications can track the buying patterns and behavior of a user on your site. Based on that information, the application can create a list of products or offers the customer might be interested in.
For birthdays, anniversaries and other special days, discounts can be offered to loyal customers and there is no harm in it for your ecommerce store. Such personalized offers can make your customers feel special and can be a great way to strengthen the trust factor.