Customer acquisition is, no doubt, a costly affair. In fact, it costs 5 times more to attract a new customer than to retain an existing one. But, the worst part is when you have to watch your precious and expensive new visitors abandon your website for some unknown reasons.
You are not alone! Most of the small business owners today are extremely frustrated with abandoning visitors. But the good news is that you can reduce the website abandonment rate significantly by adopting a few tactics and strategies - exactly what we are going to talk about today.
So, read on if you want to learn some effective and actionable strategies to turn your website visitors into long-term, loyal subscribers.
1. Improve website design
Did you know that it takes approximately 0.05 seconds for a user to form an opinion about the website they visit?! That is a crazy amount of time to make a first impression.
You need to captivate and impress your website visitors within the first 5 milliseconds, or they are going to bounce. Here are a few ways to make the best first impression with your website design:
Use a minimalistic design for your website by avoiding excessive clutter and not-so-easy-to-read fonts. Investing in a good website theme or hiring a good website designer would help a lot.
How many times have you bounced from a website due to spammy ads and thousands of popups that left you irritated? The same goes for your visitors.
Colors have the capability to affect moods and influence people. Picking the right colors for your website, or even changing the colors of buttons and links can create significant impacts on the minds of visitors.
Good copywriting is an essential part of good website design. Even one word can influence the minds of your visitors like nothing else. Hence, invest in good copy for your website.
2. Use exit-intent pop-ups
Exit-intent pop-ups are those which come up when you are about to click on the exit button. These are an excellent way to capture subscribers because these are not as intrusive as the pop-ups that come up when the visitor is entering your website. Also, the visitor is about to leave your site anyway, so why not give it one last try?
If you haven't tried implementing exit-intent popups for your site, you should definitely try it out. In fact, exit-intent pop-ups have the chance of recovering around 10% to 15% of your about-to-abandon visitors. Hence, exit-intent popups are definitely worth a shot.
3. Adhere to web accessibility guidelines
One in every five people in the U.S. is disabled in some way. Disabilities such as hearing impairment, visual impairment, and cognitive disabilities could mean that these users will not be able to access your website completely unless you adhere to web accessibility guidelines.
A survey of 10,000,000 websites across the internet for website accessibility revealed that a vast majority of websites today are not ADA compliant.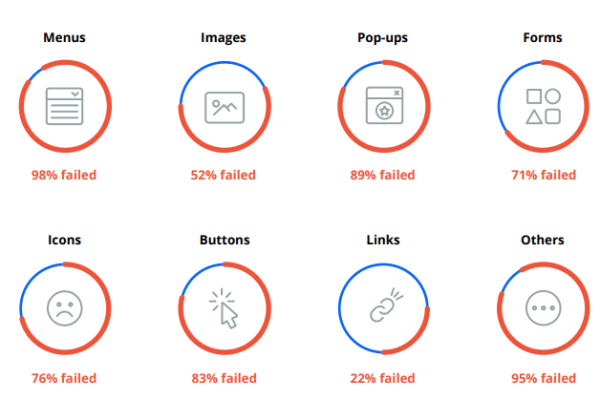 Unfortunately, numerous websites make the mistake of ignoring web accessibility, which leads to frustrated end users. 88% of users are less likely to return to a website after they encounter a bad experience! Hence web accessibility is too important to be taken lightly.
Moreover, frustrated users may even go to the extent of filing web accessibility lawsuits against your company. This can put your company in a bad light and lead to bad PR.
So, what steps can you take today to turn your disabled visitors into loyal subscribers? Implementing in an automated web accessibility solution can be the wisest action that you can take today. Just this one step will help you win the hearts of 20% of website visitors and turn up your loyal subscriber count significantly.
4. Personalize
The online world is so competitive today that putting something out that is unique and never done before is almost impossible. With the extent of digital competition today, you can do your part by making your website visitors happy through personalization.
Personalization is the key to captivating your visitors, impressing them, and gaining their trust. After all, who doesn't want to feel special?
Personalize your exit overlays and lead magnets by addressing specific concerns of the visitor.
Offer personalized push notifications at the right touchpoints.
Show customized product recommendations based on order history.
Offer special, personalized discounts to your customers.
If you're running an online store, consider using an AI-powered personalization platform like Dialogue that recognizes, analyzes, and understands your shoppers' patterns to deliver the most relevant message in every step of their online journey.
And most importantly, personalize all the emails that you send. You can do this by segmenting your email list based on purchase history, demographics, customer journey stage, and then sending customized emails to each of these email lists. This can be super-helpful because stats show 34% of consumers are more likely to make an impulse purchase after receiving personalized content from you!
5. Offer unique content upgrades
Adding content upgrades is a clever way to gain more subscribers in a not-so-promotional way. Strategically adding high-quality upgrades to your content can turn your website into a lead generation machine.
A content upgrade is when you place a relevant lead magnet within your content. It acts as a bonus for your blog posts. For example, if your blog post is an "Ultimate Guide on XYZ", then you can offer an upgrade such as checklists, ebooks, templates, or similar resources on the topic "XYZ".
Through a content upgrade, you are offering the user the right piece of information at the right time. Since the visitor is already interested in the topic, it is highly likely that they will opt to get the content upgrade by subscribing to your email list.
Content upgrades are a brilliant way to offer high-quality content to your first-time visitors and ultimately turning them into life-long subscribers.
6. Leverage social proof
Social proof is essential for building trust and credibility among your visitors. When users are unfamiliar with your brand, one of the most important things that will make them stick with you is social proof.
Display reviews, ratings, client testimonials, trust badges, social media metrics, and more to gain the trust of your new visitors and persuade them to turn into your loyal subscribers.
7. Make your website mobile-friendly
More than half of your visitors view your website through mobile devices. Hence the mobile version of your website is the first impression they have of your brand. So it makes sense that you focus a vast majority of your efforts on making your site mobile-friendly.
Use a mobile-friendly website builder or theme. Ensure that your website is responsive, which means that your web page loads perfectly on devices with any screen size.
Ensure that your website loads fast (within 3 seconds) on mobile devices. Humans have a very small attention span and hence, they will bounce from your website if it takes too long to load, never to return. Also, use appropriate colors, fonts, and font sizes for your web design.
8. Add a clear, prominent CTA
Now, this might sound obvious but did you know that a whopping 70% of small business websites lack a CTA on their homepage? This is a major blunder that can completely spoil your website's purpose. Without a CTA, users won't have any direction, prompting them to abandon your website.
First, brainstorm on a prominent, strong CTA and add it to your homepage in two to three places at least. Ensure that your CTA is clearly visible, and preferably placed above the fold.
Second, give a reason for the user to click on the CTA button:
Solve users' pain points
Remove some common objections
Put forth your value proposition or USP
Create urgency
A prominent CTA button and a reason to click on it will persuade your website visitors to take some action in your favor and ultimately turn into a subscriber.
Conclusion
Earning your visitors' trust and capturing their interest during their first visit is essential for reducing the number of abandoning visitors. Remember that there is no magical tactic or strategy that would turn your visitors into loyal subscribers overnight.
Building a loyal subscriber base takes time, effort, and multiple trial and error strategies to finally land on something that works for you. You can use the above-mentioned tips as a good starting point. It's your turn to take action now!
About The Author
Hazel Raoult is a freelance marketing writer and works with PRmention. She has 6+ years of experience in writing about business, entrepreneurship, marketing and all things SaaS. Hazel loves to split her time between writing, editing, and hanging out with her family.