Conversational marketing can seem like it only applies to chatbots and cold callers. Using chatbots for conversations is genuinely beneficial. But, having conversations of all kinds with customers is valuable, too. It can be a great way to not only connect with people but to push sales to them, too.
Conversing with people is the best way to build up trust and speak on a personal level. Even if it is all done digitally.
Consider this scenario. Say you want to buy a whole new phone system for your remote team. So, you start researching a phone system for small business. You look at one site and, due to algorithms, an advert pops up for headsets. Then, you go to another site and a chatbot comes up asking if they can help. Perhaps it starts a conversation about your VoIP home phone system. Making you consider how they can help your team.
Which company are you more likely to engage with?
We are all a bit sick of seeing adverts. Whereas, when a message comes up on the side, thanks to social media messaging, we notice it more and tend to engage.
In other words, we (usually) respond when someone starts a conversation with us. Even if it is a message from a robot.
Conversational marketing is now one of the biggest trends in digital marketing. With it taking more of a humanistic and organic selling approach than we are used to, it's easy to see why. They are a big part of the customer journey and make more connected and personal leads.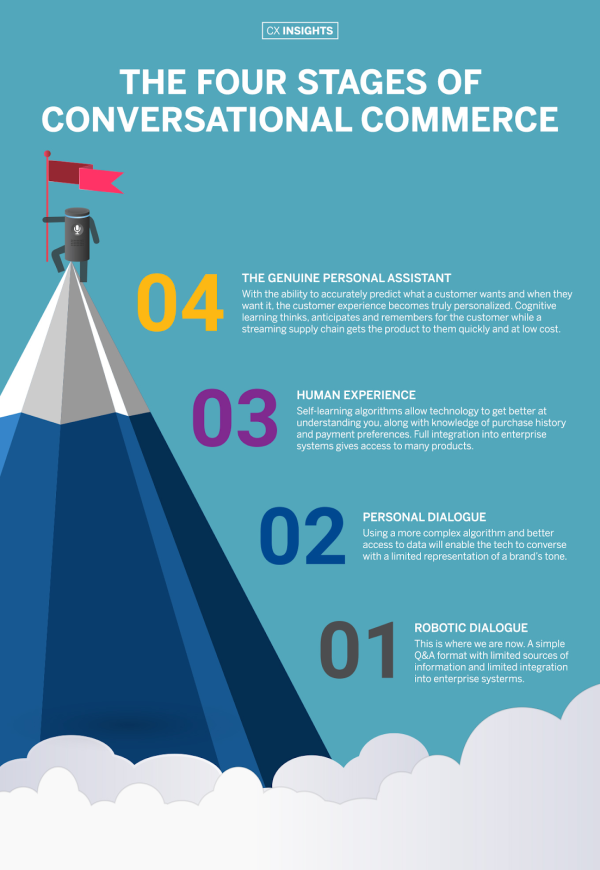 Source: The Future of Commerce
What exactly is conversational marketing?
First thing's first. Before we delve into a whole discussion on the topic, it's important to understand what conversational marketing is.
Think about how sales used to be.
A conversation would be struck up about the product. There would be a haggle-off between the customer and the seller until a bargain was made. By the end of the encounter, each would know how many children the other one had and what their favorite meal was.
The point is, that customers would want to go back to a seller they knew and trusted. And the seller would know that they had loyal and friendly customers.
Just because we rely on tech so much in the modern world, it doesn't mean the days of talking are over.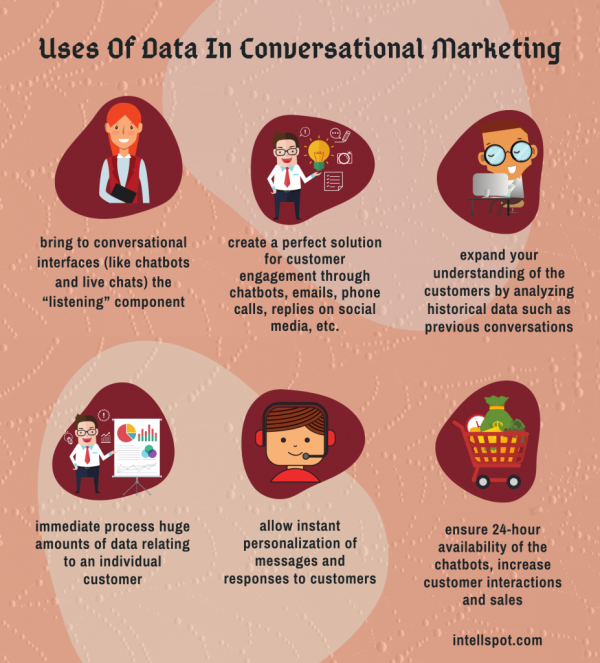 Source: Intellspot
Every part of marketing involves talking to and making connections with customers. Conversational marketing takes advantage of this element to produce natural and individualized results. It helps you get organized and keep on top of the needs of your customers.
Some people may choose to use this method to listen to customers. After all, they are at the center of your work. This method works through a feedback approach–with a company listening to a client's needs and building loyalty through the method, until the sale is eventually made. It makes a customer feel trusted and appreciated.
It also helps strengthen your company in general. Listening to feedback helps you to find out where your strengths and weaknesses lie. This system can also be done on a one-to-one basis with the customer.
Those selling more expensive products may benefit from this way of selling. For example, if you were selling a business-to-business AI computer system, it is a long process that requires more decision making from the customer.
This is a good practice for small businesses and big businesses alike.
Another way you can approach conversational marketing is through a more sales-driven method. It's a quick way to build up conversations and steer leads to sales. It's good for those who want more instant results. For example, a retail assistant selling TVs on the shop floor.
The point of conversational marketing is to encourage a relationship to grow. This, in turn, creates a more organic sale. Reaching out to people on a personal level keeps customers happy. It makes them more involved and encourages them to return.

Source: Six and Flow
What else can you do to keep up the conversation?
Be there at the customer's convenience.
This is where chatbots are a good investment in both time and money. Having a live bot talk to clients, no matter the time of day, means they get their queries answered instantly.
Finding places to use tech in your company will improve your marketing strategy, too.
When incorporating chatbots, there are a few key points to remember.
Go at the customer's pace. This is a major consideration, as the point of a chatbot is for convenience. A person might be talking to a chatbot when doing three other things at the same time. If the conversation keeps timing out after three minutes, this becomes frustrating. It also makes your company look like they don't know what they are doing.
Another point to remember is that some people are just slow at typing, or have problems communicating in general. Your chatbot needs to be patient and respectful of that.
Use a chatbot to converse like a human
The live chat may not be full of "beep boop" noises, but people are still aware that they are talking to a robot.
A survey from Userlike found that most people would prefer to talk to a human (60%). However, over half said they are happy to talk to a chatbot before talking to a human agent. Using a chatbot before talking to a person can improve call quality of a subsequent telephone conversation. It builds up the discussion beforehand, and improves trust in using chatbots in the future.
Even when not being put through to an agent, chatbots are still a great way of answering customer problems. Talking to people in more of a human-like way will help build trust and encourage sales.
A lot of this depends on how the chatbots are programmed.
An example conversation may go like this:
BOT: Hi, how can I help today?
CUSTOMER: I'm looking for something to make my company more organized.
BOT: What does your company do?
CUSTOMER: We are an ebook maker.
BOT: Great! Let me think about what would work for you….Would you prefer something that helps your team collaborate? Or something that helps you sell more?
CUSTOMER: Something for the team.
BOT: Teamwork is key. How about a team collaboration tool? This will encourage your team to talk more, often over video or messaging. They can share ideas and stay organized with work.
CUSTOMER: Thank you, that's perfect. Where can I find it?
BOT: Here is a link. (link). Can I help you with anything else?
CUSTOMER. No. Cheers.
BOT: Thank you. Have a lovely day and please don't hesitate to contact us again.
As you can see from this conversation, there was a slight build-up and the bot was polite and informative. The customer had their issue solved quickly and a product was sold.
Because of this, the customer won't go to a competitor instead.
You could even ask the customer to fill out a form before the chat starts with their name. This way, the chatbot will use the person's name in conversation, making it feel even more personalized.
Treat your customer as an individual
Give the customer your undivided attention. Or at least make it seem like that.
We have all been in a situation in a physical store when a sales representative has been helping us, only for the whole transaction to be interrupted by another customer, who then ends up getting more help than you.
You are then left annoyed and feeling like you want to leave.
Talking to customers as individuals will help build trust, and will make your staff seem more interested and knowledgeable.
Treat customers like you do local phone numbers for the places you love. Remember their details, why you like them, and what you associate with them.
It's a great opportunity to find out what they want. This information can then be fed back to chatbots, used as feedback for your company, or used to upsell.
For example, say a person comes into a sports shop and says they want a bike. They don't know what kind of bike, though.
After much conversation, the agent realizes that a road bike will be best for their needs. The customer loves this idea and buys one.
From this interaction, they can then program related information to the bots. They can also give feedback to the company that road bikes are becoming more popular. And they may also get an opportunity to sell a helmet, a lock, and a light in the meantime, too.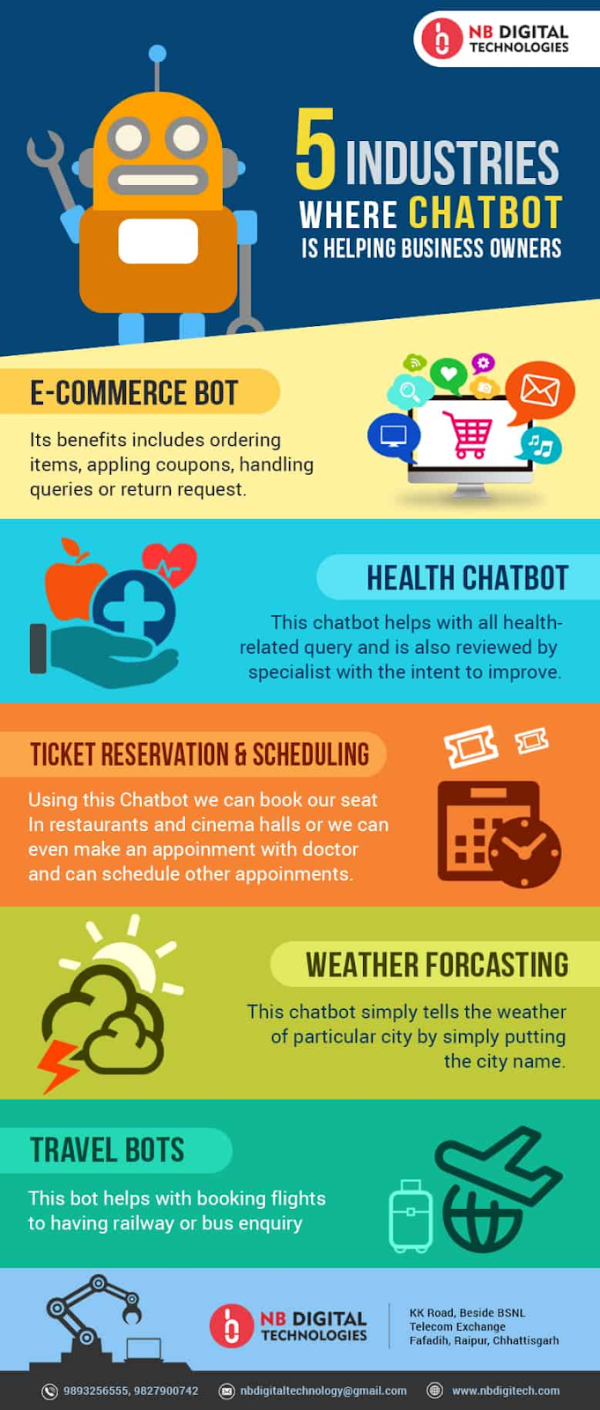 Source: nbdigitech
When with customers, it's important to treat them as real people. Converse with them in a positive and engaging way. Be patient with them and find out what they really want. This will have excellent results for both their needs and the reputation of your company.
In a digital world, remember that chatbots are a great part of modern technology. With the right input, they can mirror humans, making sure they are helping people get what they want.
Keeping up the conversation with customers encourages loyalty. It leaves people feeling good about their customer service and shopping experience.
You might even end up with a new friend along the way.
Bio:
Sam O'Brien is the Senior Website Optimization & User Experience Manager for EMEA at RingCentral, a Global VoIP, video conferencing and cloud PBX provider. Sam has a passion for innovation and loves exploring ways to collaborate more with dispersed teams. He has written for websites such as Bricsys and ProWritingAid. Here is his LinkedIn.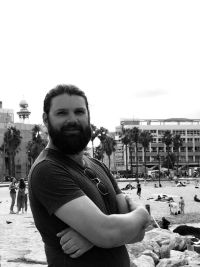 Headshot: RingCentral