Content marketing is one of the most effective ways your brand can generate leads.
Per HubSpot's latest "State of Inbound" report, 70% of marketing teams say that converting leads into customers is their top priority. However, 62% of the participants cite lead generation as their biggest challenge.
According to Demand Metric, content marketing generates three times more leads compared to traditional forms of marketing, while costing 62% less.
When executed wrongly, the same content marketing leads to poor results and becomes frustrating.
Here are the 7 effective lead generation strategies using content marketing that are tried, tested and produce outstanding results:
1. Create a buyer persona
Capturing wrong leads is as bad as not capturing any leads. It can be worse than that because you will end up wasting resources on getting a lead that isn't going to be your customer.
Even before starting to create content, ensure that you have a clear understanding of your ideal user. Specify the type of people you want to be your customers. They will be the right leads. A buyer persona is a detailed profile of your target customer, representing real people in the market you are targeting. Write down the following details:
Biographical information – name, age, gender, location, profession and income
Values they care about – What are their goals and dreams?
Their pain points – What are the solutions they are looking for?
Their source of information – What magazines, websites or blogs do they refer to?
Objective behind purchasing your product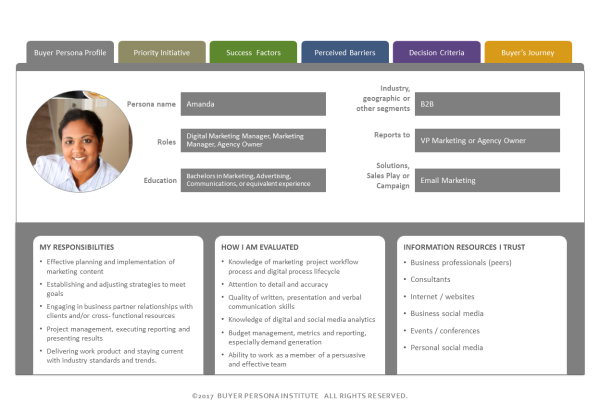 A detailed buyer persona helps you create content focused on attracting that set of people. You have a clear idea of whom you are creating the content. You can use tools such as Facebook Audience Insights, 123FormBuilder and Twitter Analytics to find more details about your ideal audience.
2. Lead magnets and content upgrades
Lead magnets are valuable resources that you give for free in exchange for the visitor's email address. People are cautious when releasing their contact details to a brand, so ensure that your lead magnet solves a problem for the reader and serves as an incentive.
The best content types that act as a lead magnet for generating leads are:
Checklist of tools or resources
ebooks and free reports
Webinars
Discount coupons or free trials
Quizzes
Series of videos
The characteristics of an effective lead magnet are:
Solves a real and specific problem
Quick to digest – such as a PDF checklist
Instantly accessible
Proposes a quick win, helping the reader easily achieve something
Here's an example of OptinMonster using a discount coupon as a lead magnet.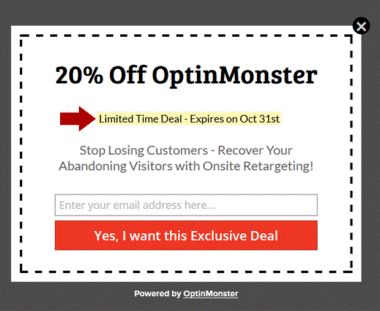 You can also use content upgrades as lead magnets. A kind of lead magnet, content upgrades are pieces of information related to what the visitor is currently reading. They result in higher conversions because of their relevance to the page content. It can be a PDF checklist or a free template.
Brian Dean added a content upgrade (a free checklist) on his blog post "Google's 200 ranking factors: The complete list" that led to a 785% increase in conversions in one day.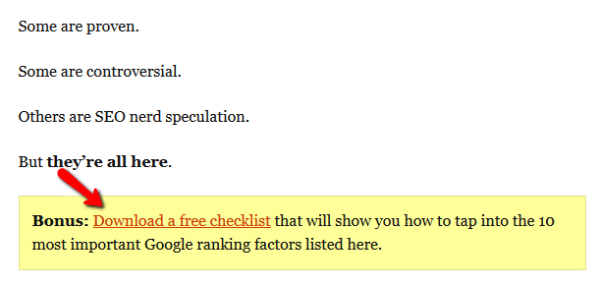 3. Writing high-converting blog posts
Now that you have a lead magnet, writing well-researched and valuable content will grow your audience by grabbing more attention from the audience. High-converting blog posts for lead generation focus on quality more than quantity.
Don't shy away from writing long-form content. As 85% of online content that is being published is fewer than 1,000 words in length, blog posts of 2,000+ words receive more shares, reads and links. The reasons being:
When your content brings more value, answers the audience's problems and gives them a solution, they will appreciate you.
More websites will link back to your blog posts. When your website gets more backlinks, its SEO ranking will increase.
With improved search engine ranking, organic traffic also increases.
More traffic brings more leads to your website.
The important point to note here is that long-form content is not about increasing your word count. Instead, demonstrate your theory, back it up with examples and help your readers. Research the topics and keywords people are searching for.
To rank higher on Google, write taking into consideration a specific search query and create a keyword research strategy. Interlink with other blog posts on the website to increase the time the reader spends on your website. Google will reward you as it helps your blog posts to get indexed by search engines. Include relevant visuals in the form of screenshots, infographics and images to make your post easily consumable. You can embed a blog into your existing website using DropinBlog, a WordPress alternative.
4. A content distribution plan
How will you bring more leads to your website when no one is reading your insightful blog posts? Content distribution is the way out of this challenge.
Broadly, all the distribution channels are divided into two main categories – paid and organic. It boils down to getting more eyeballs by investing either time or money. Smart Insights created a framework named "Content Distribution Matrix" showing the best options for promoting content.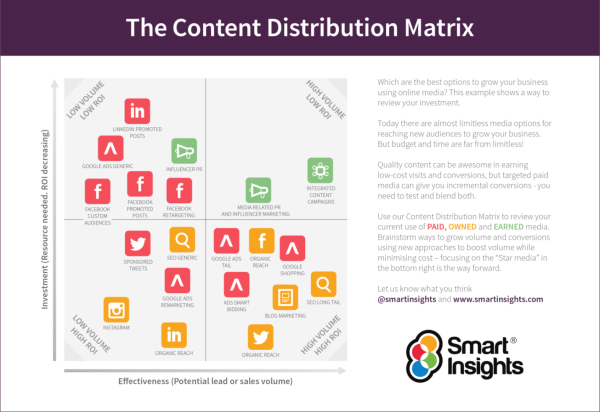 The organic distribution channels work when you have a low budget. Building organic traffic takes time and effort to show results. You can choose from LinkedIn, Facebook, Twitter, Pinterest, Instagram and search engines (Yahoo, Google, Bing, etc). Focus your efforts on the two to three channels where your audience gathers.
The paid promotion channels will require you to spend money on the ads. You can explore social media ads, Google AdWords, native and banner ads and content syndication networks.
A successful content promotion strategy is aimed to get the most out of your content assets using paid or organic media to reach your audience.
5. Optimizing the blog layout to capture the leads
Your blog needs to generate traffic and leads. Leads without traffic will dry out eventually. Traffic without leads is useless. A successful blog with high-quality content is a lead generation machine and not putting thought into its layout is like throwing away your leads.
Here are some best practices to optimize your blog for higher conversions:
Exit-intent pop-up – This pop-up appears when the reader is about to leave the page. The Slack alternative communications app Chanty had a 25% boost in their blog conversions on implementing an exit pop-up.

Static side-bar – Almost all blogs you visit have one side-bar pop-up to subscribe to their newsletter or contact the brand.
Anchor-text CTA – HubSpot generates 83-93% of the leads from each blog post using anchor-text CTA. As people develop banner blindness, the text-based CTA, which does not look like an ad, performs better.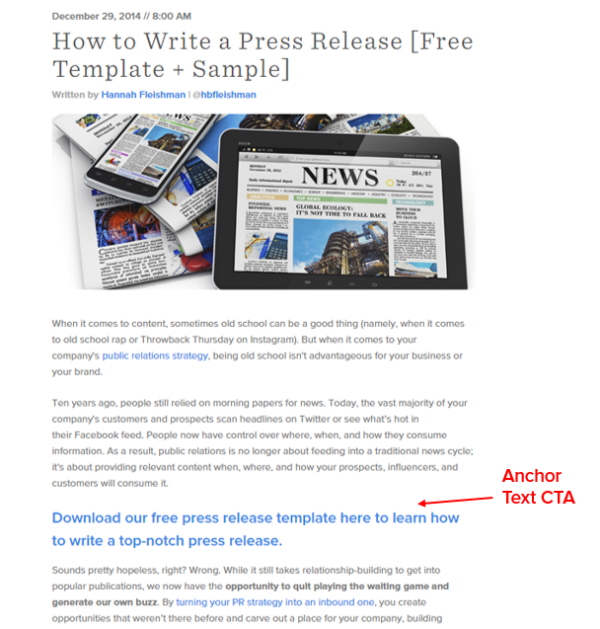 6. Improving the visibility of your lead magnets using guest posting
Guest posting helps new audiences find your brand when they are searching for something related. Typically used for backlinks and brand awareness, you can attract relevant leads from credible websites that have an existing set of readers.
You can either add the lead magnet in the guest post or the author's bio. Most websites permit you to give a link to your website in the author bio. Instead of linking to the website, you can link to the landing page that has a lead magnet or to a content upgrade relevant to the blog post.
7. Use a CRM to collect and streamline the lead information
Keap's Client Relationship Management tool (CRM) houses information about your leads and allows the marketing and the sales teams to further use that data to nurture the leads.
Think about the missed opportunity if you do not have a process or a tool to store the valuable information your audience shares, in exchange for accessing your content. How many leads would go cold while waiting for your follow up? How many dollars' worth of potential sales would be lost? How many branding opportunities would slip through the cracks?
A CRM helps you convert the leads generated into deals won, at scale. In the absence of a CRM, how would you manage the interactions with potential customers?
You can team the CRM with a product roadmap tool so that all the stakeholders are aligned. The milestones, goals, deadlines and resources can be laid out in a visual format to improve the workflow and collaboration.
Conclusion
The first step to gaining customers is generating relevant leads. These seven lead generation strategies using content marketing will ensure that your website never runs out of prospects.
---
About the author
Priyanka Desai is the founder of iScribblers, a content writing agency for SaaS, technology and marketing companies. She regularly contributes to G2Crowd, Business2Community, Forbes India, ReadWrite and TimeDoctor App among many others. You can reach out to her on LinkedIn or Twitter.