Traditional cold calling is no longer effective in today's business environment. If you're still using antiquated techniques to win over prospects, it's a good time to switch to more modern strategies. Below, we'll review the changes in consumer behavior that make new cold calling strategies necessary, followed by five things you can do to make cold calling work for you.
Cold calling today vs. 10 years ago
Did you know that cold sales calls are ineffective 90.9% of the time? One of the main reasons cold calling is harder today is changes in consumer attitudes. Today's consumers are savvy, well-researched, and self-reliant.
According to Matthew Cook, a Forbes Council Member, the newer generation of customers wants to take charge of its purchases with its own research before ever talking to a company representative. Consumers are also highly skeptical of cold calling. They can see through shallow sales messages. They want to develop trust and build a relationship with companies and brands on their own terms before making any purchases.
A decade ago, many businesses could rely on telephone calls alone to acquire customers. They didn't need to extensively track data, reach out and diversify into multiple channels, and didn't necessarily do follow-up calls. Many businesses employed simple cold calling scripts and were successful.
However, over time, companies had to update their programs and training, expand their tools, and experiment with different methods to remain successful. Today, a spammy and aggressive approach tends to do more harm to a business than good.
In short, while some say cold calling is dead, we believe it has evolved. Case in point: Choosing from a variety of marketing methods, 46% of surveyed salespeople said the phone is among their top three methods for reaching prospects. This was second only to referrals in the survey.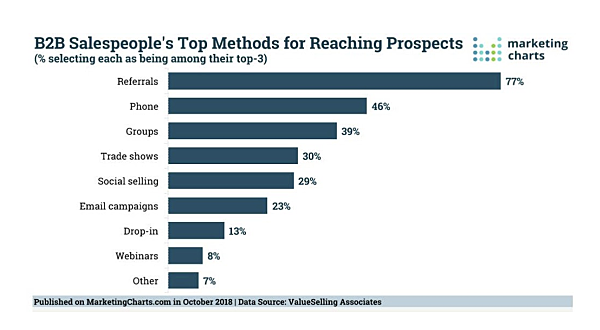 Image source
Although cold calling is alive and well, sales representatives need to take special care to build relationships and genuinely help and add value for consumers rather than deploying hard selling tactics. Below we'll present how to do that by going over five ways to help you warm up your cold calls.
Five tips to make cold calling work
1. Data empowered cold calling
Low-quality data is one of the main problems, wasting an average of 27.3% of a B2B salesperson's time. That totals 546 hours per year for a full-time staff member. Take a step back to continually audit your database of potential buyers and assess whether you're looking at the right metrics.
Look at total calls, talk time, and next steps. These three metrics can help you identify the best time to call, understand how to better prioritize your calls, and how to increase the chances of developing a long-term relationship with your customers.
Help grow the community by referring friends and family that could benefit from the product and get rewarded with $100. https://t.co/k3S9ptO0VQ pic.twitter.com/9IQ6WeTiEO

— Keap (@KeapGrowing) December 24, 2019
2. Multi-channel outreach strategies
If your outreach strategy only involves cold calling, then you're in trouble. Today, you need to reach out to consumers using multiple channels, including email, phone, and social media.
Used together, they can seriously boost your prospecting and sales efforts. In fact, 50% of high-growth sales teams use the triple touch approach (sending emails, calling prospects, and leaving a LinkedIn message). Measure your campaign by assessing the success of the overall campaign instead of measuring individual channels.
Image source
3. Monitor your performance
Monitoring your cold call success is vital if you want to see if your approach is working. Over time, you want to achieve a predictable and scalable sales model. However, you won't be able to accumulate the needed data if you're not monitoring your overall performance. If you're having difficulty, try to pinpoint the weak spots in your sales process.
You can break it down by tracking your activity (the number of calls you make a day). Then, gauge the quality of your prospects (how many decision-makers you were able to contact). Next, move on to how many of these qualified prospects you were able to convert. By assessing activity, quality, and conversion, you can monitor your performance at each step of the sales funnel.
4. Follow-ups are very important
According to Robert Clay, the founder of Marketing Wizdom, "It takes at least five continuous follow-up efforts after the initial sales contact before a customer says yes."
Many customers don't buy right away because they may be lacking time, be concerned about cost, have tight cash flow, have budgeting constraints, or they could even have too many other things on their mind. Yet, despite these statistics, 44% of salespeople give up after just one follow-up call.
To maximize sales, you need to be persistent. Include following-up as a key step in your outbound sales funnel to remind team members to reengage with potential prospects and customers.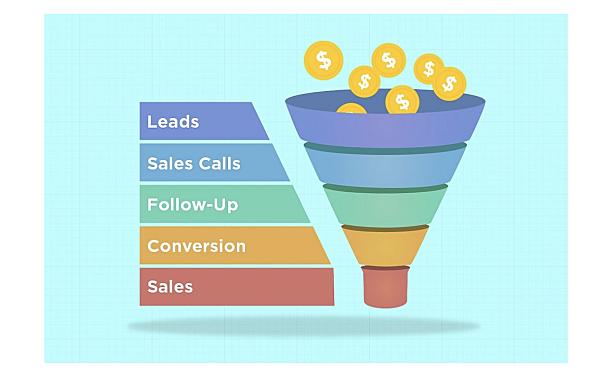 Image source
5. Use the right technology
Today, many technologies can help you reduce time spent on cold calling efforts. You can align these activities with your sales funnel. For example, consider a prospecting tool that can help you hunt for leads, a phone support system, and customer relationship management software to keep track of key information about every client. These tools can help you automate your sales and cold calling while ensuring that you don't accidentally skip any steps in the sales funnel.
When it comes to cold calling, many are quick to call it quits. On the other hand, 55% of high-growth companies that experienced a minimum of 40% growth over the previous three years believe that cold calling is still very much alive. That's because they recognize that using old tactics that may have worked a decade ago no longer work today. Consumer purchasing behavior is always changing. If you want to boost the success of your cold calling efforts, be sure to leverage data, use multiple channels, monitor your performance, follow-up successfully, and use the right technology to help you automate and streamline your sales process.
Cold calling isn't dead. It just evolved, and so should your cold calling strategies.
About the author
Robert Oscanyan is a Product Marketing Manager at Jive Communications by LogMeIn, a hosted VoIP provider which helps thousands of organizations simplify how they manage their phone and conferencing systems. Rob spends his time creating new adventures with his wife, six kids, and rambunctious dog while still finding time to binge on crime podcasts. You can find him on LinkedIn.