The coronavirus pandemic has plunged the world's economy into darkness, leaving small businesses floundering.
With face-to-face interaction severely limited, small enterprises need to find dynamic sales solutions to drive profit in the face of continued uncertainty.
Through creatively re-envisioning products and services, delivery methods, and marketing channels, small businesses are finding innovative ways to prosper during the COVID-19 crisis.
Are you looking for ideas to shelter your business from the coronavirus? Check out what these eight small businesses are doing to increase sales during the pandemic:
Sales tactic #1: pivot online like BeerCloud.ie
The global lockdown has led to unprecedented online sales booms thanks to hoarding and boredom.
Online homeware retailer Wayfair has seen its shares rocket 400%, while eBay stock has risen over 50%, and Shopify has climbed 26%.
The crisis is seeing ecommerce sales increase across all platforms, from private online vendors to auction marketplaces.
While your small business may have previously functioned in a brick-and-mortar space or relied upon customer interaction, widespread social distancing means you'll need to pivot. How? Via online ecommerce and "cloud migration." Online ecommerce enables you to refine and reshape your services to present solutions that don't need face-to-face interaction.
By pivoting online, you can continue to stay relevant to your customer base, while adding a new thriving income stream.
Perhaps the most beautiful thing about migrating online is the cut in overheads. While the initial setup may seem costly, you'll find you can easily set up an online shop and complementary social media marketing channels for about $2,000 (at most!).
Seeing as though a third of U.S. businesses launch with less than $5,000, pivoting to online ecommerce is financially manageable for most SMEs.
How is BeerCloud.ie increasing sales during COVID-19?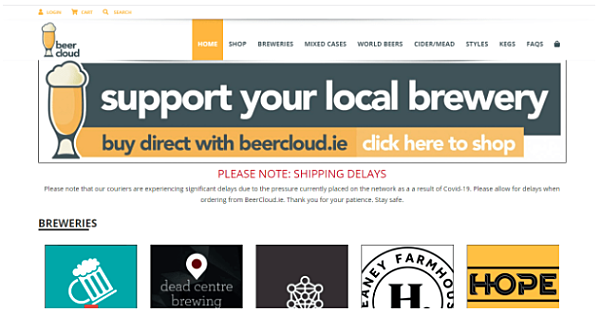 Source
Beercloud.ie is a collective of small breweries fighting to survive after mandatory venue closures. These smaller establishments collaborated to form a one-stop-online-shop for home-delivered craft beers.
By teaming and pivoting to online sales, these companies could cut costs and drive non-contact sales, increasing profits.
Sales tactic #2: sell education like Adam Hocke
Boredom created by the global lockdown has led to an upswing in the online education industry.
From online learning platforms to internet-based courses, education-based businesses have been prospering from the beginning of the coronavirus outbreaks. In China, online e-learning tycoons have netted over $3.2 billion during the pandemic.
How is Adam Hocke increasing sales during COVID-19?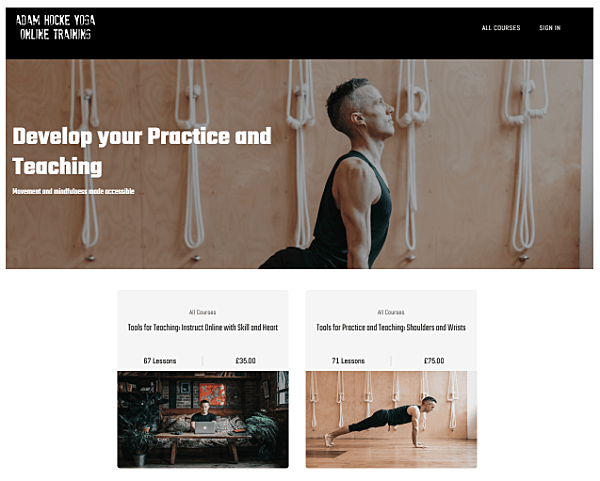 Source
Top yoga teacher Adam Hocke previously taught in high-end yoga studios across London. Pivoting online, Hocke now offers online courses for yoga instructors.
Not only does this offer resilience to the coronavirus crisis, but it also gives Hocke a passive income stream in which he simply markets this existing content.
To collect payments, he's adjusting in-person credit cards and cash to online invoicing. Doing this allows him to customize invoices for his brand image, too.
Sales tactic #3: find social media influencers like Juvia's Place
Social media influencer marketing is a highly effective way to connect with your customers, with 89% of marketers noting that ROI is higher (or at least comparable) than most other marketing tactics.
Since influencers promote your product to their tribe, the influencers you use shape the audience that buys your products.
In this sense, you need to delve deep into your target audience's psyche. The art of leveraging social media influencers lies in finding the right ones.
You want tribe chiefs to promote your products during the coronavirus crisis. That means pinpointing your target tribe and identifying the influencers that lead those social media movements.
How is Juvia's Place increasing sales during COVID-19?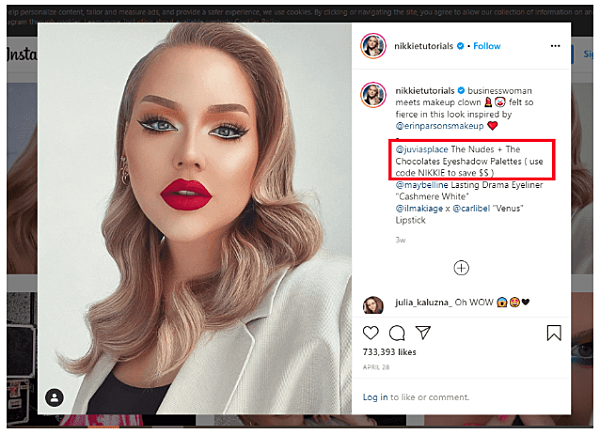 Source
To promote its makeup lines during the pandemic, Juvia's Place has employed social media influencer @NikkieTutorials to model palettes during her tutorial videos.
Not only does this expand Juvia's Place's reach to @NikkieTutorials 14 million followers, but it also builds brand credibility by capitalizing on Nikkie's reputation.
Sales tactic #4: harness email marketing like CreativeLive
Email marketing is a highly cost-effective marketing channel, making businesses an average of $42 on the $1.
Seeing as Americans spend nearly five hours per day on their email, it's a great communication channel to reach your client base regularly.
The most prosperous email campaigns include interactive elements, video content, and competitions. Even including the term 'video' into your subject line can boost email open rates by 80%.
Whether you're offering topic-focused content to educate your audience or a sales pitch to increase urgency, email marketing significantly heightens brand awareness.
Since email segmentation accounts for 58% of revenue, make sure to employ an effective email tracking system to analyze the performance of your emails to improve targeting.
How is CreativeLive increasing sales during COVID-19?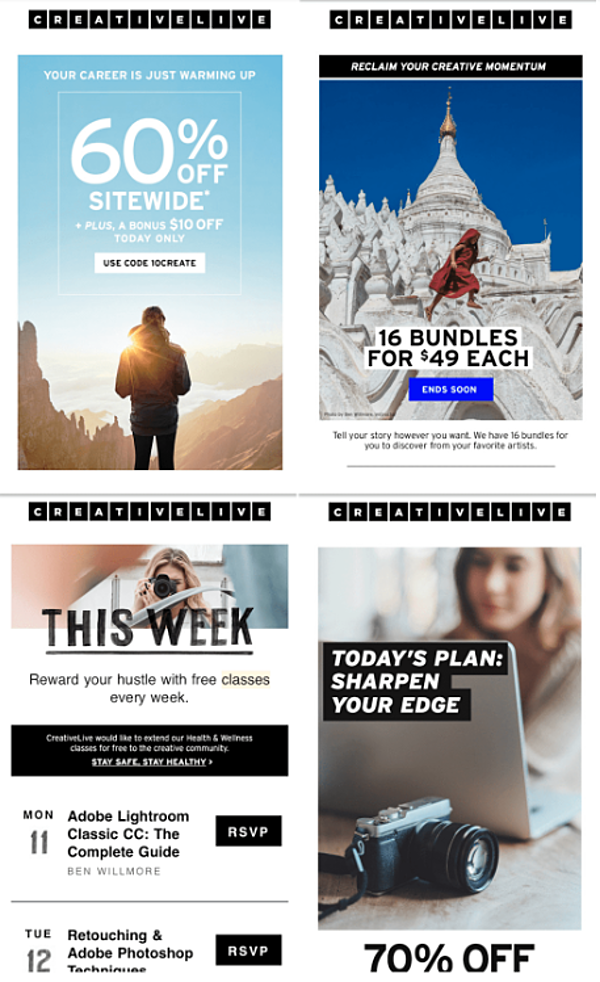 CreativeLive's email marketing campaigns during the coronavirus crisis have ranged from discounts to free giveaways, from sales announcements to contests.
Each type of content is segmented to convert various sectors of the photography company's audience.
Sales tactic #5: host online webinars like Keap
In-person gatherings have been banned due to the crisis. In response, the events industry has shifted online using social media live streams and webinar software.
Famous faces from Barack Obama to Lady Gaga have jumped on the bandwagon of online speaking and performing to protect their own legacies that are suffering due to social distancing restrictions.
You don't have to be a keynote speaker to host an online event to drive profits. Offer customers ticketed webinars and workshops to help improve their knowledge or learn new skills.
How is Keap increasing sales during COVID-19?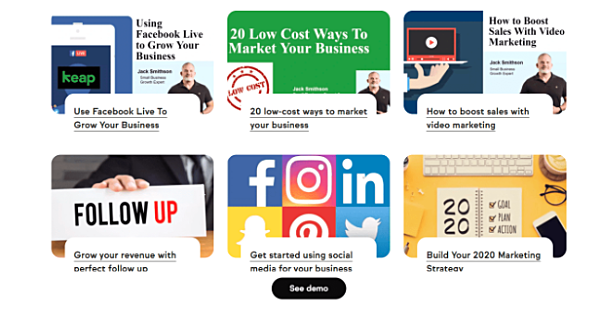 Source
Keap offers a whole catalog of webinars that give actionable advice and present useful tools for customers to grow their business during the crisis.
Their webinars demonstrate expertise, encouraging customers to trust them, their brand, and their products. This increases awareness and helps drive online sales.
One of Keap's main impacts has been content marketing via its blogs, establishing thought leadership and increasing demand for more webinars: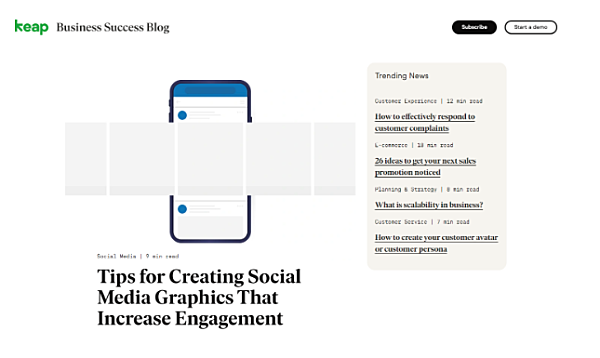 When creating more content for your blog and exploring online events, be sure to optimize the process.
Use a tool like Wordable to import your content into WordPress. Use Keap to funnel leads in your CRM. And close the deal with good webinar software.
Sales tactic #6: leverage video marketing like Lolly.co
Nearly half of the world watches at least one hour of video footage online every day, making video a prime format to gain customer attention.
When making purchasing decisions, 50% of buyers consume video content of a product before making a choice. In terms of conversion, 80% of marketers agreed that video directly drove sales.
In this sense, video marketing is essential to increasing sales, especially while everyone's in lockdown mode.
How is Lolly.co increasing sales during COVID-19?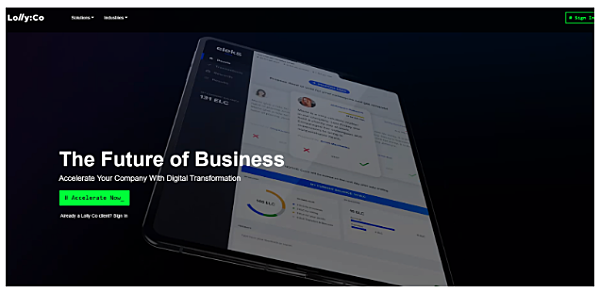 Source
Lolly.co masters video by displaying it as the main feature on its website and social media platforms to increase consumer trust and reduce bounce rates.
Its entire site is an immersive video experience like none other, making for a memorable experience that people won't forget.
This helps establish its brand instantly as a leader in the space.
Since two-thirds of consumers prefer watching videos to reading about products, the dental practice uses video as a key persuasive tool during the consumer research phase.
Sales tactic #7: automate your sales process like Growth Law
Time is money. If you're dedicating lots of time to moving clients down the sales funnel, you may find it's because you're bogged down in finicky tasks.
First, sales automation tools enhance time management. While you could hire a virtual assistant to deal with clerical tasks, sales automation software can manage a good proportion of these tasks, saving you money on hiring employees.
Second, sales automation software, such as lead generation tools and email tracking programs, makes it easy to craft a fluid and consistent end-to-end customer journey.
This improves overall customer experience, slashing customer dropout during onboarding.
How is Growth Law increasing sales during COVID-19?
First, Growth Law starts by fine-tuning its offer to weed out the barrage of ads and white noise people are exposed to currently, as they are on screens more than ever: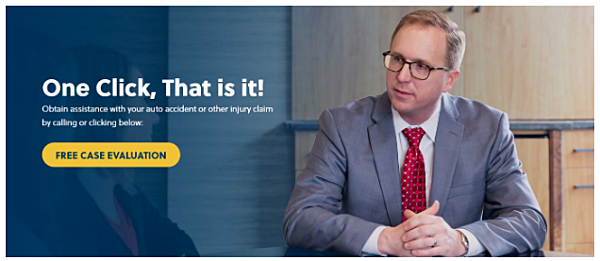 Source
"One Click, That is it! Free case evaluation"
This offer is incredibly enticing for multiple reasons: it's simple, it takes just seconds to account for short attention spans, and it delivers value.
Once these leads engage with the CTA, they're introduced to its complex marketing funnel with email content, whitepapers and more.
Sales tactic #8: star on a podcast like Pose.A Dancewear
There's an unprecedented demand for podcasts. A quarter of people listen to podcasts every week, while 16 million people in the U.S. consider themselves to be 'avid podcast fans.'
Podcasts establish your brand as an industry authority through insightful expert conversation. Guest interviews only serve to convince the audience of your prowess and expertise.
Not only that, but podcast marketing boosts your SEO rating, making it easier for customers to find you in Google searches.
Most importantly, however, 54% of buyers are more likely to buy from brands they hear on podcasts.
So whether you start your own podcast, or are featured as a guest, having your brand on podcasts increases sales.
How is Pose.A increasing sales during COVID-19?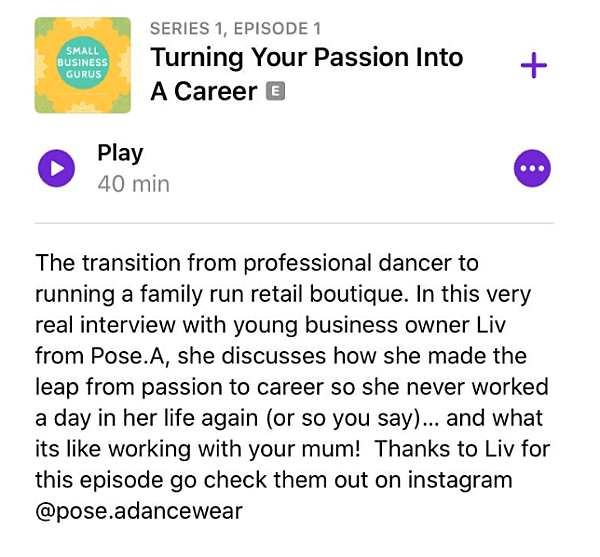 Source
The founder of Pose.A speaks about her personal and professional experiences to drive an emotional connection with their dancewear firm's target audience.
By being featured as a guest on a business-focused podcast, she demonstrates that her expertise stretches beyond dance and into successfully providing a useful service to customers, even in this time of crisis.
This establishes credibility and drives brand awareness.
Conclusion
Small businesses around the world are going back to the drawing board to combat the profit crush of the coronavirus pandemic and increase sales during the COVID-19 crisis.
The examples detailed above show that switching marketing angles, pivoting to online commerce, and ramping up client-focused content is the way to increase attention and drive sales.
Try these profitable tactics during the pandemic. You'll be surprised how your company can thrive with a little creative adaptation!
Before you go ...
SEE HOW YOU RANK: Take Keap's Lifecycle Automation Self Assessment and compare your business against the industry's top performers with our proven formula and instantly reveal the strengths and gaps of your business.