by Zack Colman
So you've loaded your contacts into Infusionsoft by Keap's CRM, added the products/services that you want to sell, and set up marketing campaigns. Time to start bringing in the dough, right? Well, there's one more thing you should do before you start making it rain: it's time to figure out the best way to get paid.
You could take cash or check and manually book those transactions by hand, which means you'll have to make regular trips to the bank and constantly worry about whether you have enough cash on hand (not to mention security). Of course, this won't help much in the online space, where credit and debit have almost completely taken over.
Did you know that from 2012 to 2015, the use of credit and debit cards in the United States increased from 42 to 48 percent in terms of transactions? Internationally, cash and check have phased out much more quickly.
Knowing that, accepting cards for payment is necessary and will only become increasingly more so in the years to come. Unfortunately, choosing a processor or gateway can often be a major pain for small businesses.
Fortunately for Infusionsoft by Keap users, we have your back! It's called Infusionsoft by Keap Payments. It's free to set up, and (unlike many other payment services) there's no additional monthly charge to use Payments. Within minutes (for most clients) you can begin accepting payments at a rate of 2.9 percent and 30 cents per transaction in the United States and Canada, and 1.9 percent and 20 pence per transaction in the UK. (As of November 2017, Infusionsoft by Keap Payments is only available in the United States, UK and Canada for clients with e-Commerce enabled.)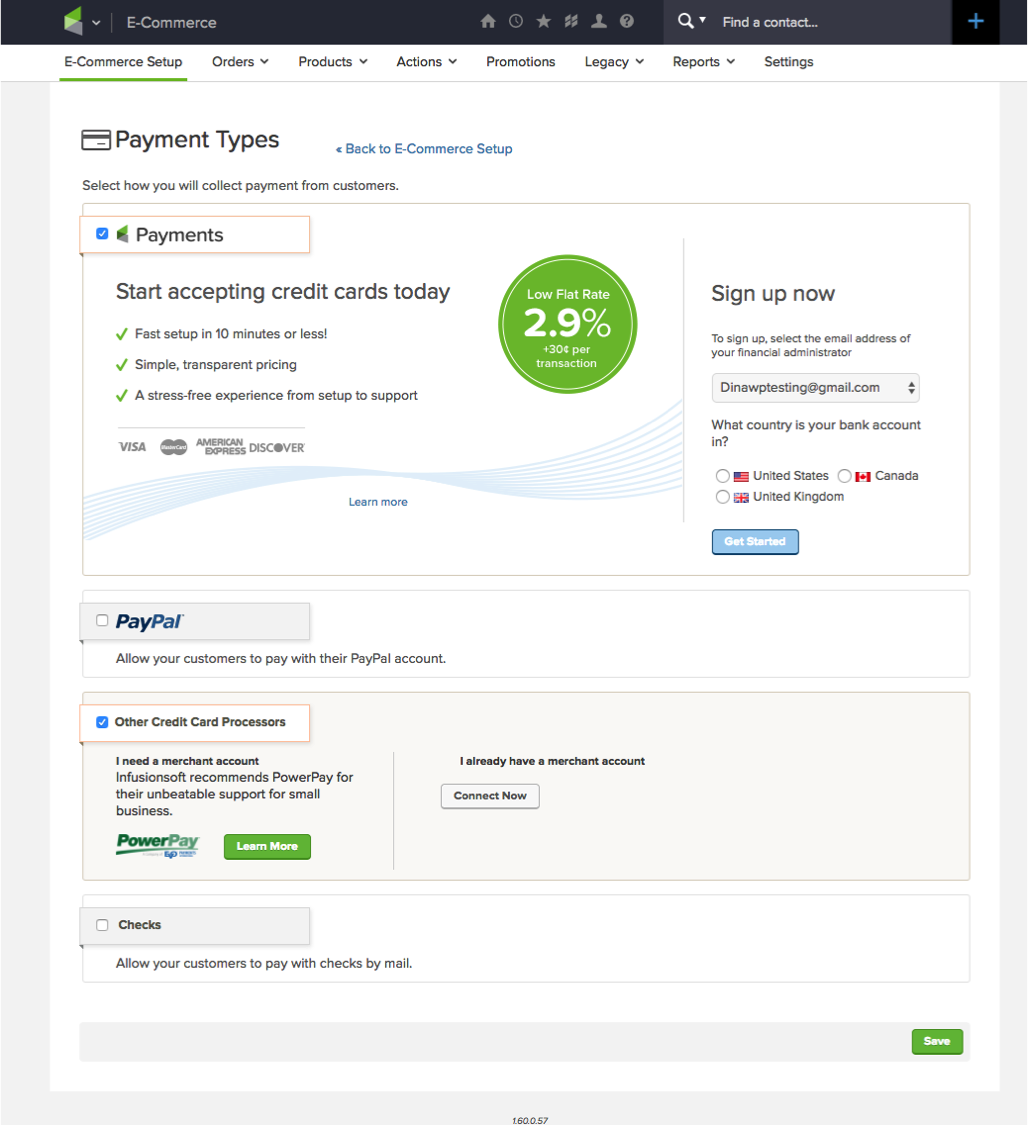 Infusionsoft by Keap Payments is seamlessly integrated into Infusionsoft by Keap's CRM, taking the effort of booking sales out of your hands and giving you the opportunity to create powerful campaigns to generate repeat sales. Plus, there is no monthly cost.
If you're looking for a way to take payments in person, we even offer a card reader to our clients in the United States.
As much as we would love everyone to use Infusionsoft by Keap Payments, it is not a perfect solution for all businesses, which is why we have partnered up with other processors and gateways to give you options. We support PayPal, Authorize.Net, First Data, PowerPay, EWay, Network Merchants, CartConnect and Network Merchants, with more to come in the future. With options like these, you'll be sure to find one that fits your business needs.
Infusionsoft by Keap Payments isn't for everyone. Below are a few of the businesses Infusionsoft by Keap Payments currently cannot support:
Businesses headquartered outside the US, UK, or Canada
Adult content
Regulated substances and nutritional supplements
Gambling
Lead generation
Weaponry
You can find a more detailed list in Section 7 of the Terms of Service, but feel free to reach out to us if you're unsure whether or not Payments will work for your business.
Infusionsoft by Keap already offers the most powerful small business marketing and CRM tool on the market, and Infusionsoft by Keap Payments is here to make running your small business even better than before. Set your business up with Infusionsoft by Keap Payments today.