by Kavin Patel
Marketers have started to realize one-size-fits-all websites have a major flaw: they're not designed to win customers and are mostly distracting. Landing pages, by definition, are a standalone web page, created for the sole purpose of convincing a visitor to take a single action (to sign up, download, buy, etc.). This means businesses often create many landing pages as they work to drive traffic to a variety of actions in a variety of campaigns. Infusionsoft customers thinking of, or currently working with third-party landing page builders, may not realize they have the option to develop landing pages right within their app. Not only that, Infusionsoft's new Landing Pages outcompetes third-party builders, especially in price because it is included in their current subscription.
If you haven't yet had the chance to experience the new Infusionsoft landing page builder tool, you're missing out! See what customers have to say about it and check it out today yourself by logging in and heading to Campaign Builder.
Just say no to API integrations
Not only is it free and built right into your Infusionsoft app, but our best-in-class builder boasts a boss drag-and-drop feature that's super simple to use, provides effortless customization, blazing-fast page loads speeds, and so much more.
No longer do you have to worry about copying your app name and API key over to third-party landing page tools to integrate with your Infusionsoft account. And, did we mention, it's free? You can save big bucks by canceling your other landing page solution and switching to Infusionsoft Landing Pages: it's live in your app right now.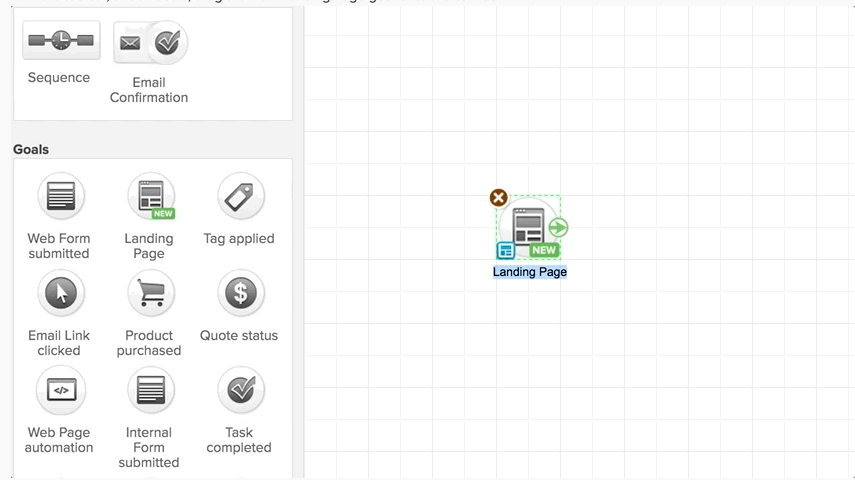 Mobile-first optimization
On average, it takes 22 seconds to fully load a mobile landing page, according to a new analysis. That's costly to business: 53 percent of visits are abandoned if a mobile site takes longer than three seconds to load. That's a big problem. But not for Infusionsoft's Landing Pages. Our Landing Pages provides best-in-class load times, making your landing pages mobile friendly, not to mention improve their rank in search and social. Google tends to favor pages with faster load speed, and Facebook feed ranking and paid ad placements are all dictated by how fast your mobile page loads.

World class image gallery
New Landing Pages doesn't leave you to worry about finding stock images that work for your brand. We let you personalize your landing pages with the images your visitors want to see. We've built in thousands of royalty-free stock images to select from. No longer do you have to purchase stock photos, download them, and upload them to your landing page builder. With a simple search, you can browse through thousands of images. All images are then optimized and reduced in file size to help with mobile page load speed without sacrificing high-resolution quality.
Tag all form submissions
Because Landing Pages is in the Campaign Builder, it's easy to use tags to trigger automation. By applying a tag, you can trigger a campaign builder goal, therefore firing off automation, right while you're creating the landing page. Try doing that with a third-party builder.
There are two options for applying tags to visitors that opt-in on your landing page form:
Global Tag allows you to tag a visitor that submits a form
A tag to a form field applies a specific tag based on what checkbox or radio button a visitor selected on a form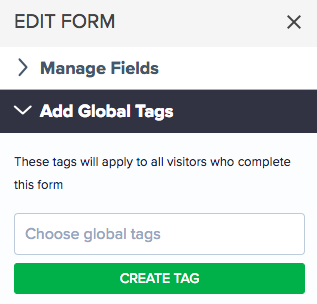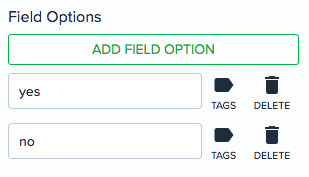 Forms with custom fields
Since Landing Pages is an Infusionsoft product, you can use custom fields in your forms, letting you gather the information from your visitors that your business needs. The form builder inside the new landing page builder automatically pulls in all your custom fields. This way you can follow up the landing page node with a sequence that is personalized based on the custom field submissions.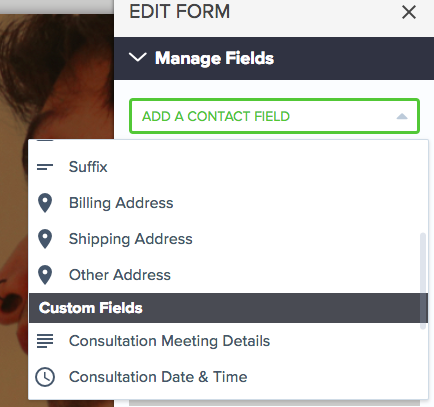 Conclusion
Infusionsoft's new Landing Pages is live and ready for all customers to begin using. If you're an Infusionsoft user, and you're tired of dealing with clunky third-party solutions or paying extra for essential digital marketing tools, you can start using new Landing Pages today!
New Landing Pages will let you publish beautiful, modern pages that convert, with effortless customization and best-in-class page load speeds, giving your visitors an engaging user experience on any device. Landing Pages makes it simpler to get more leads. You've got a best-in-class, easy to use landing page builder in your app right now—and you pay nothing extra for it.
Ongoing improvements to Landing Pages you can expect:
Content publishing: Design a marketing funnel and share it with your colleagues or easily publish it to your client's account with a couple of clicks.
Merge fields: Personalize landing pages by using merge fields. Use this opportunity to upsell your customers to the next best offer.
Hidden fields: Auto-populate the form from the email link your visitor clicks on, increasing the opportunity for them opting in.
E-commerce: Have digital products to sell? Soon you'll be able to sell it directly using Infusionsoft Payments.
Social opt-in: The way we fill out forms has not changed since the dawn of time. Soon you can allow your visitors to opt-in by having them OAuth with Facebook or Google. This directly validates real contacts and drives up the lead score.