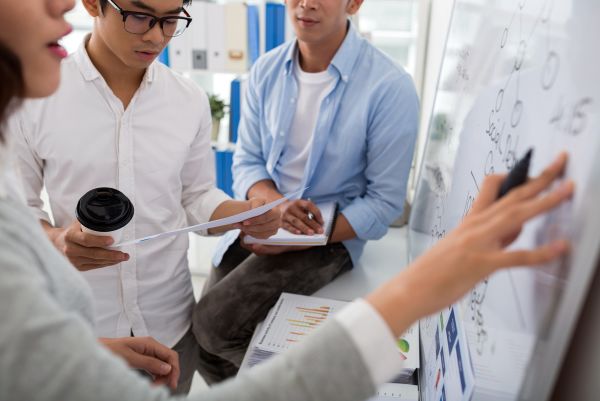 "Success is 20 percent skills and 80 percent strategy. You might know how to read, but more importantly, what's your plan to read?" — Jim Rohn
Let's refresh. You now know your purpose for attending your event. You've set goals and you know how to give back to the people you'll meet. Now it's time to organize and strategize.
1. Pre-event networking prep
Make contact before you go
Once you've familiarized yourself with some of the people going to the event, reach out and connect.
Have you found appealing leads? Invite them to meet up for lunch or coffee. See if they'd like to check out the event expo with you.
Invite your clients and partners
If there are people in your sphere of influence who would benefit from this event, invite them. Everyone appreciates a shared resource. Plus, it's always nice to have a familiar face to break up all the new introductions.
Review the attendee list for possible connections
Prior to the event, take a look at who will be attending. A list of attendees may be available.
If not, search for a Facebook group or conference app that connects participants. Sign in and start mingling! Check out the other attendees' websites and/or social media profiles. Determine if you can help each other. What kind of value can you offer to them? How can you be of service?
Create your own conference agenda
Now that you're prioritizing making those new contacts, it's time to draft your personal conference agenda.
Before you arrive, check the event schedule and decide which breakout sessions are a "can't miss" and which are worth sacrificing for an in-person meeting. Are organized mixers on the calendar? Those are always worth attending. Put them on your list too.
Connect with speakers and influencers
Don't be afraid to talk to special guests, speakers, and experts at conferences.
Do you admire their work? Can you share how it's impacted your life and your business? Influencers love to receive that praise. Reach out to them on social media prior to the event. Let them know you're excited to see their keynote, and they'll likely remember you when you introduce yourself at the conference.
Prepare and practice your elevator pitch
Are you ready to talk about yourself?
Try this formula for your introduction: "I help (your ideal client) with (the result you provide) by (the magical way you do it)." Want to make it even more compelling? Keep it concise and incorporate intrigue if possible. For example, you could say, "I help online entrepreneurs double their revenue in 90 days by using my signature ABC system." Something like this will pique the listener's interest and compel them to say, "Wow! How do you do that?"
Organize group meetups
Get a group together. It's a great way to make a lot of connections quickly, and as a bonus, you'll be seen as an influencer.
By simply organizing a happy hour, you're making yourself the center of influence. Act like a host and introduce people to one another based on their needs and interests. The group will see you as the go-to person for resources, referrals, and connections. You'll instantly build trust and credibility. Meetup.com is a great tool for facilitating a get-together like this. Make it easy for people to find by using keywords that conference attendees are likely to search. Interested parties can RSVP, and you'll know in advance who's coming. Share the Meetup link on social media with the event's hashtag, or in the event's app if one has been provided.
Surprisingly, you'll have greater success connecting with others the less you say about yourself. Prep a list of universal questions to help you get to know your new friends. Then lead the conversation by asking and listening. People love to share about themselves. If you're a great listener, they'll automatically love you too.
Marsico recommends asking questions that generate interest. He suggests, "Forget the old 'what do you do?' conversation. Recently, I heard someone ask, 'So, Nancy, are you cool?' and you wouldn't believe the conversation that followed!"
2. Drive traffic to a lead magnet or free resource
You've done your research. You know who will attend the event. Now it's time to add value. Create a lead magnet or free resource for the people you meet.
Not familiar with lead magnets? They're a terrific opportunity to add value by creating a resource such as an ebook, white paper, or checklist, and then sharing it as part of your follow-up process. You'll get their contact information, and they'll get a useful tool. Make it a format that's easy to deliver by email. The trick is coming up with an offering that your new contacts and/or potential prospects desire.
So what kind of lead magnet or free resource should you offer? Ask yourself, "What would be most useful to other participants at the conference?" There's probably a piece of your business that aligns with the event content. Give it away as supplemental information to anyone in need.
There's no need to rack your brain on this one. It could be as simple as just taking great notes at the conference and offering a summary.
3. Make following up automatic
You've connected with all those new people. Why not make the follow-up easy? Personalized, automated follow-up, simplifies the process and ensures that follow-up happens. Have you ever wished you had 10 hands and 2 brains to help get everything done in your business? That's what automation can do for you. And it's especially helpful when it comes to simplifying your follow-up process with new leads.
With automation you can create customized follow-up emails. The emails can be personalized and sent to multiple people at the same time. We're not talking about generic emails with a "Hey you!" salutation either. With smart client management software, you can add elements to your follow-up emails as unique as the people you meet. And all without having to manually compose and send each individual email.
According to a study conducted by Gartner Research, companies that automate their lead management experience a 10% or greater increase in revenue in 6 to 9 months.
If you're not ready to jump into automated follow-up just yet, you can make the manual process of following up easier. Sending individual emails is a daunting and time-consuming task. To simplify the job, create an email template you can use when you return from the event.
The message can be generic. Then, all you need to do is copy and paste, then add specifics for each person you met. Incorporate in at least 1 personalized element so they know you care. For example, referencing something you discussed at the event. Just be careful when you copy and paste your message. It can be easy to accidentally send an email with the wrong name or detail—or to the wrong person! Take the time to double check before you hit send.