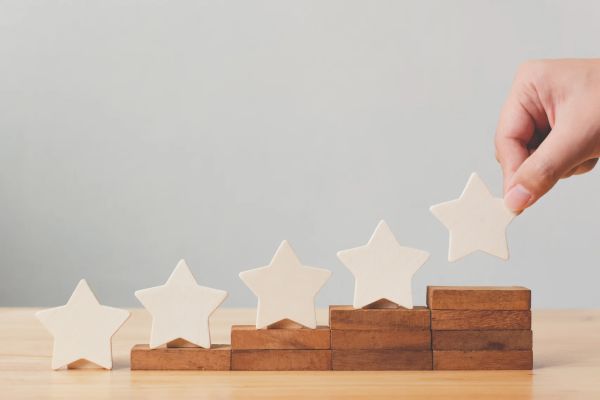 You've probably heard the term "customer experience" used in audiobooks you've listened to, or a conference you've attended. But what is it exactly? Before we talk about developing a customer experience strategy, let's define what it is and how it's different from customer service.
What is customer experience?
In a nutshell, customer experience is the complete journey of a client's interactions with your business. This starts from the moment the client discovers your business and continues throughout all the touch points the client has with your business, and is ongoing including after a client starts using your product or service and continues throughout the customer lifecycle. It focuses on truly understanding the emotional, physical, and psychological connections clients have with a brand or business.
How is it different from customer service?
Customer service is service or assistance a business gives its clients to use a product or service. The goal is to resolve any problems a client may have with your product or service. The difference is customer service is a reactive approach to keeping clients satisfied while customer experience is a proactive approach that strives to deliver an experience that meets the expectations and needs of the client to easily solve their problems and develop an ongoing relationship.
Why is it important?
As we all know, businesses can't survive without their clients. They are the lifeline of every business. As a small business owner, you also know how important it is to win new business, and more importantly, keep existing clients happy and loyal so they return and willingly refer friends and family to your business.
Customer experience is a big deal. In fact, a Bloomberg Businessweek survey found that delivering an excellent customer experience has become a top strategic objective for businesses. Seventy-five percent of customer experience management leaders rated it a five on a scale of 1-5, with five being the highest. And according to a Gartner survey, 89 percent of businesses expect to compete primarily on the basis of customer experience.
5 strategies to ensure you're delivering a better experience and excellent service
1. Have a clear vision
Whether you're a solopreneur or have a small team, the first step in creating a customer-focused strategy is to have a clear vision everyone strives to achieve. You can define your vision by creating a set of statements that will act as your guiding principles for you and your team.
2. Understand your clients
Next, you want to make sure you truly understand your client needs and wants so you can empathize with their problems and provide the right solution. To do this, you need to determine your ideal client.There are two important types of information you'll collect about your ideal client. Demographics, the quantifiable characteristics that describe who your ideal client is, and psychographics, the psychological information that tells you why your ideal client behaves the way they do.
Demographics include typical characteristics such as:
Age
Race
Ethnicity
Gender
Annual income
Education level
Marital status
Employment status
On their own, demographics only give you part of the information you need. To truly understand your ideal client, and the why that motivates them to make a purchase, you need to add in psychographics. This will help you understand the why that motivates them and drives their purchase decisions.
Psychographic information about your ideal client will tell you about their:
Activities (work, hobbies, etc.)
Interests (food, sports, etc.)
Opinions (politics, culture, etc.)
To help you gather information about your ideal client, you can use our free worksheet that will help you narrowly define your ideal client.
3. Capture client feedback and act on it
Client surveys are an essential tool for helping you ensure you're delivering excellent service and gauging how your clients are feeling. Plus, it shows your clients you care, and you're making an effort to earn their business by addressing their needs and providing them with the level of service they expect.
Conducting a survey is easy. The majority of surveys are now conducted online. You can choose from a number of affordable, easy-to-use online survey tools—such as SurveyMonkey, Typeform, or Google Forms—to set up and administer your survey.
After you've completed a survey and reviewed the feedback, take action and make the necessary business adjustments to improve or make it more convenient for clients to solve their problems with your product or service.
Tip: Net Promoter Score (NPS) is a metric for measuring customer satisfaction. It calculates how likely a client is to recommend a business to friends or family. Make sure your survey asks, "Based on your experience with (Business), how likely are you to recommend us to your friends or family?" with a zero to ten scale with ten being most likely to recommend your business.
4. Think of the client experience as an asset instead of an expense
Putting in the time and expense to build relationships can be challenging. Viewing it as an expense, rather than an asset will only hurt your business. Small businesses rely on loyal client referrals and word-of-mouth to survive and thrive. Fortunately, with the help of automation built into platforms like Infusionsoft by Keap, building client relationships can be done in less time, which will save you both time and money.
5. Measure the client experience ROI
Delivering an experience that goes above and beyond client expectations takes a lot of work for sure, but you'll never know if all the hard work you put into it is paying off if you're not measuring it. You'll want to keep an eye on customer satisfaction, NPS, sales, and other business results. Customer relationship management (CRM) platforms like Infusionsoft by Keap can help you keep all your client information in one place and provide analytics to easily analyze and track your leads and clients throughout the customer lifecycle.
When you're dealing with an upset client, use these six skills to resolve the problem and turn things around quickly.
6 important customer service skills
Skill 1: Patience
When a client is upset, it's vital you keep your cool and listen to what the client has to say because at that moment, what your client wants is to be heard.
Skill 2: Respect
Excellent customer service requires respect. Show your clients respect at all times, even when they're not respectful. Simple ways to show respect are, saying their name, active listening, and waiting until they're finished speaking before responding.
Skill 3: Adaptability
Be flexible and adapt to each situation. Each client is different. Adapting to each situation gives you the power to control the situation without taking the power away from the client so they still feel like they're understood and receiving the service they deserve.
Skill 4: Clear communication
Clients come to you seeking answers. Make sure you're speaking to them in words and phrases they clearly understand. Avoid using jargon or industry-specific terms whenever possible and keep explanations simple. Keep in mind your client may not always fully understand the way you talk about something related to your business the way you understand it.
Skill 5: Take ownership
If a client has a question or problem that you don't have the answer to, take ownership of the situation. Get the answer and follow-up with your clients as soon as you have the answer.
Skill 6: Sense of humor
When the situation gets tense, sometimes a little humor can remedy the situation. Of course you'll only want to use humor when it's appropriate and will lighten up the situation.
5 customer service mistakes to avoid
Mistake 1: Not being organized
When a client complains, it's important to take notes and keep track of the issue, especially if it requires following up. A CRM (customer relationship management) is a handy tool you can use use to keep notes and enable automatic follow-up reminders. Trying to keep track of things in your head, on sticky notes, or in multiple tools is messy and difficult to track. Important information can easily be forgotten, like following up with the client or recalling details about the issue.
Mistake 2: You're hard to get a hold of
If a client can't get a hold of you by phone or email, or after they've left a comment on your website or Facebook page, their frustration builds up, and it only makes the situation worse. If they don't get a quick response, they'll move on without hesitation.
Mistake 3: Talking too much
Listening is critical. Let the customer talk and be heard. Remember, it's all about the client.
Mistake 4: Not taking immediate ownership
By taking ownership of the mistake, you can diffuse a frustrated client. It removes the tension from the conversation and makes it easier to reach a solution.
Mistake 5: Not using this as an opportunity to build a relationship
When a client reaches out with questions or a complaint, it's a good opportunity to use that time to build a relationship. Be kind and empathize with your client. Take your time to resolve the issue or answer their questions. Think of it as your opportunity to build customer loyalty.
Customer loyalty
Customer loyalty can be one of the biggest challenges small businesses face. More than half, 61 percent, of retailers say customer retention is their biggest obstacle. On the other hand, 68 percent of consumers leave a business, because they're upset with the treatment they received.
Why is it so tough? Well, clients are more informed and pickier than ever. They won't settle for second-rate product and services, even if it means going to another business. That's why customer loyalty is so important. Interestingly, an increase of just five percent in customer loyalty can increase the average profit per customer by 25%-100%.
If you haven't set up a loyalty program, then you're leaving a lot of opportunity on the table because 83 percent of customers say loyalty programs can influence them when they're making a purchase decision.
Almost any small business can implement a loyalty program. While setting up a loyalty program requires some work, it's well worth it. These programs can help improve brand recognition, increase growth, and improve the customer experience.
Loyalty program ideas for small business
There are many different types of loyalty programs. Choose one that works well for your business. Some of the most popular reward programs are:
Rewards program
Keep regular clients happy by offering them special offers and incentives. Little perks like a discount on their next purchase or service, or even free valuable information you've put together in an ebook or video. When you reward loyal clients, they'll be more likely to use your services again and refer friends and family.
Punch cards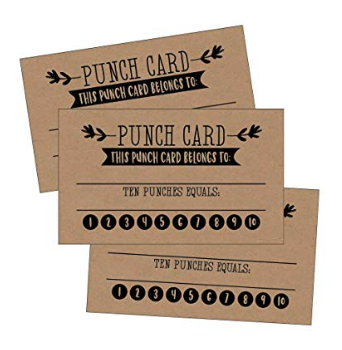 Punch cards have been around for decades and have proven to be highly effective. They're simple to use and people love them. You can use a card, similar to the size of a business card like the example shown here, or go with the increasingly popular mobile approach—a digital punch card. More and more businesses are using mobile punch cards because they work, and they're convenient for businesses and their customers.
Scannable membership cards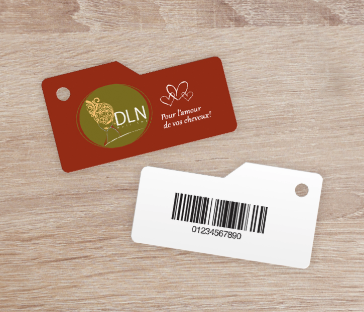 Scannable membership cards have also been around for a while and proven to be effective at increasing return customers. Similar to a punch card, but these cards are part of an electronic system. They're loaded with useful client information like a client's email address so you can reach out to them and ask them for their permission, or opt-in, to receiving emails from you so you can share promotions and other information that will entice them to come back. Something to keep in mind, though, is an increasing number of businesses are switching to mobile reward cards so customers no longer have to carry a physical card.
Mobile app loyalty programs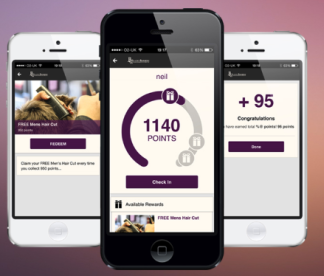 These days, just about everyone owns a smartphone and uses it to store everything, including loyalty apps for the businesses they frequently visit. According to a study by 3Cinteractive, 64 percent of shoppers in the U.S. make more visits or purchases thanks to mobile loyalty programs.
You can work with a customer loyalty technology provider to help you implement a rewards app that's customized for your business. Most clients prefer using mobile reward apps because they're convenient—no reward or punch cards to carry around, and they can easily log in to see their rewards and how far they are from receiving their next reward.
The strategies and skills we shared can help you build long-lasting client relationships that will result in loyal customers who refer new business to help you grow your business.