More than 4 billion people (56% of the world's population) are connected to the Internet and 85 percent of this cohort spend nearly 7 hours each day online. At present, there are nearly 2 billion digital buyers across the globe, and this number is only expected to increase.
Looking at this data, anyone may safely assume that the brick-and-mortar market is dying. Not as yet! No matter what digital technology hits us next, it will never be able to satiate mankind's need to touch or physically interact with the products they intend to buy.
Though ecommerce is driving most of the overall retail growth, in-store sales are up and booming. According to the State of Retail survey report shared by Time Trade, 75% of buyers prefer shopping in-store, the top reason being, it allows them to touch and feel their purchases.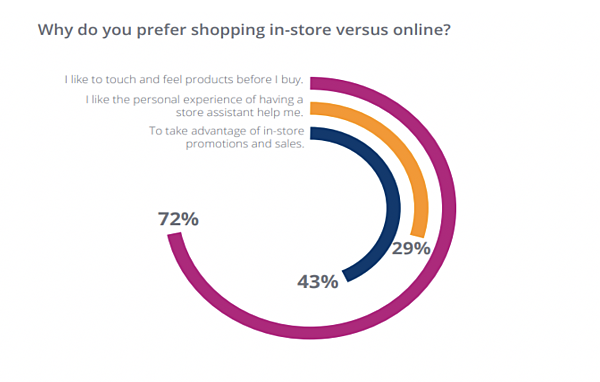 In fact, First Insight's consumer survey reveals that for most shoppers, the in-store spending exceeds the online purchases. Check out this infographic for details.

Source: firstinsight.com
Thus, in-store retail is far from dead. In fact, retailers are adopting the omnichannel approach to engage their audience. Several brick-and-mortar businesses are using the power of digital media to offer innovative shopping experiences to their customers. On the other hand, several ecommerce brands are venturing into the brick-and-mortar space.
This post shares interesting insights on how the 'brick-and-click' combination can help retailers get the best of both worlds and create the best shopping experience for their customers.
1. Engage customers of all generations
The ubiquitous nature of mobile phones, the availability of high-speed internet, and the popularity of social media have massively changed the shopping landscape. In fact, every generational group has unique shopping habits, preferences, and consumer behavior.
For instance, a report from Shopper-First Retailing reveals that Baby Boomers would prefer shopping in-store while Millennials and Gen Z are open to shop in-store and online. Refer to the image below.

Source: salesforce.com
By strengthening their online and physical presence, retailers can create marketing strategies that specifically address the generational consumer shopping behavior and reach them on the right channel. This means retailers can engage each of these generations on multiple channels, namely online store, the physical shop, mobile apps, and social media, ensuring a cohesive user experience.
2. Speeds up the buying process
Combining physical and digital retail experiences can help retailers accelerate the decision-making process and get their prospects into the loyalty loop. According to McKinsey, the buying process is a circular journey as shown in the image below. The first 2 stages, namely initial consideration and active evaluation consume most of the time.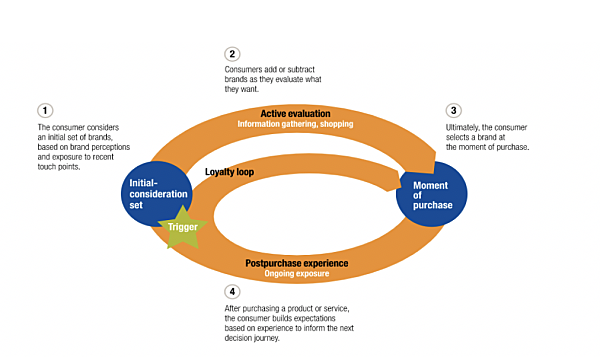 Source: mckinsey.com
This is because customers thoroughly pre-research a brand before making an online or in-store purchase. A recent study published in the Harvard Business Review shows that 73% of customers prefer an omnichannel approach to shopping.
In other words, the 'research online, purchase offline' trend is taking the retail market by storm. Besides offering the relevant specifications, looking up a product online enables customers to access customer reviews. Check out this graph by GetApp to know the top reasons why customers prefer this omnichannel shopping approach.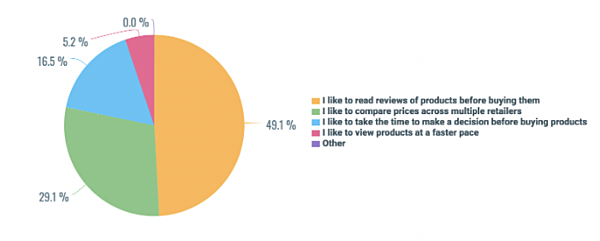 Source: lab.getapp.com
Having an online and offline presence can help customers get the information they are looking for, enabling them to confidently make a buying decision.
For instance, setting up kiosks or tablets in the store to highlight product features, customer reviews, and demonstrate how it compares with other products can reduce the friction during the purchase journey, enabling customers to make a quick decision. Similarly, brick-and-mortar retailers can use beacon technology to increase footfall in their stores. A recent study reveals that nearly 66% of shoppers check their smartphones in-store for knowing more about the product. Using a beacon, a wireless transmitter that emits Bluetooth Low Energy (BLE) to nearby smartphones, retailers can engage such customers. They can send them messages and notifications related to the recent product launches and deals, helping them make a purchase decision in their favor.

Source: flickr.com
Amazon, the ecommerce giant, is hugely investing in building its physical presence in several locations across the globe. It started by opening Amazon Books shops and then went on to introduce Amazon Pop-up Kiosks, AmazonFresh Pickup (a grocery store for Prime subscribers), and Amazon Treasure Trucks to make it convenient for customers to make a purchase.
3. Offers unified shopping experience
Customers look for engaging and consistent brand experiences online and in-store. Inconsistencies can come in the way of the buyer's journey. Therefore, it's important to create a seamless consistency across channels and in design and communication.
Combining brick-and-mortar with ecommerce enables retailers to offer a unified customer experience. The consistent cross-channel brand representation in-store, on the website, mobile app, social media, and traditional advertising enables retailers to speak to their audience in 1 voice. This seamless consistency across channels not only strengthens the brand reputation but also boosts conversions.
We recently put together a video of Keapers sharing what Keap does for our customers. Keap helps small businesses get organized and eliminates repetitive chores. Basically, more business, less work. See what Keap can do for your business: https://t.co/5EhrrNVmFU pic.twitter.com/BoEjXrBOIg

— Keap (@KeapGrowing) November 6, 2019
4. Supports Post-Purchase Engagement/ Customer Retention Efforts
Research shows that after the first purchase, there's a 27% chance of the buyer returning to the store. This probability increases with the second and third purchases. Refer to the chart below.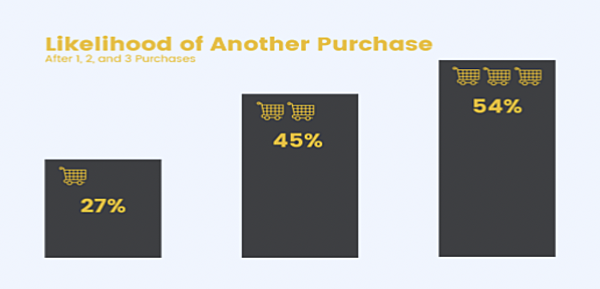 Source: blog.smile.io
Further, Adobe Digital Index shares that a repeat customer is 9 times more likely to make a purchase in comparison to a new customer.
Adopting the omnichannel approach can help retailers nurture their loyal customers and create a seamless physical-digital experience for them. For instance, brick-and-mortar shops can upsell and cross-sell to these customers through an effective email marketing campaign. They can use online tactics like replenishment emails to remind the customer to reorder a product. Further, after purchasing in-store, retailers can encourage customers to use the brand website to leave a review or access after-sale services.
On the other hand, ecommerce stores can provide online shoppers with digitally-enhanced in-store experiences to boost customer loyalty. Ecommerce brands can engage their loyal audience by allowing them to walk in and feel the product in their physical store. Alternatively, they can try other retail spaces like Wal-Mart, Target, and Amazon to showcase their products.
Casper, the leading mattress company in the U.S., started as digitally native. The company soon realized the importance of having a physical store and entered the brick-and-mortar space. Further, the firm partnered with Target to expand its reach and allow its loyal customers to experience their newly-launched range.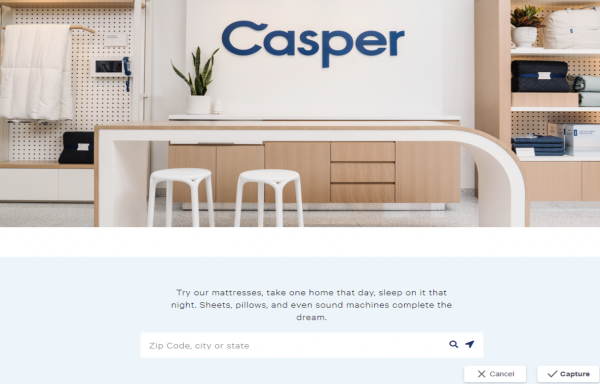 Source: stores.casper.com
Conclusion
Though technology has become ingrained in human lives, we still feel the need to interact with things and be a part of engaging experiences. In this digital age too, customers prefer visiting a brick-and-mortar store to feel a product and enjoy the tactile experiences offered by these stores.
The insights and trends shared in this post clearly points out the fact that omnichannel retail is here to stay. Rather than resisting this trend, retailers should combine digital and physical retail to engage their customers, gain an edge over their competitors, and boost profits.
About the author
Kevin Reis is an experienced SEO specialist with more than 10 years of industry experience. His most recent accomplishment was initiating and scaling Shopify's first international SEO effort. He has been successful in helping Shopify achieve organic growth in more than 25 international markets. Having graduated from the John Molson School of Business at Concordia University, he developed a keen interest in digital marketing. Kevin gained most of his experience in some of the most competitive fields in digital marketing, such as ecommerce and video streaming. He enjoys writing on a variety of topics that range from SEO, technical and International SEO to content marketing.
Thanks for the mention, @USATODAYmoney! We love seeing how technology can help small business owners succeed. https://t.co/PTzzGgFQAH

— Keap (@KeapGrowing) October 24, 2019