Got a bunch of leads in your CRM but not sure how to nudge them down the sales funnel?
You are not alone!
Businesses across all industries are struggling to close the gap between marketing, which is usually focused on generating leads, and sales.
With research showing that 79% of all leads will never become sales, you have to really work hard on driving your conversions up, even by a percentage.
Luckily, we'll show you seven proven strategies for converting your leads into paying customers so that you can roll up your sleeves and start growing your sales.
Let's dive in!
1. Qualify leads upfront
Let's start with a tactic that will make the whole sales process much easier—lead qualification and scoring.
Don't worry though—it might sound more complicated than it actually is.
Lead qualification is simply the process of evaluating whether the prospect is likely to convert into a customer. Lead scoring, on the other hand, is used for ranking the leads in order of sales priority to understand which group of prospects should be engaged first.
If you want to close sales, you need to really understand your prospects—and monitoring their behavior or surveying them with regards to their needs and preferences does the trick.
There are multiple ways you can qualify your leads and these include:
Surveys, quizzes, and questionnaires
Live chat and chatbots
Interviews
Analytics
Here's how lead qualifications look like in practice:

Based on the answers, you can tag and segment your prospects.
Choose whatever method works best and start collecting data to tailor your message and convert your leads faster. There are plenty of tools at your disposal such as LeadQuizzes or Kyleads that can help you create a simple lead qualification system.
2. Optimize your landing page
Why invest thousands of dollars into a fancy looking website when none of the visitors eventually become customers?
You see, your chances for capturing someone's attention are slim already—studies show that, on average, only 2.35% of visitors are ready to consider buying.
That's where landing page optimization comes in handy. Here are a few best practices you might want to consider.
1. Start by improving your copy - simplify the language, make sure to clearly mention the features and benefits
2. Add a social proof - testimonials and reviews in a written or a video form
3. Fine-tune your CTAs - experiment with placement and copy of your buttons and links
4. Add contact information - make it easy for your prospects to get in touch if they have questions or need further information
Apart from that, make sure you run A/B tests and look into the analytics to see things that could be improved.
3. Use conversational marketing
We've already mentioned that getting to know your prospect is key in converting them into paying clients. Now, let's see how you can use conversational marketing tactics to make it happen.
How?
Well, start by adding a live chat to your website. This is the easiest and fastest way to engage with your site visitors and leads in real time.
Using a chat, you can get in touch with your prospects and help them make a decision in buying your products or services. Live chat is great for building trust and making your company look more established.
Apart from that, consider experimenting with chatbots, too. They can be designed to answer FAQ or offer a discount, but best AI chatbots can fully take over the majority of customer service tasks, and even automate sales!
Here's how you can get your leads to get in touch with you themselves, so that you can close the sale:

A super simple (because it's automated!) way to secure a phone call and convert your lead into a loyal client.
4. Invest in content marketing
Studies show that 88% of marketers use content marketing as their lead generation tactic.
But how about also using it to convert leads into clients?
Words are powerful if you know how to use them to your advantage. That's why it's crucial that you consider investing into content marketing initiatives on a few fronts.
First, think of creating educational content that can help your leads learn more about your products or services. Talk about the results and benefits they can get from using them.
Make it convincing by incorporating social proof, such as reviews or testimonials. Also, don't limit yourself only to written text. Experiment!
Here are some examples of alternative content types that can increase your conversions:
Case studies
Webinars
Courses
Make sure that in every one of them, you have clear CTAs. After all, it's all about getting your leads from point A to point B successfully.
5. Build email marketing funnels
Speaking of which—once you have enough valuable content to educate your prospects, it's time to distribute it. Even if the content you produce is already highly shareable, a little push in getting it in front of the right eyes won't hurt.
Of course, the good ol' email marketing can be one of the most effective channels to do it.
You need a powerful email marketing software to design your strategy and prepare your campaigns. There are plenty of free email services on the market to choose from so test a few and pick one that suits you best.
Ideally, you've qualified and scored your leads and thus created segments that you can use to personalize your messages.
Create email workflows with A/B versions and track your open and click rate to understand your leads' preferences. Offer a chance to get in touch with you and book a call or a demo.
Here's an example from UserPilot and their email flow:
Each of your email sequences should have a clear goal of getting your subscribers to take a particular action. Keep in mind that for some leads, it might take longer to make a purchase decision, so design your flows accordingly.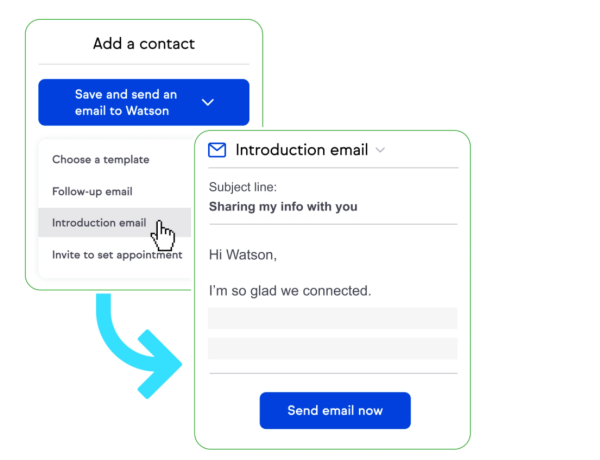 6. Retarget with ads
Next, don't underestimate the power of retargeting.
Reminding your prospects about your products and services in other parts of the internet (outside of your landing page) is a great way to encourage them to come back and reconsider.
To succeed at retargeting, make sure that your analytics are set up correctly, and that you collect as much data about your visitors and leads as possible.
It's easy to be annoying and bombard prospects with irrelevant ads that they either ignore or get resentful about. Be mindful of the content you are showing depending on the lead segment you choose to retarget.
Make sure your ad copy involves clearly stated benefits and a convincing CTA to get them to act immediately. Consider experimenting with different incentives and using social proof to make your ads more effective.
7. Run webinars
Lastly—get face to face with your leads using webinar technology.
Truth is, webinars are one of the most effective ways in building trust and convincing the hesitant prospects to give your products or services a chance.
Ready to improve your lead conversion rate?
There you have it—seven proven tactics that can drive your conversions and help you close more sales.
Start by choosing two or three that seem to have the most potential for your business and experiment to quickly validate your assumptions.
Track and monitor the results to master your lead conversion rate optimization.
Remember that even a small percentage increase in your conversion rate can potentially mean hundreds or thousands of dollars in your bank account, and act strategically to increase your chances.
Good luck!
Margo Ovsiienko is a Growth Marketing Strategist. She creates content that converts website visitors into paying customers for SaaS companies and tech agencies. She writes about her hands-on experience in marketing in her personal blog, Margo Leads.