As a small business, you thrive by building relationships with your clients. Often, this is why many consumers will choose a smaller business over a large corporation. Small-to-medium-sized businesses (SMBs) tend to have a reputation for better customer service because they are able to treat clients as people, not just a number in the CRM system.
However, just because your small business may have a shorter list of customers than big-name competitors, it does not make client management any less of a challenge. Failing to foster client relationships could lead to a lost sale or damaged reputation. Furthermore, a disorganized approach to client management could cause important leads to slip through the cracks.
Having access to the information you need in the moment can help your business close more sales, nurture more leads, and build meaningful connections with clients that lead to happy, loyal customers.
Cloud-based technology is the most useful tool in an SMB's bracket because it allows the entire organization to share information seamlessly and stay connected - even when they are out of the office. This is incredibly important if you are meeting with clients face-to-face or generating leads at a business conference.
Of course, there are plenty of cloud-based systems on the market. So, what are the best ones for SMBs that will have a direct benefit on their client management? Let's take a look.
1. A precise and accurate estimation system
Depending on your business model, you may need to provide leads with estimates on projects before they are ready to make a final decision. Not only do your numbers need to be as near precise as possible, you also want to make a good first impression with a professional document that clearly lays out estimated costs.In order to create an impressive looking estimate report that hits the nail on the head, SMBs should utilize a cloud-based program so they can create and edit at any time. Clear Estimates is a good option here because it offers pre-designed templates that are easy to fill in for faster turn-around. Users can even log in on phones or tablets, making it possible to edit estimates on the go.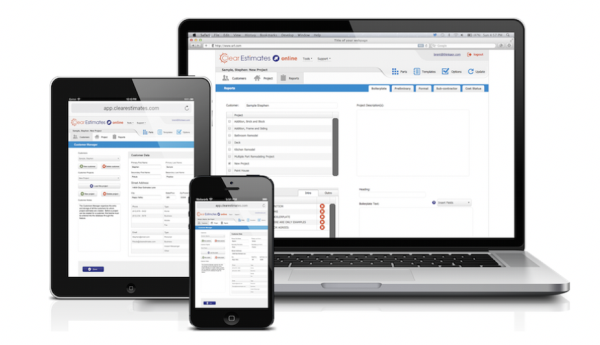 Source: One option, Clear Estimates offers 24-hour customer service for any assistance and has plans starting at $59 a month - making it an affordable option for SMBs with tight budgets.
2. An accurate billing system
When working with clients, it is important that you are not only fair to them in your billing, but also fair to yourself by tracking all billable hours correctly and recording reimbursements.You also want to offer clients with progress reports that are precise and realistic so they can have an idea of when the project will be completed. Keeping track of invoicing and expenses is important for every single business. A single miscalculation on a bill can potentially hurt your relationship with a client and cost you money.Systems like CloudBooks makes it much easier for both the accounting department and everyone in the organization to track these numbers. The simple interface makes it easy to record time spent per project, add expenses, and report on progress. If anything is miscalculated or entered incorrectly, users can log-in remotely and adjust the numbers instantly.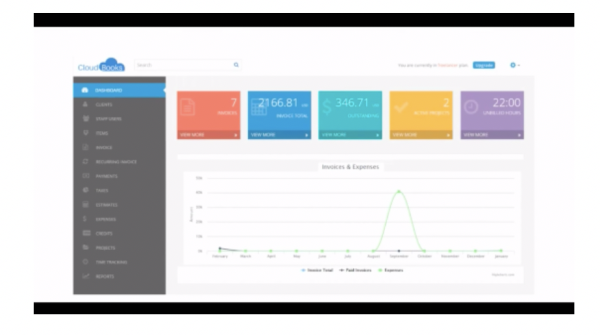 Source: Furthermore, Cloud Books offers SSL encryption so all sensitive financial information can be shared and stored securely. Plans for agencies and SMBs start at just $20 per month with unlimited client accounts and invoices.
3. An organized client management tool
Obviously, a robust CRM system is necessary for businesses of all sizes to thrive. A good CRM system doesn't just keep customer accounts organized and accessible, it allows users to log important information on interactions.
The devil is in the details when it comes to client management. When salespeople are able to keep important details straight about various clients, they can offer more personalized experiences - which can influence conversions and build better customer relationships. Keap's software helps to keep all of your most important customer data centralized and accessible to everyone for more effective lead nurturing and client management.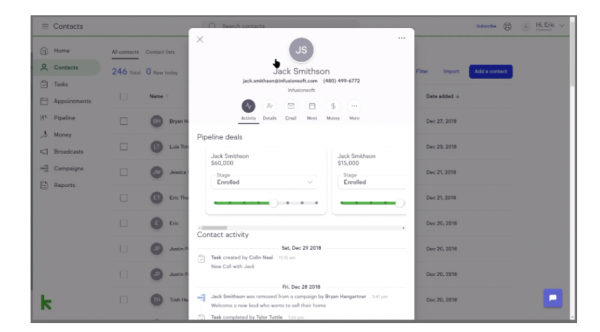 SourceUsers can even sync other programs like Outlook and Gmail into the database so contact information stays updated and accurate. All interactions are recorded so clients are not hounded with repeat messages. Users can also utilize a lead scoring system to keep track of potential customers and nurture those relationships towards a closed sale. Plans start at $99/month after a free trial.
4. An impressive marketing tracking tool
In order to ensure that your SMB is able to customize all of your marketing efforts, you will need to use an intelligent engagement platform. These tools can help your marketing and sales team create a more personalized strategy by segmenting your customers into specific audiences and creating unique content that is most relevant to each. Kissmetrics is a great option because it helps your team to stay on top of the most important KPIs for more effective targeting strategies.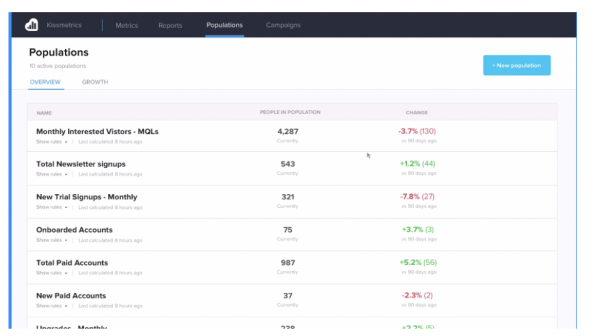 Source: Businesses can automate their marketing content based on behavioral data and triggers. In addition to close audience analysis, Kissmetrics keeps track of all marketing efforts for accurate reporting.
Conclusion
It is vital for smaller organizations to foster good relationships with their clients. When customers feel like they are special and important, they are going to be more likely to remain loyal - and even recommend your business to others. Cloud-based tools make it much easier for businesses of all sizes to keep track of important information needed to build these connections and generate more leads and conversions.
Author Bio:Mansi Dhorda works at E2M Solutions Inc. - a Digital Marketing Agency. She is well-versed in all things Content Marketing and Branding. During her free time, she runs her Instagram page for handmade accessories. Feel free to hit her up anytime on her Twitter handle: @mansidhorda.