Do you need better time management? Are you trying to make more sales? How about streamlining your productivity?
Regarding the latter, productivity is a great thing to focus on. We've collected 21 useful apps that you can download to your devices that will help you feel more accomplished and organized in your daily routine and add more value to your business.
We've taken it one step further and divided these top productivity apps into the following categories:
Communication
Document creation/writing
Note taking
Social media management
Spreadsheets
Storage
Task and project management
Time management
Utilities
Communication
GoToMeeting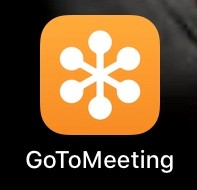 GoToMeeting makes it possible to have a meeting and invite remote attendees via audio or video call. It's very easy to set up a meeting and conduct it using one of your devices, whether it's on a mobile phone or desktop. Use it while in your office or on the go.
Slack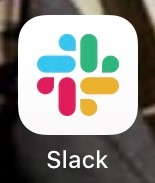 Slack is a slick team communication tool that allows you to chat with individual team members and specific groups when you create your own chat channels. In fact, Slack is how we all communicate here at Keap. Some of our chat channels include #mkt-content_team, #general, #benefits-payroll and #successstories. It creates a very streamlined way to communicate and it's always helpful when people from other departments have general questions about company holidays or benefits.
Slack allows you to upload images, share files and integrate with other apps (in our case, it's integrated with Google Drive so I'm able to upload documents to other team members). You can also make Slack calls via video or audio.
Document creation/writing
Google Docs

Google Docs is a cloud-sharing tool that makes it easy for multiple people to collaborate on one document. It integrates with Google Drive and includes an array of sharing options.
Any changes you make to a Google Doc are automatically saved and synced to your Google Drive, and all changes are chronicled in an activity log, enabling users to monitor what was changed, when and by whom.
Documents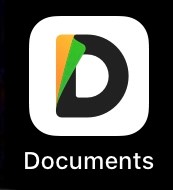 Documents is a useful hub for all of your files including photos, videos, music, word docs, scans, important certificates, etc. With Documents, you can import, save and manage your files, integrate different cloud services, listen to music or watch videos right from the app and read files in PDF format. It also supports family sharing where you can add up to six family members.
Note taking
Evernote
The Evernote app takes basic note-taking to another level, as you can also take screenshots, save articles, images, and notes from other devices. It also makes it possible for you to tag and arrange your files into specific folders, freeing your storage space of extra clutter.
Social media management
Buffer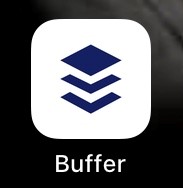 Buffer allows you to post and schedule content to multiple social media platforms simultaneously. You can customize your account to include whichever social media channels in which you participate including Twitter, Facebook, LinkedIn, Instagram and Pinterest. You can assemble and schedule multiple posts while you're on your mobile device or desktop. Just be aware of character limits, as Twitter only allows 280 characters so you may need to rework your status updates to accommodate the different platforms to which you're posting.
Spreadsheets
Airtable
Airtable is a spreadsheet and database platform that lets you create grids that monitor the status of all of your ongoing projects. You can also customize your filtered views, upload attachments, integrate with many other apps through its API, link related data cells together and collaborate with your team by syncing and sharing on the app's newest feature, Blocks. Blocks allows you to create combinations of your tasks, creating a more efficient workflow for your team.
Storage
Password Store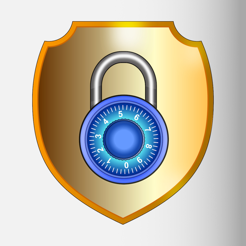 Password Store is an incredibly useful password storing tool that allows you to create a list of all your accounts that require usernames, passwords, account numbers, links/URLs, etc. You can also store your bank account and credit card information.
The app allows you to modify or delete your entries at any time and is protected by a PIN you must enter every time you open the app.
Dropbox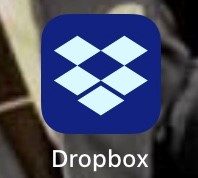 Dropbox is another cloud storage service that is ideal for users who want to keep their files organized. The app arranges files chronologically and allows you to create files from within the app itself. Depending on how much storage you pay for, you can securely store many large files to Dropbox's cloud and invite other users to the service if they want to upload or collaborate.
Much like the Documents app, you can upload an array of files from word docs to music to videos.
Google Drive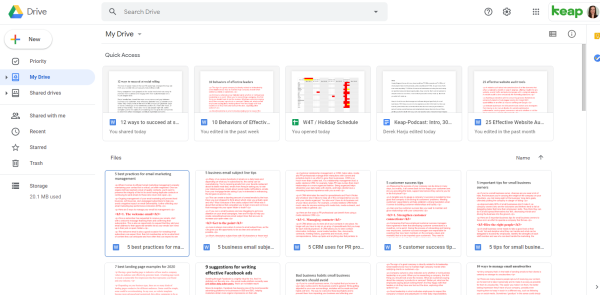 Google Drive is the quintessential cloud storage platform that integrates with other Google Apps. The program makes it easy to upload files to the cloud storage system where you can invite members to collaborate as well as customize your permissions as to what degree they can modify a file. The Drive organizes your documents by name and you can customize how you want to view your files. Much like Google Docs, any file you modify will automatically have its changes saved and synced.
Task and project management
Any.do
Any.do is a task management app that helps you organize your plans for the day. It syncs conversations, file uploads, and sub-tasks from other devices. It also has a Moments feature that maps out tasks that you have for the day ahead. You can also add daily reminders that will prompt the app to send you notifications. Any.do is available on a myriad of devices including iPhones, Androids, Amazon Alexa, Google Assistant, Windows, Chrome and Slack.
Asana
Asana is a project management app that helps your team stay efficient with its internal chat system, calendar, task and project creator and manager. It's a shared platform that allows multiple team members access to the program so they can simultaneously keep track of individual projects.
Asana's Basic plan is free and lets you collaborate with up to 15 team members, or you can upgrade to its Premium for $10.99 or Business for $24.99.
OmniFocus
OmniFocus, which is only available on Mac and iOS (including the Apple Watch), is a robust task management tool that allows you to set reminders based on time or location, sort through your tasks without having to open the app, and filter your tasks into categories for customized viewing.
OmniFocus allows you to add Actions, group your Actions by Project, use its Perspectives feature to plan your to-do list, Review your projects, set up Notification Reminders and Sync your data with all of your other Apple devices.
Todoist
Todoist is another to-do list app that allows you to organize your daily tasks into different templates including Marketing & Sales, Design & Product, Development, Support, Management, Creative, Work, Education, and Personal. Each category breaks off into several subcategories that let you compartmentalize your tasks even further.
Add tasks using its Quick Add feature, prioritize tasks by marking them as Favorites, you can Delegate your tasks and keep track of your productivity by setting daily and weekly objectives.
Trello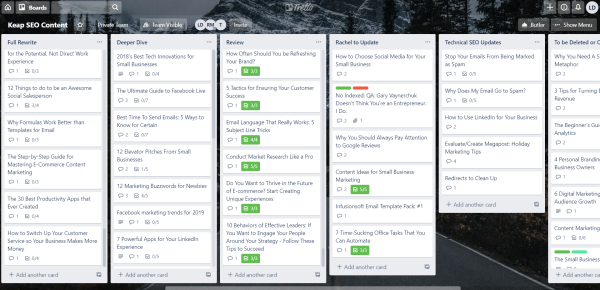 Trello is a great project management system that involves creating cards you can assign to other team members with a list of tasks that becomes a checklist, making it easy to keep track of any project's progress. You can also set due dates, add attachments and integrate it with many other apps. You can create multiple lists that house separate projects, or put individual tasks into cards that can then be sorted into columns (see above) according to the action that needs to be taken or the progress of the task.
It's another tool we use here at Keap. Above is an example of my lists I work with every day in the content department. It helps compartmentalize the different types of blogs that need my attention as well as a column that includes everything that's completed.
Time management
Google Calendar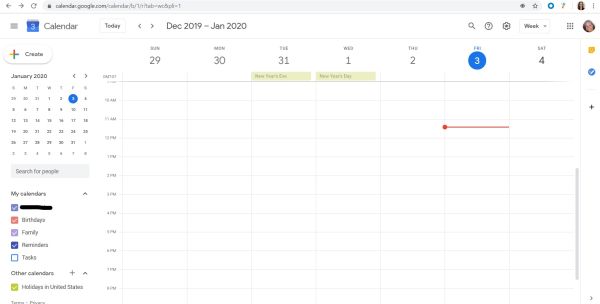 Google Calendar is a great tool for organizing your appointments and events, for remembering birthdays and daily reminders. You can color coordinate the responsibilities you have throughout the day that turn your calendar into color-coded blocks of time, providing you with a detailed, albeit, colorful agenda of your day.
Google Calendar also allows you to specify the event's location and invite your other Google contacts to the event, sending them an alert on each of their calendars.
Hubstaff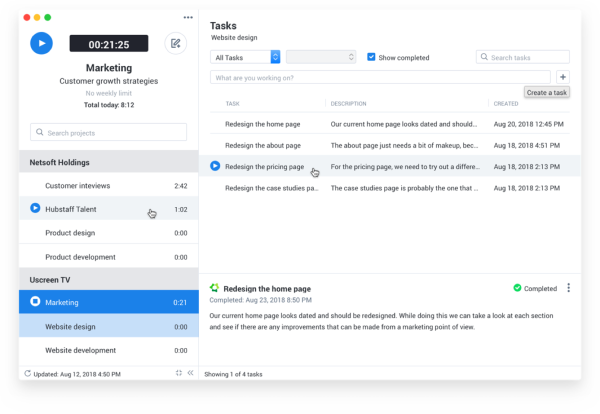 Hubstaff is a time tracking app that enables teams to focus on accomplishing tasks rather than tracking them. Instead, it tracks the time you spend on all your tasks and projects for you. This not only ensures that your time entries are accurate down to the second, but also makes it easier to keep track of billable hours, payments and invoices.
Utilities
Freedom
Freedom helps you control distractions that keep you from being productive. According to its website, the average person loses 23 minutes trying to refocus on their work each time they check their email, social media feeds or notifications.
Freedom allows you to block distracting websites for however long you need either on a desktop or mobile device, to help you reinstate the discipline it takes to get through a single workday without the temptation of checking your social apps.
IFTTT
IFTTT (If This Then That) is an automation app that enables you to create an applet. Applets can be synced with other programs of your choice including Gmail, Facebook or Slack, and is activated when there's an update taking place in one of the other synced apps that will send alerts to IFTTT. Send emails, upload photos to social media, customize your smart home features and more, all in one place.
Pocket
Pocket is a bookmarking app that gives Pinterest a run for its money. With Pocket, you can use any browser to save content to any device from anywhere including YouTube, The New York Times, CNN, Ted Talks, or any of the other 500 applications with which it's integrated.
Pocket lets you free space on your browser any time you wish to bookmark an article or a video to watch later. Instead of creating a long list of bookmarks, Pocket puts everything you want to save all in one place. You can also sync anything you save to your iOS or Android devices to view while on the go.
Skitch
Skitch by Evernote is a utilities app that lets you capture, save and send images. Skitch is currently only compatible with Mac and iOS products, allowing users to easily take a screenshot or a photo, modify it by adding text, arrows, shapes or filters, then distribute it to multiple destinations.