After hours full of discovery meetings, and what seems like days spent digging through the data in your dozens of apps, you've made the decision. You need a Customer Relationship Management (CRM) system.
You know a CRM will keep track of communications and replace the multitude of spreadsheets and apps that may be patching together your customer data right now. With a CRM, you'll have help to stay organized and more easily nurture relationships with your prospects and customers. Improved customer service and more closed deals await.
But should you lean into an enterprise-level offering like Salesforce, or opt for a CRM built especially for small business, like Keap? The right choice for you depends largely on your business stage and growth goals, and a little on your gut.
A sea of CRM options
Google best CRM for small business and you'll find dozens of options, each with different features, price points and user experiences. The results will be a mix of point solutions, CRM systems, and software. Each one's website will likely claim they're the perfect CRM choice for your small business. Which isn't exactly true.
Many of the results will be enterprise CRMs whose focus is medium and large enterprise-level businesses. Small businesses have different needs and nuances. Small businesses have smaller budgets, leaner teams, a lot of grit, and a roll-up-your-sleeves-and-do-the-hard-thing mentality.
Choosing a CRM solution that claims to be everything to every business type — solopreneurs, startups, small businesses, and medium-to-large enterprise systems — can cost you time, effort and headaches. Read on for how to make this decision simpler.
Choose a CRM aligned to your small business stage
Narrow your search and comparison to platforms built for the stage of business your small business is in now, as well as the stage you expect to grow into in the next 3-5 years. For example, Keap is built especially for small businesses, and is ideal for businesses in stages three through five in the 6 Stages of Small Business Growth diagram below.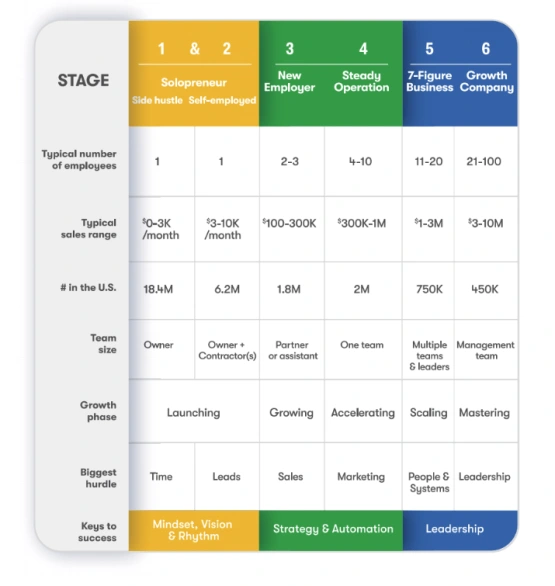 Businesses in the Growth Company stage that are on their way to becoming an enterprise- level business may need more features than a small business CRM system can provide. If that describes your business, you may want to narrow your search to enterprise-level software.
But if you're in stages 1 through 5, enterprise CRMs may bring you more effort than value.
Where enterprise level CRMs excel
Enterprise-level CRMs are built to excel at streamlining large volumes of data points under one interface, making it easier for medium and large-sized businesses to see and manage thousands, tens of thousands, and millions of prospect and customer relationships. Key providers you've heard of at the enterprise level include Microsoft, Adobe, Oracle, SAP, and Salesforce.
Retailers like Amazon and banking institutions like Wells Fargo use enterprise level CRM offerings. These businesses collect a staggering amount of information on demographics, interactions, purchase history, deal-stage information, billing and more. Think of the thousands of workflows needed to segment and share this information with hundreds of employees across dozens of departments in multiple office locations.
You might be thinking, but don't I want that kind of power? It depends.
Small business hurdles with enterprise level CRMs
As mentioned earlier, if you're in stage 6 of small business growth with sales above $3M, have more than 20 employees, and your management team is in the mastering phase, enterprise may be for you.
If you're not at stage 6, enterprise-level offerings may give you more grief and frustration than support. They can take more time to onboard, be harder to navigate in terms of roles, permissions, and user groups, and require more advanced skill sets in terms of IT architecture, marketing operations support and sales.
Where a CRM for small business excels
Small business-focused CRMs are built to be managed by small business teams.
That's because providers like Keap work shoulder-to-shoulder with more than 200,000 small business owners developing the functionality, structure and automations that drive value.
The right CRM for your small business will:
Deeply understanding the needs and struggles of your small businesses
Offer proven plays, templates, and resources made just for small business scenarios
Simplify your day so you can spend more time on what you love
Align to a small-businesses' leaner resources
Offer an intuitive, easy-to-navigate user interface
Provide ongoing coaching and advice – about more than just CRMs
Integrate with the apps that grew your business
Why choose a small-business CRM over an enterprise CRM?
A dedicated small-business CRM doesn't take processes and templates built for medium and large enterprise customers and force small businesses to operate in them. Read on for 6 things a small business CRM can bring to you that an enterprise CRM might not.
Cost savings

It's a myth that you have to spend a lot of money on a CRM. And there's no need to invest in an enterprise CRM with extensive (and expensive) features you may not use. Most CRM systems base price on contact volume, number of users, and monthly emails sent. Enterprise pricing can be confusing to navigate, with workflow automation and 24/7 support often only included in the higher-priced tiers, or as add-on costs.
Better user experience
When things are simple, intuitive, and easy-to-understand, you'll typically spend less time in training and support. Simplicity can be harder to maintain for enterprise-level systems offering a multitude of features, workflows, and reporting. Small-business CRMs focus on a streamlined, user-friendly experience. Keap creates time-saving automations any business owner can build — sometimes in as little as three minutes.
Tailored coaching and support
Enterprise CRM vendors often focus on their larger clients and may not prioritize small business support. This may look like an enterprise ticketing system for support versus a dedicated person you can call and speak to, or on-demand webinars you can sign up for in terms of business strategy versus consultation opportunities. Keap offers a variety of resources for your team, including free courses, 24/7 US-based support, and options for in-depth, one-on-one expert coaching covering both the software and your business strategy and goals.
Scalability & customization
Your immediate business needs may not require the extensive scalability options provided by enterprise CRMs. It can also take a lot of time to customize enterprise solutions to your unique internal processes. Both scaling and customizing add costs. Small business CRMs often offer flexibility, allowing your business to start with a basic set of features aligned to a proven process, and expand as you grow.
Integration with small business tools
Small business CRMs often integrate seamlessly with other commonly used small business tools. Enterprise CRMs may have integrations as well, but they may be more geared towards larger systems and processes. Fun fact: the average small business uses 102 different apps.
Sales and marketing automation
Enterprise CRMs often offer automation capabilities, but they might be complex, overwhelming, and costly for your team's needs. Small business CRMs like Keap include sales and marketing automation features specifically designed for small business tasks.
All of the above can add up to massive time savings, which is something every small business needs. Fun fact: The Keap CRM saves our average user over 10 hours a week.
The right small business CRM for you
When it comes to choosing a CRM, you don't have to decide between comfort and growth. We think you deserve both. Enterprise CRMs are great for enterprise businesses. Small business CRMs are made to make achieving small business goals — which are anything but small — easier.
Watch below as Keap experts Colleen Medina and Addison Hurst share more about the Keap CRM and why it's the best CRM for small business. With Keap, you'll find the organization you need, while our sales and marketing automation helps you scale and save time.
And don't just take our word for it. Check out our free trial to see what Keap can do for your business.