Since the early 2000s, more and more businesses have embraced the critical importance of implementing contemporary user interface design principles into every facet of their digital domain. In many ways, large and small business have begun to appreciate the role these UI design principles play in dictating how a prospective online customer interacts with your company's website.
The user interface can be chalked up to the convergence of a variety of factors; everything from visuals to formatting to navigation can play a role in making a user's experience on a website more prosperous. "User interface" and "user experience" are functionally different terms, though, so it's important to know the difference before you begin working within their domains.
Implementing user design principles from scratch can be challenging. Luckily, there are four core UI principles that you can take to heart as your business reevaluates its digital strategies. With these four principles in mind, you'll be able to reshape your website to meet the needs and expectations of your customers, allowing them to feel more engaged with your website overall:
1. Know what UI design is and isn't
While user interface design isn't new, its specific parameters still confuse many who desire to work within the bounds of its principles. Even some experienced website administrators are quick to ask, "what is user interface design?"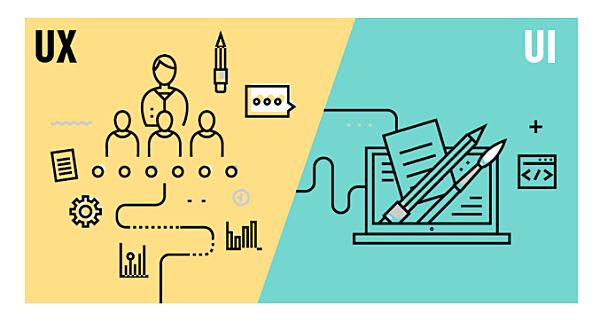 Source
In so many words, "user interface" or UI is a specialized domain within web design that's focused on bringing interaction design principles onto digital platforms. Broadly speaking, user interface design principles are often geared toward the creative end of the spectrum, with many underlying principles speaking to how a user is emotionally and functionally affected while interfacing with a specific website component.
"User experience" or UX, on the other hand, is a broad term referring to the numerous ways in which a website user consumes direct and indirect information from their digital interactions. UX is not the same as UI, though UI plays an underlying role in UX overall.
Web administrators looking to learn more about website design principles should always be sure to use the situationally-appropriate terms when researching and developing.
2. Simplify navigation
Many of today's preeminent user interface contactors agree that a crucial step many business websites can take involves simplifying their complex navigation structure. Today's users expect a point-and-click experience that intuitively takes them where they wish to go, so modern website engineers must be prepared to implement functionality that meets these expectations.
One way to accomplish this is by reducing the number of navigational options provided per page. For example, many websites now separate their main subsections into five or six categories, with a tab for "services" and more visible on each page. Like a library, this kind of categorization makes it easier for visitors to find what they're seeking without facing content overload.
Also, navigation on mobile platforms is a major issue for user interface designers today. More and more internet users are reaching for a smartphone instead of a desktop computer. Consequently, modern website administrators should anticipate the differences presented by condensed mobile browsers and implement a navigation menu that's easy to read and to manipulate with the finger tap.
3. Use adaptive formatting when possible
Similar to the use of simplified navigation to improve user interfacing, adaptive formatting can go a long way to providing website visitors a consistent experience across all of today's internet-compatible technologies. From text to images and more, adaptive formatting allows a website to succinctly scale all content to fit the screen on which it appears.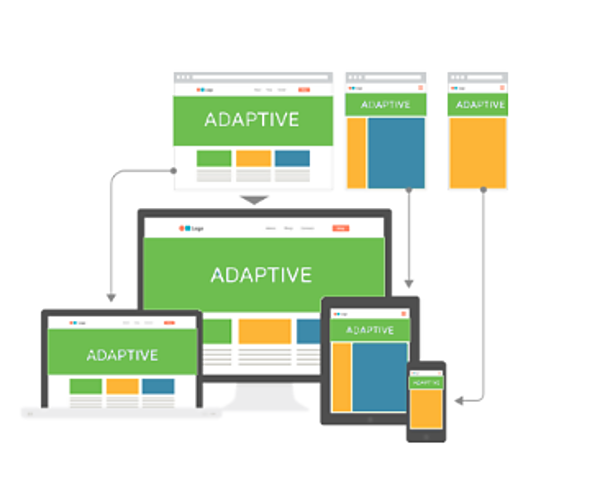 Source
Often, adaptive formatting requires a few extra layers under the hood that can modify its own parameters to fit different aspect ratios. Luckily, even some website building platforms and cheap hosting options take out the hassle of learning code by implementing adaptive formatting onto every website they host. Most accomplish this through modular construction, making it easy for individual sections to scale on demand.
Take control and wow customers with the best client management and automation software for small businesses. Try us free for 14 days! https://t.co/QFCpZ83Wgb pic.twitter.com/ridXgsLLKP

— Keap (@KeapGrowing) January 7, 2020
4. Keep all visuals consistent and appealing
One of the core principles of proper user interface revolves around graphic design elements and how they actively or passively affect a user's ability to positively engage with a website. As such, your website should always make use of a color scheme and font set that are easily legible and not harsh on the average user's eyes.
Also, aim for consistency across your entire website. For example, if your company uses specific colors in its logo, try to implement those colors across the full website, through accents and other auxiliary components. Similarly, try to use the same text arrangement or orientation on every page so visitors know what to expect as they navigate.
When working toward establishing graphical consistency and appeal across your company's website, remember that every aspect of your website acts as an extension of your brand. If your company already possesses a specific set of brand guidelines, be sure to maintain them digitally. In the end, your website's visual elements can go a long way toward enhancing your users' experience, but only if they are curated properly.
Conclusion: User interface matters!
All in all, a website's user interface design is critical toward establishing its productive success. Reaching maximum engagement can be challenging unless you stick to the various tried-and-true website design principles described above. Whether you're reevaluating your website's navigation or its graphic design, you can be confident that every bit of work you put in will translate into a more prosperous digital engagement for your business.
Don't forget that you're not alone in these pursuits. Today, there's a significant number of UI design experts who are available to make your digital dreams a reality. Even if you decide to go about your website's redesign on your own, you can work with confidence in knowing that you're putting many of web design's best practices to work for your company.