People don't do business with you for one of two reasons:
They haven't heard of you.
They have heard of you.
Assuming #2 is not the reason—you do offer a valuable service at a good price that provides a great ROI, right?—
then the real problem people aren't doing business with you is because they are distracted and forgetting about your business, your offer, and you.
Why does that happen, even though you're a nice person with a swell offer? Because you fell for the romantic line back in 1989 that...
"If you build it, they will come."
If you've been in business more than a minute—and blown through your friends and family—you know that multi-media, multi-step communication with your prospects and customers is the name of the sales-growth game today.
So why don't you implement this type of timed, targeted, sequential, multi-media marketing in your business?
"I don't want to be too pushy."
"Once my prospects know what I offer, they'll buy when they're ready."
"I send a newsletter. That's enough...right?"
"I don't know what to say to them after they opt in."
I get it and understand completely, which is why we created this list of five ways to quickly, easily, and effectively use Keap's Text Marketing to grow your sales.
Ready? Here we GO!
1. Make a great first impression with new leads
How many times have you opted-in for something from a company only to have their email go into your Promotions Tab or Junk mailbox and you forget you even signed up for that newsletter or promotion because you have 20 other tabs open on your computer and life is busy?
Use Easy Automations in your Keap app to immediately send both an email and an automated text message to your new lead that reinforces and confirms their wisdom in contacting you.
Example - You have an offer on your website for a free initial consultation. When a new lead fills out a form, then a text is sent with a link to book the free initial consultation with you.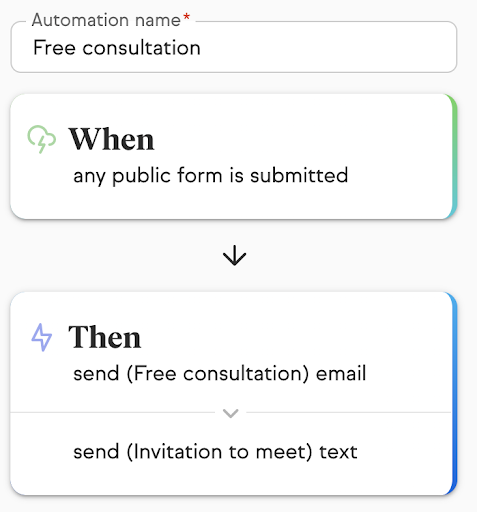 2. Get your invoices paid on time
You're in business to help your customers solve their problems, but if you don't get paid, you can't help anyone. Use this Easy Automation to remind your prospects—and yourself—when an invoice has gone out and needs to be paid.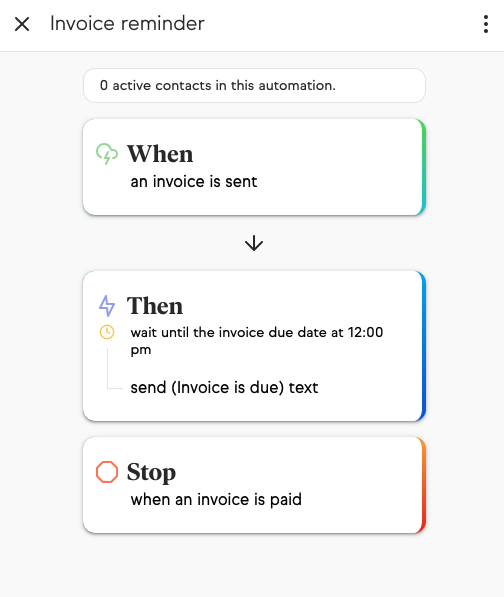 3. Upsell new customers and/or "write yourself a swimming pool!"
When's the best time to make a sale? When your customer is basking in the glow of having just made a purchase from you, they still have their credit cards in their hands, and you make them an offer they can't refuse!
Example #1—You sell e-books online using checkout forms. When a purchase is made, a text is automatically sent to the customer thanking them for their purchase and sending them a time-sensitive promo code or link to a one-time offer on your site.
Example #2—Like Paul McCartney, you want to put in a swimming pool and you want to pay cash for it, so offer a flash sale to your list that is good for a short time and/or limited quantities until they are sold out. When you create a feeling of urgency and exclusivity, you'll be pleasantly surprised at how much you can boost sales fast this way.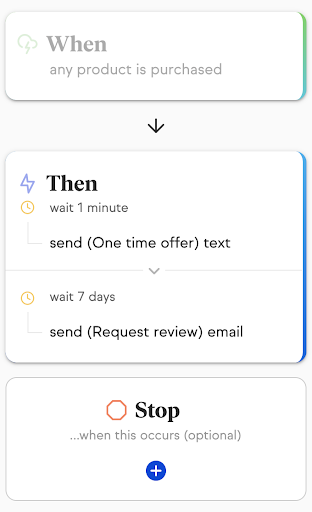 Then ask them for a review (and maybe provide an incentive to do so).
4. Event and appointment reminders
You've done the hard work by capturing a new lead who has set a time to meet with you. Now ensure that your prospects show up for events, webinars, and meetings and that they have all the information they need ahead of time, i.e., meeting links, phone numbers, and/or directions with Keap's automated text message reminders.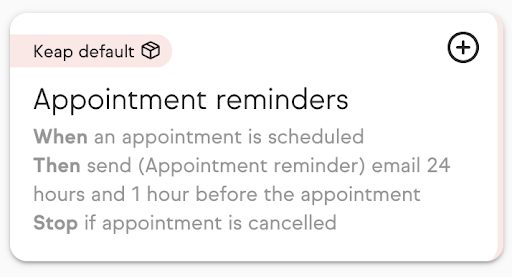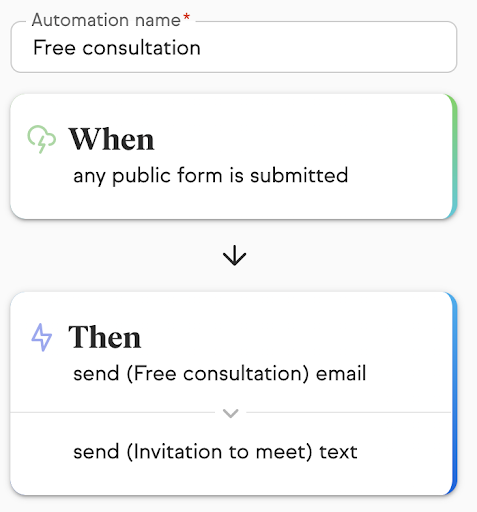 Note: this can be sent as a 1:1 text message or a broadcast to hundreds of leads at a time.
5. Over-communicate (if that is such a thing)
Ensure that your most important emails are being read by sending an automated follow-up text message reminding your clients and referencing your sent email.
Example - You sent an email with important information following a webinar you hosted to encourage the attendees to purchase your coaching course. After the email is sent, trigger an automated text message - "Hello (first name), I sent you an important email about our coaching program. Let me know if you have any questions (phone number)."
"What we've got here is failure to communicate."
Bonus Idea #1: Sales Team Notifications
Notify your sales team automatically when new leads get tagged or move through the pipeline.
We all get busy and have multiple tabs and apps open. Getting a text message reminder is a proven way to cut through the clutter and bubble the hottest leads to the top.
Bonus Idea #2: Fill In The Gaps
Cancellations and rescheduling happen, and like perishable goods at the grocery store, you can't get the time back that you set aside to meet with clients and prospects. When you find a surprise opening in your calendar, treat it like a flash sale mentioned above and send a broadcast text message to your customers to fill open appointment slots and maximize your earnings.
Why Should You Use Text Marketing?
As text messaging has grown in popularity, countless studies across a myriad of industries have discovered the following:
Text messaging has an open rate of 94% compared to email at 21%
90% of all text messages are read within 3 minutes compared to 48 hours for email
Customers respond to text messages within 4 minutes, compared to 48 hours for email
Customers are 10x more likely to redeem an offer sent via text message
The average adult looks at their phone 150 times a day (but how often do you use your phone for texts vs. emails?)
66% of customers made a purchase because they received a personalized text message
Keap gives you Automated Text Messaging as well as Text Message Broadcasts for US customers. This includes free text message credits every month in every edition, so jump into Keap's Text Marketing and watch your income grow.
Market like you mean it.
Now go sell something.