Did you know that four out of five people use search engines to look up local information on a daily basis? Generally, they are searching for basic data about local businesses, but sometimes people want to know more. That's where local marketing can come into play.
Local content marketing isn't only a great way to rank high on search engines, but also to position your brand as a local community leader, and grow your business. Today's consumers expect more personalized experiences from brands than just pure, random content. That's why it is essential to strategically plan, generate and promote content for a local audience.
Here are seven tested marketing ideas to get more customers and drive conversions for local businesses.
1. Partner with local influencers
Based on a survey by Influencer MarketingHub, influencer marketing is one of today's fastest-growing online customer-acquisition methods. Local influencers can help you grow your business in a myriad of ways: boost your social media presence, reach more targeted customers, build brand credibility, and increase local sales. No matters who they are—Instagram bloggers or YouTube vloggers—every local influencer can be effective for small business growth.
Local influencers are also just that—local. This means their audience likely overlaps with your target audience. Using local influencers as a marketing tool for your business, you're providing a great content experience for your audience that brings awareness to your brand.
What's more, your competitors are likely looking to partner with only the biggest influencers in your industry, which is a competitive landscape. By partnering with local influencers, you have a better chance at broadening your reach and scoring more brand awareness.
Once you connect with local influencers, you consider one of the following content initiatives:
Write a guest post on their blog where linking back to your site
Interview the influencer on your own blog
Have the influencer review your product in a blog post or video
Ask the influencer to feature your product(s) or services in a tutorial or a guide
Ask them to mention your product on their social media channels.
Check out how Canada Hair used local influencers to promote their business. The company invited local beauty bloggers to try their products and share their experiences with their audience on social media. Not only did the influencer (jasminehewitt51) mention Canada Hair in her Instagram post, she also linked to her blog post reviewing their hair extensions.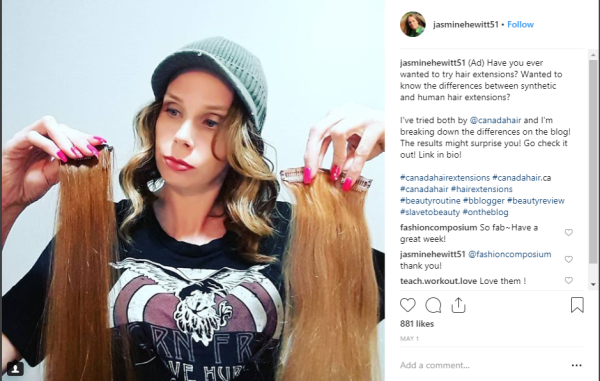 2. Make educational videos
Video is everywhere. You can now be your own Steven Spielberg on YouTube, Vimeo, Instagram, Facebook, and so-on. In fact, we spend a combined billion hours a day watching YouTube videos. Video is an excellent way to talk to your local audience about your product(s) or service, how to use them, and how you can help your audience solve their problems.
Here are some video ideas to try:* "How to" videos* Answer customers' questions live on Facebook or Instagram* Make top list videos* Produce a step-by-step guide* Share expert advice about your service or product* Interview local experts in your niche.
Another way to tie and strengthen local relationships is to enlist the help of local visual or auditory businesses in your area for your videos.
Another tactic to expand your reach via video is to use subtitles. When people can read what you or your influencer partner are saying in your video, they're more likely to watch your video and stick with it through the end. You'll also reach more hearing-impaired members of your audience.
An educational video is a great way to impact and engage your ideal local customers. You can easily highlight the common challenges of your audience, inform them accordingly and show it in a step-by-step format. For example, Lavent Law created a separate section titled "Videos" and posted a series of educational videos on their website: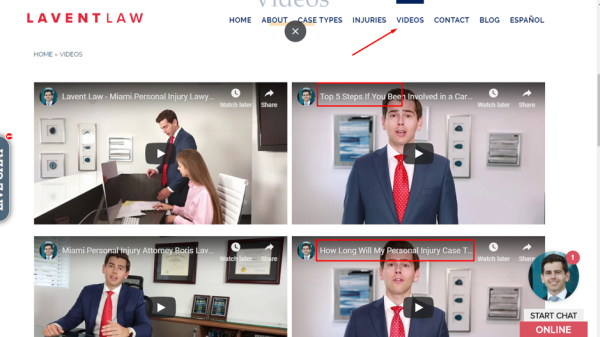 3. Attend local events
One of the best ways to get involved with your customers is to attend different local events like a fair, festival, concert or other local events. Consider renting a booth from the organization hosting the event, or handing out your business card or marketing collateral (with the event organizers' permission). You could even volunteer to help at the event, or, if financials permit, be a sponsor to increase your brand recognition.
Post-event, consider writing a detailed blog post about the gathering, explaining why your company chose to attend it. Here are a few tips for what to include:
Use event-specific hashtags on social media to increase your brand visibility
Find and insert specific location keywords in your post to make it more visible to people searching for the event you attended. SE Ranking's keyword suggestion tool can help you find local keywords for multiple locations
Include quotes from your employees who also attended the event, or people you met at the event
Use high-quality photos from the event (and give credit to the source of the images if it isn't you).
Attending local events can improve your brand reputation, attract new local customers, and give you a starting point for locally-optimized content. For example, Asado Sauce attended the Smoke & Fire Festival in Maldon, presented their bbq sauces and wrote a post about this event using "#maldon."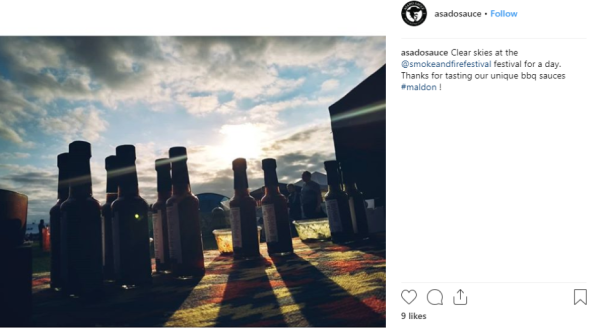 4. Cross-promote with other local businesses
Cross-promotion is a win-win solution for your business and other local retailers that you're cross-promoting with. Sunil Gupta, CEO of Traffic Ora, writes in a blog post for his company that cross-promotion is a great tool for small businesses because it's essentially free advertisement. It's also a nice way to mutually help other local, non-competing business, achieve their marketing goals as they help you with yours.
To heighten interests, consider offering free gifts and rewards. You can also include bundled offerings, joint events, collaboratively-created ebooks or videos, joint contests, or write an article for their blog in exchange for them writing for your blog.
For example, ZipFit Denim, an innovative provider of men's custom denim jeans, took the cross-promotion step by opening pop-up stores in their local partners' outlets. They co-hosted events, and this step gave them more visibility and reach.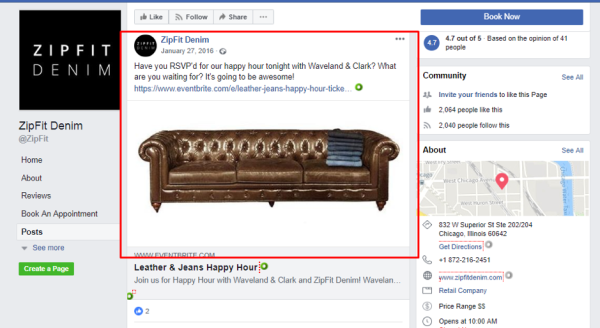 5. Leverage your customer feedback
User-generated content (UGC) is a common practice for many businesses that are successful in creating quality, local content. Consider asking your customers to create videos where they provide their feedback on your product or services, or conducting a survey on your website where customers tell you what they like about your business. This helps boost your business's credibility and connects you directly with your local community.
Another way to use UGC is by asking permission to repost customers' photos or online reviews through your own social media channels.
Here is how law firm Fernandez & Karney used their customer testimonials on a dedicated page of customers pleased with their services: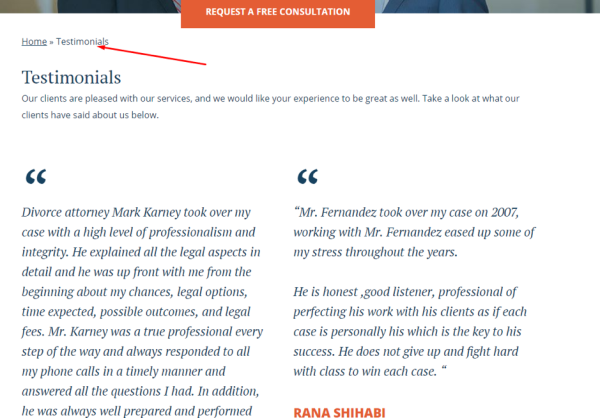 Answer QuestionsIf you want to lead people to you, establish yourself as an authority on anything pertaining to your industry in your area. You can do this by creating an FAQ section on your website where you provide the answers to the most common questions you hear from your audience. Try to use titles that mirror the search queries of your consumers. Optimize for local keywords in a natural way. Example: "What does 'CRM' mean?"
This helps boost your SEO ranking, increases conversion rates, and reduces the burden on your customer support.
You should also consider writing a blog post or localized response to questions in online forums like Quora or Reddit.
IMPACT's marketing team did just that on Quora. Not only did they optimize their business's Quora profile with a topic-specific bio and links to their website and social platforms, but they also found popular questions specific to their industry with more than 1,000 views.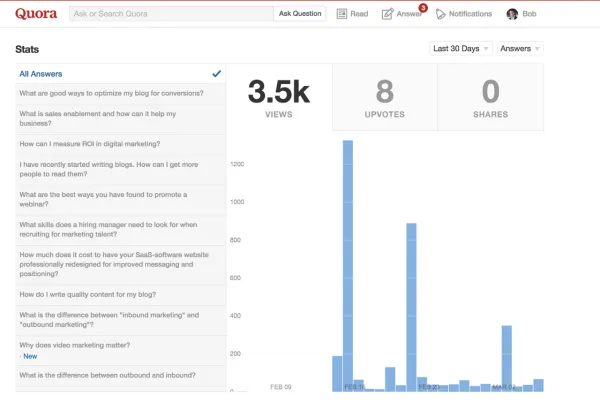 7. Build a strong in-house content marketing team to create local content
Many large companies have designated content teams for different countries to work on local content that resonates with local customers. If you run a small business, as an alternative, you can find a full-time employee or freelancer for a particular location. Use Upwork or Freelancer to find local freelancers, or you can get talent recommendations from Contently.
The added value of this way is that these people better know and understand the local area, the culture, language, customs, and values than a remote content writer would, and can localize your content for greater results.
Bonus Tip
Don't be afraid to acknowledge your competitors. Provide real, unbiased information. For example, if you're writing a post about the best places to shop in Boston, reveal all the benefits and implications of your competitors, but also throw your hat in the ring in the list of options, too.
Bottom Line
To maximize your local content reach, it's important to first develop a clear process. You can do this by researching other, local influencers and potential marketing partners in your area, mixing up the type of content you provide, and using optimization tactics to improve your local rankings.
Irina Weber is an experienced content marketing supervisor, blogger, and brand manager at SE Ranking. She is passionate about content marketing, social media, and always keeps up with industry trends. You can reach out to her via Twitter @irinaweber048.