If you're not a fan of guest posting because it has a poor ROI or just because your guest posts don't drive enough traffic or sales, this post is for you.
Guest posting isn't bad or it doesn't inherently have a poor ROI. It all comes down to how you use it.
When used right, a single guest post is enough. If guest posting isn't working for your business, you need to tweak your strategy, just like you tweak your advertising campaign when it doesn't work.
When your Facebook ad campaign doesn't work, will you blame Facebook ad network or you'll tweak your campaign?
If your answer is "I'll tweak my campaign, then you don't have to blame guest blogging when your guest post fails to deliver results—you need to tweak your guest posting strategy,"I'll show you I did it and how you can do the same.
My guest blogging case study
I published this guest post last year on TechWyse. Now, it is not one of those fancy articles, but it worked for me.
This guest post brought me three clients who hired me to write content for their blogs. I have earned more than $9,000 from these three clients so far. One of the clients is a leading e-commerce store.
Here is a screenshot of one of my clients who hired me for a $3,500-plus writing project.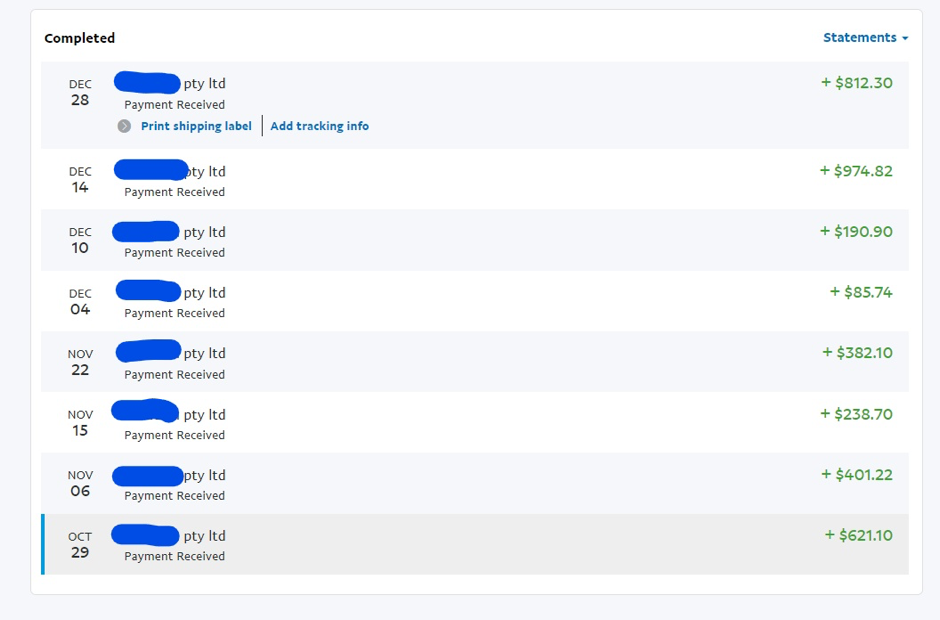 It is worth noting that this guest post didn't send any referral traffic and I didn't use a link to my blog in the article body.
But since I was targeting a specific industry (e-commerce stores), it worked. This guest post ranks well for a few decent keywords that are all related to "e-commerce conversion optimization best practices."
This guest post was a turning point for my freelance business as it showed me what I was missing and how I had to attract new clients.
The good news is: You can replicate it and use the exact same strategy to generate sales with guest blogging.
Now, three clients or $9,000 might not be a big deal for you, but if you create hundreds of guest posts in a period of, let's say, a couple years, just imagine the growth.
Let's see how you can use guest blogging to generate sales for your business and how to make guest blogging your business's a-ha moment.
1. Guest blog for sales
Set clear objective for your guest post. By setting clear objectives, I mean guest blogging for sales and sales only.
Your business needs sales and nothing else.
And this is why you should guest blog and this should be your only objective. Credibility and authority don't pay your business. Networking doesn't pay you. Backlinks don't pay you.
Ask yourself, what actually you need from your business? Sales and revenue.
The reason why you acquire backlinks is to rank high in Google, you do it to drive traffic and generate sales, right? Why not use guest posts to generate sales instead of taking a long and risky route?
Write the guest post for your ideal customers who are most likely to pay you. Keep your ideal customers in mind when creating a guest post strategy.
2. Target one buyer persona
You cannot (and shouldn't) target your entire target market with a single guest post. Choose one big challenge that your buyer persona is facing and try solving that particular challenge.
I'm a digital marketing freelance writer and digital marketers and businesses are my target audience but I know I cannot target everyone with a single guest post so I selected e-commerce stores specifically for the TechWyse guest post.
Then I tried solving a major issue that e-commerce stores face: Converting visitors into customers. This is a hot challenge and if you show any e-commerce store a technique to increase conversion rate, it will definitely listen and respond you.
Think of one obvious challenge that one of your buyer persona's face and target it. Address this challenge in detail so that readers don't have any other chance but to visit your website and buy from you.
3. Choose right blog
A right blog is one where your target audience is most likely to read your guest post. It doesn't have to be an authority blog. Don't look for metrics like domain authority or Twitter followers.The best and the easiest way to find a right blog for your guest post is to see which blogs rank on the Google's first page for your target keyword.
Ask yourself, what your ideal customer will type in the search bar to solve the problem that your guest post will solve?
For instance, if your guest post is on "10 tips to lose weight with apple cider vinegar," here are a few search queries that a potential customer might run:
How to lose weight with apple cider vinegar
How I can lose weight using apple cider vinegar
Is apple cider vinegar helpful in losing weight?
And so on.
Run search queries for these terms and see which blogs rank on the first page. All the blogs that rank for these search terms or any related search term on Google's first page and haven't published an article that you'll pitch them are right blogs.
A blog that's ranking on the first page for a closely relevant search term will most likely rank for your guest post as well. And that's how your ideal customers will find you.
If a blog isn't ranking for a relevant search term, move on and don't waste your time.Domain authority, Alexa ranking, social media followers, number of comments on existing posts, and all such metrics don't guarantee sales. Google's first-page ranking is, by far, the best predictor of sales.
4. Promote your guest post
I promote my guest posts on social networks and that's it. I don't take the pain to go an extra mile and promote my guest post.
Share it with your followers and subscribers, and link to them from your blog. It really helps.Since I'm a freelance writer, I show my guest posts to potential clients so they get to know me and my work better. The TechWyse guest post helped me get published on Jeff Bullas. I used TechWyse post as a sample and it worked.
You can always use your existing guest posts to impress your new clients. That's one way to appear credible.
Final words
Guest posting isn't dead. Yes, sometimes it isn't the best move if not done correctly (check out this video from the Google Webmasters to learn more). You should specifically do guest posting to generate sales, that's what your business actually needs.
This four-step strategy to guest blogging helped me generate several customers for my business. Not all guest posts perform equally well but this technique works. You'll learn and get better with the passage of time.
It doesn't need a lot of time. You can start your campaign tomorrow morning. You know the rules of the game, get cracking.
Sabih Javed is an inbound marketer and an experienced freelance writer for hire having specialization in digital marketing. He has written data-driven and actionable content for numerous B2B companies. His publications appeared in Yahoo News, Jeff Bullas, TheNextWeb, Business2Community, and more. Find more about him on his blog DigitalMarketer.PK. Catch him on Twitter @sabihjavedd.