Winter isn't coming. It's here.
While many think of winter as the season of cold and atrophy, it's the season of plenty for small business leaders seeking ideas for content and promos. It's literally full of holidays to celebrate, days to recognize, and events to support in tandem with your audiences.
By aligning your content and business initiatives with big events on the calendar, you are creating an opportunity to meet your leads and customers on common ground. Holidays and seasonality give you reasons to celebrate together, reveal your small business values, and add some clear humanity to your brand — in Q1 and well beyond.
So with that, let's look at some potential Q1 content and promo events for January, February and March. Each one is full of ways to educate, surprise and delight your audiences with the help of a CRM for small business.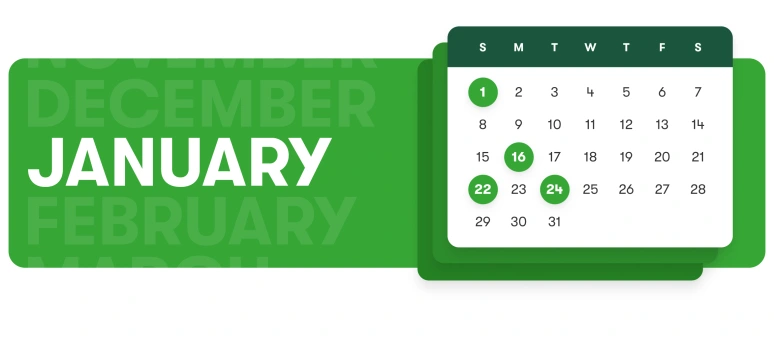 January
"January brings the snow, makes our feet and fingers glow." - Sara Coleridge
The big shopping holidays have passed, and you're looking for relevant ways to communicate with audiences and share post-season's greetings. Never fear. January provides a lot of opportunities to freshen your small business content and promo plans.
New Year's Day (Jan. 1) - It's a time when we all turn over new leaves and make resolutions to start fresh. That leaves a lot of room for content and promo ideas, such as trends you intend to adopt, ways to get a strong start on lead gen, and healthy approaches to growing.
Martin Luther King Jr. Day (Jan. 16) - While you never want to compete with or distract from a day of memory, you can share what your small business does to support Black Americans and encourage unity.
Get to Know Your Customers Day (Third Thursday of Jan.) - Ever heard of this one? It's a day to reach out to your customers and get to know them better (which can all be supported by a customer journey map).
Lunar New Year (Jan. 22) - This holiday is THE most important social and economic holiday for billions around the world, making it a crucial day for small businesses with international audiences to recognize.
National Compliment Day (Jan. 24) - Want to compliment your customers or others in your industry? This is your day — especially when it comes to blogging and creating social content.
National Backwards Day (Jan. 31) - Another fun play for social or promos, this holiday gives small businesses room to reverse policies or have fun with all things backward.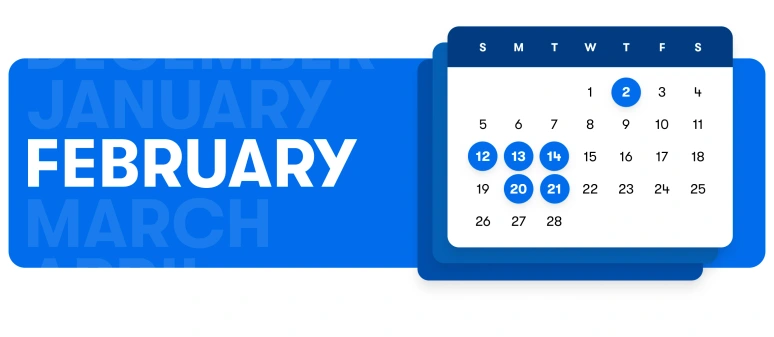 February
"February is the border between winter and spring." - Terri Guillemets
Sure, February is the shortest month of the year — even when it's a Leap Year. Still, it's a month filled with interesting opportunities to engage audiences, send heartfelt messages, and honor the history of our Black friends, family and colleagues.
Black History Month (all month long) - All month, we pay tribute to the struggles and triumphs of Black Americans, remembering important people and events from our history. The best way to approach content creation is with truth, respect and empathy.
Groundhog Day (Feb. 2) - There's nothing more fun than allowing a rodent to predict the weather — unless you use it as an opportunity to play groundhog with your industry's trends in social and blog content.
The Big Game (Feb. 12) - It's a pretty "super" day to share your thoughts on competition, how advertising is choosing to speak to customers, and what a big win looks like for the customers you serve.
Galentine's Day (Feb. 13) - As the second-biggest Parks and Recreation-spawned holiday (Treat Yo' Self Day being the reigning champion), Galentine's is a day to release content about female empowerment and friendship.
Valentine's Day (Feb. 14) - Romance is an easy theme to apply to your content plans — so show your customers love with a surprise promo or highlight testimonials from clients who love your work.
Presidents Day (Feb. 20) - A day set aside to celebrate all U.S. presidents in history, it's also a great time to share content around themes like how to lead effectively or launch a promotion taking advantage of what is one of the bigger holidays for deals.
Mardi Gras (Feb. 21) - Who doesn't like a good party? To join in on the Carnival celebration, you can build promos around the theme or create content that shows your company's celebration.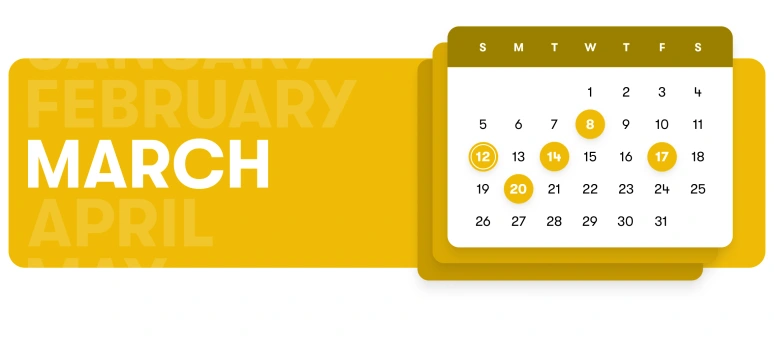 March
"March is the month of expectation." - Emily Dickinson
Spring comes during the second half of March — bringing themes of growth and renewal with it. It also marks the beginning of the event and social seasons, creating some industry-specific opportunities for content creation.
International Women's Day (Mar. 8) - As a global holiday, International Women's Day is an excellent opportunity to address a variety of important issues around women's rights in your content.
Oscar Night (Mar. 12) - While the Academy Awards are focused on achievement in film, it's also a huge cultural event that inspires a lot of blogging and social media content. Just ask Chris Rock.
Daylight Savings (Mar. 12) - Daylight Savings can be a fun theme for creating promos or an opportunity to announce time shifts and any other company news. Just keep in mind, not every state observes it (hello from Arizona).
Pi Day (Mar. 14) - It's 3.14, get it? It's also a great opportunity to share content built around the perfect formula for results or an equation for success that's relevant to your industry.
St. Patrick's Day (Mar. 17) - The parties just keep coming in March, and your small business can take part with a themed promotion or content centering on luck.
First Day of Spring (Mar. 20) - Ah, spring. As Q1 nears a close and Q2 is ready to take the reins, there is ample opportunity to create content about healthy growth and hope.
Mom & Pop Business Owners Day (Mar. 29) - Small businesses, like yours, are the lifeblood of the economy. This is a great time to celebrate your accomplishments in your content planning and launch promos you can share with customers.
Want a little more help with Q1 content planning?
Top 5 Holiday Promotions You Can Automate Today - This helpful guide provides even more ideas for creating a promotion that matches perfectly with upcoming holidays.

Free Sales & Marketing Email Templates - Now that you have all these great ideas for Q1, you can dial in your email planning and production even more with a variety of simple-to-use templates that work brilliantly with a small business CRM.
Keap Free Trial - When it comes to sales and marketing automation with CRM software for small business, you may want to try before you buy. Totally get it. Keap's Free Trial gives you 14 days to experiment and evaluate with absolutely no credit card needed.