Doing business in these challenging COVID-19 times is tough.
The pandemic has messed budgets.
Even mighty Google has cut its marketing budget by 50%. But this isn't the time to stop. It's time to refocus, re-strategize, and reallocate funds to marketing efforts that will help you keep going.
But you must be savvy. With limited funds, you must prioritize. Stretch every penny to the max. Get more from less.
Repurposed content is the answer. Rework existing content for more clicks, traffic, downloads, leads, sign-ups, or free trials.
In this blog, I'll explain how to get things done on a tight budget in response to COVID-19 in four simple steps:
1. Invest in bigger, better pieces
Make no mistake, SERPs are now an all-or-nothing game.
Being on the front page isn't enough anymore. Today, the top five results gobble all the clicks and traffic.

CTRs for posts on the first position are 32.28% for desktops and 25.43% for mobile devices. By the time you reach the fifth position, the figures fall to a mere 4.39% and 8.95%, respectively. It's all downhill after that.
The lesson?
Nowadays, with content, it's either go big or go home.
Landing the coveted top few positions has become more difficult than ever. Content size and quality have increased. So, how do you compete? Create bigger, better content than everyone else.
Granted, that's a tough ask. But there's good news. To come up with epic content, you don't have to start from scratch. Upgrade old content with potential. Look for posts with a few shares and one or two links.
How do you make it better? Combine two or three posts that deal with the same topic and merge them into one monster post.
Make sure the content addresses user intent
Google wants to serve results that meet the users' needs. Study the leading posts to determine their user intent. Search intent and relevancy changes quickly these days. Tweak your post, so it addresses current user intent.
For example, at Leadfeeder, we identified an email template article that was performing well. So, we revamped to relate to the current times of COVID-19.
This piece on email templates for SDRs during COVID-19 ended up outperforming our homepage traffic.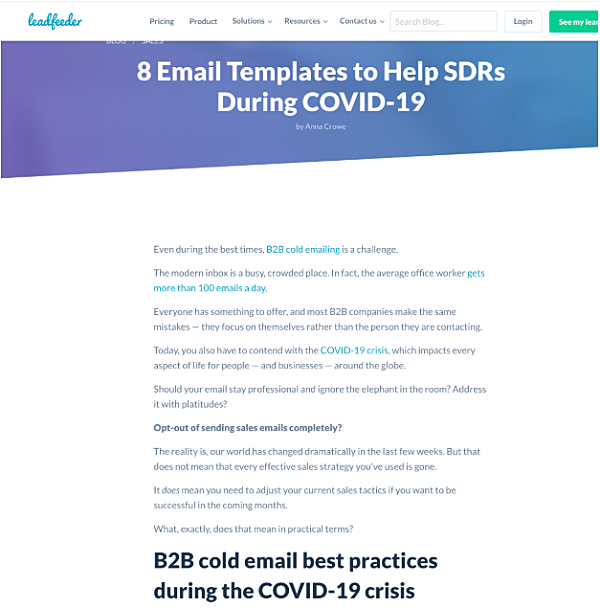 Come up with a better story for the post
What makes content compelling is your story—the unique narrative wrapped around the facts. Spice up your post with a gripping story and get better results from the same content.
Facts are dry and technical. Stories fascinate and dazzle.
And, that's what Buffer did on its Open blog.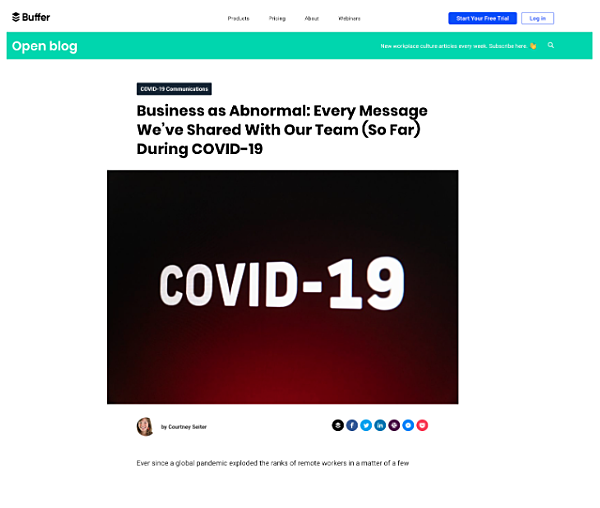 Invest in memorable custom images
Stock images are so 1990s. People don't notice them anymore. To compete with the best content producers, upgrade your images. Do away with stock photos and pay a good designer to craft custom images so your content becomes more appealing and stands out.
For example, Wordstream did this by creating custom data with images.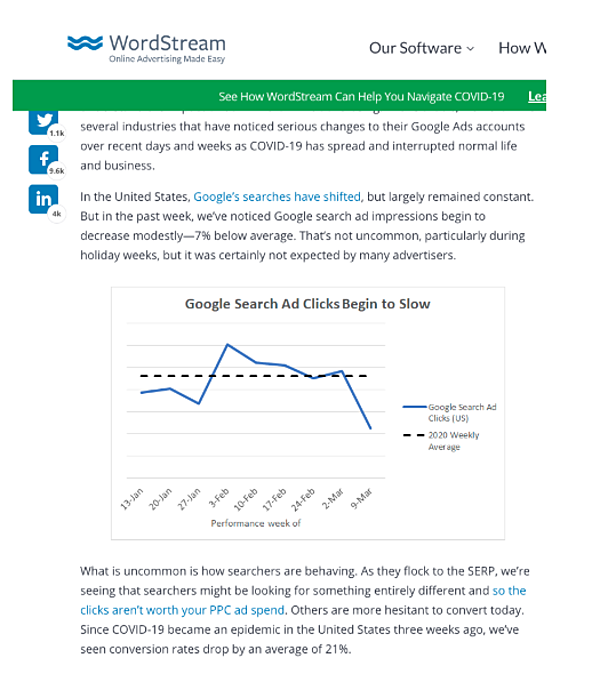 2. Convert list-posts into in-depth posts
Love them or hate them, list posts work.
People can't seem to get enough of delicious bite-sized posts. They're binge-read, shared, and bookmarked more than other posts. They get 218% additional shares than 'how-to' posts and 203% increased shares than infographics.
But shrewd marketers get much more from them by turning them into massive, attention-grabbing extensive guides. Expand each point into a rich deep-dive independent post. Delve deeper into each section. But what does this look like in action?
Here are three simple steps to follow:
Pick the post: Go to your Google Analytics dashboard and look up the popular posts on your site. Focus on list posts. Pick one you want to remodel.
Research the topic deeply: Probe the front-page ranking posts to see what they've said about the topic. Identify gaps you can capitalize on. Then study all the latest trends and studies on the subject. If possible, conduct original research that no competitor can copy.
Rewrite the post. Once you've gathered all relevant material, write the post. Follow proven writing techniques to produce a masterpiece:
Choose a reliable content framework like how-to guide, ultimate guide, or case study to build the post on.
Craft a compelling headline. You can make readers curious, warn them of danger or tell them what to expect in ultra-specific language.
Open with a hypnotic story, a shocking stat, or a promise readers can't resist.
Follow an established copywriting formula like the Problem-Agitate-Solution to grab and keep attention.
Use examples and statistical evidence to support your points and make the post credible.
Wrap up the post memorably and tell readers the next step they should take, e.g., share the post, download a resource, or click-through to an important page.
Give your SEO a quick boost by adding flesh to your brief list-post points.
3. Turn good content into 5-star content with expert contributions
Not everybody's opinion counts. I know that sounds harsh, but it's true.
Some people's opinions matter more than others. Every niche has gatekeepers who wield great influence. Another cost-effective way to boost your content is by refreshing old content through expert contributions.
Give your posts a new coat of paint by inviting influencers to contribute to it for more:
Authority
Clicks
Links
Reach
Traffic
Positive brand mentions
It's important to target the right influencers. There are five types:
1. Celebrities with 1 million+ followers
While celebs have enormous audiences, they're expensive. For instance, it's said brands have to pay $1 million per post if they want to work with Kylie Jenner to reach her 172 million Instagram followers.
Most brands can't afford that. Besides, one-size-fits-all marketing doesn't work.
2. Macro-influencers with 100k+ followers
These are highly regarded authorities with big audiences. Best-selling authors, sought-after speakers, prominent podcasters, and famous bloggers. They have responsive audiences, but, like celebs, it's hard to get their attention.
3. Professionals with 20k+ followers
Prominent bloggers, business leaders, and subject matter experts with engaged audiences—with the right strategy, you can get them to contribute to your content.
4. Micro-influencers with 1k+ followers
Micro-influencers are niche authorities. They have very responsive audiences. People esteem them. They're accessible to land because they can't pass up an opportunity to grow their audience and increase brand awareness.
5. Nano influencers with less than 1k followers
These are brand evangelists who advocate for companies everywhere they go. While they've got small audiences, they can spark word-of-mouth marketing.
In summary, you need three things for an effective influencer partnership:
Audience fit
Engaged audience
Relevance
Once you know whom to target, reach out to the influencers via email. But develop a relationship via social media first, so you're not a stranger when you reach out.
Show how long the contribution should be
Point out the deadline for the contribution
Specify where the article will be published
Alternatively, conduct an in-depth audio interview. Grab a juicy quote to include in your piece. The whole interview doubles as a content asset. You can gate it and use it to generate leads. Or transcribe it and offer the notes as a content upgrade.
Aaron Orendorff, VP of Marketing at Common Thread Collective and former editor of Shopify, built a six-figure business in one year.
His secret? Baking influencer contributions into his content creation process. As a result, his content got more exposure and generated bucketloads of quality pre-sold leads for his business.
Here's an example of a post he wrote for Social Media Examiner in 2017 that got 12,000 shares.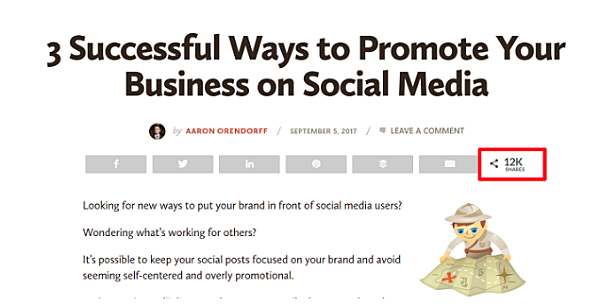 Orendorff weaved meaty contributions from notable business leaders into the post. Then he tagged them on social media. They shared the post and linked to it. That was the secret sauce for most of his successful posts.
It's simple enough, but the payoff is huge. All it takes is a time investment in developing relationships with people your audience loves and trusts.
So, how do you get an influencer's attention?
Share their content
Link to their posts
Appreciate their work
Buy their product or service
Co-creation is the new normal for savvy marketers who want to establish thought leadership.
Clients want to do business with people who are on top of things. Stay on point, on task, and up to date with gentle reminders that prompt you to take the next step—like sending an intro email to a new lead. Try a demo here: https://t.co/JJw45nBY68 pic.twitter.com/iyMXm5Wr6F

— Keap (@KeapGrowing) July 1, 2020
4. Invest in superb content writers
All writers aren't the same. You get what you pay for. Hiring cheap writers isn't smart.
To refresh your old content and turn it into in-depth high-ranking content, you need talented writers. Codeless once did a study on the correlation between content cost and content quality. We ordered five posts on the same topic from five content creation companies.
The goal was to see which platform would produce the best content to satisfy 12 industry leaders renowned for their top-notch content. These are highly successful people who know the attributes of content that works today.
Here are the results of this content writing services case study: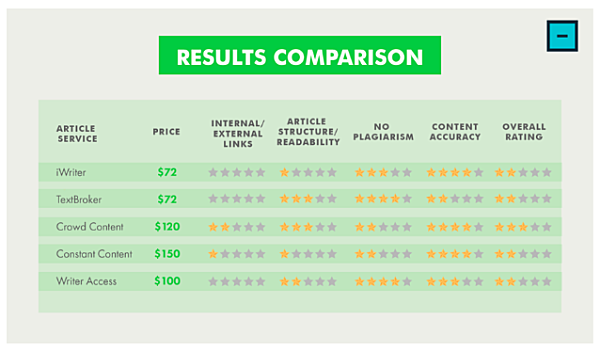 As you can see, the more you pay, the higher the quality you get. No plagiarism, better structure/readability, and improved accuracy.
But that's just half the story.
Only one expert from a dozen said they'd publish one piece. And that's after reworking it. The rest? Let's just say the experts would pass, put mildly.
Rather than waste precious resources on cheap writers who crank out keyword-stuffed content, channel them to ace writers. It's better to produce one great piece of content and quadruple the return on your investment than to produce 10 lousy posts and get nothing back.
I know it sounds counterintuitive, but it's true.
You save and make more ultimately by spending more money on solid writers. Let's circle back to see why this is the case. Remember, the top five positions in Google get all the traffic, right?
Eventually, because SEO benefits escalate with time, those top positions see exponential results up to 200% more, or even higher than pages on position six and below. You harvest a lot more money than you put in.
The best part is the results are recurring. All you have to do is to update your content to consolidate your position.
So, how much do A-list writers who write top-ranking content cost? The AWAI Pricing Guide suggests $1,000 for an effective SEO-optimized post of 2,000 words. That's money well spent because it pays for itself and then some.
Final thought
Rough times don't mean it's time to ditch marketing. Yes, you must cut your budget, but don't stop entirely. Being stagnant in today's cutthroat SEO landscape means one thing—doom for your company. Use your financial resources wisely to move ahead, even in these difficult times.
Surge ahead of the competition through smart repurposed content.
About the author
AnnaLea Crowe has more than 10-plus years of experience managing SEO and content for brands such as Search Engine Journal, Leadfeeder, Mailboat Records, Philip Morris International, Hearst Magazine, Hilton, and more. She enjoys burritos and puppies (in that order).
Before you go ...
SEE HOW YOU RANK: Take Keap's Lifecycle Automation Self Assessment and compare your business against the industry's top performers with our proven formula and instantly reveal the strengths and gaps of your business.