There's a reason why SaaS companies rave about content marketing so much. Most SaaS businesses agree that content marketing can give you results like nothing else.
In fact, statistics show that SaaS companies that use content marketing can see ROI as high as 647%!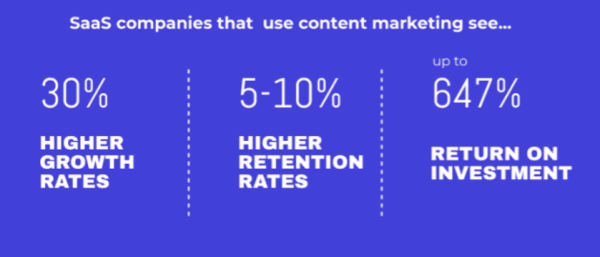 Big SaaS brands like Hubspot, Moz, Neil Patel, etc. have made their mark in the industry by creating high-quality, extremely valuable content. So, it does make sense to follow in their footsteps and reach your business goals.
But with so much information out there, you can easily get overwhelmed. How to start with a content marketing plan, what types of content to pick, how frequently to post– things can get confusing and daunting.
If you are looking for a step-by-step guide on how to create a comprehensive content marketing plan for your SaaS product, then this article is the one for you.
1. Set your goals
Setting goals for your content marketing is not something you should overlook. Because, without the end goal in mind, your content marketing plan wouldn't be as effective.
For instance, suppose that your final goal is an increased conversion rate, but you fail to create content aligned with this goal. Then you'll probably end up getting a lot of traffic and increased engagement, but your conversion rates might not be as expected.
So, start with a goal in mind. You can also have multiple goals based on different buyer journey stages. For instance, the goal for the awareness stage can be to get increased email opt-ins, while the goal for the decision stage can be increased conversion rates.
Here are a few examples of goals that you may want to achieve:
Increased traffic
Increased conversion rate
Improvement in customer retention rate
More social media following
Increased engagement
Better brand authority
Increased revenue
2. Research your audience and competitors
You've heard it a thousand times, but it still cannot be stressed upon enough–dive deep into your ideal customer persona. Drill down on every single detail you know about them. You can get ideas from your existing customers or people who are already engaging with your content.
You may even directly talk to your customer persona and learn more about them. Knowing your customer persona well will let you understand a few things:
What pain points do they have and how can your content solve it?
What features of your product appeal the most to them?
What types of content do they like to consume the most?
Which social media channels do they use the most?
What time are they most active on social media platforms?
You should also research your SaaS product competitors. Find out what types of content they are putting out, what is their value proposition, which distribution channels do they use the most, and how do they engage with their audience?
You should also observe their social media channel or reviews to find any gaps that exist in their content. For instance, suppose that your competitor mostly sticks to blog content, but you see a lot of potential on YouTube. Then, you should grab this opportunity and start creating more and more YouTube content to capture the market.
3. Plan content based on your sales funnel
Your SaaS sales funnel plays a crucial role in your content marketing plan. Why? Because the content that you create for the awareness stage of your funnel might not be the same as the content created for the decision stage.
A typical SaaS buyer journey stage would consist of the awareness stage, lead generation, free trial sign-ups, paid customers, and, finally, customer retention. The content that you create for each stage would differ based on the needs and interests of the customers.
Awareness: Educational and informative content such as blog posts, social media posts, and videos come into the picture in this stage. The key is to focus on creating high-quality, unique content that will catch the attention of your target audience.
Opt-ins and content upgrades for lead generation: This would include content that is more comprehensive and in-depth such as ebooks, guides, templates, checklists, tutorials, free training, webinars, etc.
Free trial sign-ups: The content in this state would consist of more product-specific content such as product features, email newsletters, product comparisons, etc.
Paid customers: Your new customers would need even more in-depth, product-specific content such as onboarding material, detailed tutorials, and information about product features.
Customer retention - The content for retaining your customers would look similar to the content created for paid customers, but even more comprehensive.
4. Create a content calendar
Once you have come up with the types of content that you want to create for each buyer journey stage, it's time to create a content calendar.
A content calendar will help you organize your content, plan everything beforehand and be consistent.
A content calendar does not need to be something elaborate or fancy. A simple excel sheet or a Google calendar would do if you are a relatively small team of people. You can also recruit the help of project management tools such as Trello and Asana.
5. Create high-quality content
The next step is to actually get down and do the hard work. Do not shy away from hiring professionals to create content. Investment in your content marketing will get you amazing results, hence try not to cut down your budget here.
Create consistent blog posts on your website. Use SEO tactics such as keyword research, on-page optimization, backlink building, etc. to complement your efforts and increase search engine visibility.
Create more visual forms of content like infographics, as these tend to go more viral. You can hire graphic designers or use an infographic generator for creating infographics.
Also, focus on producing high-quality video content for various platforms.
Repurpose your existing content or create original content for various social media channels.
Do not forget about your lead magnet content. Remember to make it unique and add in all the meat of your content here.
All your email newsletters should also be tiny value bombs.
Lastly, create high-quality demo videos, tutorials, and onboarding content for your existing customers.
6. Market your content
Of course, merely creating good content won't suffice. You have to market it to get the final results. A major part of marketing your content is deciding on the distribution channel. This again goes back to your customer persona as well as your goals.
The typical SaaS content marketing channels would be emails, blogs, LinkedIn, Twitter and Facebook. But you should try to experiment and see which ones work best for your business. After you decide on the channels, start putting out content based on your content calendar.
Optimize social media content by creating relatable content and boosting it with the right hashtags. Remember to keep up with the latest trends and post more often to get increased traction.
SEO is an absolute must for your website content.
Also, focus on email marketing by sending out value-packed newsletters and the latest SaaS product updates.
You can also go for paid advertising and direct traffic to your landing page from various social media channels.
7. Measure KPIs and improve
Finally, measuring the results of your content marketing plan and improving it based on the results will form the basis for your SaaS business' success. Your KPIs and the ways to measure them would entirely depend on the goals of your SaaS product.
Some of the content marketing KPIs that you can set for your SaaS business are:
Number of visitors to your website
Number of leads generated
Number of leads converted into paid customers
Customer retention rate
Growth in revenue
Growth in social media engagement metrics
Customer satisfaction index
Based on the KPIs, try to optimize your content marketing plan even more to gain the maximum ROI out of your efforts.
Create your SaaS content marketing plan today
By now, you'd have a clear picture of how you can create a comprehensive content marketing plan for your SaaS product. So, start working on it today to get a head start over your competitors who are still sitting on the idea.
Remember that whatever the type of content you are creating or whichever channel you are using, adding immense value to your target audience is the key. So, start creating high-quality content today to watch the growth of your SaaS product in the upcoming years.
About The Author
Pratik Dholakiya is the founder of Growfusely, a content marketing agency specializing in content and data-driven SEO. He shares his thoughts and knowledge in publications like Search Engine Land, Search Engine Journal, Entrepreneur Magazine, YourStory, and Inc42, to name a few. He can be found on Twitter @DholakiyaPratik.