Let's face it: the world of feel-good marketing has long been over.
But this is old news. Data has long been used by marketers and sales professionals alike. In fact, I bet the above sentence alone likely made you roll your eyes.
So why are we still not using data to it's fullest to inform our every action?
The first step to utilizing data is turning it into insight. That means displaying it in a way that can be acted upon, which is where marketing dashboards come in.
In this guide, I'm going to show you why you should create dashboards to communicate all areas of the business, how to build them, as well as examples you can create with the data you already have today.
Why build a dashboard?
Having an in-depth understanding of marketing's contribution to your organization is critical. It's key to present a transparent account of the results we generate for your teammates, the boardroom level, and even sales teams.
What are the results for specific metrics over a certain period? How are you contributing to revenue? These are all questions we must answer as marketers, and dashboards can help us do that quickly and effectively.
Spending on digital marketing is only increasing. As such, attributing revenue to the last click is no longer good enough. You must justify every single marketing dollar's contribution to the business.
Furthermore, sales teams demand more transparency into marketing's contribution. While "building brand awareness" has value, it doesn't deliver tangible value to sales professionals. They need measurable results in the form of leads.
These are all challenges that marketing dashboards can solve. With dashboards, reporting on complicated sales cycles and presenting data to several stakeholders is easy. You can get an instant view of how your marketing is performing.
Big data allows us to collect huge amounts of measurable insight about our customers, audience, and marketing effectiveness. Dashboards make this data easy to understand. You can make better predictions and truly harness the power of predictive marketing.
Before building your dashboards, you must understand the data and information each will display.
Dashboard design principles
Many marketers improvise when building their dashboards. As more people within the organization ask for different forms of data, dashboards become cluttered with meaningless data.
Your dashboards need careful consideration well before they're built. Let's dive into the principles to keep in mind when designing your dashboards before creating them.
1. Who's it for?
When deciding which data to include in your dashboards, ask yourself "does this person/team really need to know this?"
For example, CMOs most likely do not care about server performance. But they do care about metrics like CAC and ROI.
Be conservative about the metrics you choose to include. More data equals more clutter. First, talk to the team or executive the dashboard is being built to serve. Ask them what they want more visibility on, and which insights mean the most to them.
Collaborate on the metrics that matter most to them, and feel free to suggest those that they may not have considered.
2. Choosing the right dashboard format
The format of your dashboard will depend on its purpose. There are three common dashboard formats:
Strategic: These must include the KPIs that senior management track on a regular basis. These should provide executives with reports on business performance. Metrics might include revenue, sales pipeline and CAC.
Operational: Monitors the metrics that are key to keep the business running. For example, marketing teams could use a dashboard that tracks number of blog posts published or inbound leads generated.
Analytical: Displays strategic and operational data, drilling down into more granular metrics. Many tools allow users to drill down into high-level metrics for deeper insights.
3. Logical grouping of data
Good dashboard design takes into account the categories of data it displays. A marketing dashboard, for example, may include non-business critical metrics (i.e. social shares) as well as revenue and acquisition data.
Instead of having these all mixed up, it's important to group each metric in its own section on the dashboard.
Product teams, for example, may have their own dashboards to monitor acquisition as well as performance. These two groups would contain their own relevant metrics, allowing executives to assimilate the data more easily.
Now you understand the basics of good dashboard design, let's look at the metrics you must include in your marketing dashboards.
The four metric categories your dashboards must measure
Marketing dashboards are only as good as the insight they bring. To do this, they must illustrate the right metrics in the right way.
We'll cover methods of displaying different kinds of data shortly. First, let's look at the four KPI categories you should should include for all teams, from sales to senior management.
Consumption metrics
Many of these metrics are often considered "vanity metrics." However, despite popular belief, they aren't as big a waste of time as you may think.
Engagement metrics such as time on page and sessions are often an indicator of how your content and messaging is performing. Although they may not contribute directly to revenue, you'll gain much insight on where to prioritize and optimize your efforts.
Consumption metrics include:
Traffic
Bounce rate
Time on site
Average pages visited
How many people are engaging with your content? How long are they sticking around? These are all questions consumption metrics can answer.
Once you have those answers, you can take appropriate action that will contribute to all stages of the sales and marketing funnel.
Social metrics
Like consumption, social metrics are often considered a low priority. Only this time, they can act as an indicator of your messaging and content sentiment.
If your content is generating a lot of shares and social engagement, then this can be an indicator that people are getting value from it. Be sure to check the sentiment of that buzz, as not all engagement is good engagement.
Social metrics include:
Reach
Share count by channel
Engagement
Acquisition
While these are quantity-based metrics, it's also important to understanding who is sharing your content. Keep an eye out for any prominent thought leaders or stakeholders from key accounts who engage with you through social.
Lead generation
These next two categories are usually what sales teams and the boardroom will find most valuable.
Lead generation metrics illustrate how your marketing bears business-critical fruit. These metrics include:
Number of conversions (total and by channel)
Cost per conversion (total and by channel)
Conversion rate
First click/last click/assisted conversions
This last metric is important. Attribution models provide data on the role of each marketing channel in the customer journey. Pay attention to only the last click, and you may cut investment to channels that guide your customers there in the first place.
Think of it as a football team. There's usually one "star player" who consistently scores the winning touchdown. But without the rest of the team to pass the ball, they wouldn't reach the end zone in the first place.
Sales metrics
These are what truly matters. These metrics answer the question "how much money is marketing making for the business?"
Sales metrics include:
Average deal size
Lead-to-customer conversion
Lifetime value (LTV)
Revenue (segment by channel/date period)
ROI
ROAS (unlike ROI, this measures returns against your ad spend)
Customer acquisition cost (CAC)
You now know which KPIs and metrics to measure. Now let's learn how to illustrate them to communicate the bigger picture at all levels of the business.
B2B marketing dashboard elements to include
Communication is where marketing dashboards are most valuable. Not only are they an effective way to monitor KPIs in real time, but they present the right data in a way that everyone can understand.
Before building a dashboard, you must first know who it is for:
Internal dashboards: For use by marketing teams. These are granular, data-rich and feature metrics that can be easily interpreted by those who need to act on them.
External dashboards: These summarize business-critical results. These help CMOs illustrate results at a boardroom level.
Now you know who it's for, you must present that data in a way that all teams can understand. Here's an example dashboard built-in Google Analytics: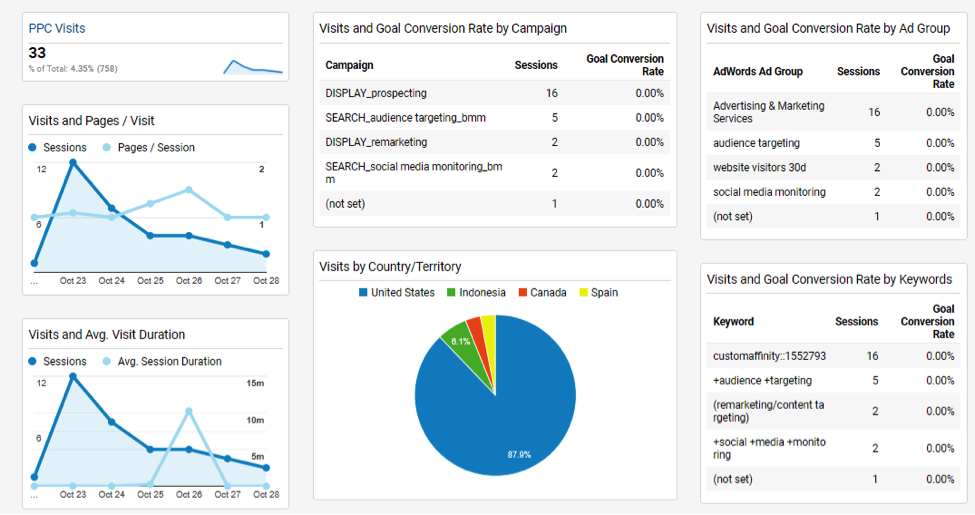 Each block is built up of "widgets," which can take the following forms:
Metric: Displays a single number for a single metrics (e.g., PPC visits)
Timeline: Shows the results of single or multiple metrics over time (e.g., sessions and pages per session)
Geomap: Shows volume of a metric distributed across geographical areas (e.g., visits by country)
Table: Shows a set number of rows for a group of metrics (e.g., number of sessions and conversions per channel/keyword, etc.)
Pie: While these are commonplace, they can actually be one of the worst ways to display data— stick to line charts or use ratios instead
Bar: Similar to pie charts, presented in a bar format
The type of widget you use will depend on the metric and how you wish to communicate those results to your team and senior management. In some cases, a single metric will suffice, whereas a table will be needed to illustrate results of particular marketing efforts.
Now you know what the building blocks are, let's look at three you can create using the data you have today.
3 B2B marketing dashboards you can build today
The dashboard examples below assume you have this data available (and, if you're reading this, you should.)
To get started, use Google Analytics to put these together quickly. When using multiple tools and data sources, it's important to have a tool that brings these sources together. This will help you save time on clunky reporting processes and more effectively optimize your business objectives.
Inbound and content marketing
If you're creating content and optimizing for search engine traffic, this dashboard is a must.
Understanding how your audience engages with your content and how they reach you gives you the insight to improve. You'll be able to communicate and personalize your content based on the right inbound and content metrics.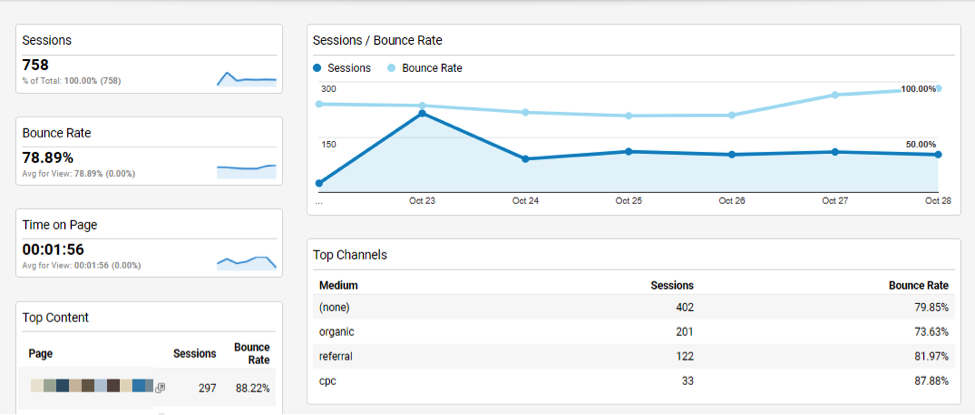 To get a full view of your inbound and content marketing efforts, include these metrics:
Number of visitors
Conversions
Leads
Subscribers
Blog views
Downloads
Organic search visitors
Social visitors
Referral visitors
Time on site
These metrics will provide insight into your highest performing content, as well as which channels (and keywords) generate the most traffic and, more importantly, conversions.
Paid media
When it comes to paid media (such as AdWords, Facebook ads, and sponsored social posts), understanding ROI is key.
By building a paid media dashboard, you can generate quick insight on which campaigns are bearing the most fruit. Here are some metrics to include:
Total clicks
Conversion rate
Cost per lead (CPA)
Total cost
Lifetime value (LTV)
Revenue
Revenue
ROI/ROAS
By default, Google Analytics collects only cost, click, and impressions data from AdWords. You'll need to upload your own cost data in Google Analytics in order to measure these metrics.
Use tables that show both the best and worst performing campaigns. Keeping your eye on both means a quick reaction to the campaigns and channels that are wasting money.
Business opportunities
How many leads turn into paying users/clients? How long does it take for them to convert? Having a dashboard that answers these questions is critical.
This dashboard provides the most transparency and is one your sales teams will be particularly interested in. You should be categorizing relevant metrics into the following segments:
Number of leads
Marketing Qualified Lead (MQL—a lead judged most likely to become a customer)
Sales Qualified Lead (SQL—researched and vetted by sales teams)
Close rate (%)
Close rate by channel/campaign
To do this effectively, you must work with sales and senior management to agree on what defines a marketing and sales qualified lead. Lead scoring systems will help make this even easier.
Conclusion
Every single marketer on the planet now is expected to be data-driven. But even with all the data in the world, it's useless if we can't see it.
Building a dashboard for your B2B marketing efforts will give you insight and visibility on the things that matter most. Keep an eye on metrics that contribute to all stages of the funnel—from engagement to ROI.
Until you have visibility, you won't see the right actions to make.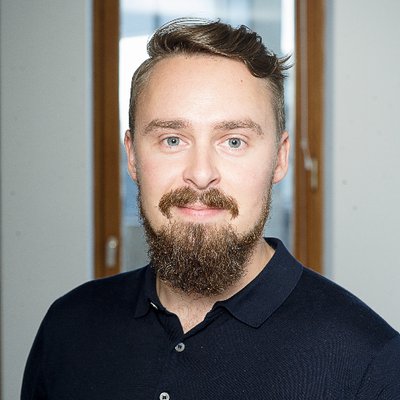 Juuso Lyytikkä is the head of growth at Funnel.io. Funnel is a marketing analytics tool for online marketers that collects data from all advertising platforms and allows marketers to send and visualize this data anywhere. Book a demo to get a free trial.