Email marketing is one of the more effective marketing techniques used across all industries. Business owners use it to nurture bonds with subscribers, showcase their brand to consumers, and to offer discounts and promotions to their dedicated fans.
When surveyed, 91% of marketers said email was the most crucial channel they use to reach their audience. That figure may have something to do with the fact that email marketing campaigns generally see an engagement rate of 22.86%. Compare that figure to the average social media engagement rate of 0.6 percent, and it's easy to see why many business owners use email to reach their target audience.
If you're struggling to generate leads and build trust with your followers, this blog can help. The following four tips will help you get the most value out of your email marketing for sales, and ensure that you build meaningful bonds with your subscribers.
1. Gather organic leads
Before you see your sales skyrocket, you need to build a list of subscribers who are interested in what you're offering. The best way to grow your email list is by creating customer personas based on your target audience, and then marketing to those individuals.
There are various pieces of information you'll need to know if you want to create a useful image of your ideal customer. Start by considering the pain points and goals of your audience, and start thinking about how you can solve their problems. Next, think about the personalities of the people you hope to reach. For example, you can get away with sending a funny message to your audience if you're a marketer, but someone in the pharmaceutical niche would require a more formal approach. Use this information to build your brand voice and style.
Below is a sample customer persona sheet so you can see other vital data worth considering during this phase of the marketing cycle.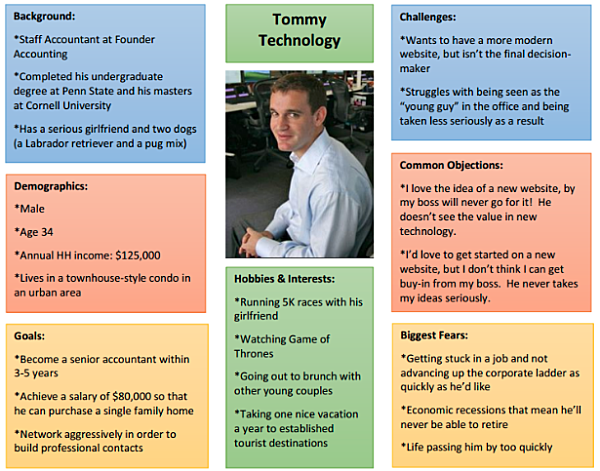 The more information you have about the people you hope to influence with your marketing campaign, the more success you'll have across all campaigns.
There are plenty of places you can look for more data on your ideal customers. We suggest that you add Google Analytics to WordPress and monitor relevant social media groups so you can track objective data and learn about how your audience thinks.
2. Maximize on-site email captures
Now that you know more about the people coming to your website, it's time to start gathering leads. The more interested consumers you have on your email list, the more potential sales you can obtain through your email marketing campaign.
The best way to generate leads that are genuinely interested in your product is by offering a lead magnet that solves a problem for consumers. Generally, lead magnets are ebooks, checklists, or comprehensive guides that your audience can use to resolve a pain point related to your business.
For example, a pet store owner may offer guides for cat and dog owners, since they're the most popular pets. A majority of on-site visitors will find this information useful, and they'll likely exchange their email address for your guide.
Business owners can capture leads on-site using various tactics, but we recommend OptinMonster. OptinMonster is the best way to generate leads for your email marketing campaign because it allows you to make custom pop-ups that target customers depending on their behavior on-site.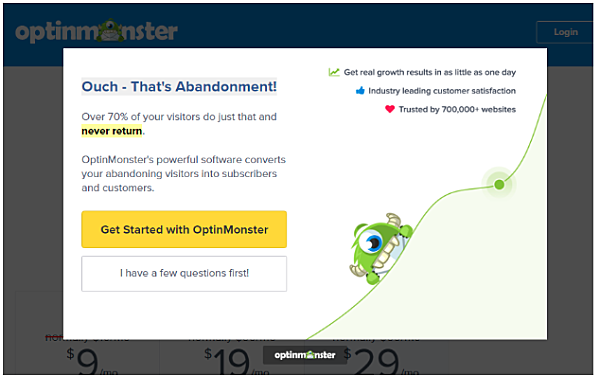 3. Segment your lead list
Segmenting your lead list is an excellent way to increase your sales and open rate. The process of segmenting leads involves taking another look at your Google Analytics information and current email subscriber statistics. The goal is to divide your list of subscribers into various groups based on their needs and interests.
Let's go back to the pet store example mentioned in the previous tip. If you owned the business in question, you might want to separate your leads into at least three groups. Specifically, you'll create a list with cat owners, one with dog owners, and one for all pet owners.
Using the analytic data, you'll determine where subscribers are segmented based on their behavior on your website, or the data they entered on the user registration form they competed when signing up.
You should then create various content based on your products and your segmented lead lists. The owner of the pet website may make a list of tips for new dog owners as a lead magnet, and cat owners may see an offer that features a discount on all cat-related products. Learning more about your potential customers can help you develop relevant lead magnets for your industry.
We love our customers. We love our Keapers. We love it when our customers love our Keapers! Thanks, Ariel for sharing your experience with our employees💚 pic.twitter.com/xO46WPT3At

— Keap (@KeapGrowing) August 10, 2020
4. Ensure email deliverability
If your emails are not getting delivered, there's a good chance that your email marketing campaign could fail. When your email doesn't make it to the user, you may not even get a notification that it failed, which can result in skewed sales numbers.
There are several reasons why your messages are not making it through to your subscribers. WordPress users are frequently plagued with this issue due to the default PHP protocol used to send messages. PHP uses Sendmail to deliver emails directly to the simple mail transfer protocol (SMTP) server of your subscribers. If your message is not coming via SMTP, there is a conflict between the email provider and your server, which could cause an email to get lost in limbo.
Luckily, WP Mail SMTP allows business owners to send their email using SMTP instead of PHP, which results in increased email deliverability. Ensuring that your emails reach their destination can drastically increase your sales, depending on the number of messages that failed.
Conclusion
When we think of email marketing, we often think of the direct messages that we send to our customers. The truth is, a successful email campaign requires more than just a catchy headline and decent copy.
You need to make sure that your emails are getting delivered to subscribers, that you're sending personalized content, and that you're constantly generating new leads and developing your customer personas. Once you're able to fit all of these pieces together based on your business, you'll increase your sales and leads using your email marketing campaign.
Keep track of every important detail with Keap Pro. Get a tool that houses all your client activity and communications in one place. Try us for free for 14 days at the link 👉 https://t.co/b9iufh98rl pic.twitter.com/sqy4DsZGwl

— Keap (@KeapGrowing) August 5, 2020