When you own a small business, sending emails is a big part of the job. You send them for many reasons including marketing campaigns, growing your network, reaching out to prospects, asking your vendor important questions, etc.
You want to make sure you're keeping up with your correspondence, as it's commonly the gateway to nurturing your customers and generating leads. Your goal is not only to ensure your emails are being received, but more importantly, opened and read. Use Keap to heal achieve that goal.
The reality of the situation is, most of the time, people don't respond, which can be discouraging. Luckily, you always have the option to follow up. Sometimes even the follow-ups end up in the void. How can you be sure your messages are being delivered and not ending up in a junk folder?
One very vital thing to keep track of is the performance of your follow-ups. There are many ways you can gauge your email metrics to ensure your outgoing mail is being received and being opened. Here are seven follow-up metrics to measure success:
1. Keep track of outgoing follow-ups
Any time you send a follow-up email, be sure to include the words "follow up" somewhere in the subject line. This will make it easier to detect them when you look in your sent folder in your email application, whether it's Gmail, Outlook, Yahoo, Hotmail, they make it easy to see what you've sent, to whom and when.
Now look at your open metrics and create a ratio to see how many of those emails were actually opened. This is vital information for improving your communication strategy. You'll be able to see why some of your messages were effective and which ones weren't.
Were your emails opened by preexisting customers who are already familiar with you? Was it a prospect who ignored your first message? The ratio you came up with reveals just how successful your email correspondence is and if your follow-up strategy is effective. Are you following up too much or not enough? You don't want to get to the point where you're pestering people.
Look at the content of your emails that were opened, what was different about them as opposed to the ones that were ignored? Each message you send should be unique and catered to each individual. Yes, that takes more time and effort, but sending a canned message to prospects is going to be obvious to them and they won't want to bother with you. Make the first point of contact as personal as possible. If they open or respond, they can be included in your subsequent email campaigns.
2. Follow-up open rate
Your email open rate measures how many people have opened your messages. Open rates can be influenced by your subject line and the time of day it was sent. Depending on which email marketing software you use, finding your open rate metric is pretty simple.
To calculate the open rate, isolate one week of correspondence and identify the number of follow-ups that have been opened and divide it by the total number of follow-ups sent. Then, multiply by 100 to get your open rate. The higher the rate, the more success you're having at getting through to your contacts. Having 100% open rate is rare, so don't get discouraged if it's not even close to that. Depending on how close or far you are from that goal, it's time to come up with a strategy that will get you to where you feel you're making an impact.
3. Include CTAs in your follow-ups
Including solid calls-to-action, or CTAs, in your follow-up emails creates a sense of purpose and direction for your recipient. You want to exude credibility and prevent your emails from looking pointless.
Keep these questions in mind:
What do you want the recipient to do?
What's the main reason for sending a follow-up?
Are you looking for a specific answer to a question?
Are you looking for a referral?
Define what your purpose is and word it in the form of a CTA:
"If you're interested, please call me at this number."
"To learn more, please click here to visit our website."
"If I can be of further assistance, please respond to this message."
See if your rate of replies increases by simply revealing your intentions to your prospects or customers with a transparent reason for your follow-up.
4. Follow-up response time
Another way to gauge the success of your follow-ups is determining how fast your recipients respond to your emails. This also helps you establish a reasonable amount of time you should wait before you reach out again. You want to avoid crossing the line of harassment before you're considered spam.
It's a tricky process; you don't want to send another follow-up too soon but you also don't want your communication to become stagnant without the proper amount of nurturing. Reaching out on a bi-monthly basis including an initial contact and then follow-up a couple of weeks later should suffice. Give it another couple of weeks after you don't hear back the second time. If still no response, there was clearly not enough interest generated and at that point, it would be time to find a new prospect.
5. Follow-up reply rate
Another important metric is your reply rate. This will determine just how well your outgoing messages are performing. You also want to gauge the tone of your replies. Are their responses reflecting interest in your company or product? Or are people saying they're not interested?
To calculate your reply rate, isolate the number of follow-ups you sent in a week's time and compare that to the number of responses you received. Divide the replies by the number of outgoing follow-ups and then multiply by 100 to get the reply rate. How does it compare to your open rate? Are your contacts reading your emails and responding at the same frequency? Is your message effective enough to yield a response each time? This will also help you see what's working and what isn't.
6. Follow-up word count
When drafting your follow-up emails, less is more. You want to get to the point, include your CTA and press send. Outputting a novel each time you reach out may result in a higher bounce rate, or worse, being moved into the trash sans opening.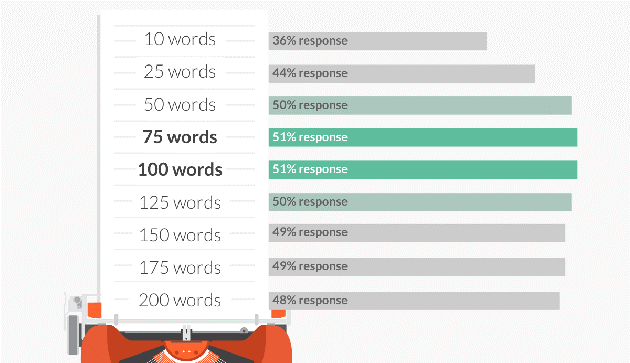 Image source: The Atlantic and Boomerang
Data found that emails including 50 to 125 words yield over a 50% response rate, according to Google.
Most email platforms don't keep track of word count, so if you want to check how long your message is before you send it, copy and paste your follow-up into a Word doc or use a Word Counter site to confirm how many words you wrote. If it's too long, do some condensing, but be sure to still include the objective of your follow-up and make it as clear as possible.
7. The time of day matters
As mentioned in point #2, be mindful of what time of day you send your email follow-up. This definitely has an impact on your open rate. You obviously can't control how often people check their emails, but you can ensure your time stamp reflects a reasonable hour of the day.
Look at your outgoing messages again and check the time stamps on the ones that were opened or replied to. Do you see a pattern? With people checking email on their mobile devices, there's no limit to when they'll get back to you. They may see your message at 8:00 a.m., but flag it and finally get around to responding at midnight.
Depending on your industry, it's a good idea to research when people generally check their messages, which most commonly happens first thing in the morning. If you want to ensure your emails get seen, aim for the hours between 8 a.m. and 10 a.m. If you're not having luck in that time slot after a few days, try around lunch hour.
Finding the best time to grab people's attention is the trickiest metric to tackle. The best way to determine which time works is to troubleshoot during your follow-up process. If one time didn't work, try another time slot. You always have options.