Iconic marketer Seth Godin talks about a phenomenon called the "purple cow." Essentially, he notes that if you are driving down the road and you see a cow you wouldn't think much of it. You see cows all the time. But if you suddenly saw a purple cow, you would stop and stare and take pictures. It would be wholly different and unique and you would want to tell people about it.
This philosophy is part of the rationale behind emergent software like Bonjoro that do personal video emails. The concept is that through video personalization, companies can stand out in a noisy inbox. Personal video emails have the benefits of facial expression, tone and body language to help connect with a user. Imagine if your favorite band, or your coach or your favorite content creator sent you a personal video, tailored just for you after you made a purchase or hit a milestone. It's a pretty unique and exciting experience.
Here is an example from Pat Flynn of Smart Passive Income: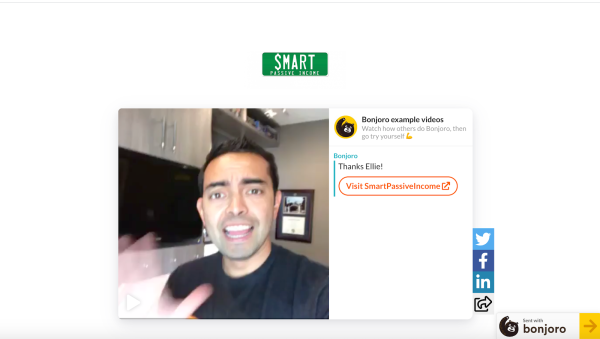 By giving that personal attention, you create customer delight and get a substantial lift in open and engagement rates. According to Harvard Business Review in a study on engagement for an insurance company, they noted, "In the control group, which didn't receive any digital contact, 1.3% of people activated their account. In the email condition, that number increased to 4.3%. However, the personalized videos doubled the activation rate, with 8.2% signing into their retirement accounts."
So the results behind personal video are powerful, but what about at scale? What about the rest of your business logistics? What about storing and organizing customer information so that you have the context to respond in a personal way?
This is where we see personal video emails and small business automation tools combining forces.
How Keap and Bonjoro Work Together
What if the next time a customer purchased your product/service, you recorded them a personal video email, welcoming them? What if because you were using Keap and Bonjoro together, you had all the power of Keap's CRM to enhance that experience and make it personal? What if the integration was pre-built so you didn't need to pay for any outside tools to help make them communicate?
No need to imagine! This is how it works…
All you need to do is go to workflows in Bonjoro and select Keap.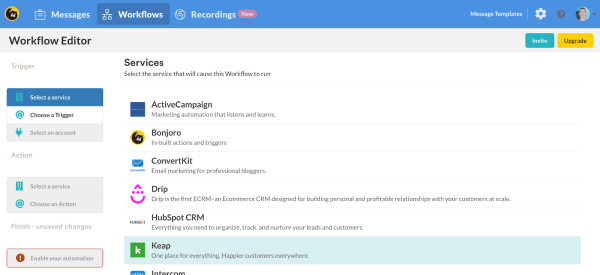 Then based on either a tag in Keap or just a contact being added, you can produce the request to record a Bonjoro video in the Bonjoro app (on your phone or your desktop).

That request will be able to pull in data from Keap's CRM, called Custom Attributes in Bonjoro, so you can have context around the client's needs. This context is the missing link with a lot of the major video email solutions on the market today like Loom or Vidyard.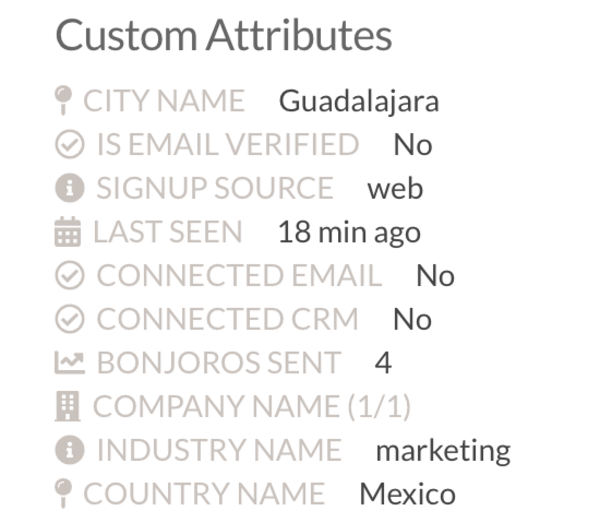 Once you have personally welcomed a new client, you can use Keap's email automation capabilities to continue to deliver them relevant and consistent messaging. The video allows you to differentiate that first touch experience and the automation allows you to not drop the ball with customer follow up when things get busy. Together, you just create a concierge customer experience that rises above your competition.
So when should you use personal video vs. automation?
As a small business owner you constantly have restraints on your time and are juggling priorities. You want to spend time on the areas that are going to push the needle and you want to automate or delegate as much of the other logistics as you can.
Although there are no hard or fast rules that state when to use personal video emails vs. automated email follow up, here are some recommendations:
When to use personal video:
First customer interactions (they just opted in, they just signed up for a trial, they just purchased the product)
To ask for a review
To reduce no-shows to your consulting/coaching/demo calls
To celebrate a milestone with your product or service
To try and retain an account
To answer a customer support question
To try and upsell to more products or services
To say thank you
When to use automated email:
To deliver a newsletter
To send updates about the company, new product innovations or informative content
To inform people about a new webinar or event
Transactional emails
Follow up on leads
Activation emails for a new program, membership, course, etc.
Educational content drip
Personal video will deliver the best results when it's an interaction where you can custom tailor the content of the message for the user. On the other hand, when you are inviting your community to a webinar or delivering educational content, it makes sense to use automation as the messaging is the same for everyone.
Keep the focus on customer delight
It is important for us to always put ourselves in our customers' shoes. When we buy products or services, what type of engagement do we appreciate? When is follow up from a company helpful and when is it overbearing? When does it feel authentic and when does it feel cookie-cutter? What feels like a "pitch" and what makes us feel like we are part of a community?
I think using this intuitive lens of our own experience is a great way to craft how we communicate with our customers and best add value to their lives. We are all grappling with the finite resource of time and how we best allocate that to build our businesses and support our customers. Using tools like Bonjoro and Keap together will allow you to get the best of both worlds.