While 20% of new small businesses fail within the first two years, a recent business study found that the ones who succeeded did a better job of putting themselves into their customers' shoes, uncovering key insights that led to more demand from their customers.
That makes the process of empathy mapping crucial to any small business looking to go from moderate gains to surging, dependable growth. Imagine if you could open a window into your ideal customer's mind, getting a glimpse into their thoughts, impressions and attitudes around your product. That's what an empathy map can be for your business.
This leads to understanding, which leads to smarter product and marketing decisions, which leads to better efficiency with your CRM for small business, which leads to better relationships with your customers.
What is an empathy map?
Created by David Gray and used widely in the agile community to inform UX/UI and HCI processes, an empathy map is a visualization of your customer's perspective that comes from team collaboration. It originally started as a whiteboarding process — and still can be conducted as such.
However, you can find more and more tools to guide an empathy mapping session online. We suggest Keap's Empathy Map Template for Small Business, available on the Miro platform (PDF download also available). It was designed specifically for first-time empathy mappers with teams that can participate in the process.
What can an empathy map do for your team?
First and foremost, an empathy map is a helpful reminder of your customer's mindset as they engage or encounter your product or service. It allows you to understand and even predict your customer's thoughts and feelings in greater detail when it comes to your small business.
Chances are, your company already employs empathy to develop and nurture your company culture. With an empathy map, you can externalize this practice to make more informed product and marketing decisions in the future.
If your small business already uses personas to inform your marketing strategy, that's great news! By no means is an empathy map redundant to personas. In fact, they can add layers of insight to the personas you've already completed.
As your business grows and your product or service offerings change, you may also want to revisit your company's empathy map. It should be seen as a living, breathing document that changes as your business (and customer) does. In fact, you may want to set an empathy map update meeting at least every year or so.
How to conduct an empathy mapping exercise in seven steps
Step 1 - Start with collecting important customer data. Survey data, testimonials, case studies, customer interviews and high-performing data are all applicable for discussion.
Step 2 - Invite your team and other stakeholders you think would be valuable in articulating the motivations behind your customer's decision-making process. Conversation and group participation are critical to a great empathy map, so choose those you think would excel in a brainstorming environment.
Step 3 - Select your empathy mapping tool. If your team is remote, you may want to engage a tool that accommodates online collaboration and conversation. Whether in person or online, we've structured Keap's Empathy Map Template for Small Businesses in a way that is accessible and engaging.
Step 4 - Make sure you plan for a process that is at least two hours, as trying to complete an empathy map in a shorter time can lead to an incomplete — or even misleading — visualization of your customer.
Step 5 - Begin the exercise with your customer right in the middle of the visualization. Complete the initial customer questions, then work through the four quadrants with these questions as your guide:
What does your customer think and feel? What are their hopes and concerns?
What does your customer hear about your small business from colleagues and spheres of influence?
What would your customer see while engaging your small business on their terms?
What would your customer say and do while engaging your business? Does it change in private or public settings?
Step 6 - Take time to discuss the four quadrants you've produced. Once you've evaluated the responses as a team, ask these two questions to fill the summary sections:
What are your customer's pains and worries when engaging your small business?
What are your customer's gains and hopes when engaging your small business?
Step 7 - Discuss the two summary sections to determine the biggest insights to come out of the process and finalize the visual representation of your customer's mindset.
Use Keap's Empathy Map Template for Small Business
It's time to get started with Keap's Empathy Map Template for Small Business! Remember: it's best used in tandem with sales and marketing automation as well as a small business CRM. This powerful combination allows you to create a consistent customer journey for new leads and existing customers — allowing your business to scale more effectively.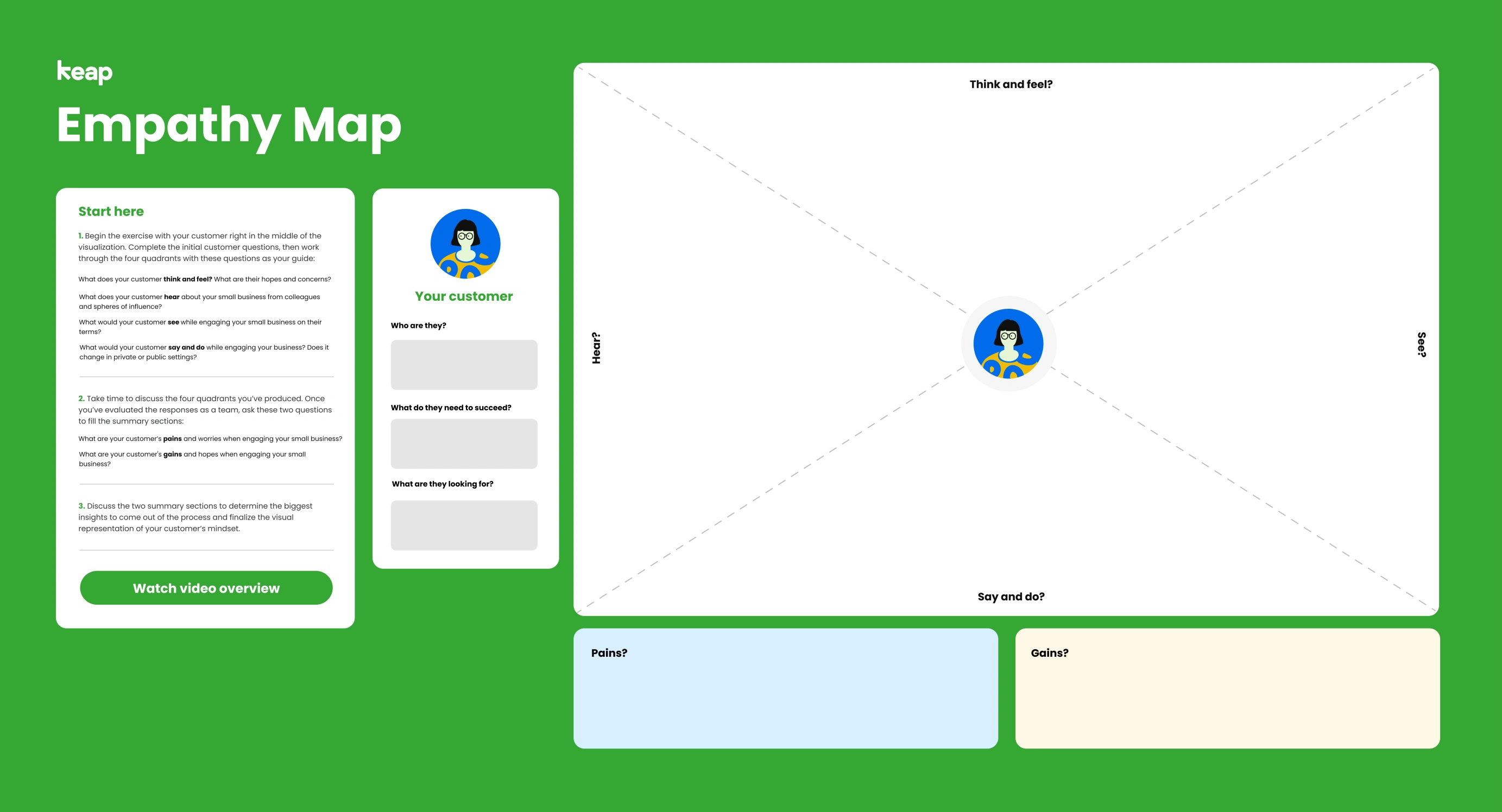 Now put that empathy map to work using sales and marketing automation
Your empathy map is just the beginning. Now, it's time to apply what you've learned about your ideal customer to your growth strategy using sales and marketing automation and CRM software for small business. Try Keap absolutely free for 14 days and start creating empathy-fueled campaigns that meet your growth goals today.