Ah, spring. It's great to see you again.
Punxsutawney Phil may have predicted six more weeks of winter this year, but we're more than ready for spring to arrive. With it, the season of green brings a variety of content, social and promo ideas that your small business can share with your followers and small business CRM lists.
Every holiday or celebration on your calendar is an opportunity to shape your content and business strategies with things that are relevant to your audiences. You can also use these holidays to showcase the mission and values of your small business, giving your organization the comprehensive branding it deserves.
So bring on the new blooms and warmer weather! Throughout April, May and June, you'll find all sorts of ways to celebrate, educate and activate your audiences.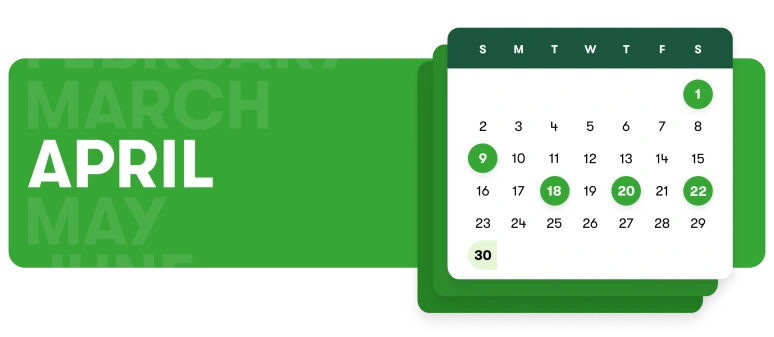 April
"April hath put a spirit of youth in everything." - William Shakespeare
It feels like everything is starting to come to life again in April. The month claims the spring holidays and celebrations people think of most, giving you ample opportunity to share beautiful, optimistic content with the people in your small business CRM.
April Fool's Day (April 1) - Got a fun-yet-harmless prank to play on your audiences? One that will make them chuckle, rather than scowl or groan? This is your time, pranksters and mischief makers.
Easter (April 9) - Whether you celebrate the religious holiday or just the eggs-and-bunnies events, Easter is a great time to wish your audiences a happy celebration. Just remember: It happens on Sunday, so avoid any content that requires deep reading.
Tax Day (April 18) - You know the saying about the only things that are certain, right? Then you should certainly capitalize on the day with any tax tips and advice for your industry that is relevant to your audiences.
Get to Know Your Customers Day (April 20) - A recurring holiday that happens on the third Thursday of Jan., April, July and Oct., this day is perfect for sharing customer stories and engaging audiences with questions and polls.
Earth Day (April 22) - This is the ideal day for your small business to celebrate nature and all the things you are doing to keep it green and healthy. Quick warning: Be certain you are calling out initiatives your business actually does, or you could be called out for greenwashing.
National Small Business Week (April 30 - May 6) - NSBW is all about recognizing the contributions of U.S. entrepreneurs and small businesses. So why not share your small business accomplishments — or the work of other small businesses you serve?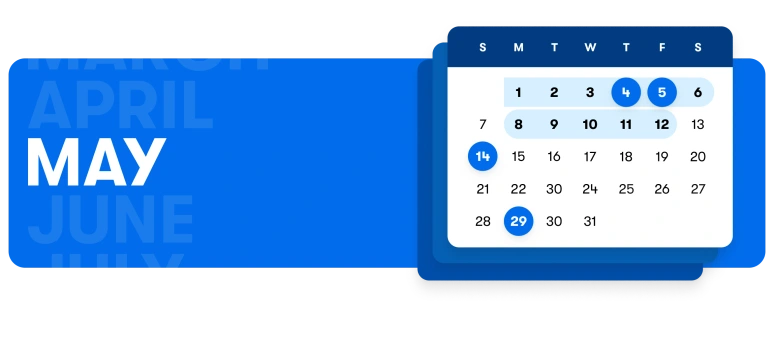 May
"All things seem possible in May." - Edwin Way Teale

Scroll through your social feeds, and you'll see countless people getting outside and enjoying the great wide open during May. It's also a month that has opportunities to honor family, public servants and those who gave everything to protect our country.
Star Wars Day (May 4) - May the fourth be with you — always. This fun day celebrates Star Wars fandom, giving you a chance to use the wit of Han Solo or the wisdom of the Jedi to create content that resonates, using one of the most popular movie (and TV) franchises in history.
Cinco de Mayo (May 5) - Everyone loves a party. While the original holiday commemorates a historical military victory for Mexico, it has also become a celebration of Mexican-American culture in the U.S. This gives you a wide range of content to consider.
Teacher Appreciation Week (May 8-12) - Being a teacher has been a challenging job the last few years. This week provides a solid window for honoring educators at every level in a way that relates to your small business.
Mother's Day (May 14) - Sure, you can take Mom out for brunch and give her some flowers. Better yet, you can honor her and all other mothers out there with heartfelt content. Once again, keep it light and breezy, as most won't do a lot of deep reading on a Sunday.
Memorial Day (May 29) - On one hand, Memorial Day remembers those who have fallen in service to our country. On another, the weekend also marks the beginning of summer. It's okay to produce content in both directions. Just make sure you take the appropriate tone.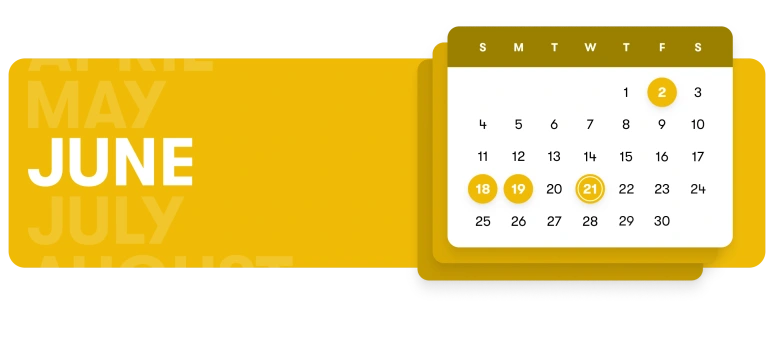 June
"It was June, and the world smelled of roses. The sunshine was like powdered gold over the grassy hillside." - Maud Hart Lovelace
You think you had it good in spring? Summer brings a variety of themes involving outside fun and freedom thanks to the end of the school year and the beginning of the vacation season. It also marks some very important dates in American culture.
Pride Month (all June) - Since 1969, June has been the month to celebrate LGBTQ+ communities and the many important causes they support. Show what you and your team are doing in the community to recognize it.
National Donut Day (June 2) - It's not a bad idea to share the dozens of donuts you pick up for your team on June 2. It's also a wonderful way to show support for small businesses in your area that make the delicious treats.
Father's Day (June 18) - Father's Day content should honor the dads and father figures in your organization and beyond. Once again, keep it simple, as it takes place on a Sunday when few are working.
Juneteenth (June 19) - As a day that commemorates the emancipation of African American slaves in the U.S., Juneteenth is something to celebrate in your content. The best approaches amplify Black voices, showcase Black small businesses and educate on Black issues.
First Day of Summer (June 21) - Your content kicking off summer should share best practices for summer in your industry and show your team taking much-needed time off.
National Selfie Day (also June 21) - Your content comes from somewhere — you and your team! This is the perfect day to show your audiences the smart and capable faces behind your small business.
Want a little more help with Q2 content planning?
Top 5 Holiday Promotions You Can Automate Today - This helpful guide provides even more ideas for creating a promotion that matches perfectly with upcoming holidays, using small business automation.
Free Sales & Marketing Email Templates - Now that you have all these great ideas for Q2, you can dial in your email planning and production even more with a variety of simple-to-use templates that work brilliantly with a small business CRM.
Keap Free Trial - When it comes to sales and marketing automation with CRM software for small business, you may want to try before you buy. Totally get it. Keap's Free Trial gives you 14 days to experiment and evaluate with absolutely no credit card needed.