Yelp's reputation as a local review platform is well-established, but according to a recent study by Brightlocal, Google is acquiring reviews faster than Yelp and any other platform. The search engine juggernaut shows no signs of slowing down, while incumbents like Yelp and TripAdvisor are now trailing behind. Business owners need to take notice.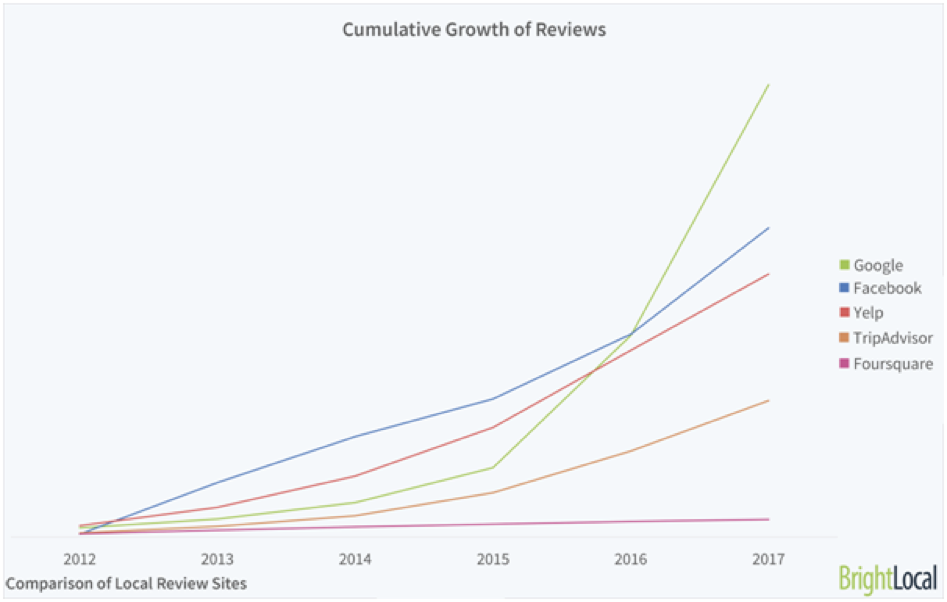 What are the reasons behind this shift in consumer behavior? How did Google manage to surpass Yelp and what does this change mean for business owners?
There are 5 factors that enabled Google to usurp the top spot:
Google has leveraged mobile
More people than ever are accessing the internet via their smartphones instead of on desktops. StatCounter tracked internet users between Dec. 2016 and Dec. 2017 and saw mobile Internet usage overtake the desktop. As the owner of the Android platform that powers millions of mobile devices, Google has been able to capitalize the rise of mobile. Its smartphones come equipped with Google Maps pre-installed, which makes Google Maps the obvious choice for searching for local businesses for millions of Android users. Google taps into that large user base.
GPS on Google Maps triggers a review request
Once a user locates and visits a spot using Google Maps, the app triggers a prompt based off of GPS coordinates. The prompt invites the user to then rate the business, right from his or her smartphone. Google leverages mobile location tracking to make leaving a review easy, while other review platforms rely on consumers to intentionally open their app or site and leave a review, which requires more effort and thought.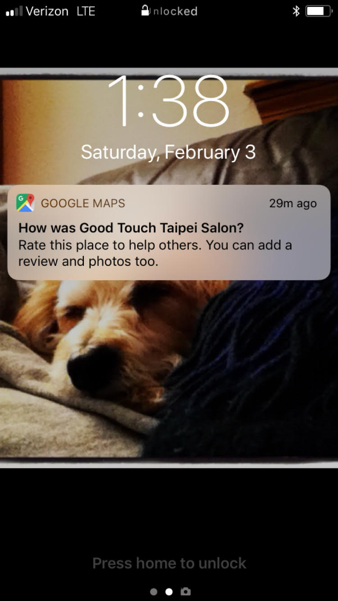 Google uses Local Guides to write reviews
The Google Local Guides program incentivizes users by awarding them points that can be redeemed for perks when they contribute reviews, photos, etc. to business listings. By pairing this program with their huge base of mobile users, Google Maps has fresh user-generated content that is relevant and useful to consumers.
Google's search algorithm places Google Maps at the top of search results
Searching Google for a local business or service will return Google Maps at or near the top of search results. Google Maps receives search traffic that previously would have gone towards a review site, and it pushes other search results further down the page, where they will get clicked on far less.
Yelp has become more aggressive about screening for fake reviews
Yelp's effort to counter businesses' attempts to game reviews are well-known. The mysterious workings of its filter have left business owners befuddled about how reviews are screened and how rankings operate. It has become harder to leave a review on Yelp since 25 percent of all reviews posted on the site are weeded out. This means that some authentic reviews are being eliminated alongside suspect ones. As a result, Yelp has depressed its own numbers.
With Google now the fastest-growing review site and picking up speed, how do business owners respond to the changing local review landscape?
Claim your listing on Google Maps
When a business listing appears on Google Maps, it may have been submitted by a consumer or even a competitor. All the accompanying information may not be accurate. After you claim your listing, you become the admin for it.
Update all of your information and then maintain it to ensure it is accurate
If you move or change your hours of operation, you'll want to modify your listing so that you don't miss out on prospective customers. You'll also want to check to make sure that your business appears in the right vertical and that you have appropriately categorized the industries and services that you provide. You can add logos and photos, too. According to Google, businesses with photos receive 42 percent more requests for driving directions and 35 percent more clicks through to their websites from Google users than businesses without photos.
Read and respond to Google reviews
With Google continuing to grow as a review platform and the fact that over 80 percent of consumers now expect a business to reply to what they say online, you must stay on top of Google reviews. Fortunately, businesses have a few options for replying quickly, including free notifications that can be set up through their Google My Business account. Or if you have multiple storefronts to oversee, you can an affordable platform like Reputology.com, which will let you monitor and respond to Google and other review sites in real-time.
Given that Google reviews are growing on a rocketship trajectory, business owners need to make sure that they are claiming their Google listings, updating them for accuracy, and responding quickly to new reviews.