Google has recently made some changes in the local search space. To succeed in the local search, you need to focus more on getting featured in Google. Here are some tips and tricks on how to improve your local search rankings within Google features.
1. Leverage Knowledge Graph for Your Business
The Knowledge Graph is a new way for Google to make search more human-friendly by showing not only top-ranked results but also a quick answer to a user's question. The Knowledge Graph is the new source of information for SEO that plays an important part as each web page is processed and indexed using Google's algorithm. To get featured in the Knowledge Graph, it is essential to go along with Google's automated processing concepts.
The use of Organization markup structured data and running a Google + profile will help you optimize your business's Knowledge Graph and improve your visibility in Google. First of all, specify and optimize the official logo that you want people to see in the Knowledge Graph.
Implement Organization schema markup on the main page of your website. Make sure you follow Google's logo guidelines. Define where the link directs searches once clicked on. Here's how Starbucks appears in the Knowledge Graph: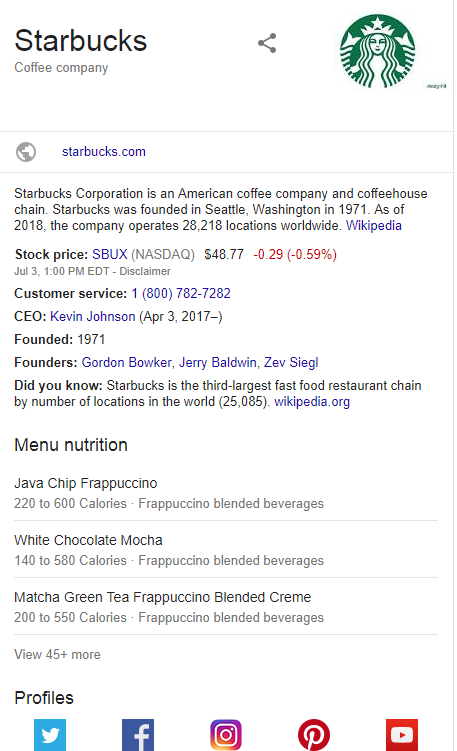 Many people just want to know a phone number of a company. Showing company contact numbers in the structured data will simplify their search and won't make them frustrated while going through your site to get them. Try to include all of your phone numbers in the organization markup.
Here is a good example from Citywide Law Group which contains relevant images of the company, phone number, address, operation hours and even reviews from the customers.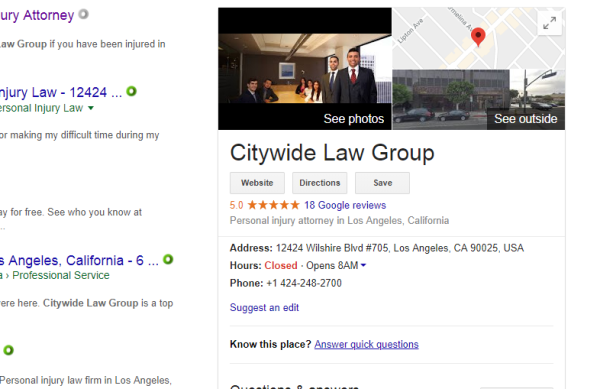 You can also list up to five social profiles to maximize your visibility. Your social URLs should be associated with your website. To be sure that Google picks the right social profiles, use structured data and follow the Google's profile guidelines.
Structure and optimize your content based on the latest standards, and enter as much metadata as possible for every web page. Keep it relevant. Submit your posts on Google+ which will increase the chance to be shown on your business's Knowledge Graph.
2. Reorganize your content
When producing content for the local search, it is important to focus on local keywords and intent to narrow the competition while effectively reaching your target audience. Include the targeted keywords into titles and meta description tags. Using long-tail keywords will help you delineate your content geographically. For example, Compass Pools optimize each web page by including local keywords like "swimming pool in NSW" and "swimming pools New South Wales".

Optimizing your web content is also important to provide the best answers to the common questions. Google often shows results in the so-called Google snippets which is displayed in the form of a paragraph, a list, or a table. These snippets help to get a better grasp of the content and improve the matching threshold for the query. Start with posting the most popular questions about your product or service, and provide clear answers to them. You also need to make some research to detect search queries. I would recommend using SE Ranking Keyword Research Tool for this task. The tool shows any niche-related queries and the competition.
I would also recommend creating an FAQ page on your site and Wikipedia page. Just make sure that your information is 100 percent accurate and updated. For example, here is how the ESTA VISA agency has created a well-detailed FAQ page for the Australian Citizens: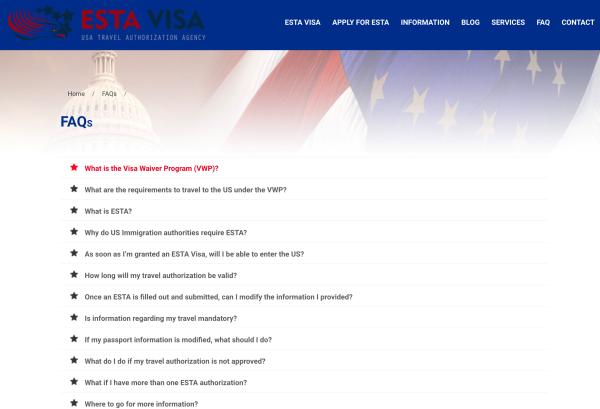 Just keep in mind that local content is different from a simple blog post. You should implement different tactics such as optimizing landing pages with local pictures, getting online reviews, reposting user-generated content, etc. Here are some content ideas you can use for your local marketing campaigns:
Attend and host local events.
Publish guest posts on local websites.
Answer local questions.
Sponsor local events.
Create content focused in your area.
Give guest lectures at local schools and universities.
3. Optimize your Google My Business listing
Optimizing your Google My Business listing is the cornerstone of any local SEO strategy. With the new GMB features, you will increase your chances of appearing in Google's Local Pack, Google Maps, Local Finder, and increase your local organic rankings. A few tips on how to optimize Google My Business listing.
Add complete information about your company. Bear in mind that pretty much anyone can supplement an information in your listing including your competitors. So make sure your profile is as complete as possible. Moreover, Google wants to know more about your company, that's why it gives people an opportunity to answer questions and tell more about you. To view all updates made by a user, click on Google Updates and delete incorrect information if necessary.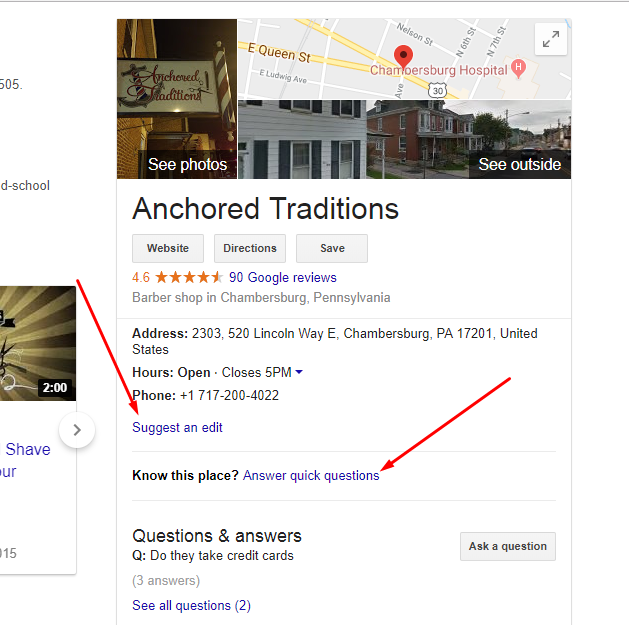 Now you can create Google Posts which will appear in your Google My Business listing. They look like social media posts or mini-ads. You can post the information about any forthcoming or current events, sales, holidays, new products, etc. To catch users' attention, add calls-to-action, images and even links to any website. Take a look at the example from Just Mind: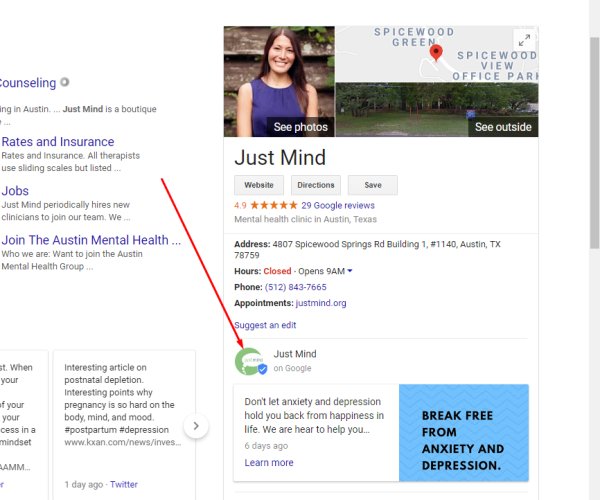 The Google's Booking Button feature is another great way to stand out from the competitors. If you allow customers to schedule appointments and have any integrated scheduling software supported by Google, this feature will help users book an appointment with your stuff right from your GMB listing.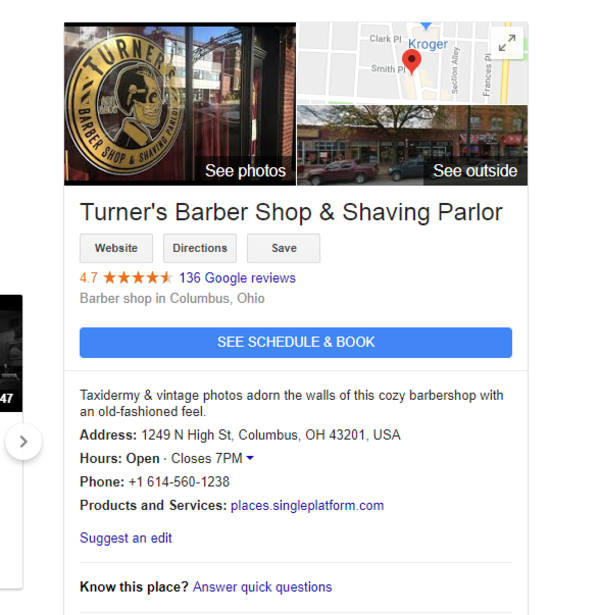 Google Messaging helps your potential customers send you text messages to find out more about your products or services. Notice this feature is only available to mobile web users. Questions & Answers is an excellent way to engage with your potential customers. People can ask any questions about your service or products, and you can give clear answers. This feature is great for local search as it allows you to hear direct questions from the target audience. Take a look at the example from Barbara Oliver Jewelry: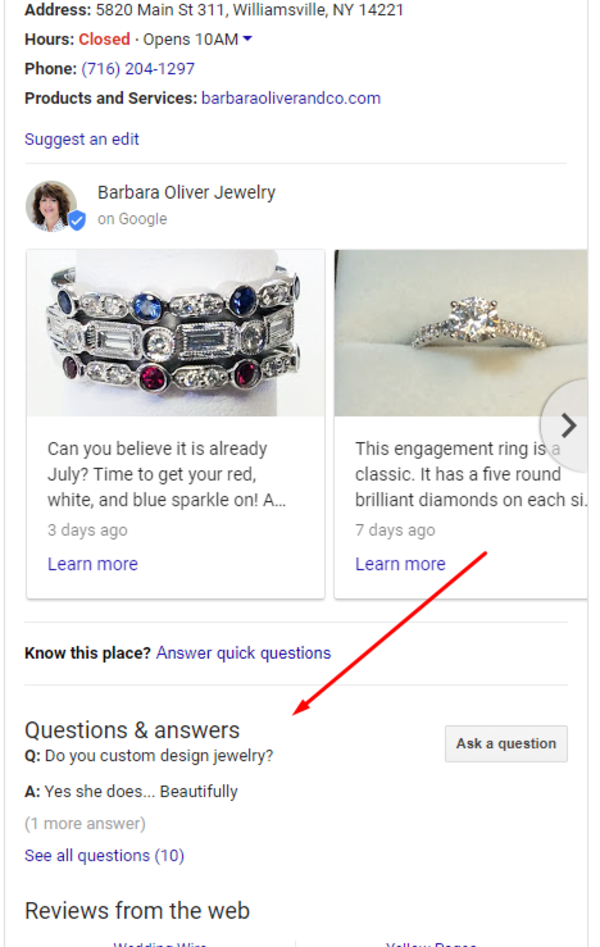 We all know that online reviews impact search result rankings. Ask your clients to leave a review about your business. The more reviews you have, the more chances your business has to stand out from the crowd. Provide your clients with a link to your GMB listing, and get more online reviews. Here's how Injury Trial Lawyersare getting reviews from their customers: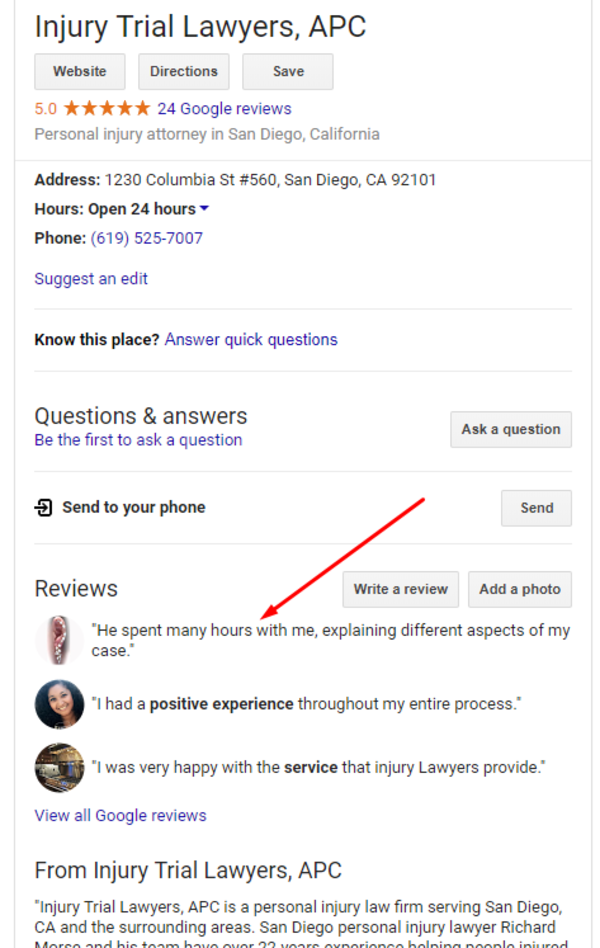 If you want to humanize your brand, you can add more photos and videos of your company daily operations. Your customers can also add photos of your company. Adding videos to your listing will attract more potential customers and impact your ranking placement.
Include your business description in your GMB listing. You can write about 750 characters, but only 250 characters will be visible in the Knowledge Panel. Try to post the most important information about your business, using your target keywords and specifying your location.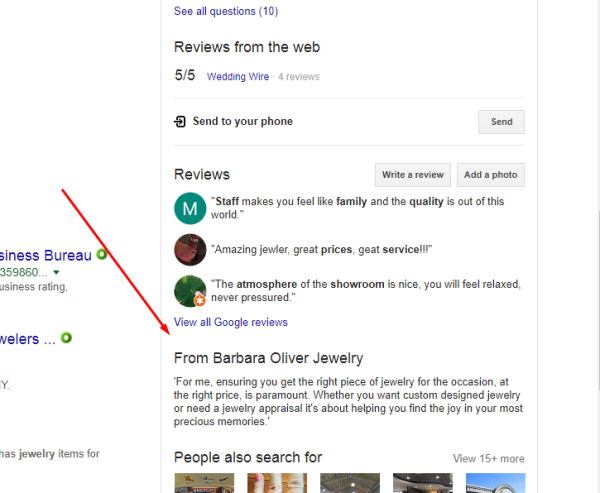 4. Handle practitioner listings
Now you can leverage your business using Google My Business if you are a practitioner that helps you to promote your personal brand in local search. A practitioner listing is a listing on Google Maps that is for an individual instead of a place. This would be practitioners like lawyers, doctors, financial planners, real estate agents, etc.
If you are a doctor or a lawyer who works in the local business, you need to have your practitioner listing on your GMB. You can include your credentials title or degree certifications. Try to choose a correct category and each web page should lead to different URLs.
For example, Law Office of Vikas Bajaj, APC is doing a great job in their region. The lawyer Vikas Bajaj selects the criminal justice category and has different landing pages to reflect all his activities.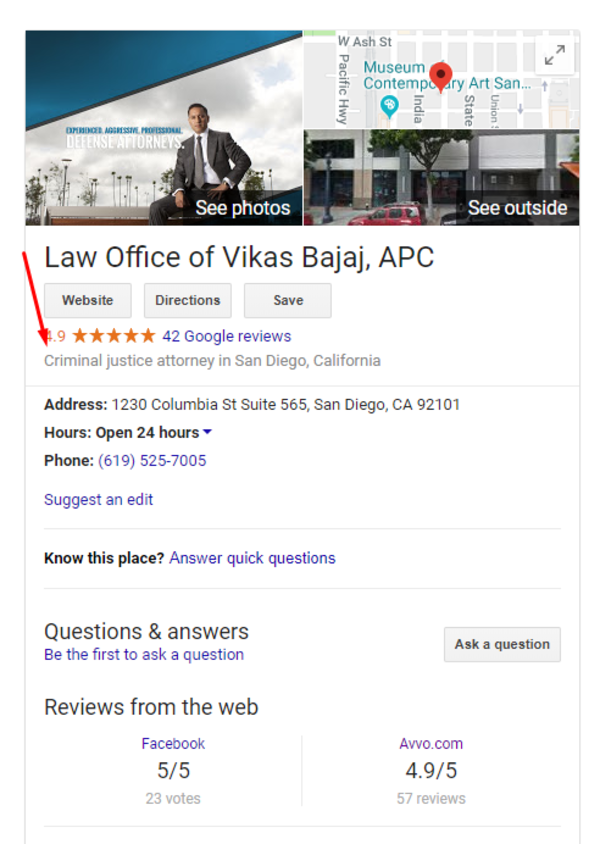 5. Use Local Packs Ads
You may have noticed that Google displays more and more ads in local search. Moz reported that 64% of all local packs include ads. If you want to build a strong local marketing strategy, you should invest in the paid ads.
Now AdWords ads take the lion's share of local search results and show up at the top of all search results. Which is a great reason to consider paid ads. Another reason to use ads is the increase in the number of ads appearing in mobile results.
That will also help local businesses increase search visibility and appear in the local search three-pack. As more searchers click on the local ads and local businesses invest in PPC, competition and click costs will grow. And rankings in the local search 3-pack is more important than ever. View how many ads are above the scroll for the search query "wedding dresses new orleans".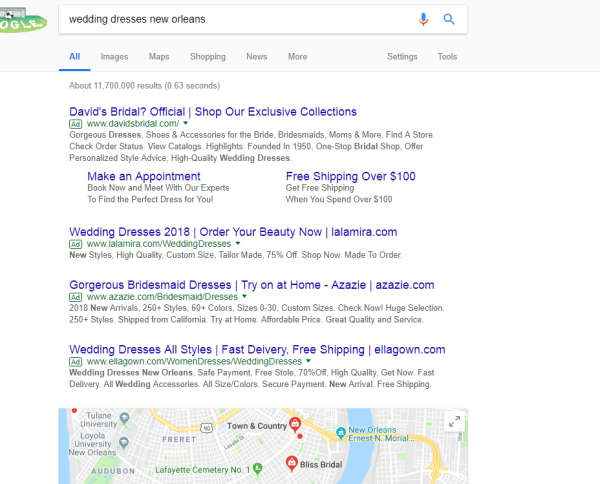 Google has made some changes to Google My Business in local search. Anita Yuen, Product Management Direct of GMB, said at a conference that using Google Tools and the new GMB features can help business owners to handle from small to large-scale clients.The new GMB dashboard works fast and enables the following:
You can manage an unlimited number of locations from a single registered account on Google My Business.
Users can easily search for different locations within one account and through location groups.
The product workflows become easier to manage.
User groups are responsible for managing internal teams and controlling access to location information.
Bottom Line
Google wants to provide users with more and more information about your company and constantly improves the way users interact with local businesses and helps businesses grow. Try using everything that Google offers to better compete in the local search.