It's not enough to create high-quality, educational content for your readers. In order to maximize content marketing ROI, your blog posts need to be visible on Google when ideal prospects search for answers and solutions.
You shouldn't create content just for search engines, likewise, you should never create content without search engine optimization in mind.
Here are ten ways to optimize your blog posts from top to bottom, so that your posts have the best chance to achieve their organic ranking potential.
1. Page title
From a search engine standpoint, your browser page title is one of the most important elements of on-page SEO. It's important that your title naturally includes your targeted keywords. Page titles are one of the strongest ways for you to signal to Google what keywords you are targeting on a given page.
Of course, you can't just stuff keywords into a page title—they must be weaved in appropriately, and the actual page content has to be in sync with the title. Ideally, you should aim for your main keyword phrase (and perhaps a secondary keyword) within the first 60 characters of your title, as Google stops counting after the first 60 characters, at least for ranking purposes.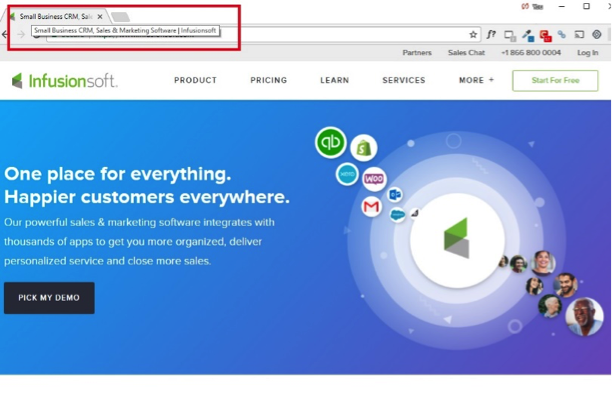 2. Meta description
The meta description gives internet searchers an idea of what readers should expect when reading your post. While the keywords in your meta description are not a direct ranking factor, the copy in your meta description is very important because it's the one chance you have to entice a search result into a click onto your website.
If you use professional content writing services, they will know how to craft great meta titles and should provide you with optimized meta titles for your content. Your meta description has a direct impact on organic click-through rates, and while Google denies it, most SEO experts believe that higher click-through rates correlate with higher organic search engine rankings.
If you use a content management system like WordPress, you can easily customize your browser title and meta description on every blog post via a plugin such as Yoast SEO: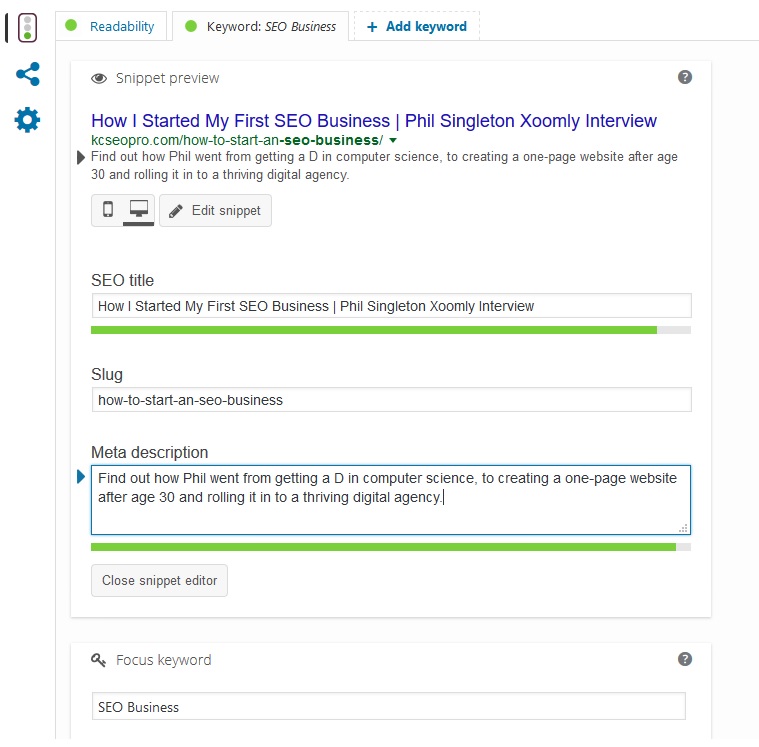 3. Image alt tags and image titles
Adding images not only makes your blog posts more interesting and shareable for your readers but also makes your posts more appealing to search engines. The only problem is that Google cannot see your images like a human, and does not know what words to associate your blog post's images with—so you need to label your images with alt tags.
An alt tag, also known as "alt attribute" and "alt description," is a bit of HTML code that assigns a word or phrase to your images. Use the alt-tagging feature with your images, because Google uses alt text not only to figure out what the image is about but also its relation to the surrounding text.
An image title is another attribute that can be added to the image tag in HTML. It is used to provide a hover title for your image. The title text is displayed in a popup when a user takes their mouse over to an image.
In WordPress, you can access image files and manually set the alt text an and image title for every image.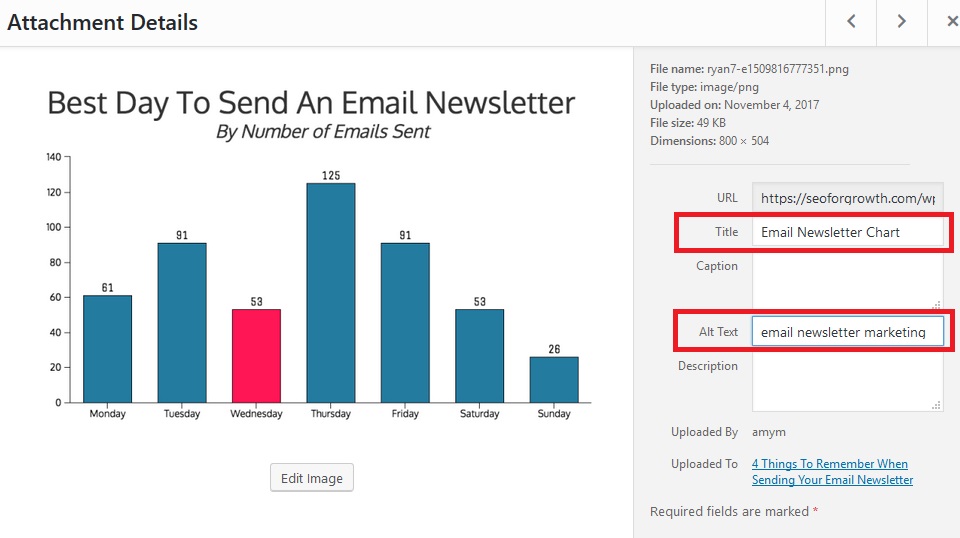 4. Use headings
Heading titles break your blog post into scannable blocks, which makes your content easier to read. It is also widely believed in the SEO industry that keyword phrases in H1 and H2 tags have more ranking weight than regular text—although much less so than in the early years of SEO.
After your heading (H1) title, H2 tags are the most important focus of your document. H2 tags help to structure your document and to boost visibility for search engines. Where possible, try to use keywords naturally in your headings and sub-headings. In WordPress, it's easy to apply heading styles: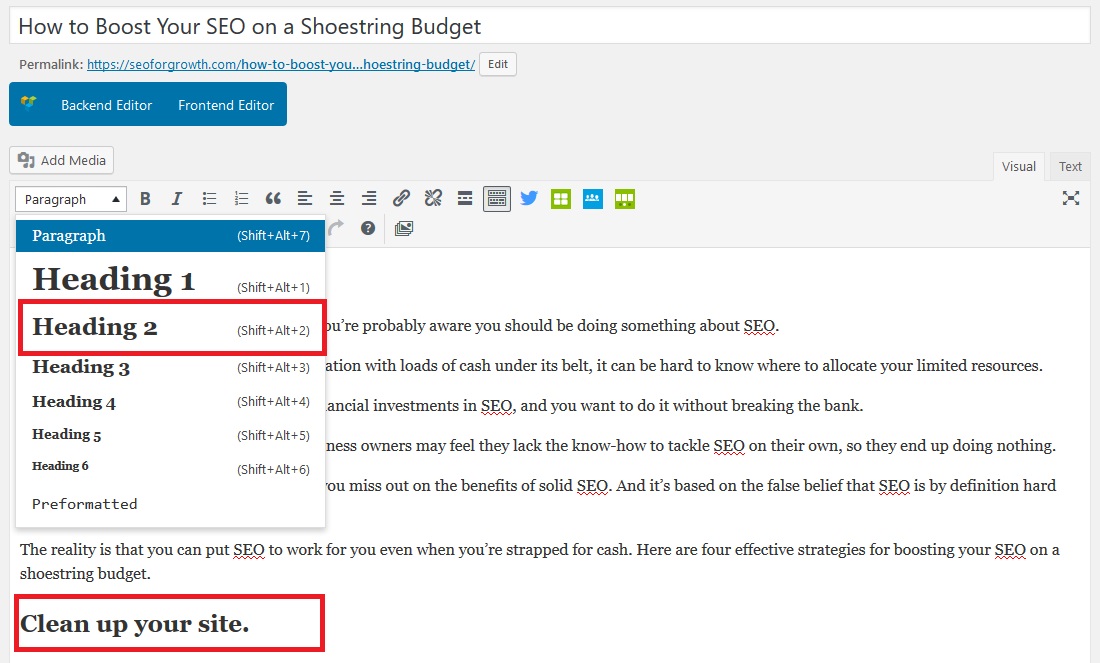 5. Use bullet and number lists
There are a few good reasons to use lists in your blog posts:
You can say more with fewer words
Most users don't read, they skim
Bullets are easier to read when page scanning
Google seems to like bullet and number list structure
As for that last item, Google really does like lists. They often extract lists from page content and display them directly in organic search knowledge boxes: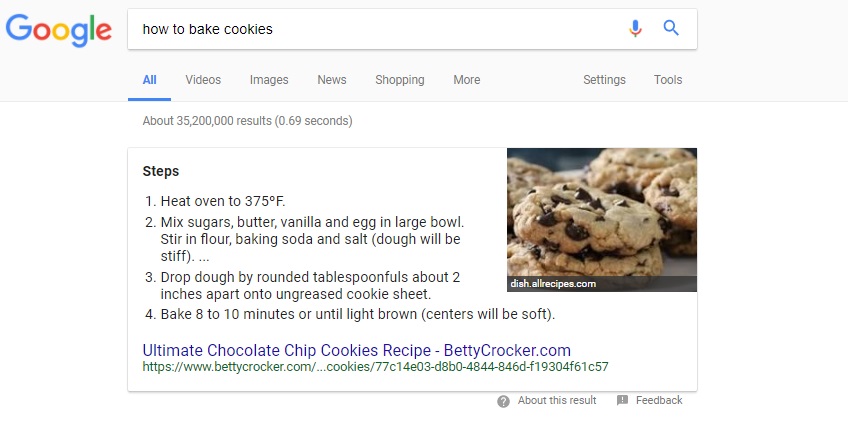 6. Include links to other posts on your site
Internal links are very helpful when trying to boost your SEO. It supports the relevancy of your content from a search engine's point of view. For example, if you've written on a given topic elsewhere on your website, link back to it back to your current post.
In addition to improving your on-page SEO, internal page linking makes your site more sticky and lowers bounce rates.
7. Include relevant external links to third-party sites
It may seem counterintuitive to send people off of your site, but including editorial third-party sites in your blog accomplishes a couple of things. It enhances the quality of your own work by including unbiased commentary and information that support your point of view in your own content. Search engines recognize these relevant connections as a quality signal, which theoretically helps your rankings.
8. Embed rich media when appropriate
Diversifying your media not only is appealing to readers and strengthens your overall message, it also improves your blog post's ranking potential. Additionally, videos and audio files increase user dwell time (i.e. how long they stay on your website), which many SEO experts to be an important ranking factor.
People in general love video. They tend to remember messages that they see via video, so it is a very effective tool.
In some cases, embedded audio—especially podcast audio—is even better. The SEO benefits of podcasting are well documented. When appropriate, embed third-party podcast episodes from authority shows into your blog post to supplement your content, increase web page dwell time, and help prove your point.
Infographics add visual texture to your posts and are a great tool because they are frequently shared on social media. As with the rest of your image content, you've got to make sure that the infographic is tagged correctly (see No. 3 above).
9. Include author and contributing author info
Providing author and guest author bio information has evolved into an important element of search engine optimization.
Google uses an army of over 10,000 Quality Raters that manually check the quality of search engine results on a regular basis.
Within the 160-page Quality Rater Evaluator Guidelines, this document instructs Quality Raters to look for a clear indication of the author of web page content:
2.5.2 Finding Who is Responsible for the Website and Who Created the Content on the Page
Every page belongs to a website, and it should be clear:
Who (what individual, company, business, foundation, etc.) is responsible for the website
Who (what individual, company, business, foundation, etc.) created the content on the page you are evaluating
From a readership standpoint, including author info with a blog post legitimizes the content and gives it context.
10. Use structured data and schema
Using structured data and schema to lure search engines is one of the most powerful, least utilized (and perhaps least understood) tactics in SEO today.
Schema essentially communicates to Google what your data means as opposed to what it says, and helps Google remove some of the guesswork it would need without this extra level of data tagging.
When you apply the schema to your website properly, it vastly increases your chances that extra information from your web page will appear directly in search results.
Common examples of schema working in search results are knowledge boxes, star ratings, reviews, event times and much more. So few websites use structured data markup that so it's still sort of an "SEO secret." Luckily, there are plugins available that make schema markup very easy.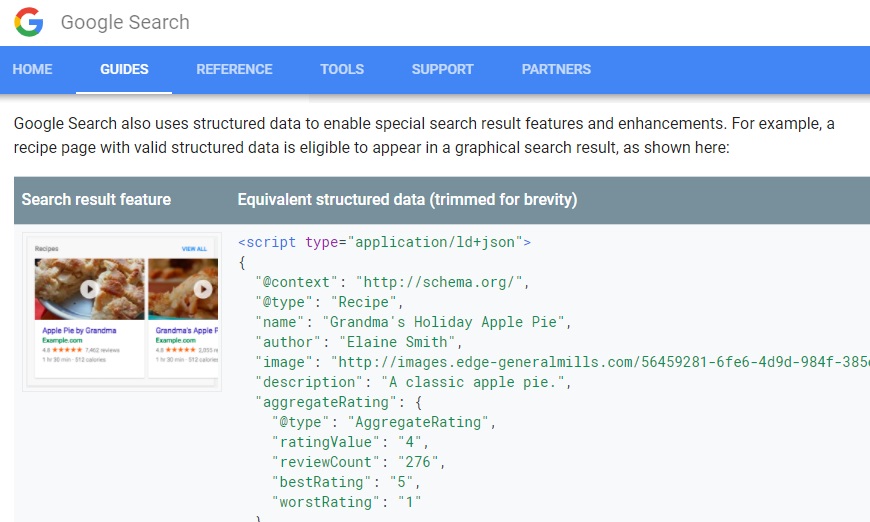 Conclusion
With respect to getting quality blog posts to rank on Google, there is no silver bullet. On the other hand, there is nothing technically difficult about implementing any of the above recommendations.
Organic search engine visibility is about the process, routine, and consistency—discipline is the key to SEO. If you simply apply these ten steps to your blog posting routine, you are virtually guaranteed to improve your blog's ranking potential.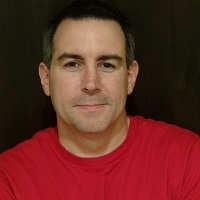 Phil Singleton is a web designer, an SEO expert, and an award-winning author. Since 2005, Phil and his team have been providing search engine friendly website development at KCWebDesigner.com and search engine optimization services at KCSEOPro.com. In 2016, Phil co-wrote SEO for Growth: The Ultimate Guide for Marketers, Web Designers & Entrepreneurs, an Amazon bestseller that has been named a top marketing book by Forbes, Mashable, Oracle, The Huffington Post and Inc. magazine. Phil is also the author of a popular free SEO Schema plugin that helps webmasters easily add structured data markup to their WordPress web pages.