Considering the inception of search engine optimization (SEO) occurred in 1997, although many argue it started with the dawn of the internet in 1991, that still doesn't indicate that everyone has the same level of expertise. If you're a small business owner trying to launch a website for your newly established company, you may be seeing this acronym for the very first time.
SEO has endured its fair share of transformations over the years with the ever-changing rules, facts, information and tactics that have either been effective or reimagined by Google's Algorithms when some pages didn't quite perform accordingly.
For someone who's just starting an online business or making a website, SEO can be quite overwhelming to pursue without knowledge of the basics.
Check out this compilation of SEO tips, tricks and simple hacks that will help small businesses' websites achieve better search engine rankings.
Create compelling page titles and meta descriptions with optimal keywords
Find out where you're ranking and adjust your strategy based on the results.
Use Google Search Console or perform your own searches to find where you're appearing on the search results page. (Note: search in incognito mode, or your results may be catered to your search history.)
Based on results, make the appropriate adjustments to your page title and meta description.
Invest in a keyword tool such as SEMrush or Wordtracker that can help you find the most highly ranked keywords in your industry.
For your title tag, which specifically pertains to your page's main title, limit the length to fewer than 60 characters–this will prevent it from getting truncated in a search result.
Don't overdo your keywords–it's always best to begin the title with the highest ranking keyword or the name of your business.
Fun fact: SEO titles that have an odd number of items tend to rank higher. Top 10's also perform nicely. Consider the examples below:
5 ways to grow your business
11 most common ways to avoid credit card fraud
Top 10 ways to guarantee strong sales after the holidays
Your meta description is what appears under your site's title on the Google search results page. Meta descriptions are ideally between 155–160 characters–long enough so they're sufficiently descriptive, but short enough so they won't get truncated, providing enough information and value to drive clicks. This is also a great opportunity to include vital keywords that describe exactly what your company does and which products and services it provides.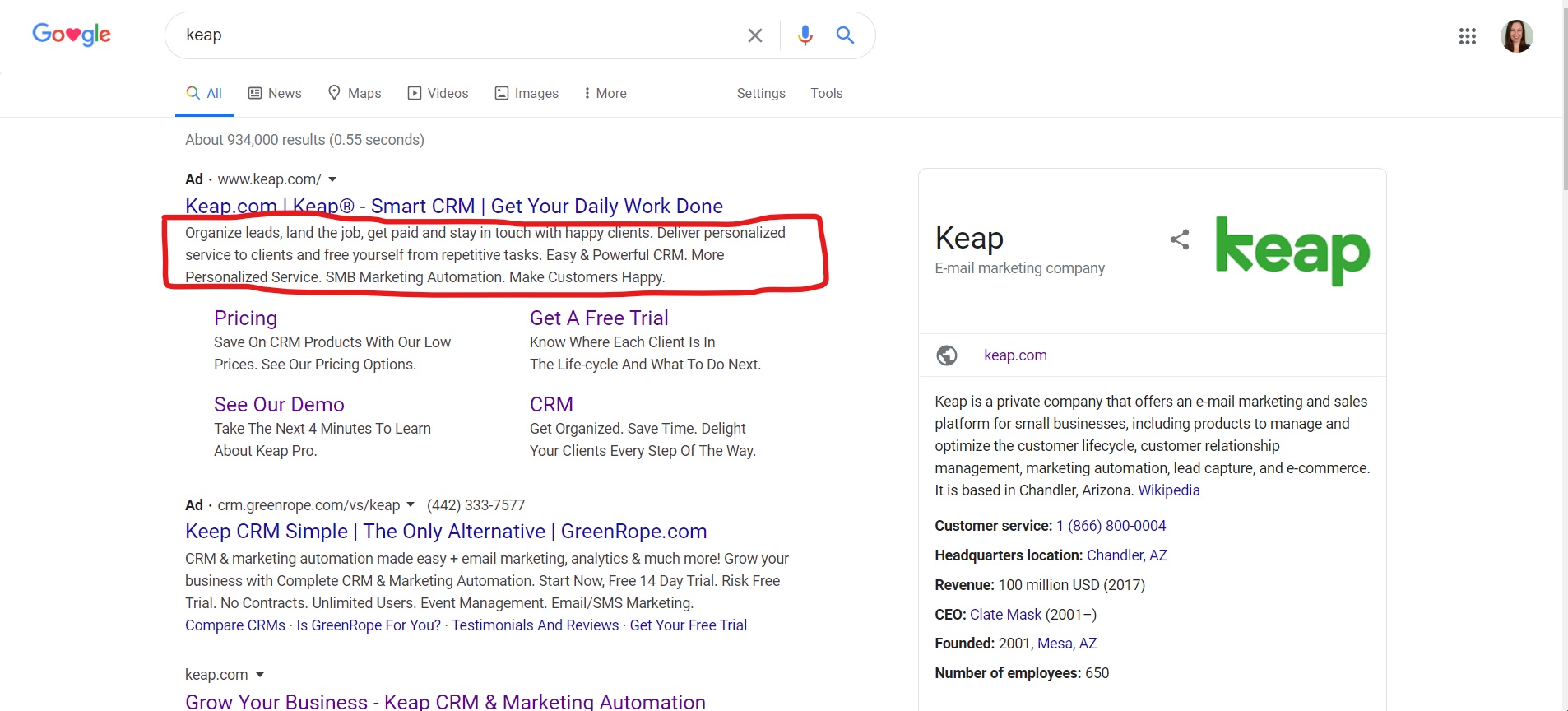 Keep your meta description relevant for users and craft a strong and creative call-to-action (CTA) to stand out in the search results where appropriate.
Write quality content
If you're not ready to invest in a keyword finder such as the Google Keyword Planner, gather your marketing team and brainstorm a list of keywords that you feel will grab the attention of your target audience.
One thing to keep in mind is the difference between a long-tail keyword and a short-tail keyword:
Long-tail keywords or key phrases are more specific–and usually longer–than more commonly searched for keywords. The paradox with long-tail keywords is they tend to see less search traffic, but will have a higher conversion rate due to their more specific nature.
Example: flower shops that deliver
Short-tail keywords are search phrases with only one or two words
Example: flower shop
Now that you've compiled a list of keywords and phrases that best describe your company and brand, start creating quality content pages for each of those keywords.
You also want to watch your keyword density–it's a delicate balance to ensure your pages don't look too saturated. Otherwise, you might get dinged by Google.
Separate your products into categories and create landing pages for each one, this way you can utilize keywords in your title tags.
For blogs, create a narrative revolving around some of the products and services you provide–if you don't have a writer on your team, reach out to a freelancing service such as HARO (Help A Reporter Out) or recruit a graduate student as an intern, preferably one with SEO knowledge.
It's also wise to always observe what your competition is doing and try to figure out what you can do better. Find some users' pain points and offer new solutions.
It's ideal to limit the length of your blogs from 1,000–2,000 words–it'll demonstrate a sufficient amount of time on site without overwhelming your visitors with too much text.
Including images is also a useful SEO strategy, as you can include keywords in the alt tags, leveraging your visuals to help you rank higher.
Once your blog is published, share it on social media platforms such as Facebook, LinkedIn or Reddit, garnering even more traffic to your site.
Target long-tail keywords and post client testimonials
Build interest in your business by posting your company's portfolio or recent jobs page. If you own a painting company, post pictures of some of the houses you've recently painted, (with the owners' permission of course). Use this opportunity to apply long-tail keywords into some of the alt tags or image descriptions so they get indexed by Google.
You can also post testimonials and reviews written by satisfied customers on your website's homepage.
This type of SEO is known as long-tail keyword targeting where you can cater to a specific region or location. Take each case and transform it into content on your website, increasing the chances for organic traffic.
Don't skip your research—find specific long-tail keywords that may lack volume but will bring you quality leads. Stay abreast of all the changes and innovations happening in your industry, and be the first to cover those emerging trends, establishing yourself as a go-to source for certain topics before anybody else.
Build a backlink network
As mentioned above, HARO is a great networking tool for those in the blogging industry. It helps reporters find an abundance of resources for upcoming stories and media coverage on a daily basis.
It helps connect writers who want to generate high-quality backlinks from various authority sites.
The key to achieving links from your HARO efforts is to focus on providing high-quality info on the requests, actionable strategies and resources.
Create online tools for your industry
Make a one- to two-minute YouTube video that explains what your company does and some of its top products. Upload it and be sure to complete the back end metadata. This is where you can leverage keywords in your meta description and tags from topics featured in the video.
Once your link is live, embed it onto your website by clicking on the "Share" button below the video and selecting "Embed." Copy the code and paste it above the fold on your webpage (In internet speak, that means within the top half of your landing page).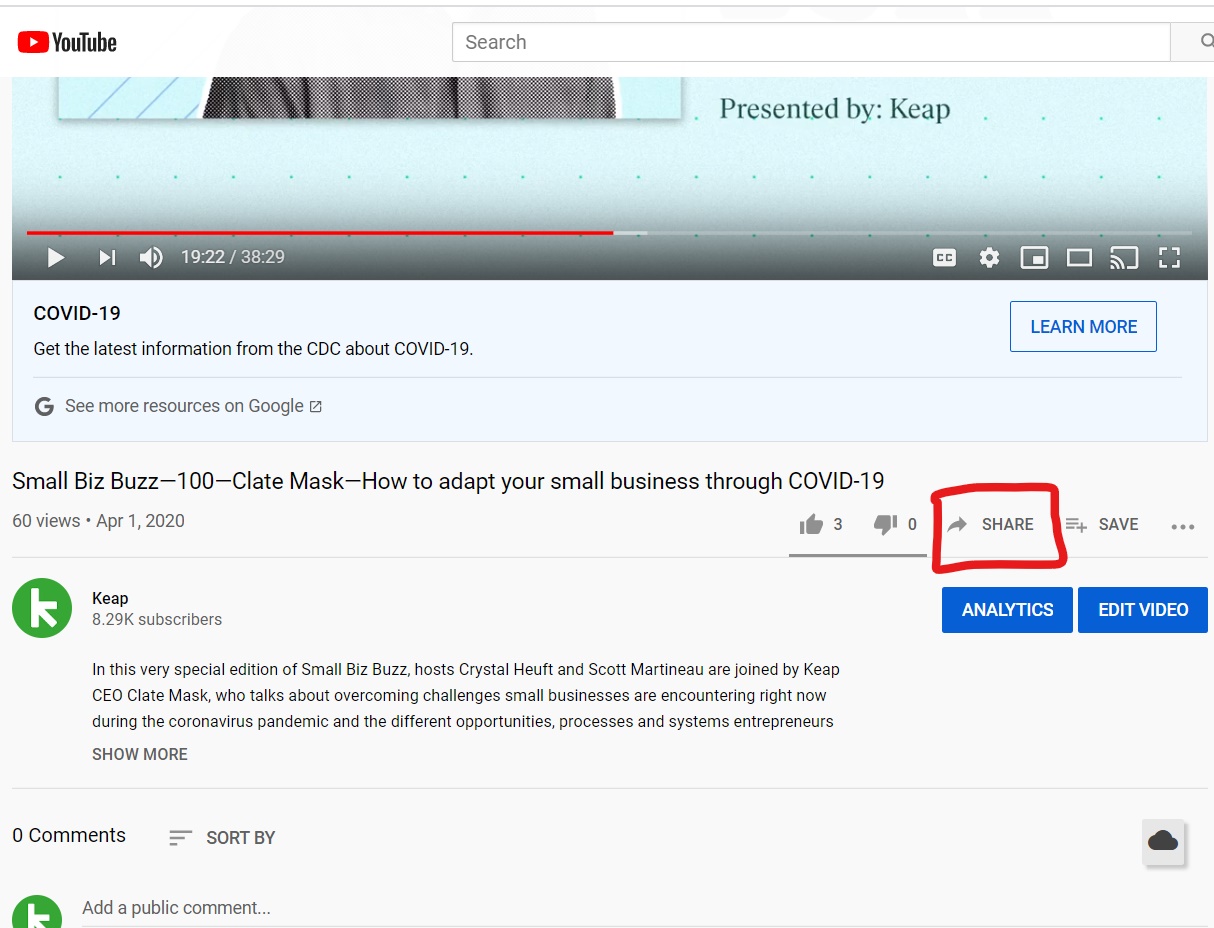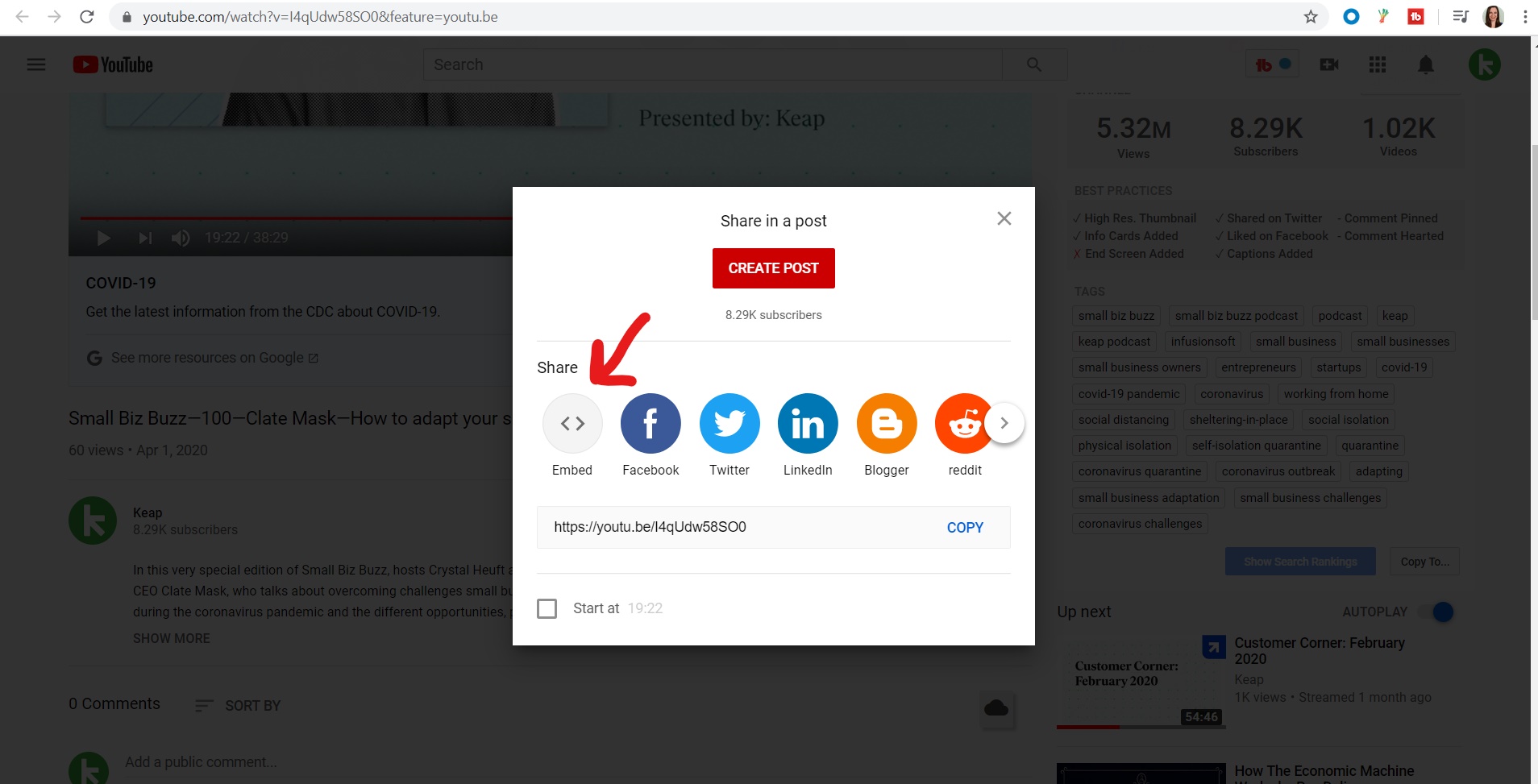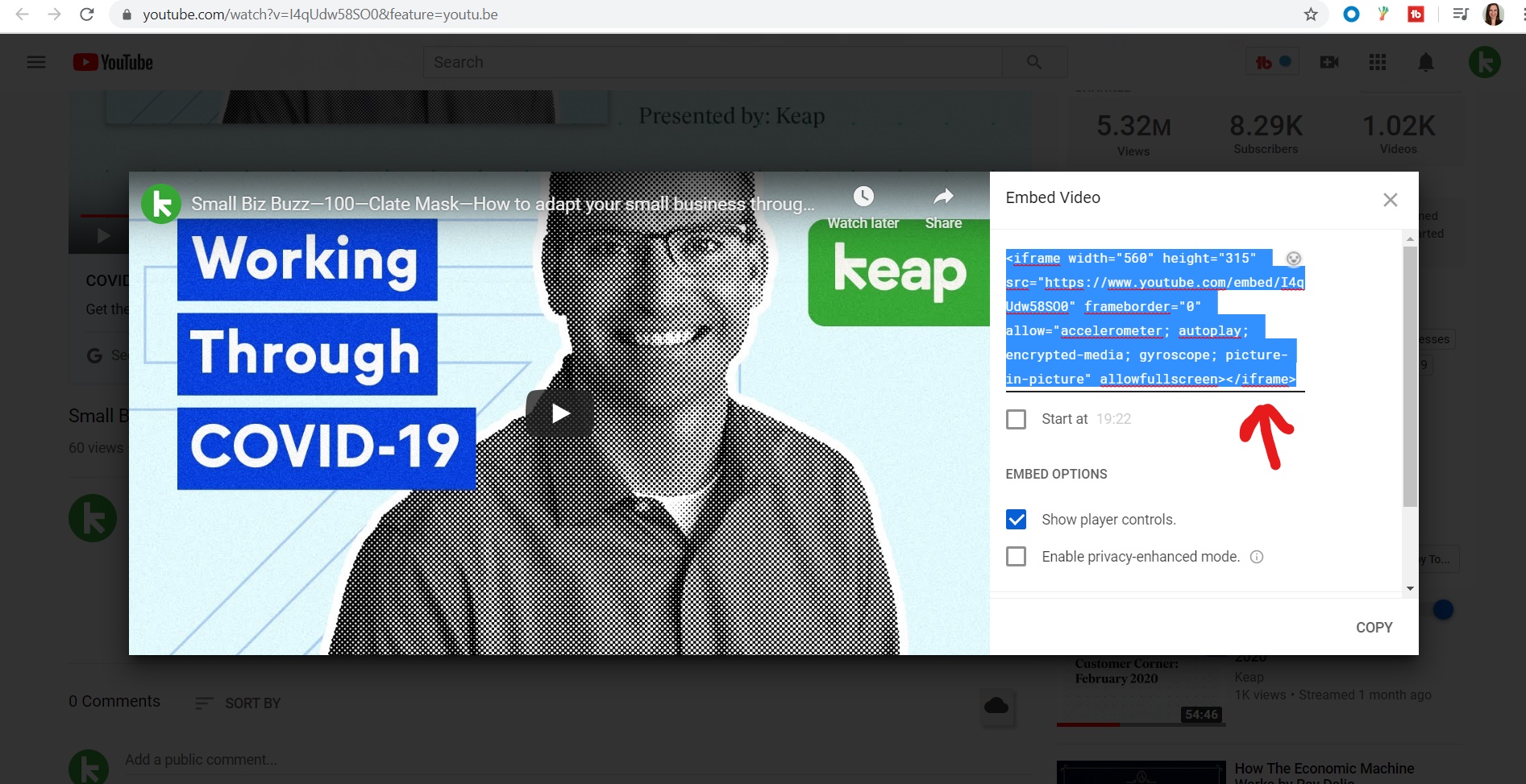 Another form of multimedia you should consider including on your site is a weekly podcast. The same system applies, record a podcast and use an uploading tool for the MP3 or MP4 such as Libsyn or Buzzsprout to ensure your audio gets distributed to major podcast networks such as iTunes, Google Play, iHeartRadio, Spotify, etc. These tools also give you an opportunity to populate metadata and keyword tags during the uploading process.
Another way to increase your rankings is to upload your podcast audio to a YouTube video, creating another form of media that can be embedded onto your webpages.
Both of these tactics will increase time on site and engage your users, reducing your website bounce rate and yielding better Google rankings.
Repurpose your content
Take a blog you've written and repurpose it into an infographic or how-to video, applying the same keyword tactics from above on the back end.
You can also do the opposite by creating a blog out of a webinar by taking questions asked by viewers and creating a FAQ page for your site or a series of blogs addressing each inquiry.
Create internal links and sitemap
If you have a new website, it's important that you increase your online visibility in the following ways:
1. Create a link building campaign
The higher quality and quantity of links leads to a stronger brand authority and higher domain authority, resulting in higher rankings on search engine visibility.
2. Create internal links on your content
Internal linking helps users navigate your website easier, establishing an organized structure that will strengthen your overall domain authority.
3. Create a sitemap page
A sitemap shows every possible page on your website that's categorized and structured. Each page on your website has a unique identity so having a sitemap will make a stronger case for Google as to why that page belongs to your website. Even if your website starts out relatively small, be proactive and add pages to your sitemap once you start building, getting the ranking factor completed as soon as possible.
Post job listings
Post a job listing to any number of online job boards including Indeed, Glassdoor and LinkedIn. This is another opportunity to leverage keywords in your job descriptions and add links to your website, as prospects want to learn about your company before applying.
Promote giveaways and discounts
Giveaways and discounts are a great way to drive traffic either via email campaigns or CTAs on your homepage.
If you're already sending promotional emails to your client list, create an incentive by sending a message that drives visitors to your site with a giveaway such as a gift card, a free item or service, a reward for referring a friend or a promotional discount. (The example below from Charming Charlie shows an eye-catching CTA promoting a 10% off promotion for loyal customers who waited for the company to rebrand and are now being rewarded for their patience).
Take advantage of the CTA button and promo codes for keyword usage.
Creating a sense of urgency is also a great way to see a spike in traffic.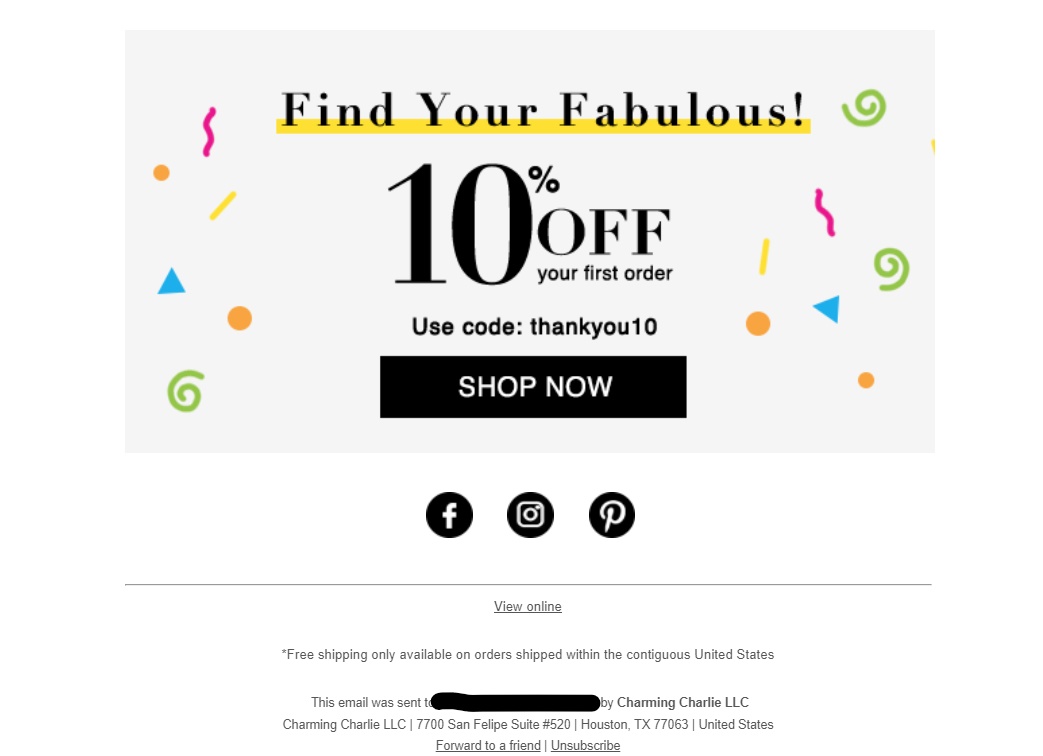 Be user-friendly
Create an organized, well coded, visually pleasing, user-friendly website.
Ensure that its load time is shorter than three seconds. (Metrics have indicated that visitors bounce if the load time exceeds that amount).
Generate a mobile-friendly version using responsive design so your website isn't just limited to desktops. Many users shop or research on their phones so make sure they can navigate your site just as easily on a smaller screen.
Create relatable content that's easy for the average member of your target audience to comprehend.
Benchmark against competitors
Benchmarking is when you compare business processes and performance metrics to industry milestones and best practices from other companies.
Keep in mind that not all SEO principles apply to every website.
Look specifically at your industry to see what works and what doesn't.
Choose two or three top companies in your industry that are earning high organic traffic and note key performance indicators (KPIs) such as their amount of linking domains, number of keywords they're ranking for, volume of organic traffic, etc.
Do this on a monthly basis and keep track of growth and metrics on a spreadsheet that you can frequently update.
The SEO waiting game
Here's my final piece of SEO advice: Whatever you do, remember to be patient. One drawback about making so many SEO efforts is that the changes are gradual and it takes time to see results, so don't be discouraged if your website doesn't see immediate improvements.
It also doesn't mean all of your work was for nothing, it takes a lot of energy and dedication–in many ways, SEO is a full-time job, adhering to the many rules and regulations implemented by Google day-to-day. It will all pay off when the traffic boost kicks in and conversions are made left and right.