Whether external or internal, Google's algorithms have always used links as a basis for gauging online authority, site structure hygiene, and online reputation. Yet, the SEO world has always been obsessed with strengthening their backlink or external link profile, often ignoring internal links.
Though external authoritative links are one of Google's ranking factors, it's important to pay attention to your site's internal linking strategy too. In the absence of internal links, your website is nothing more than a bunch of loose sheets of paper on a desk—they will scatter around in no time without achieving the purpose for which they were created.
Internal links: The cornerstone of online authority building
Without a doubt, external links impress Google, which then rewards sites with a better ranking. The improved authority will also get more visitors to the site. But what's next? In the absence of a great internal link structure, your website will fall apart.
Besides, a robust internal linking strategy can help build a site in the following ways:
1. Optimizes your crawl budget
Internal links establish a SEO-friendly site architecture and spread link equity, making it easy for Google's crawlers to find your pages.
Check out two examples of internal linking below. Search engine spiders will effortlessly browse through the relevant pages in the second case. Whereas, for the first one, they will not be able to reach pages 'C' and 'D,' regardless of what great content or keywords they hold.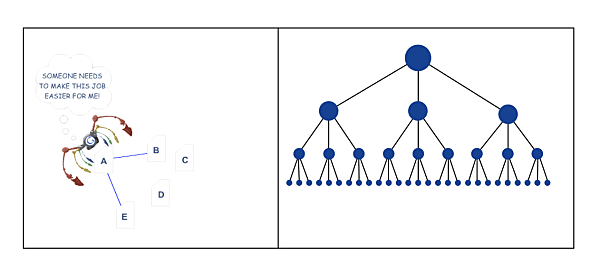 Source
Internal linking connects one webpage to other pages on the site, passing the link juice efficiently through the inner pages. So, having relevant internal links on your site helps Google's bots to crawl these pages, thus improving the crawl ratio.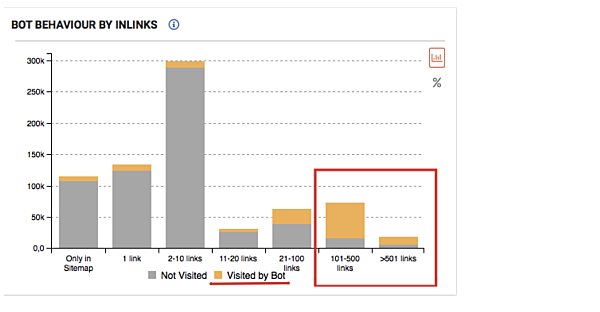 It's evident from this graph that the percentage of unique URLs crawled by a bot (crawl ratio) increases with the number of internal links. Thus, more pages will be indexed by Google, fetching more SEO traffic.
An incompetent internal link build will not only affect your SEO ranking but also waste your crawl budget. Internal linking can help crawlers navigate all the important pages on your website and improve link equity.
2. Makes your website accessible
When a visitor browses through your site, they expect well-organized and clear pathways. A well-thought internal linking strategy allows you to add navigational links that improve site accessibility and usability.
Both types of internal links, navigational and contextual, help users navigate between relevant pages, thus improving your site's UX.
3. Keeps the audience engaged
A content link connects thematically similar articles. This helps in keeping the visitor engaged on your site. For instance, adding an internal link in the form of a reference within the content or a 'related post' allows visitors to continue consuming your content. In a way, they're choosing to stay with you rather than wandering off to other websites. This greatly improves your site's authority, reputation, and trustworthiness.
Check out any successful blog. You will see how they use internal content links to their advantage.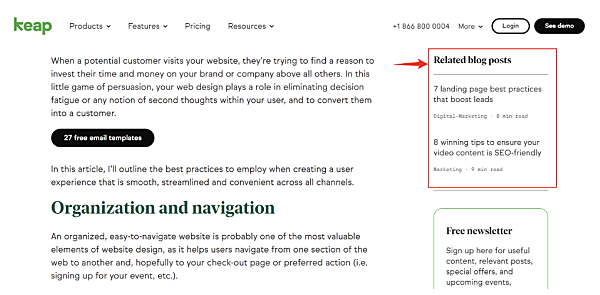 Source
What goes into building a foolproof internal linking strategy?
1. Create an ideal internal link structure
A site's content should ideally be structured like a pyramid, with the most important pages prioritized at the top and least important ones at the bottom. However, these pages should be linked based on their relevance and with the objective of facilitating ease of navigation.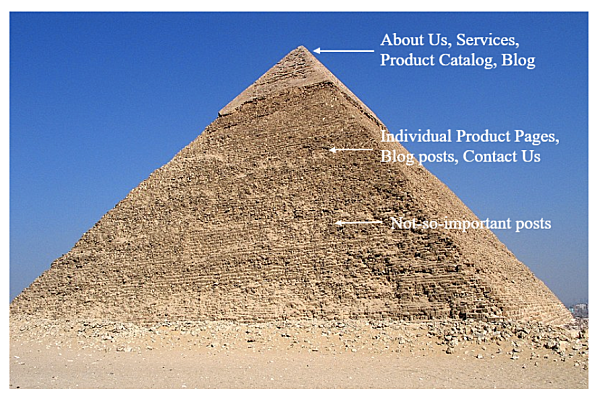 Source
Consider siloing the content by connecting all closely-related webpages with internal links. For instance, referring to the above image, it makes sense to link the product catalog to individual categories which will then be linked to individual product pages.
Creating such topic clusters will help crawlers better understand your pages, improve UX, and transfer more authority to the most important pages. Most importantly, siloing avoids diluting the link equity with pagination.
2. Prioritize contextual links
If you have multiple posts that are contextually related to a certain topic, consider linking them, either through a relevant anchor text in your copy or by adding it as a 'related post.' This will not only help in engaging your readers but also tell Google of your expertise on the topic, thus improving your authority.
Moreover, if one of these contextual-related posts is your pillar post, add a link to this post in each of the other posts, signaling its importance to Google.
So, if the business blog Keap has a pillar post—'Small business SEO tips for 2020,' links to this post can be added from other relevant posts. Doing so will help Google know that this post offers the most information on the topic 'SEO tips for small businesses.' As a result, this ultimate guide will be ranked above other posts.
3. Avoid the common internal link building mistakes
Be aware of the following mistakes commonly committed by SEO experts when building/implementing an internal linking strategy.
One of the biggest crawlability issues faced when linking pages is that they don't work or return with an error. This mostly happens due to a malformed URL or because the link is broken. Broken internal links can tank your site's link equity and authority.
Identify and fix such links by replacing them with a live link. Alternatively, you can create a redirect from such broken pages. We recommend you check an in-depth post from JetOctopus to find links to broken pages and fix them.
Too many on-page links may make your website look spammy. Further, links to irrelevant information, ambiguous links, and duplicate links can irritate visitors, causing them to leave your site.
Use a site audit tool to raise an alert for pages with excessive links. Think about your target audience and what they're seeking. Use links that add value to your audience and encourage them to stay on your site and take action.
Redirects can be of great value, provided they're used prudently. However, if one redirect leads to another and then one more, it leads to a chain, seriously damaging your site's reputation and trustworthiness.
For internal pages, most redirect chains and loops are caused by a website migration. Critically audit your webpages and get rid of these chains that often confuse the crawlers and irritate visitors. Instead, link them straight to the destination pages.
Orphaned pages are the ones that have no incoming internal links. Since they don't carry any value-adding content, there's no point in asking bots to crawl them as it's a waste of your crawl budget.
Do a thorough site audit to identify such pages. If they're worth being linked to, find a way to interlink them with other pages on your site. Otherwise, remove these pages from your sitemap.
A 'nofollow' tag tells the crawlers not to follow certain links. They're especially used when you don't want the bot to follow a link (say, to a registration form or comments). However, this tag has no use in internal linking. Also, using nofollow without a good reason will prevent PageRank from crawling your site. You don't want that.
Check out what Matt Cutts says in this regard.

Source
Pages with a high crawl depth
If you have important pages that take too many clicks to reach, the crawlers may rate them as unimportant, affecting your crawl budget. Lose a few clicks and help your users find important content with bare minimum clicks.
All the above-mentioned glitches can be easily identified using certain tools. That brings me to the next point.
4. Use fitting SEO tools to improve your site's internal link profile
Does all that I've detailed about internal linking sound challenging to you? Well, I have some good news for you! There are several tools and plug-ins you can use to step up your internal linking game.
These tools can help you evaluate your site's linking profile vis-a-vis the competition, identify and disavow spammy and low-quality links, and detect and repair broken links.
For instance, this tool from JetOctopus has the Linking Explorer module that collects data from the link graph and shows aggregated information related to incoming links, anchors distribution, click distance, and other insights.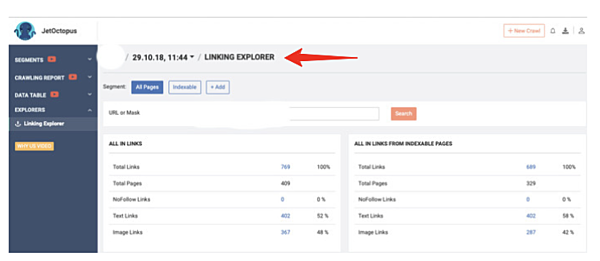 JetOctopus
It can also check your competitor's anchors or image alt. All you need to do is use the filter 'From All Pages' or 'From Indexable Pages.'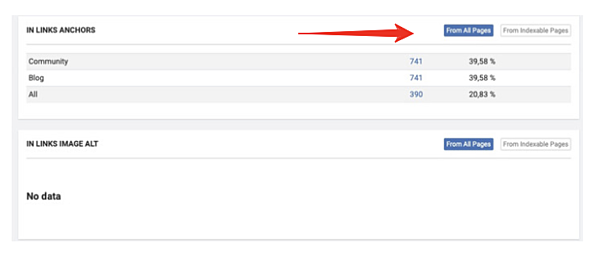 JetOctopus
Finally, a site audit tool like SEMRush can help you determine your site's existing internal linking profile. Just enter your domain here to get a complete internal linking report. The insights derived can be used to develop a sound internal linking strategy.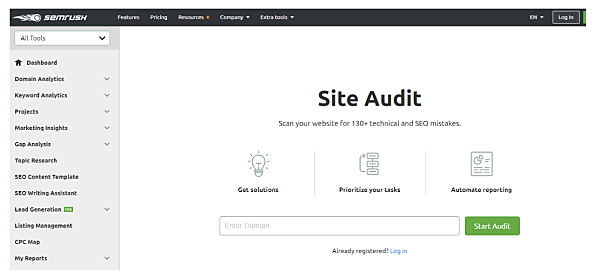 Source
Conclusion
Links are an important aspect of SEO. It's a critical ranking factor used by Google to weigh a site's authority and trustworthiness. But improving your link profile isn't just about getting more backlinks. Internal linking also plays a critical role in improving UX and helping Google better understand your content.
Use the insights and strategies shared in this blog to improve your authority in the eyes of Google and see a visible change in your site's ranking.
About the author
Serge Bezborodov is co-founder and CTO of JetOctopus. He is a tech SEO and log files nerd with 10+ years of experience in programming. He is a data-driven SEO evangelist. Find him on Twitter and LinkedIn.