There are nearly 7 billion online searches that occur every day. Seventy-five percent of which never go beyond page one of the results.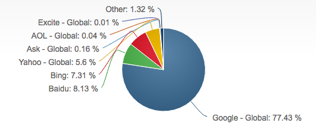 These numbers alone should be clear indication that SEO needs to a be a significant part of your marketing mix.
As most SEO experts will tell you, the search engine ranking algorithms remain one of the most mysterious unknowns in the entire field of digital marketing. The humbling reality is that sooner or later, every website can bet on experiencing a baffling drop in the rankings—for one reason or another. Since Google is famously quiet about what exactly factors into their algorithms, it's impossible to fully prepare yourself for an update. The best you can do is keep a close eye on the trends and observe the reactions following each move you make.
With this in mind, it's extremely important to audit your website's SEO. While there will almost always be a certain degree of chaos upon realizing your rankings took a hit, the last thing you want is to be conducting extensive research in a panicked state after the damage has been done.
In addition to recovering from an update, there are many reasons to perform a website audit. Let's talk about a few of the big ones.
Understand your site's architecture
Your website architecture determines the flow in which people navigate the pages. If it translates to something like this: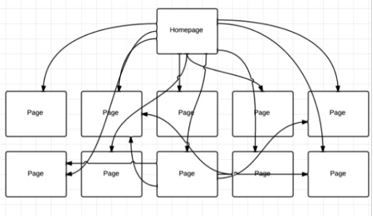 It's not doing you, your visitors, or the search engines any favors.
At its core, SEO is about on-page optimization. The overarching goal of on-page optimization is to improve visibility by making the platform intuitive both for visitors and search engine crawlers. Even though there are many on-page ranking practices for appealing to users, trying to appease both humans and robots can be a challenge. For instance, a written page of content should be crafted in a creative way that speaks to the average user. But, doing this is not always ideal for SEO purposes.Even though Google makes it a point to display fresh, relevant, and valuable material to people using their search engine, creating web pages to appeal to site-crawling robots is not always in line with what users prefer. This concept is important to keep in mind for understanding the architecture of your website.
So how can your site find the perfect balance? First, you need to start by conducting thorough keyword research. This will give you a stronger knowledge of your audience and they are looking for. Use an SEO tool suite like SEMrush to get a feel for the demand of each term or phrase, how much organic and paid traffic the phrase attracts, other terms related to it, and the worth of the traffic these keywords bring.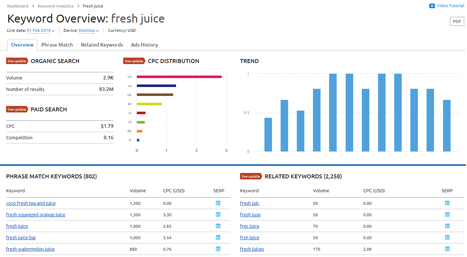 This is a crucial step before diving into the finer details of your website's architecture. Once you have nailed down the most optimal keywords to include, you can integrate them with the navigation as you go.
Your site architecture builds the basis as to how your entire interface is perceived across the web. To achieve every brand's dream of being featured on page one of the search results, you need to audit your website periodically for a firm, up-to-date understanding.
Gauge overall visibility
Gauging the well-being of your platform on a normal basis is necessary to determine whether small adjustments or drastic measures need to be taken. If your website is full of error messages or spam, you want to address those issues as soon as possible to avoid losing traffic or getting docked in the rankings.
Going beyond error messages, there are many other red flags to look for during an audit.
For starters, take a close look at your content. Look for things like duplicates, missing titles, URL structure, grammatical errors, and formatting.
The name of the game is authenticity. The search engines value material that is:
Well-researched
Useful
Original
Consistent
All this aside, the truth is people are extremely impatient. Ultimately, it doesn't matter how great your content is; if your website takes forever to load, people will turn away in droves.

Search engines have taken notice of this and your rankings can suffer as a result of a slow interface. Look into free tools like Google PageSpeed Insights to see where the bottlenecks are.
If your website is struggling in this area, you could be suffering from a number of latency issues. Latency refers to the delay between the user input and the desired outcome—in this case, loading of the web page. A common cause of these delays is when a visitor is physically located far away from your site's hosting server.
In order to combat this loading delay, companies can use a CDN (Content Delivery Network) that stores website information in various points of presence around the globe. For instance, let's say your site is hosted in Los Angeles and you have a CDN server in China. If someone in India checks out your website, they'll receive access through China because the site will load faster from that shorter distance.
Remember, every second counts when it comes to page loading. Any slight delay could drastically raise your bounce rates, which in turn, lowers your page's ranking.
In addition to content and loading speed, keep a close eye on internal linking. This helps the search engine crawlers better understand what your site is all about. There are several key factors to look for in this regard:
Internal links per page: There is no definitive or fixed number to shoot for here. However, don't link to so many internal pages that the readability is affected.
Anchor text: Be sure you are using proper, relevant keywords present in the other content.
Deep URLs: Pages you want to rank well should be linked to from the homepage.
Your website's health is tied directly to its user-friendliness. I typically recommend conducting an SEO audit at least once every six months to stay on top of your website's well-being.
Form the basis for future goals
While performing a website SEO audit can be thought of as "damage control" or "preventative care," it can serve as means to establish certain goals and plan your next moves. One of the most useful insights you will glean during a website audit is in regards to your traffic. Once you've done an in-depth examination of your platform, you will not only see who is looking at your site, but where those visitors are coming from.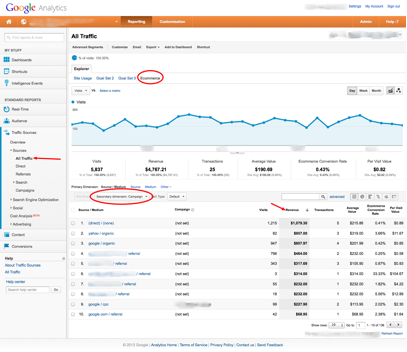 You can also pick up on tidbits such as:
How long people stay on your site
What the most popular content is
How they navigate from page to page
Based on your findings, you will learn how you should be crafting content to fit popular demand. For instance, let's say the pages of your blog sections get more reactions if the article lengths are between 700-800 words—as opposed to the pieces with fewer or more. Or, certain pieces get more attention than others based on how you word the titles.
Going further, you can learn about the off-page channels you should be using to help direct traffic to your website. If a good deal of visitors discovers your website from Facebook, you might consider investing more of your time and effort into creating top-notch posts geared for that channel.
In addition to influencing your content strategy, a good website audit will provide a roadmap to help work out the kinks involved in your web design. You will learn the necessary steps involved in making tweaks here and there to build a successful organic traffic pipeline.
Over to you
SEO audits provide the crucial information needed to keep your platform relevant in both the robotic eyes of the search engines and the eyes of the users. While the dreaded updates should always be in the back of your mind, checking in on your website's well-being is vital for keeping up with the ever-changing online atmosphere. To reiterate, try to make it a point to schedule a website SEO audit at least twice a year.
*Pratik Dholakiya is the Founder of The 20 Media, a content marketing agency specializing in content & data-driven SEO and PRmention, a digital PR agency. He regularly speaks at various conferences about SEO, Content Marketing, Entrepreneurship, and Digital PR. Pratik has spoken at 80th Annual Conference of Florida Public Relations Association, Accounting & Finance Show, Singapore, NextBigWhat's UnPluggd, IIT-Bombay, SMX Israel, SEMrush Meetup, MICA, IIT-Roorkee and other major events. As a passionate SEO & content marketer, he shares his thoughts and knowledge in publications like Search Engine Land, Search Engine Journal, Entrepreneur Magazine, Fast Company, The Next Web, YourStory and Inc42 to name a few.