It's no secret that we're all bombarded by email. In fact, the average office worker receives 121 emails per day. As customers ourselves, we're selective about which email lists we subscribe to. As marketers, we're careful about what kind of emails we send to our subscribers to ensure we don't add more clutter.
While the inbox is a sacred place, there is one type of email that marketers and business owners should prioritize: the welcome email.
In this post, we'll talk about why you should send a welcome email and when to send it, share welcome email examples, and explore welcome email best practices.
Why Send a Welcome Email
When people sign up for your newsletter, subscribe to your blog, or start a free trial, they're effectively taking the first step in building a relationship with your brand. They have expressed interest in your content or your product and, it's safe to assume, they are interested in learning more about you.
A welcome email creates the opportunity for you to begin nurturing those relationships. It allows you to introduce your company, answer any questions, and build trust.
Still not convinced? Here are some stats from the Email Marketing Blog:
Welcome emails have an average open rate of 50 percent, making them 86 percent more effective than email newsletters.Seventy-four percent of subscribers expect to receive a welcome email.Subscribers who receive welcome emails show 33 percent more long-term brand engagement than those who don't receive them.
When to Send a Welcome Email
The timing of when you send your welcome email can be just as important as the content of the message. Wait too long to send it and your customers may lose interest in your brand or worse, feel forgotten. Don't wait long enough and customers may feel overwhelmed or bombarded.
Turns out, subscribers are the most engaged with your brand within the first 48 hours of subscribing, according to a 2013 study from Ciceron. "It is critical that you start to build that relationship by sending an immediate welcome message to set expectations and ask them to take the next step," according to the report. Most marketers take advantage of this immediacy, with 75 percent sending their welcome email the same day as someone subscribes, according to The Email Subscriber Experience.
Welcome Email Examples
Looking for some inspiration to make your welcome emails stand out? Here are four real-life examples of effective welcome emails:
Zapier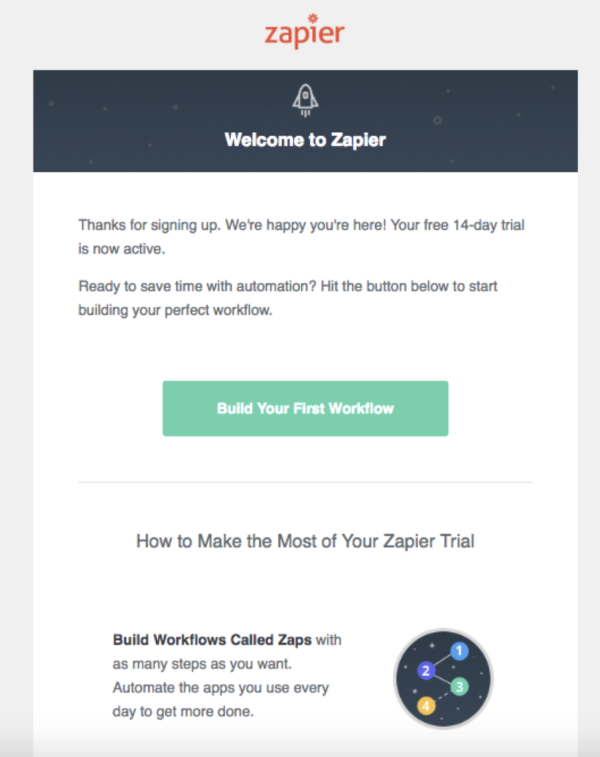 Zapier lets you connect hundreds of apps to automate your work. Their welcome email emphasizes the benefits of getting more done and saving time (Zapier's main value proposition). It also has a prominent call-to-action to get users into the tool to build their first workflow, while using the rest of the email to educate them on how to get the most out of their trial.
Headspace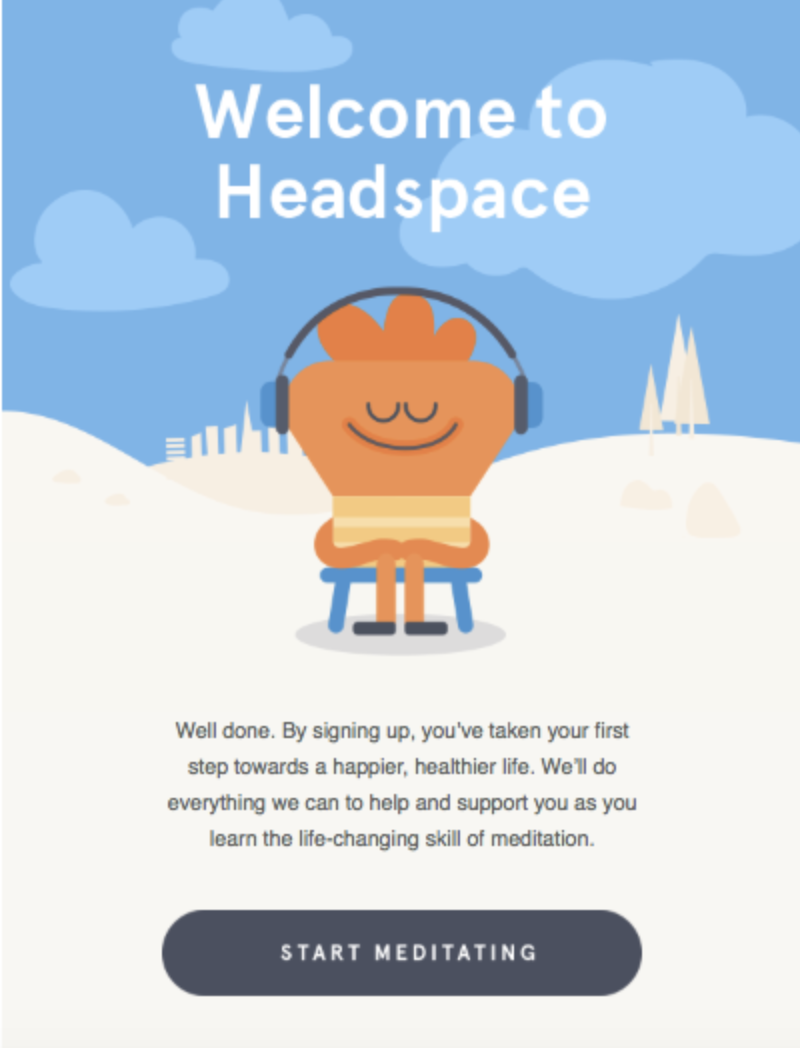 Headspace, a meditation app, uses color, layout, and typography to communicate a calm vibe. The focal point of the email is the large call-to-action button to motivate users to start meditating. Below the button, Headspace shares recommendations for beginners to learn the essentials.
Hipcamp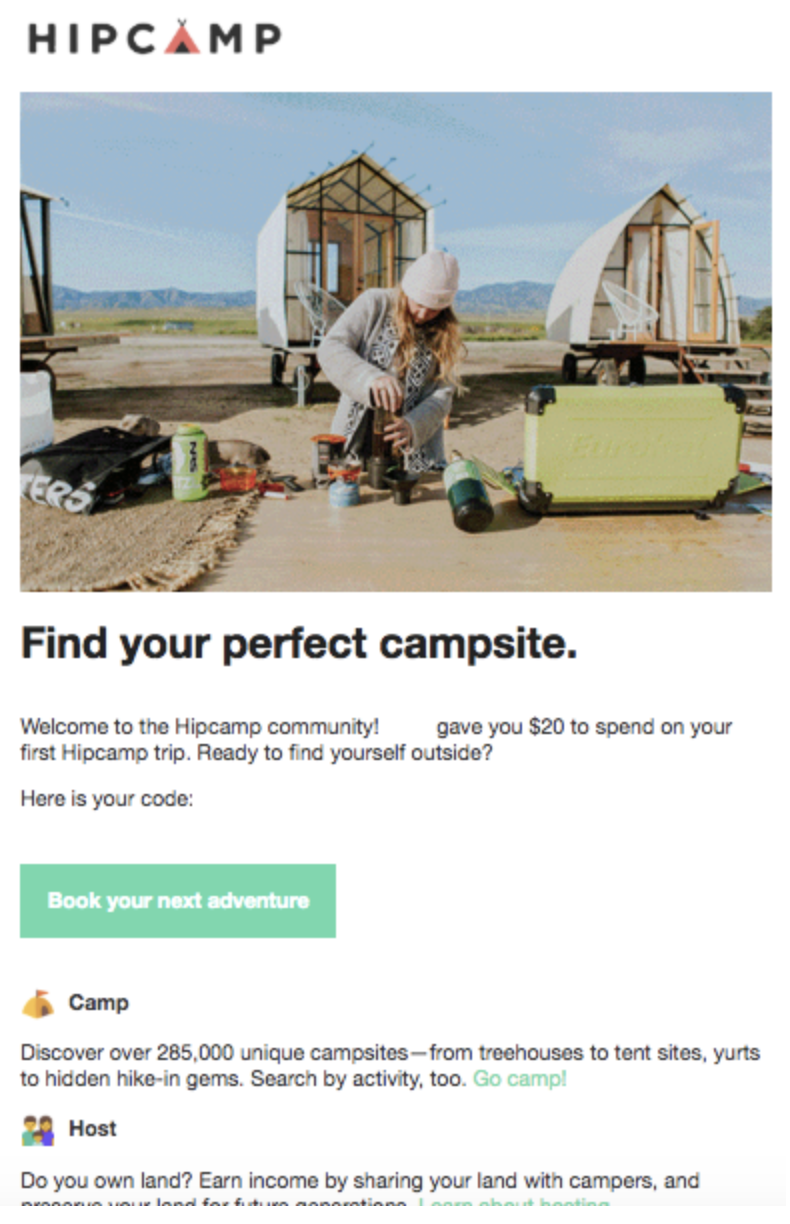 Hipcamp, an online travel service that helps people discover and book camping experiences, sends a unique welcome email for referrals, complete with a special coupon code. Also, pay attention to the copy in this email — words like "community," "adventure," and "hike-in gems" create a strong brand story.
TheSkimm
TheSkimm is a media company that sends out a daily newsletter digest of top news stories. Their welcome email sets the expectation from the beginning: the newsletters will be delivered every weekday morning. And, as a next step, they link to the most recent Skimm to get subscribers engaged with their content immediately.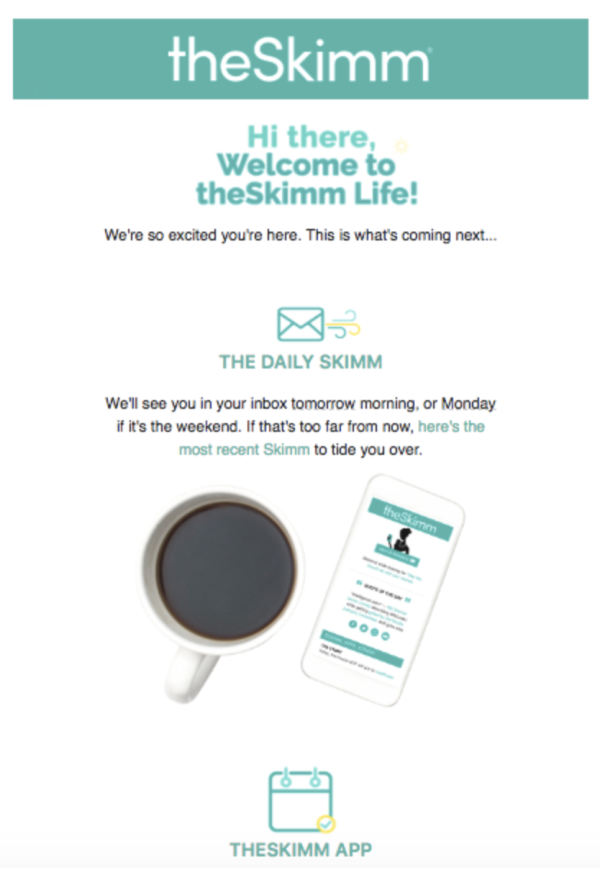 For more tips on how to create a welcome email, download our free Ebook, "The Perfect Welcome Email."
Welcome Email Best PracticesThe perfect welcome email does more than simply say hello. According to Digital Marketer, every welcome email should have these five elements: an introduction, expectations, benefits, next steps, and an open loop that alludes to the fact that there's more to come from your company.
If you're feeling stuck about what to include in your welcome email or how to increase welcome email engagement, here are four tips:
Introduce your company: Some people will have thoroughly researched your company before signing up for a trial or for your emails. Other people will sign up based on a few things they read. Either way, use your welcome email as another chance to introduce your company and its benefits. Never assume that customers know who you are from the get-go.
Set expectations: In your welcome email (and ideally on your website, too) set expectations for what it means to be on your email list. Tell subscribers what kind of emails you're going to send and whether they can expect any consistent pattern. For example, perhaps you send a daily email with all your flash sales or you send new blog posts every Friday.Include next steps: Don't make your new customers and subscribers guess about to do next. If you're sending a welcome email for your product or service, include clear steps for what users need to do to set up their account. If you're sending a welcome email for a newsletter or blog, include links to your most popular pieces of content to keep subscribers engaged.
Make it easy to unsubscribe: Don't bury the unsubscribe link or make subscribers navigate a complex maze to unsubscribe. You obviously don't want to incentivize unsubscribing, but you want to make it a good user experience if people do choose to stop receiving your emails.
Welcome Email Subject Lines
Once you decide on the best time to send your welcome email and create the email itself, it's time to focus on getting subscribers to actually open it by writing a subject line that converts.
A strong subject line is clear and engaging. You want it to grab your customers' attention, but also communicate what the email is about (without coming across as spammy).
Here are some welcome email subject line ideas to test:
Welcome to [company name]3 ways to start using [company name]How to use [company name]Resources to get startedThanks for subscribing!Have any questions?
Final Thoughts
Welcome emails are the most important emails you send. Sure, sending an email to your customers always runs the risk of getting lost in the black hole that is their inbox. However, when done correctly, a welcome email stands out from the crowd, establishes trust, and gets customers excited about your brand. Check out how Keap can help you create powerful email communications.