Announcement Email Templates for Small Business Buzz
Customizable, free announcement templates to hype up your customers about exciting company and product news
Announcement emails educate and entice your audience, keeping them in the loop with exciting company additions or changes. These emails could include an update about your business, website, a product launch, or a policy change, guiding your audience with images, links to resources, and tutorials.
Informing your audience of changes ahead of time with engaging announcement emails will keep customers up to date and interested in how your business offerings benefit them, nurturing your relationship with them.
We'll cover the following announcement emails, with examples:
Product launch
Leadership change
New employee or point-of-contact
Website maintenance
New website
New policy
Curious about other types of emails you might need for your small business? Check out the other types of sales and marketing emails here.

Pro tip
Start a 14-day free trial of Keap to try these email templates included in the PDF and start automating your sales and marketing messages.
How to make the biggest impact with your announcement email
You know your product/service like the back of your hand: the good, the bugs, and the feature requests. On the other hand, customers and prospects don't know your offerings like you do, but they'll notice when something changes from a mile away.
Proactively notifying customers of changes can give them time to ask questions and adjust to the changes.
How to send announcement emails

Use a sales and marketing automation software like Keap to efficiently schedule emails and analyze reports.
Create an announcement email series. For example, in the case of announcing a new product, you could create an email series that highlights:

When to expect the product launch
How to get the most out of the product and its associated benefits
The actual product launch
Additional video walkthroughs or links to articles with additional service offerings

When to send announcement emails

When you send the email will depend on your audience and the type of announcement you share.
For example, you could send a website maintenance announcement email a week to a few days before the scheduled maintenance to give customers time to prepare for the downtime.
A product announcement email could be scheduled in a series of emails leading up to the product launch.
When you use a sales and automation software, you can test out different email send times and days to see what's best for your business.

Announcement email best practices

Write honest, enticing subject lines to draw people in
Design emails with accessibility in mind
Optimize for both mobile and desktop devices
Use clear company branding and copy
Keep the email copy to the point
Offer value, such as a downloadable freebie or information
Announcement email examples to share your next big thing
Now that we've covered the basics of announcement emails, let's dive into a few inspirational examples.
The "we're launching a new product" announcement

Source: Really Good Emails
Understanding your customers' needs and listening to their feedback can help you develop better solutions. When you create a new product or service offering, educating customers on the benefits and providing social proof can help them understand the purpose of this new offering.
In this email, Farewill gets right into the message with a clear headline, introducing their new telephone service. Their branding remains consistent throughout the email with the illustration at the top and the customer testimonial at the end.
Customers can easily skim through the email with one-sentence paragraphs making it easy to read. Plus, the clear CTA button at the end of the email leads the eyes down to the focus of the message: try a new service.
The top themes you can consider for your future product announcement email include:
Strong branding.

Designing the email with your brand colors, fonts, and styles in mind helps customers identify with your company.

Understanding tone.

The announcement email contains a friendly yet professional tone that speaks directly to the recipient, mentioning "We know…so we've launched…" and using "you" when speaking to the recipient.

Social proof.

Even if you don't have a customer testimonial specific to the new product yet, showcasing a general customer testimonial about your company can still boost your email and your product, backing your brand's credibility.

Clear CTA.

Guide the customer to the next step in trying your new product or service.
Customers will better understand your new product or service offering and be more likely to try it when your branding and messaging are clearly illustrated in the announcement email.
The change in leadership announcement

Source: Really Good Emails
We've all been there, hearing about a change in leadership, either as an employee or as a customer. Change can be uncomfortable and confusing at first glance, but walking customers through the updates and sharing the qualifications of the new leader can help give customers peace of mind.
Armor's leadership change email shares the news of a newly formed role and a new leader. They make the email easy to digest with focused paragraphs explaining the change and the new leader's credentials, ending the email positively with what the company's looking forward to.
Clear headline.

The headline gets right to the point in introducing who's joining the company.

Skimmable text.

Breaking the text into bite-sized sections helps customers breeze through the email rather than looking at a wall of text.

Simple CTA.

Sharing more information about the announcement and leading customers to the company website works for this announcement email.
Armor kept the CTA simple in this email, guiding recipients to view a press release or view the company's recent work.
If your change in leadership announcement email goes out internally, consider adding a CTA to contact the new leader. If your announcement email goes out to customers, then a CTA leading back to the company website or an accompanying blog post could benefit customers.
The "welcome your new team member" or new point-of-contact announcement

Source: Really Good Emails
Similar to the leadership change announcement, this email introduces a new team member or point of contact, including that person's previous experience or achievements.
Filmsupply uses a range of design elements and callouts, including account executive Olivia's headshot and contact information, quantitative data highlighting Olivia's projects, a customer testimonial, and a clear way to connect with Olivia.
Visual introduction.

A headshot with the person's name and contact info can be a friendly way to say "hi" and make an intro through the screen.

Testimonial.

Hearing another customer's experience with the new point of contact helps build trust and credibility.

Easy way to get in contact.

This announcement email contains a clear CTA button to contact Olivia and reiterates at the end that customers can reply to the email or call to connect.
If you have the resources to design an email like this, it's helpful to separate sections with brand colors and images or icons to break up the text. Otherwise, you can separate sections with images and text broken into paragraphs so recipients can skim through the text.
The website maintenance announcement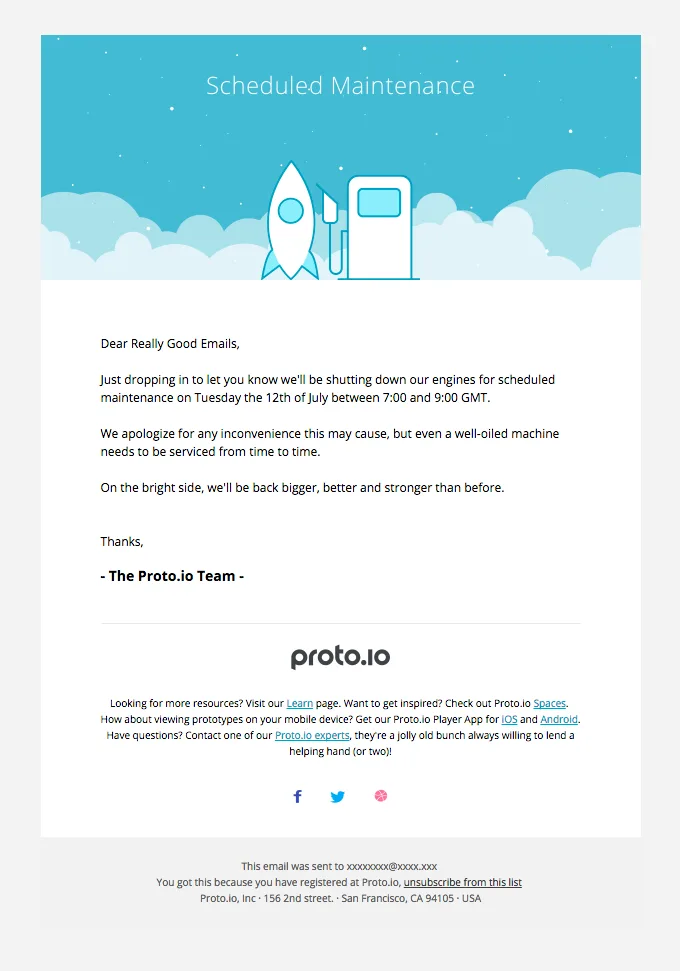 Source: Really Good Emails
Announcing when your website will be down (and for how long) can help make customers aware of the downtime, especially if they rely on your website as a resource or to log into their account.
Proto.io keeps this email simple and to the point. We're loving these email elements:
Short and sweet.

Sometimes less is more. In this case, 3-4 sentences convey the company's message, briefly explaining why and when the website will be down for maintenance.

Branded visual.

One main image gets the job done with a smart yet fun branded hero image.

Clear subject line.

Again, short and sweet, the subject line gets the point across without taking up too much space in the inbox.
The most important information to include in the website maintenance announcement is when the website will be down and when it will be back up and running. If only a portion of the website will be unavailable, include this in the email, so customers know they'll temporarily have limited access to certain pages.
The "check out our new website" announcement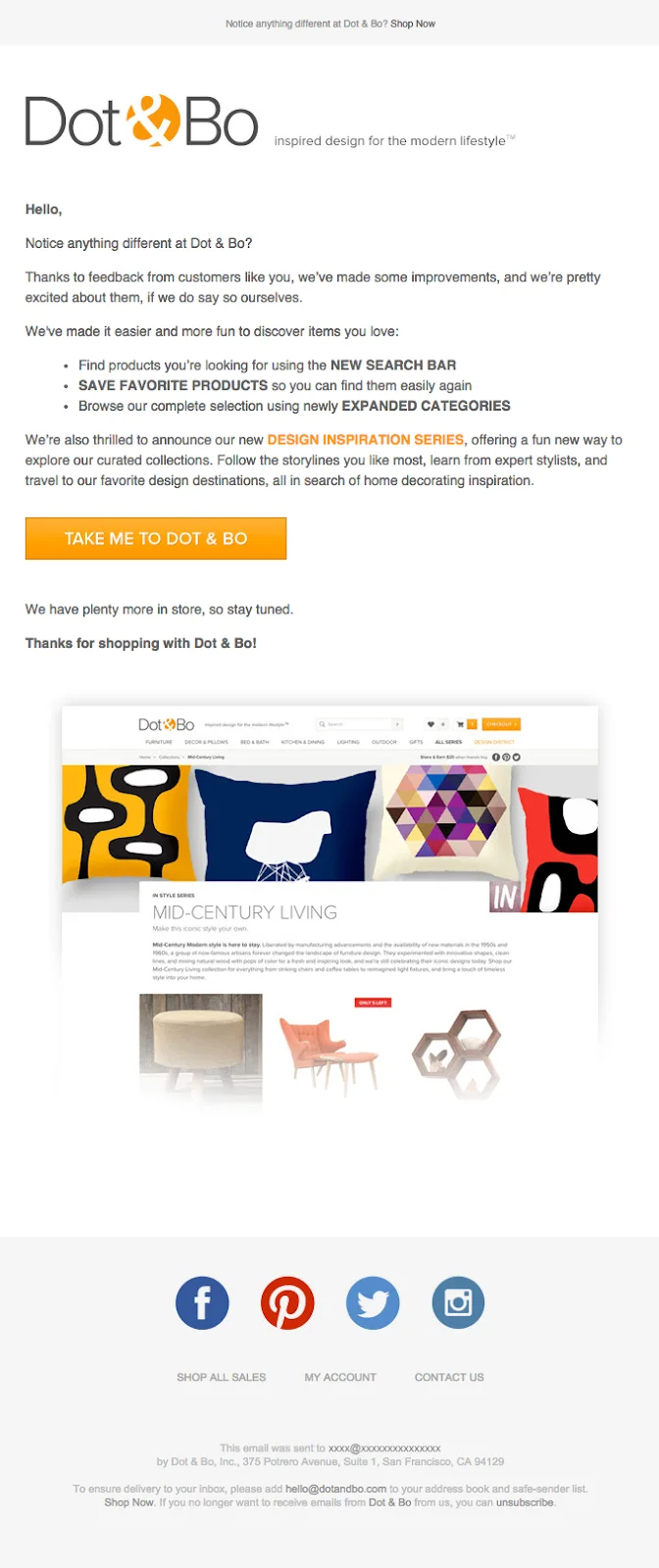 Source: Really Good Emails
Here's another bright and simplistic announcement email with Dot & Bo announcing the company improved its website functionality thanks to customer feedback. Notifying customers of website changes helps your company stay top of mind while explaining the changes and keeping the customer in the know.
What we're loving about this email:
Bullet points.

Seemingly simple but sometimes overlooked, bullet points are another way to create skimmable text while delivering a clear list of updates.

Sneak peek.

Sharing a screenshot of the website updates can help customers visualize the changes. Plus, you can entice customers who might not have clicked over to your website in a while to visit again to see the updates.

Simple design focused on branding.

This email relies on brand colors in the text and CTA button, highlighting just enough to catch the customer's attention and keeping the focus on visiting the website.
Dot & Bo took a friendly approach with the email verbiage. Depending on your company's tone, mirroring this style can help the announcement seem less formal, more exciting, and more fun for your audience. Either way, thanking customers in the beginning and at the end of the email helps them feel appreciated.
The "we've got a new policy" announcement
Source: Really Good Emails
In this email, Minor Figures incorporates its cheeky branding while breaking down the new policy and providing value to customers. The company censors colorful language with an asterisk, mirroring the style of its "Oat M*lk" product.
Email elements we're loving:
Everything centered.

Centering everything in an email can be a visual balance. When it works, it guides the customer's eyes down the email and makes the copy easy to read. This email includes minimal copy and one CTA button, making the centered design work.

Cheeky copy and visual.

With one image, this email makes it count with the "Carbon Die Oxide" at the top of the email, tying the image into the carbon neutral copy.

Bold text, focused CTA.

The all-caps, bold text works in this email, loudly and proudly announcing the update. Plus, the CTA button text recognizes that people might need more context as to what carbon neutral means and how this will be a benefit.
Educate your audience
Hyping up company updates while explaining how the changes will benefit your leads and customers — focusing on them — can help nurture your audience relationships, demonstrate your company's value, and increase sales.
While these announcement email examples are good to send individually, you can unlock even more value by automating an entire series with a CRM and sales and marketing automation tool like Keap.
Download the small business-specific announcement email template series to use with automation
To get customizable announcement email templates with content suggestions, download our free guide, Announcement Email Templates.
Then start your 14-day free trial of Keap to test out the email templates and the power of sales and marketing automation.