by Besma Bihnam
Gone are the days of wondering if the marketing emails you're sending to leads and customers are effective. Say hello to better optimized emails with the new, easy-to-use A/B testing (also known as split testing) tool we've added to Broadcasts. Yep! You read that correctly! We're just as excited as you are.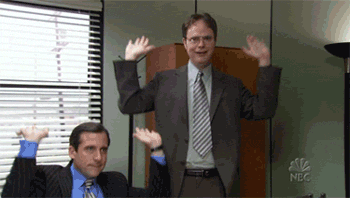 It's super-easy to use (seriously)!
The new A/B testing tool has been designed with you in mind, and we're not kidding when we say it's easy to use. Whether you're an A/B testing pro who's been doing it for years or someone who's learning the ropes, you'll be able to test multiple variations of your marketing emails on a sample of recipients and send the best performing, or winning, variation to the remaining recipients in your contact list. What does that mean for you? It means you're sending out emails to leads and customers that'll get better conversion rates, better open rates, and more wins for your business.
So, without further ado, see it for yourself.
Get winning results with A/B testing
As you know, creating and sending marketing emails takes time. As a busy business owner, you need a way to quickly get the right messages out to your leads and customers. Here are a couple ways the new A/B testing tool will help you boost email performance and increase your open rate by an average of 5 percent:
Create and send the best performing email
Easily create variations of your email and test out different parts, like subject lines, preview text, images, sender's name, and calls-to-action (CTAs) to see which one works best with your audience. For example, you can test two slightly different subject lines (Believe it or not, one word can make all the difference!) and see which one gets a higher open rate. After the A/B test is complete, the email that performed better, or won, will go out to the rest of your recipients.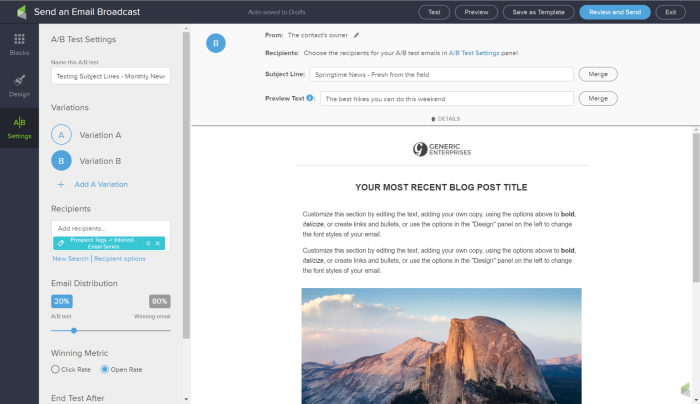 Discover what motivates your audience
You'll gain a deeper understanding of your audience with visibility into metrics like open rates, click through rates, and unsubscribes, so you find out which type of email variations drive the highest conversion rates. Plus, the robust dashboard gives you an overall view of your latest A/B test results, including the number of opt-ins, opt-outs, complaints, and bounces so you can breeze through the results and see what's working and what's not.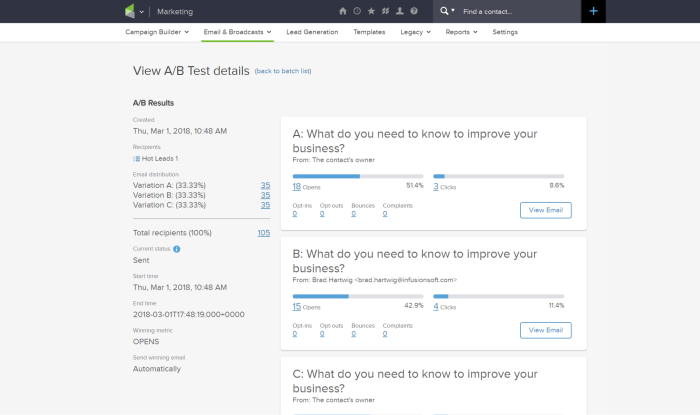 Plus, there's even more …
There are a few more cool things we thought you should know about our new A/B testing tool.
No integration needed
You don't have to worry about integrating anything to use this tool. It's ready to go! While we do use Zapier to connect your Infusionsoft by Keap account with a 1,000 tools so you can work more productively, it's not necessary with our new A/B testing tool because it's built right into Broadcasts. No "Zaps" needed here!
Made for all levels of savviness
As we mentioned earlier, and as you saw in the video up above, you don't have to be an A/B testing pro. When our product designers and developers started building this tool, they wanted to make sure they were building a tool our customers could easily use and quickly see positive results in their marketing email performance. During development, they tested the tool out with customers to make sure it was intuitive for various levels of A/B testing savviness. Here's what one Infusionsoft by Keap customer had to say after he tried it out:
"Overall I really liked it. Very simple to use, and I do think even very inexperienced users would still understand the majority of it." - William Shaw, Infusionsoft by Keap customer
5 is the new magic number (well, 3 still is, too)
Testing two variations is the most commonly used form of testing, but you can also test a larger number of variations and different combinations of the variables (e.g., subject line, images, CTAs, etc.) you want to test. This is called multivariate testing. It's a technique for testing a hypothesis where many variables are modified so you can decide which combination of variables produces the best email marketing results. For example, you can test out one CTA, but use different images in each email variation to see which combination performs best with your audience.
With our tool, you can perform multivariate testing on up to five variations at a time. If you're interested in reading more about multivariate testing, check out this article, "Using Multivariate Testing For Enhanced Email Marketing Campaigns," by Jamie Turner where he talks about the benefits of multivariate testing and how to run a test.
Put it to the test
Ready to test out A/B testing? Just log in and create a Broadcast with A/B testing enabled.