We're happy to announce some new features that will help you make more money, save more time and avoid some common errors. These features represent the latest in our efforts to liberate and empower small business leaders, and we've already received some enthusiastic feedback. Read on to find out what the buzz is about.
Stripe Elements ACH/Direct Debit

Available in Keap Max Classic
ACH/Direct Debit is now available as a payment option for your customers if you're using our Stripe merchant processor. You can also offer credit card or Google Pay options. Note that these options will be available with any new order form created with a new theme.
As you may know, fees associated with ACH are much lower than other payment options. Credit card payments are typically assessed fees around 2.9% plus 20 cents per transaction. With ACH, money is transferred directly from your customer's bank account, and you are only charged 0.8%, with a maximum cost of $5.
So, if you like money, take some time to implement this new payment option as soon as possible! Learn more here.
Stripe Elements ACH (ApplePay/GPay)
Available in Keap Pro and Keap Max
When using our Stripe merchant processor, you can now offer your clients the ability to pay via Credit Card, ACH/Direct Debit, Apple Pay, or Google Pay on any order.
With both this feature and the previous ACH feature described for Keap Max Classic, the payment is connected through the payment fields that are owned by Stripe. These fields will populate on all your customer-facing payment options, such as invoices and checkout forms. Learn more here.
Pipeline Loading Optimization
Available in Keap Pro and Keap Max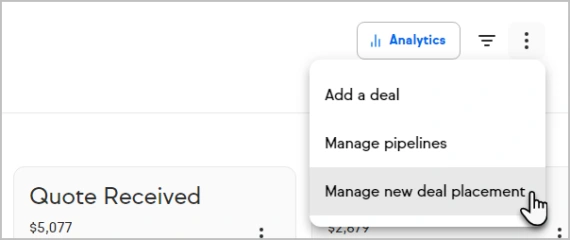 Everyone loves the drag-and-drop pipeline in Keap Pro and Keap Max, but not everyone loved how slowly it would load when you had hundreds or thousands of deals in a single stage. That's because Keap used to load all the deals at once, and that took a long time. We've fixed that.
With paginated loading, the pipeline page loads quickly, along with the first 50 deals in each stage. Scroll down in a stage, and 50 more will load. Scroll down some more, and 50 more will load, and so on.
We have also added the ability to display new deals first, so you don't have to do any scrolling at all to see the latest deals. Learn more here.
Landing Page Builder Audit Button
Available in Keap Pro, Keap Max, and Keap Max Classic
Sometimes you need a second set of eyes to double-check a few things before you publish a landing page. With this new feature, we've got you.
This feature adds the Audit button to the right side panel and checks to see if button links are empty, if images are missing URLs, or if an image is missing alternative text, so you can rest assured that you haven't missed any of these things.
Please note that this feature will not prevent you from publishing, so if you have intentionally omitted any of these items, that's fine. The audit will give you a warning, but you don't have to heed it. Learn more here.
Company Field on New Landing Pages and Public Forms
Available in Keap Pro, Keap Max, and Keap Max Classic
This is another incremental improvement to an existing feature thanks to your feedback. You can now add a company field on forms in the new landing page builder and when setting up public forms.
Keep Growing
That's all for now! We'll be back next month with more updates. Until then, keep growing.