Everyone you know has a Facebook account. That's safe to assume because a quarter of the world's population uses Facebook. This high usage turns Facebook into the ideal advertising platform for your small business: you can attract new leads by placing targeted ads within users' news feeds.
Facebook Lead Ads, a Facebook ad product launched in late 2015, takes Facebook advertising a step further. Facebook Lead Ads are normal Facebook ads, but with a form that's prefilled with Facebook users' email addresses. That way, users can submit their info to advertisers with just one click and without ever leaving Facebook to go to a landing page.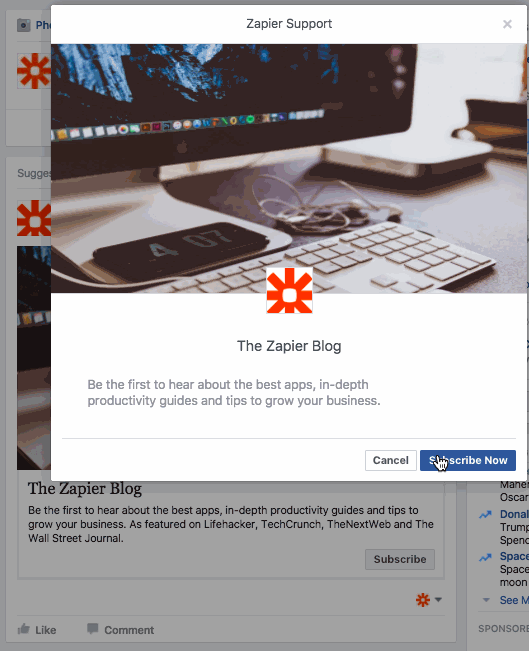 Over the past year, Facebook Lead Ads have already made a big impact on small businesses' ad strategies. Users can now show interest in your ad and engage with your brand immediately.
Take, Ben Lewis, the owner and one-person team at creative agency New Meta Agency, for example. Lewis runs campaigns for his clients with Facebook Leads Ads, allowing Facebook users to engage with client brands immediately.
"Facebook Lead Ads gave me a marketing advantage with clients as Lead Ads work way better on mobile than any other form of direct response marketing right now," Lewis said.
Facebook Lead Ads are effective because they allow you to get leads interested immediately. A way to quickly ruin that momentum is to let those fresh Facebook leads just sit there and go cold. Lewis learned this lesson early on and began to manually import his list of Facebook leads into Infusionsoft, where he could add the leads into his email campaigns.
"When Facebook Lead Ads first came out over a year ago, I had to manually download the spreadsheet of leads from Facebook, then import it into Infusionsoft multiple times a day to ensure leads were getting the information they requested," Lewis said.
After doing this daily for a couple months, Lewis turned to an easier solution: Infusionsoft's Zapier integration. Lewis set up a Zap that automatically adds new leads from Facebook Lead Ads to Infusionsoft. No more exporting and importing. No more repetitive, tedious tasks.
Instead, Lewis's new leads are now getting automatically added to his Infusionsoft marketing sequences: "Leads can now bolt straight into client auto-responders, just like a landing page should," he said.
Lewis effectively eliminated manual work from his lead generation campaigns.
Now, here are some steps for using Facebook Lead Ads with Infusionsoft like Lewis does:
Consider if Facebook Lead Ads or regular Facebook ads are best for your campaign. Facebook offers many different ad types and targets based on your goals as an advertiser. If you're not sure which one is right for you, consider the objectives for your business' ad campaign.
When setting up your Facebook Lead Ad, think about where you want your leads to go. If you want your leads added to Infusionsoft, set up a Zap to do it, like Lewis did to save himself manual work. You can set up a Zap between Facebook Lead Ads and Infusionsoft without ever leaving Facebook's ad builder.
Once Zapier has automatically added your new leads from Facebook Lead Ads to Infusionsoft, consider using automated email sequences to make sure your new leads get immediate contact from your company while they are still interested. Keep your leads warm!In closing, the best advice we can offer is: Keep testing how you are automating your lead generation workflows. Test new Zapier workflows, and test new autoresponder messaging with Infusionsoft. Facebook Lead Ads offers you a powerful tool to reach your best audience.
Carlin Sack is part of the marketing team at Zapier, a workflow automation tool. She is a graduate of Northwestern University's Medill School of Journalism.