At Keap, our aim is to help our customers quiet the doubters—the people who say you can't do it because you don't have the time or resources, because you won't fit in with the rest, or because you can't do as good of a job as those already established businesses in your field.
That's why, when we learned that our customer Junk-Rite, a female-owned and operated business in a predominantly male industry, was prevailing above its competitors, we knew we had to share their story.
Co-owned and operated by Tanya Merritt and Angie Schriner, Junk-Rite is a full-service junk removal business in the greater Phoenix area. Since 2017, they've made getting in touch and getting an estimate a breeze for their customers by using email, text, and an online contact form where customers can upload their photos and video of the items they need hauled away. Once an estimate has been created and agreed upon, the Junk-Rite crew head out to their customers' locations, load up their junk into their trailer, and transport it away. From there, they sort through the junk, donating usable items and properly disposing of or recycling the rest.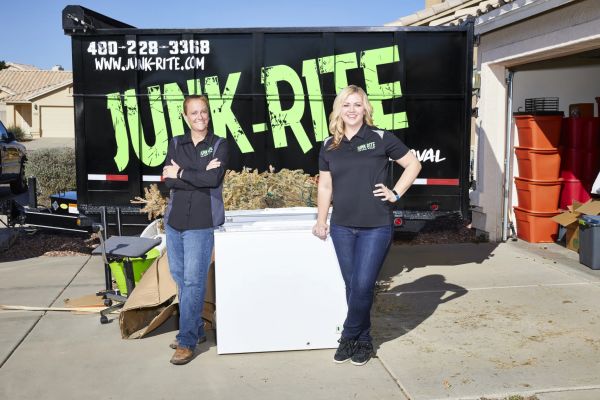 "A lot of people, when we started this junk removal business, were like, 'Whoa, first of all, you're two chicks that are starting this junk removal business. We'll see how this goes," says Merritt of the business's initial doubters.
Of course, Merritt knew they were in for a challenge.
"One of the biggest challenges... for every entrepreneur, is managing their time and all of the tasks and all of the hats they have to wear," she says. "When you start a business, you are everything: You are marketing, you are bookkeeping, you are the person that answers the phone, you are the person that runs out and picks up the junk—you do everything. It's a lot of late nights, lots of weekends, lots of your kids saying, 'Mom, when are you going to come hang out with us?'"
But, through a keen focus on properly managing their time, providing an excellent customer experience, and great customer service, Merritt and Schriner are proving that anyone can succeed in the junk hauling and removal industry with the right attitude and tools.
"Being able to find tools, programs, and support that will help you automate things and be able to better attract new clients coming in, closing out clients, making sure everyone's happy with your service… Just the follow-through of the business is very important," Merritt says.
That's why Junk-Rite uses Keap to help automate their collection of customer feedback and other marketing processes, saving them valuable time and establishing trust in their business.
"Keap has been really awesome for us in generating positive and constructive reviews for our business," Merritt says. "That has been one of the best things we've been able to use Keap for, is checking back in, asking, 'How was our service? What can we do better?' Getting that customer feedback has helped us grow into a better team."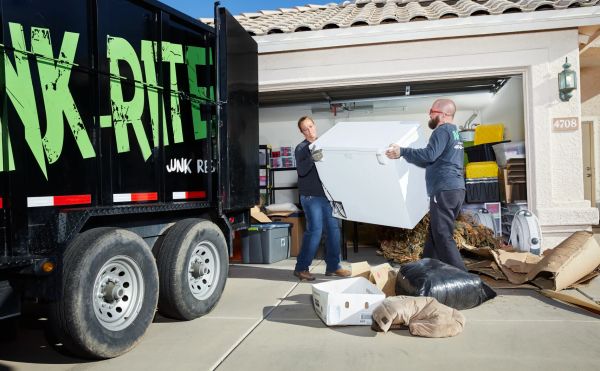 Through Keap, Junk-Rite has created an automated, post-service review process that makes it easy for customers to provide their feedback with one click after a service is completed. Because of this, the company has seen an increase in their online reviews on websites like Yelp, which has led to an escalation in the number of service requests they receive on a regular basis.
It's this attention to customer satisfaction that has set Junk-Rite apart from its competitors.
"Junk-Rite was built on the philosophy of, 'We excel in this business because of customer service,'" Merritt says. "We did a lot of marketing research before starting this. There are plenty of other 1-800s or other, locally-owned junk removal businesses but… The service wasn't really there."
"It's also a huge ego boost," Merritt says of the customer reviews. "For our employees that work for us—when we can give them kudos that somebody shouted out their name in a review online in association with our business—we celebrate those wins."
Additionally, Junk-Rite uses Keap to keep in touch with its customers. They're able to automate follow-up emails after services are completed, send newsletters, and more.
Without Keap, Merritt believes her business wouldn't be at the place it's at today. Keap helps Merritt and Schriner keep a constant eye on every part of their business—from initial contact, to sending estimates and invoices, and the follow-up necessary to maintain an excellent customer experience—and stay organized through every step of the way.
When asked what advice she would give to other entrepreneurs forging their own path where others doubt they'll succeed, she recommends hiring a software like Keap to help automate some of the more repetitive or tedious tasks of business management, rather than hiring another staff member.
When a business grows to a certain point, she says, most people give up from overload. They have too much to do, with too little time, but they aren't ready to hire another person yet. But with Keap's ability to help businesses automate things like their marketing campaigns or sending out invoices, the overwhelming becomes more manageable.
"It is a lot more cost-effective and will be way more beneficial to your company than even just bringing someone in and having to train them how to do this," Merritt says. This way, she says, "you will be able to free up so much more time to work on your business instead of in it."