Responding to popular demand, Keap has raised the number of custom fields by 50%. Users now have 150 custom fields available for their various records—up from 100.
The increase is significant for power users who have high data input businesses that need more custom fields to house data that can be utilized to segment contacts, create reports, and merge into communications.
"We're really pleased and somewhat relieved, as having been limited up until now has been frustrating and inconvenient at times," said Lisa Catto, a 30-year entrepreneur and Keap Partner. "We sometimes had to find third-party solutions or a convoluted workaround."
With the increase, the days of using external tools to satisfy custom fields needs are over.
"There are businesses that rely on hooking up their operational and other CRMS and/or compliance software, that want to have a seamless automated and automatic experience for their clients' journey through their business, and they have a need to store a large number of common fields between the two or more systems," Catto said. "Accountants and other professionals, those with membership sites and online courses, dentists and therapists, gyms and sports clubs, are a few among these types of clients that will benefit from the increase in the number of custom fields. Not having to manage, configure and maintain a third-party app will save them time and money."
In addition to the increase, Keap has enhanced the custom fields user experience. Users now can see how much capacity is available in their custom fields via a capacity bar at the top of the custom fields setting page. It's also now much easier to organize and view customized fields.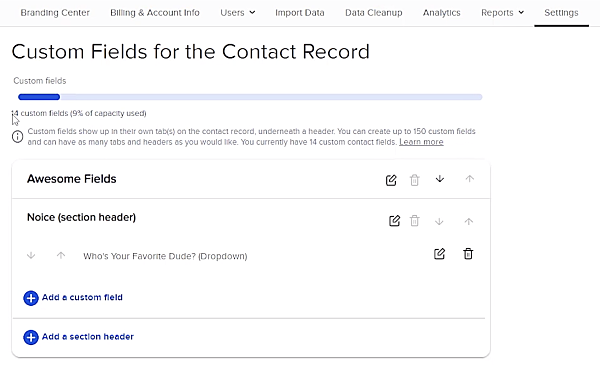 Custom fields are beneficial to users who need to store information that's specific to their business or industry. They help to increase personalization in communications by being able to apply stored custom data for each contact. Additionally, the custom information stored in custom fields can be used to make reporting and segmentation more customized to your specific business.
"Custom fields can solve many challenges for a small business using our software," said Joe Leal, an Associate Product Manager at Keap. "So flexible, they are used for intake forms, web forms, landing pages, and sending customer surveys. This in addition to being a valuable tool for segmenting lists and automations. This is a huge win for our customers."
Rave reviews are coming in quickly.
Check out this glowing Facebook response to the custom fields increase from KeapPartner James Fireproof Ashford, a British business owner, keynote speaker and author, best known for his work around pricing and selling within the accounting industry: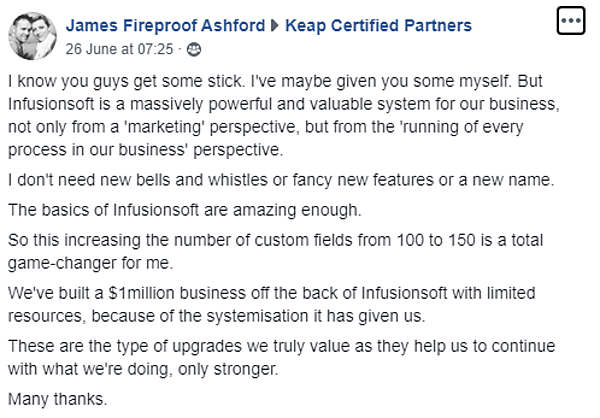 And then there's this: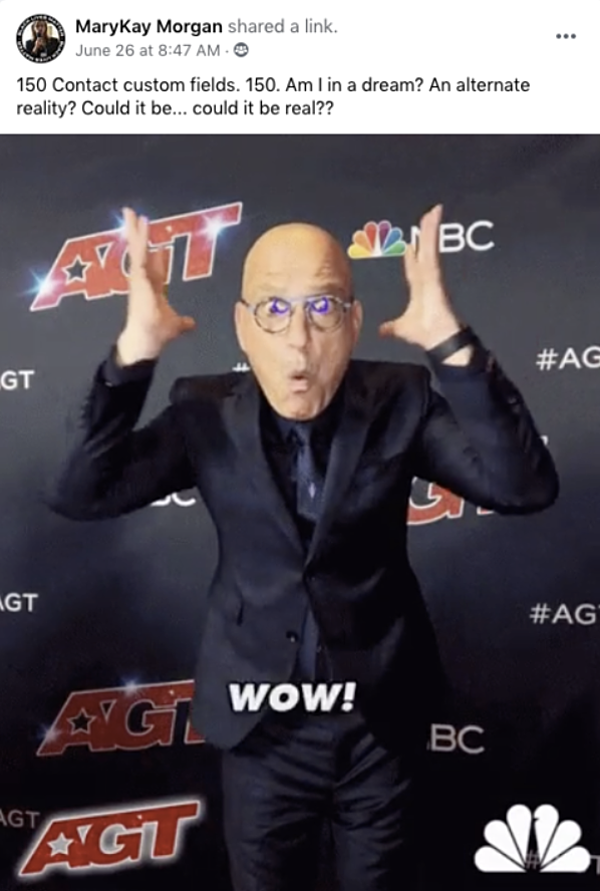 "Custom fields are vital to how users obtain value from our software," Leal said. "There were many obstacles that kept us from increasing this in the past, but we felt this was something we had to deliver to our users."