Many small business owners waste time doing repetitive tasks.
For example, when they acquire a new lead, they send that lead the same introductory email that they send to every other lead. Or, when a customer pays them, they email them a standard note to thank them. While these are necessary and critical actions, they're also tedious, menial and time-consuming if not automated.
So, why don't small business owners automate tasks like these—and hundreds of others?
A few reasons:
They simply don't know these tasks can be automated
They believe automation is too complicated for their small business
They fear automation will create a non-personal vibe for their customers
Introducing Keap's Easy Automations, an intuitive feature that will save Keap users hours of busy work with just a few minutes of setup.
Keap has been a leader in helping small businesses thrive and grow by using automation for nearly two decades. With Easy Automations, users will be able to quickly and easily create sales and marketing automations and powerful customer experiences.
"This is definitely going to be a game changer for small businesses," said Ernest Saco, a senior product manager at Keap.
Easy Automations makes automating your business as simple as "When" and "Then."
In other words, "When" one action in your business occurs, "Then" another action is triggered automatically.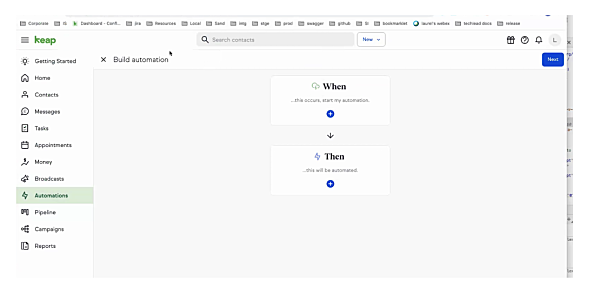 For example, "When" a lead submits your lead capture form, "Then" they're automatically tagged as a new client and sent an introductory email that includes the lead's name and your appointment booking link to initiate a meeting request—note that personal touch here.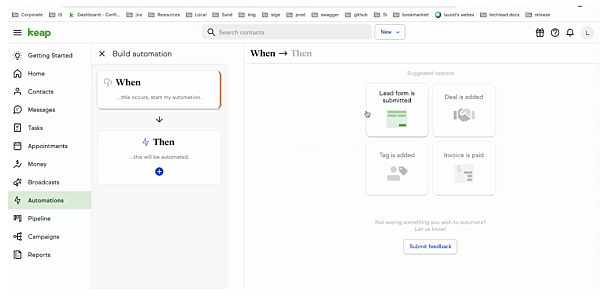 It's as easy as that. You don't need to be an expert in small business software to automate your company.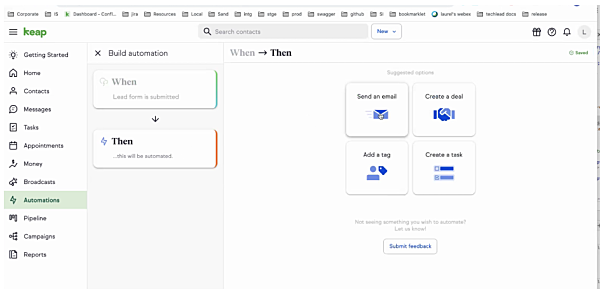 "'When' this happens, 'Then' this happens is what automation is all about," Saco said. "No fancy jargon."
Users will see results quickly by using pre-set automation templates based on proven campaigns that have helped thousands of small businesses.
The time saved by not repeating menial tasks manually can be used to help grow your business. For example, it can be leveraged to focus on converting more leads into customers. Or, on the flip side, it can be used to maintain that critical work-life balance so many small business owners neglect.
"Another benefit is this is actually completely mobile responsive," Saco said. "I can build automations and I can modify automations on the go from my phone, no problem. No one is doing this like we're doing it. I'm so excited for this."
It's also worth noting that Easy Automations is not replacing Campaign Builder. Whereas Easy Automations is simple to use, Campaign Builder remains Keap's most powerful and advanced automation platform for expert marketers that is customizable to your business and growth solutions.
Try Keap's new Easy Automations in your app today and save hours of your valuable time.