Many Keap clients use Microsoft Outlook to manage not only their emails and contacts, but also their calendar. With that in mind, Keap is pleased to announce that clients can now connect their Outlook calendar to Keap to schedule appointments.
"When we launched the Keap Appointments about a year and a half ago, we started with an integration to Google Calendar because that was the most common calendar small business owners were using," said Tyson Brown, a Senior Product Manager at Keap. "But it was obvious that Outlook.com/Office365 was a really close second. We're really excited that we now have the ability for Outlook users to connect their calendar to Keap and let their leads and clients easily schedule appointments with them using the appointment links that Keap offers."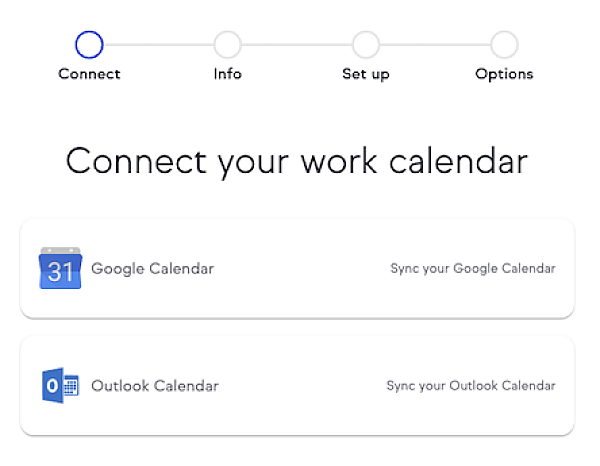 A simple survey question revealed high demand for this update.
"We knew we needed to offer more calendars than just Google," Brown said. "When we released the original version, we provided a way for users to tell us what calendar they used to run their business. Over 1,700 responded and almost 80% of them told us they were using either Outlook.com or Office365 as their primary calendar. We realized pretty quickly that this needed to be in place in order for us to support the majority of Keap users needing to schedule appointments within Keap. It's in place now and we're really excited."
The best part is that once an appointment is booked in Keap, it will appear automatically on a user's Outlook calendar.
"If a small business owner isn't using a scheduling solution, they have to go back and forth multiple times via email or phone or text just to find a time to meet that works for both parties," Brown said. "Small business owners just don't have time to do that. They're wearing so many hats as they work to run their business, serve clients, get new leads, and manage administrative tasks—they're spinning so many plates at the same time. Anywhere Keap can help optimize, simplify, and automate someone's ability to meet, then that's a win for the small business owner."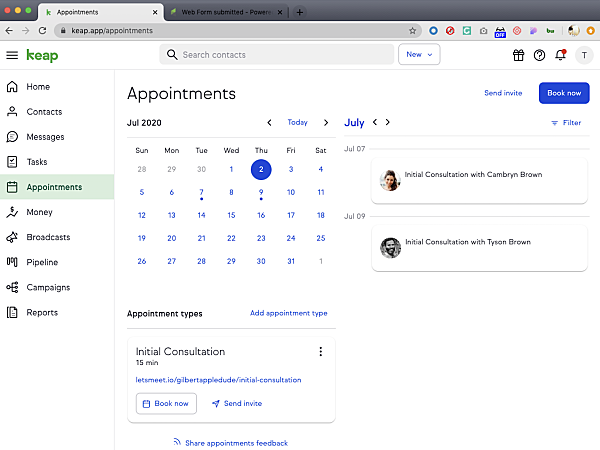 To sync your Outlook Calendar to Keap, head to the Integrations page.
"For Keap Appointments, all users need to do is log in to their Outlook or Google calendar within Keap and set the days and times they want to be available for people to meet with them," Brown said. "Once they've set those parameters, Keap generates a link that users can share with anyone to book in the open times of their calendar. I've seen people put the scheduling link in their email signatures. I've seen people go to their Google My Business listing and add it there. It completely removes the headache caused by the back and forth. After an appointment link is opened, leads or clients pick the day and time that they know they're free and appointments automatically get added to the small business owner's calendar. Both parties are notified of the upcoming appointment and Keap automatically reminds attendees 24 hours and one hour prior to the appointment time they booked. This is a magical moment for small business owners—all of a sudden their calendar starts filling up with consultations that leads or clients have booked and they haven't done any back and forth."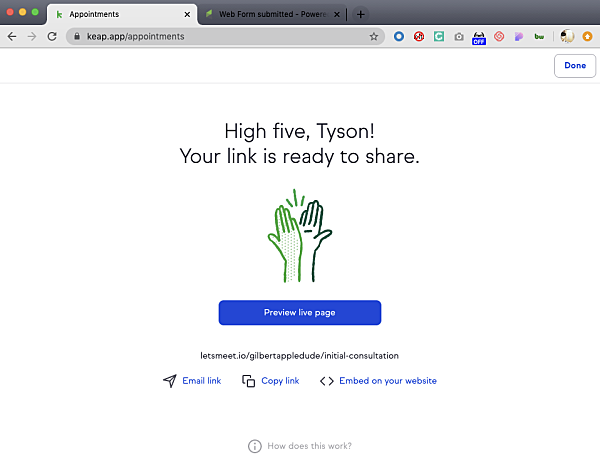 More appointment features will be available in the second half of 2020.
"Coming soon, users will be able to couple the new Outlook integration with automation in Keap which will totally change the game for small business owners," Brown said. "Users will be able to set automations that will string together a series of actions to trigger before or after an appointment is booked. For example, if a customer cancels an appointment, it will trigger an automatic email asking them to reschedule. "
He added, "We have a lot of plans to make the appointment scheduling functionality even more robust so that small business owners don't need to use multiple tools. We're really excited about the future of Keap Appointments and potential it has to really streamline a small business owner's workflow by automating the scheduling aspect of their business."
Before you go ...
SEE HOW YOU RANK: Take Keap's Lifecycle Automation Self Assessment and compare your business against the industry's top performers with our proven formula and instantly reveal the strengths and gaps of your business.