Bringing in new leads is one of the biggest challenges that you as a business owner face. There's no shortage of marketing tools out there, but it's not easy to know which ones will yield the greatest results. Now with Keap's new Landing Pages available in Keap Pro and Infusionsoft, we've made it easier to create gorgeous custom landing pages that will help you capture more leads. It's free, easy to use, and comes with a gallery of templates to achieve your goal. New Landing Pages works in tandem with your email campaigns and paid ads to generate interest and easily manage the new leads you capture. These new landing pages are compatible with Keap Pro and Infusionsoft versions.
Landing pages you actually like to make
When you're creating a new page, sometimes just getting started is the biggest hurdle. Our gallery of Keap Pro and Infusionsoft compatible landing page templates are designed specifically for relevant industries, so not only do you see an attractive template, but it will help you know what pieces of information your customers are looking for. And when you give people what they're looking for, they're more likely to convert from prospect to customer. (Did we mention the templates are pretty?)
You don't need to be a technical whiz to create these landing pages; the drag-and-drop builder makes it simple to add things in, take things out, or move things around. And you'll find the perfect images to strengthen your content right in the builder, with a library of royalty-free images. No more scouring for Creative Commons-approved images, and no more flirting with the dangers of unlicensed stock photos.
And of course, these are responsive landing pages. Why does this matter? More customers use mobile devices to shop for new products and services, so your new slick landing pages will make it easy for them to take immediate action.
Here are some other amazing things that our landing pages do:
Sync with Keap custom fields to fully personalize your follow-up
Google Invisible reCAPTCHA keeps bots from contaminating your list
Lightning-fast page load times (faster pages = faster conversions)
Decide where your landing page lives with custom domains (and enjoy the resulting SEO boost)
Want to get started now? Log in and get started!
Keap's new landing pages: Have them at Hello
You've got a website, you have ads on Facebook, you may even have campaigns running in Keap. You're doing all the right things, but how can you take that up a notch?
Unlike your website, a landing page allows you to customize your messaging based on a wide range of characteristics:
Where your leads find you (like a specific Facebook ad or a guest post on someone's blog)
A specific product or service you want to highlight (like a new offering)
A special offer (like a Black Friday special)
An event you're hosting or will be attending (like a webinar)
A landing page ensures that a lead will see the exact messaging you want them to see and drives them to take a specific action right there, so there's less chance they'll get lost in the shuffle.
Landing pages also allow you to get to know your audience more intimately. If you're a life coach and someone signs up through your late-stage career change page, you know very specifically what to talk to them about, like making a shift in life or maintaining their current salary as they change industries. You're more likely to catch their interest with specific messaging than general career advice that doesn't apply to them.
Basically, landing pages give you the power to have a highly personalized conversation from your first hello.
Here's how to get started with new Landing Pages by Keap:
Once you've signed in to your Keap account, go to Marketing > Campaign Builder. In Campaign Builder, drag out the Landing Page node onto the canvas.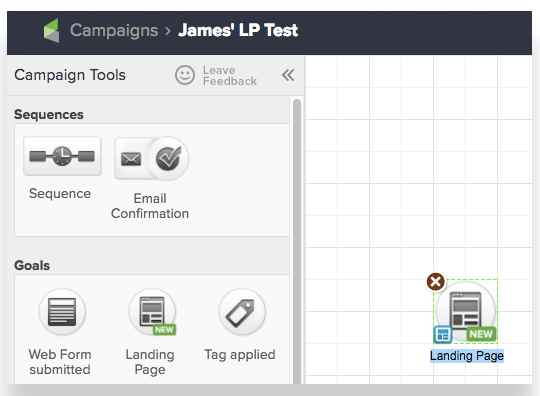 Double click on the landing page node to access a marketplace full of beautiful templates. You also have the option to start from scratch if you want to create your own.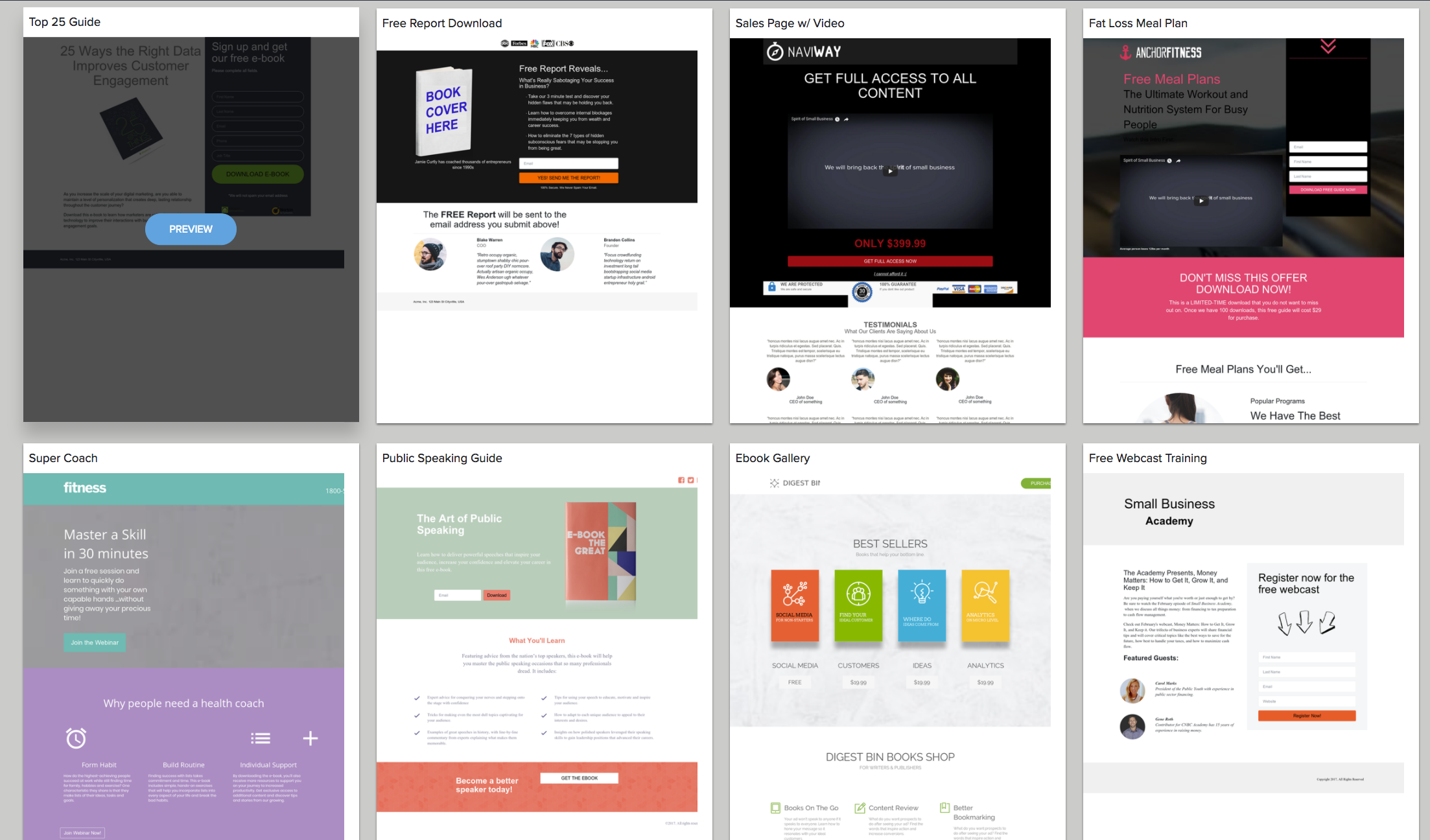 After selecting a template that best fits your business goal, you can preview the full landing page on a desktop, tablet, and mobile device using the buttons in the upper right hand corner.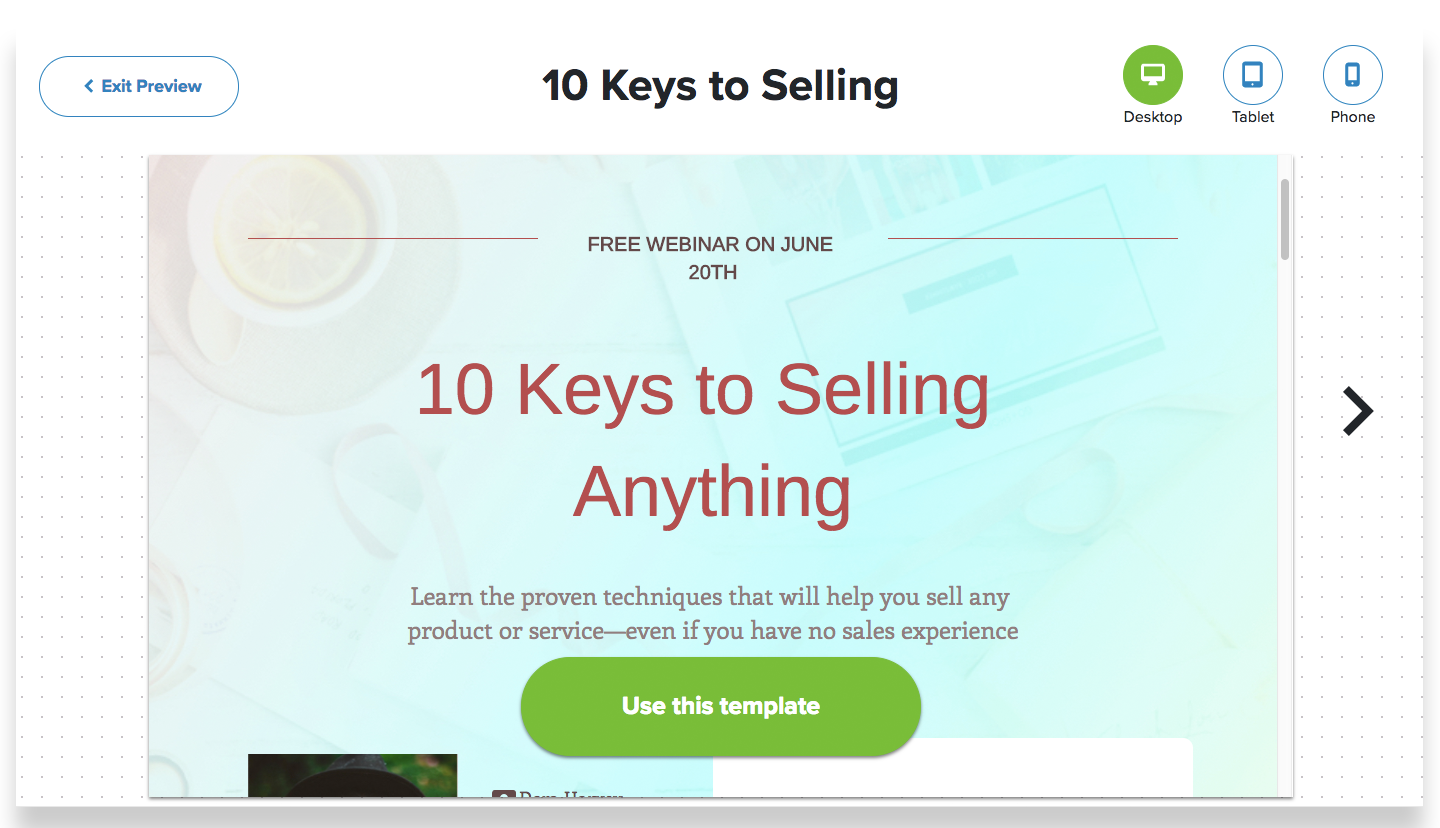 Next, give your landing page a unique name. Additionally, you can also pre-set your font styles and upload your logo so that they auto-populate on your landing page.

Now that you're in the editor, click on any text area to change the text. On the right-hand side you will see property settings appear for that element. For text, you have full control of the style, size, and color.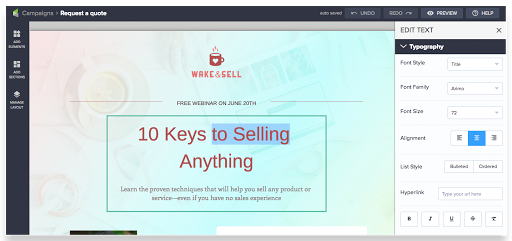 You also have access to replace any image on the page with one from the gallery that's filled with thousands of royalty free images. As a bonus, these images are optimized for page load speed.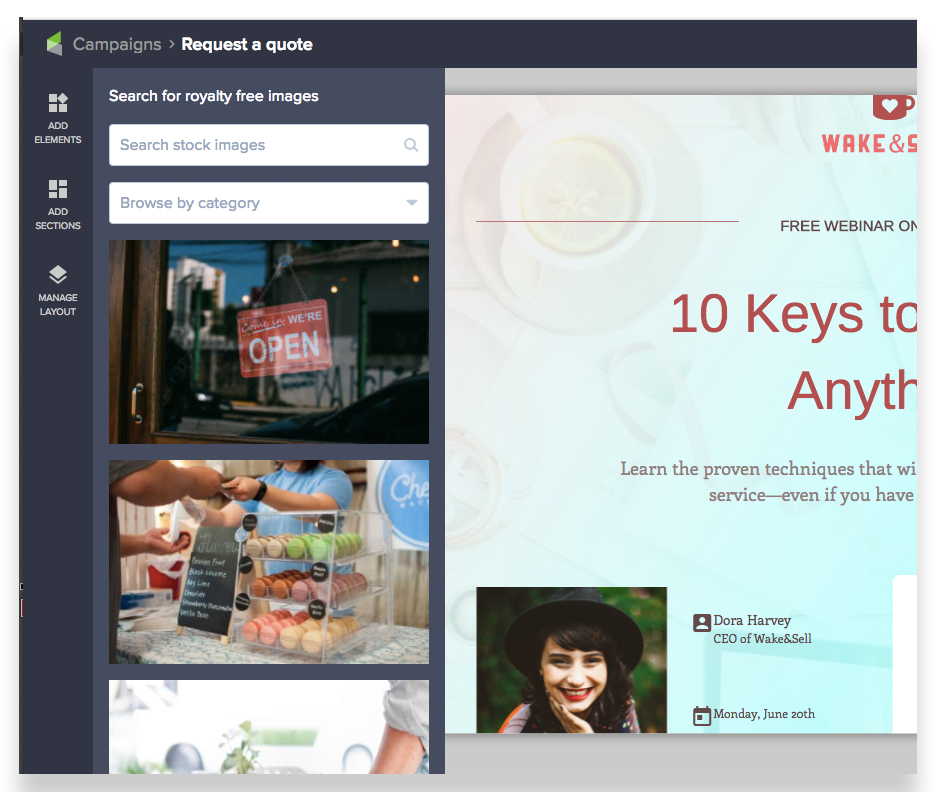 If you want to add additional sections to the page, click on Add Sections and choose from pre-built sections. These sections are made specifically to help you grow your business and boost your conversions.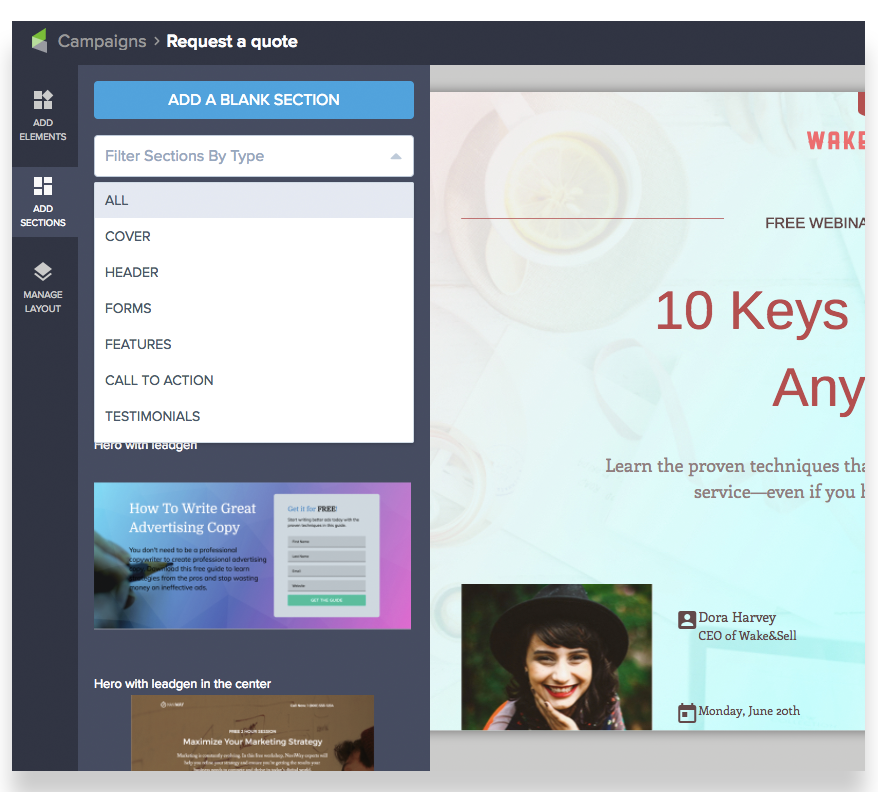 If you are looking for more creative freedom, build your own custom sections by working with Elements. All templates and sections were built by using these elements.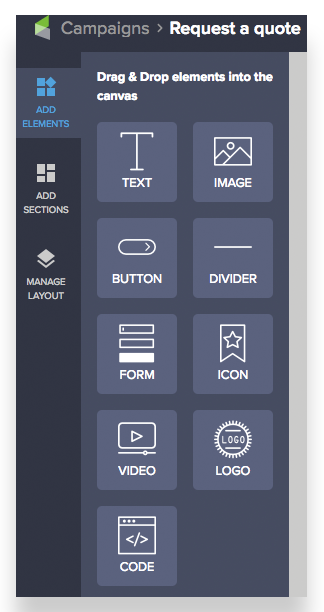 Under Manage Layout, you can access setting properties for Sections, Columns, and Rows. Here you can add background images, colors, resize columns, rearrange sections, and more!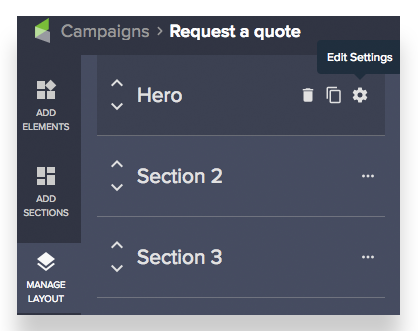 Now that your landing page is designed exactly how you want it, it's important to make sure your form is collecting the necessary information. Click on the form to access its properties. Here you can add and remove any standard/custom fields.
When visitors fill out the form, a dupe check will first happen to see if the contact currently exist by first name, last name, email. If the contact does exist, it will append the additional data your form is collecting to their contact record. If the contact does not exist, it will automatically create the contact in your Keap CRM.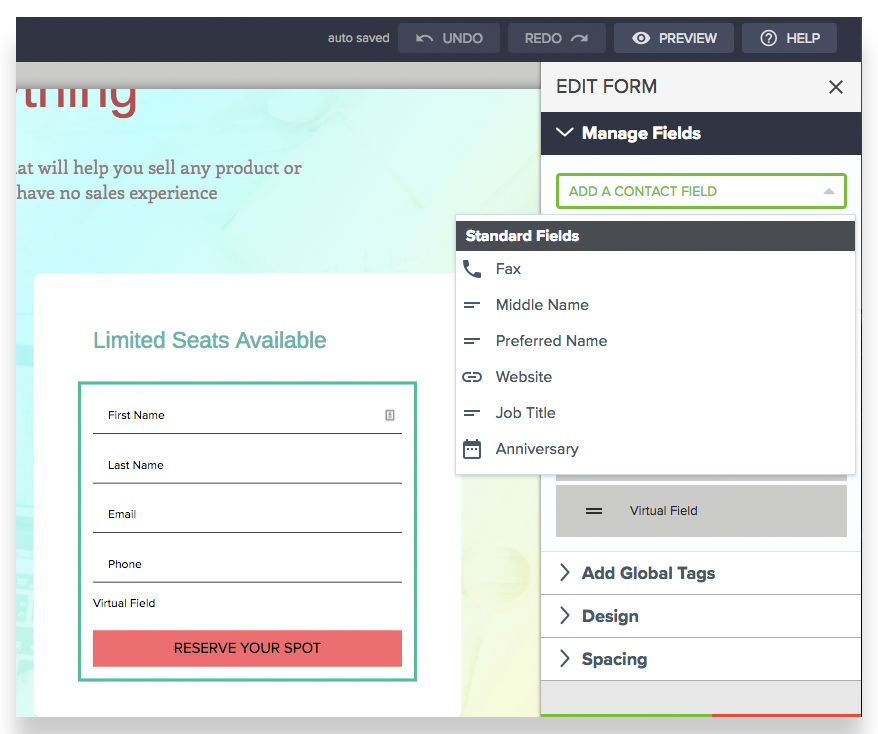 You can also add tags on each form submission or to each radio, dropdown, and list value that the visitors fill out. This allows you set up automation sequences on tags that are applied.

Additionally, we have implemented Virtual Fields.
Virtual Fields allows you to tag responses on a value a visitor submits without having to use up one of your custom fields!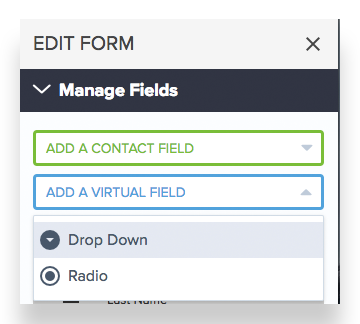 Log in now and get started on your own new landing pages!